What is phone banking?
February 23, 2017 - 5 minutes read
Political campaigns whether big or small, presidential or for a school board, win by getting the most votes. Campaigning is all about reaching out to your voters and letting them know who you are, what you stand for and why they should vote for you. There are many ways campaigns use to get your attention; the traditional way is through broadcast media like radio TV or newspapers. There are the more modern way, through social media, email and online advertising.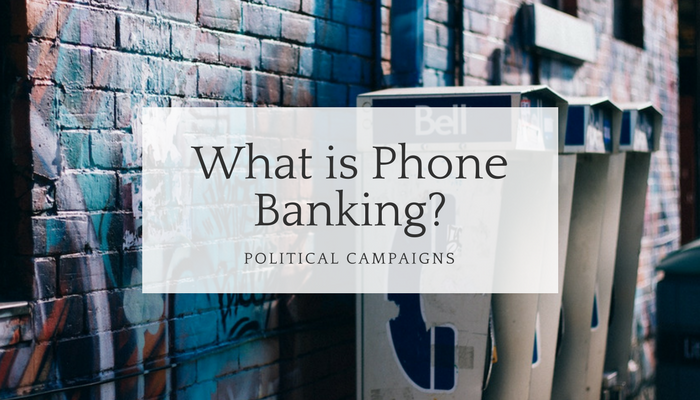 Campaigning is the most effective when there is a personal touch associated with it. Door to door canvassing is a very effective way of getting heard as well learning more about your voter. Unfortunately, for larger campaigns or campaigns that have a time restriction, it isn't possible to visit every voter. Without a large pool of volunteers, scaling with canvassing is difficult.
This is where phone banking comes in. Reaching out to voters on their phone is both personal as well as efficient. Calling a single voter takes 5 minutes. With over 5 volunteers calling voters, you can reach a large number of voters in a very short amount of time. Canvassing combined with phone banking is extremely effective in improving voter turnout as well as increasing supporters. Read more about how you can club canvassing and phone banking.
How effective is phone banking
If you are running a political or advocacy campaign, here are 6 reasons why you NEED to phone bank.
How does it work?
Phone banking involves volunteers calling through lists of voters and talking to them about the campaign. Campaigns can phone banking for many reasons, some might be for getting out the vote GOTV, recruiting volunteers, raising funds for the campaign or voter identification.
Some campaigns use traditional phone lines to call voters. Each volunteer has to manually enter a number, wait for the caller to pick up and then talk to them. They have to store information about the call on paper and the manager is then stuck with a pile of survey information that needs to be manually entered in the CRM. When you have over thousands of voters to reach out to, the traditional phone banking method gets tedious, is inefficient and expensive in terms of time and money.
Advanced phone banking tools are software based. Volunteers can log into the system through their computers and make calls through their browser if need be. The system handles assigning voters to agents, displaying accurate information about the voter and storing all the feedback from the call. Phone banking tools help you save time by calling the number for you and skipping bad numbers, answering machines if required and busy numbers.
Each call made by a volunteer now takes 50% lesser time than the traditional method.
How to setup a phone bank
Phone banking is extremely easy to setup if you have a phone banking tool like CallHub. Here are a few things you'd need planned for your campaign:
List of voters to be called
Script that volunteers need to follow when talking to voters
Recruit a list of volunteers who can phone bank for you
Survey questions to be answered, if any.
Your volunteers need to be trained on what to talk about and what feedback to store. Read more about how to get ready for a political phone bank.
10 tips on how to run a successful phone bank
Phone Bank party
Phone banking can be a lot of fun when done in a group. Most volunteers aren't used to calling and talking to strangers. They need to be motivated and in a group setting, volunteers working towards the same goal encourage each other to do better. It also gives them a chance to bond and feel closer to the campaign. By throwing a party where all attendees can mix, mingle, interact and call voters, the quality of the calls are better and the number of calls made a higher too.
How to plan a phone banking party
Canvassing
,
Phone Banking