Top Advocacy Tools
April 7, 2017 - 7 minutes read
The ideal advocacy campaign is run smoothly, not only in terms of management but also in terms of data management, operation and logistics. Campaign managers should be able to give work to volunteers based on current information and update them if any changes happen. A manager shouldn't be constrained by systems to not be able to fully reach their campaign goals. Time and the lack of information are usually the top constraints a manager faces. Not enough time to recruit enough volunteers to not enough time to contact all your supporters. With the current political scenario, issues spring up almost immediately and you have to act as fast for the most impact. That's how time can really shake up your plans. Without a strong robust system to handle it, you'd find it very hard to cope. Information on the other hand is what should guide and drive your campaign. From simpler data such as the number of active supporters to more complex information such as the number of supporters who connected with their representative.
This is where technology lends a hand. Software spares you the trouble of painstakingly collecting and maintaining this information and it does it 100 times faster. The effort saved is totally worth the funds spent on tools that make your life easier as well as your campaign more efficient. We've taken the effort of listing some of the must have tools you need to have in your arsenal for a fabulous campaign that'll make your mama proud.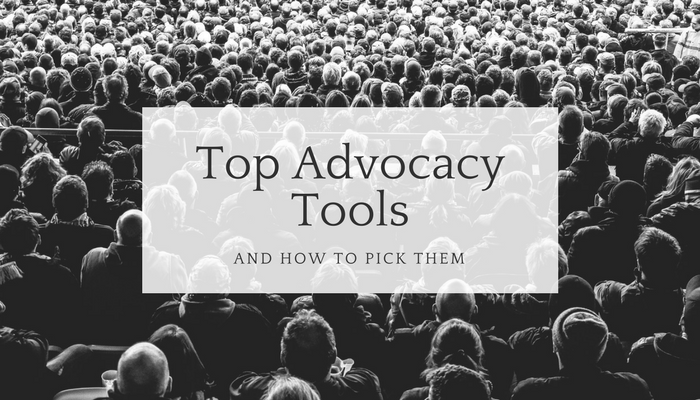 Online Campaign management tools
A campaign management tool or software literally handles everything for you. Build your website using a tool like this and use it to manage all your outreach communication with supporters. You can create petitions for people to sign and setup forms for volunteers to register on. The tool also lets you track communication with your supporters and stakeholders. This helps you manage your campaigns especially when dealing with a large number of supporters. Different campaigning tools bring their own unique offerings to the table like accepting funds, tracking representatives on how they vote and integrations with other services that advance their own functionality. Some of these tools can help with list building, allow you to geo target and micro-target messages. Get voter file information to help build a list of contacts.
Examples: NationBuilder, Blue State Digital, The Action Network
Outreach tools
Advocacy campaign management tools give you a few ways to stay in touch with your supporter. Email, social media and direct mail are a few services offered. Unfortunately, for large campaigns like political phone banking or GOTV , these tools don't offer advanced features to manage them. That's where we come in. CallHub is an advanced call center that's optimized for political phone banking and robo calling. Using a predictive dialer, you can call twice as many people as you did otherwise. Integrations help data flow easily and volunteer management is ridiculously easy.
Create a voice campaign for free
Grassroots advocacy tools
Use technology to connect your supporters easily to their representatives. Add click to call to your website and let supporters enter their pin code and directly find out who their representatives are. Keep a script ready and give them the tools to communicate better. If your supporters aren't active enough on your website, you might want to actively reach out to them. Using our patch through calls feature, call your supporter, take the time to talk to them about the cause and then when they are ready, connect them to their representative. You'll have a much higher rate of conversion.
Canvassing tools
Campaigns around election time are a lot about talking, meeting and convincing people. Voters may support your cause but some need that extra persuasion to go out and vote. Canvassing tools like Ecanvasser make this very easy. These tools let you visually map out your area, mark out locations where your supporters reside and built canvassing lists accordingly. A nifty phone app lets canvassers update surveys on the go and also get information on their next visit.
Communication tools
If an advocacy campaign tool is a bit too much for your needs right now, simple email and social media management tools can help you. Use buffer to plan your social media posts and mailchimp to send out mass emails. This may cut your monthly costs. Thanks to Zapier, you can still bring together all the tools you use by triggering events to carry out an action in another tool. Through CallHub's Zapier integration, you can add contacts to a phonebook, make a call, send an SMS and a voice broadcast.
Volunteer management tools
Grassroot advocacy campaigns require a lot of manpower and this manpower needs to be organised otherwise all you'll have is a lot of voices without any direction. Find a tool that lets you recruit like minded people, maintain a relationship with them and assign tasks. A lot of campaign management tools come with these features, CiviCRM is one other great tool for managing volunteers. Don't forget, communication is key, whether it is through calls or text, or Social media and Slack, make sure you are reaching out to your audience and growing your team of supporters.
Recommended: CiviCRM
advocacy
,
Grassroots Advocacy
,
Patch-through calls