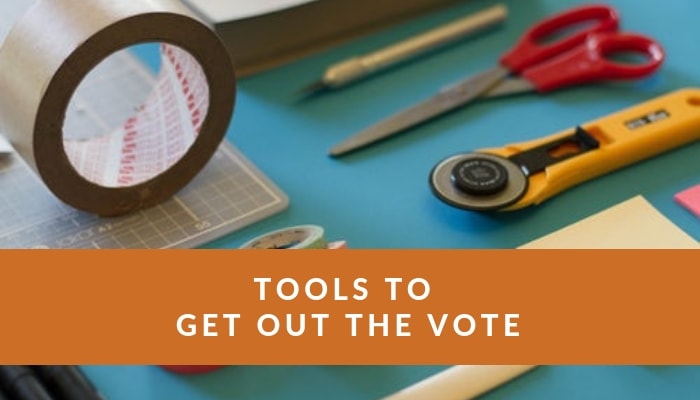 GOTV drives are synonymous with the final stages of voter engagement campaigns where organizations are looking to drive as many supporters or registered voters to the polls. Since there is a requirement of doing this in the shortest time, organizations have to rely on various tools to simplify and scale up their efforts.
Be it for door-to-door canvassing or making phone calls to constituents, there are several tools with various features that your campaign can use. But deciding which ones to go with can be confusing, so we've collated a bunch of reliable tools which will aid your GOTV efforts. Read on!
Canvassing
Canvassing for GOTV can take a lot of time even if you have many volunteers, which creates the additional problem of managing them when they are spread out in different locations. With canvassing tools, you can map out the areas to be canvassed on online maps, and can individually manage and track their live activities from your smartphone.
These tools store scripts too so that volunteers know exactly what they have to say to convince and remind people to vote. Volunteers can also use surveys to record constituent information which gets updated in real-time in your database. The in-depth analytics provided also help in better campaign decisions with your data. These apps work offline as well so, in case of signal issues, you don't lose any of your data.
Suggested Tools: ECanvasser, MiniVAN, Voter Gravity, Organizer
Texting
Texting has several use cases for getting out the vote. You can remind contacts to vote, send information related to voting dates and polling locations using text broadcasts, and answer queries using peer-to-peer texting. With tools like CallHub, campaign managers can organize texting campaigns through a web browser and reach thousands of contacts in minutes. You can manage your volunteers and have them engage in personalized conversations with constituents while tracking results through real-time analytics.
Since GOTV campaigns require for a large-scale outreach, you can schedule your text campaigns in advance so that you're on track. Contacts can opt-in to your campaign if they want further information related to voting, and with automated responses, volunteers save time while texting. These tools support bi-directional integrations as well, so all your data is updated in your CRMs which helps in future retargeting.
Suggested Tool(s): CallHub
Calling
Calling people for GOTV is an arduous and time-consuming process no matter how many volunteers you have. Phone banking tools optimize this process while ensuring you reach all your contacts in a short time with the help of automated dialers which automatically make calls for you as opposed to manually dialing the numbers yourself. With tools like CallHub, campaign managers can set up phone banking campaigns and monitor agent calls.
Volunteers can instantly mark surveys responses on on-screen forms which automatically get updated in your CRMs so you can keep a track of how many people agree to vote (or otherwise). You have the option of matching your caller id with your contacts' locations to increase the chances of your GOTV calls being picked up. To make it easier for volunteers, you can also add customized scripts which they can use during the call while trying to convince contacts to vote.
Suggested Tool(s): CallHub
Email
Email is a useful platform in getting your contacts' attention and mobilizing them to vote. Similar to other tools, an email management platform helps in streamlining and organizing your GOTV emails. From sending important tips, polling venues and election timings, to reminding contacts about dates and the necessary ID they must carry to vote, email lets you stay personalized while being detailed in the information you provide.
With email marketing tools you can create email templates which are compelling so people actually read your emails and click on your GOTV links. You can test all your emails to see which subject lines have the best open rate while obtaining in-depth analytics on clicks and forwards. By integrating with your databases, you can effortlessly sync your voter data while segmentation helps send different GOTV emails to different contacts. For instance, definite voters would get email reminders and polling information, while for unsure constituents you would send emails detailing the importance of voting to try and push them to the polls.
Suggested Tools: MailChimp, Constant Contact
Social Media
With social media platforms you can do so much to get out the vote. Since there are only a handful of these to use, let's look at each of them to see how they're useful.
Facebook
With Facebook, you can directly choose whom you want to target with your GOTV posts or advertisements. You can set filters based on interests, demographics, or location. Use Facebook, not just to upload important links and other GOTV-related information, but also to recruit canvassers and phone bankers. With the lookalike audiences feature you can get out the vote among people who haven't interacted with your page but whose traits are similar to people who have including your supporters. By using analytics, you can figure out how well your posts are doing and can even tag people as supporters in your voter file if they liked or commented on your posts.
Twitter
Similar to Facebook, on Twitter you can target your audience based on interests or demographics and tweet out GOTV reminders or links. You can get your supporters or volunteers to retweet your posts as well to increase your outreach and mobilize more people to vote. By using trending hashtags such as #GOTV or #IVoted, you can be seen by your relevant audience as well. Twitter's first view feature ensures that your promoted GOTV tweet is the first thing your target audience see when they log into the site during a 24 hour period. You can also use promoted trends to ensure your Twitter hashtag appears on the top of your audience's timelines.
Instagram
Since a majority of Instagram users are millennials and young adults, this platform can help target young voters. You can run ads in your Instagram Stories promoting GOTV and include links in your bio directing viewers to sites such as Get to the Polls. Use the targeting feature to be seen by the audience you want, and by ensuring your account is a 'business' one you get access to analytics too. Like Twitter, you can use relevant hashtags to attract the right audience. Instagram is also going to let users add 'I Voted' stickers to their profiles for the upcoming November elections so ensure your followers add these stickers come election day.
Snapchat
Use Snapchat's geofilter option to zero in on your intended demographic. Create your own GOTV themed filters for spreading awareness about voting and the upcoming elections. You can even use geofencing to target a tight geographic area such as a specific neighborhood or college and create your own Snapchat Lenses to advertise your GOTV campaign amongst supporters and their friends.
CRMs
With CRMs, you can share and sync data across different platforms to ensure your constituent information is consistent. By integrating with these tools, your data automatically gets updated across both the CRM and say your phone banking or text messaging software. With the added functionality of tagging and segmenting, your GOTV outreach can be targeted accordingly. For people who are tagged as "sure voters" in your CRM you just have to remind them to vote and for undecided voters can try to be more persuasive.
CRMs like NGP VAN let you import surveys for volunteers to use when phone banking or texting for GOTV. Some CRM tools also have features like NationBuilder's paths which lets you lead people along a series of steps right from targeting contacts as potential voters to confirming if they voted or not with the end goal being to increase voter turnout. With CRMs, you have a complete picture of each supporter you'd like to engage so you can be more focused in your interactions.
Suggested Tools: NationBuilder, NGP VAN, The Action Network, CiviCRM
Relational Organizing
Apart from using volunteers, engaging your supporters in spreading the word is an important aspect of a successful GOTV campaign and relational organizing tools let you do just that. With these tools, supporters can upload their own contacts in an online campaign and then request their friends (such as encouraging them to vote) based on a campaign template with the data getting synced into a CRM. Campaign managers can then track volunteers reaching out to their friends while identifying influencers with the most connections.
Tools like Voter Circle also let you map relationships to gauge your GOTV campaign's efficiency while letting you use surveys responses to identify which contacts are going to vote. The Team app lets organizers upload a list of contacts and then lets volunteers contact whoever they know from the list. It also lets them share useful content on Facebook for their friends to see.
Suggested Tools: Voter Circle, Outvote, Team
Other Tools
This site is extremely useful in obtaining all information related to elections from absentee ballot information and early voting options to election dates and the ID requirements for voting. It also locates polling places based on constituents' addresses.
Note: When forwarding links via text or email or uploading them on social media, these are the type of links which are the most helpful for GOTV.
Directing users to this tool is useful in convincing those constituents who are unsure about voting. BallotReady lets viewers understand the background of political candidates and compare them based on their stances or biography so that people can decide for themselves about whom they want to vote for and are actually motivated to do so.
Now that we've mentioned the different tools you can use for GOTV with examples of each, you can use them to see if you get results through a single tool or by using a multi-channel approach. Be sure to be patient and definitely test your efforts along the way to be successful in mobilizing a large number of voters to the polls!