Get out the vote campaigns on social media have proven to improve voter turnout significantly, as proved across different studies. With the average American spending two hours on social media daily, reaching them through these channels is a worthy pursuit.
Social media can be used effectively to–
Reach a large number of people,
Target particular voters,
Motivate people to exercise their franchise,
Make your cause go viral and much more.
In this article, we've listed 8 strategies you can use to get out the vote using social media.
GOTV with social media strategies
Having a social media strategy in place will ensure that your GOTV efforts are more successful, with an increased chance of getting more voters through carefully planned campaigns. You will also be more clear about the areas on which you need to focus – such as conversions, page visits, etc.; and areas that need a significant amount of effort, such as a particular platform that might need more traffic.
Here are GOTV social media strategies to explore–
Use social media to reach the youth.
Start a photo campaign.
Use Twitter to register voters.
Harness Facebook messages.
Use YouTube to drive people to the polls.
Promote campaign material on social media.
Utilize Instagram to promote different content styles.
Let's explore these strategies in detail.
Use social media to reach youth
48% of the U.S population, primarily young adults, report reading most of their news from social media platforms. They use social media to–
Discuss politics
Share their opinion on civic issues,
Engage with like-minded individuals.
Therefore, social media serves as the perfect platform for political dialogue for the youth, engaging potential supporters and turning them into committed voters. This is especially important when 8% of voters between 18-29 do not plan on voting.
Read Also: How to Run an Effective Social Media Political Campaign
Here's what you can do to reach out to young voters–
Get out the vote among young voters by adding call-to-action buttons such as 'register', 'know more,' etc. to all your post on social channels, be it Facebook, Instagram, Twitter, or Snapchat.
Use ads on these platforms to specifically target young, eligible voters. Share voting and voter registration information through these ads.
Start a photo campaign
A photo campaign is one of the easiest and most creative ways to spread the word and get out the vote. It's also a great way to gain supporters. You must pick a high-traffic area like a college campus, set up a booth, and get people to visit it.
Here's what you can do at the photo booth–
Once you have people at your booth, ask them to show their support by writing why they think their vote matters. For example, their reasons could be supporting their preferred candidate, policies, or opposing another candidate.
Take a photo of the person holding the message and post it on your social media.
Tag people and encourage them to share these images on their profiles. You can create voter awareness and get them to hit the polls.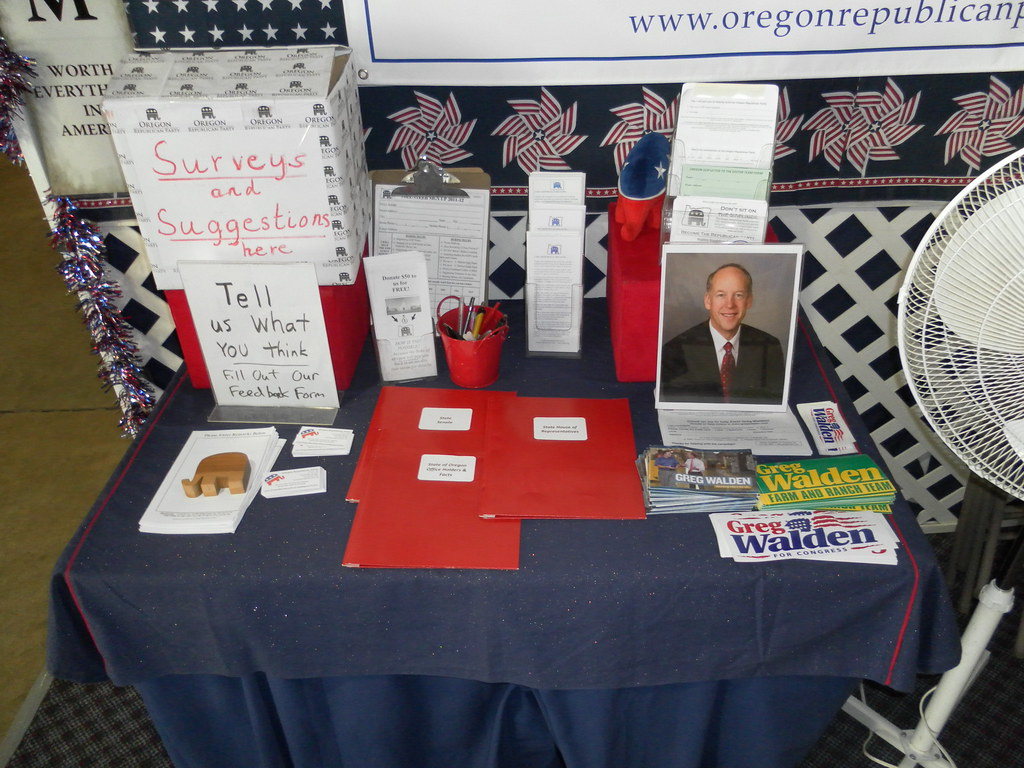 Twitter to get out the vote
In the 2020 election campaign, every Twitter user in the US got a prompt to register to vote and GOTV. Here's what they did–
​​On National Voter Registration Day, everyone on Twitter in the U.S was nudged to register to vote or confirm their registration via TurboVote, an online tool from the nonpartisan nonprofit Democracy Works.
Users then received a push alert in the notifications tab with additional information about voter registration.
Twitter promoted the GOTV and voter registration trend using resources from TurboVote.
Twitter hashtags such as #NationalVoterRegistrationDay and #VoteReady were promoted to create a buzz around voting.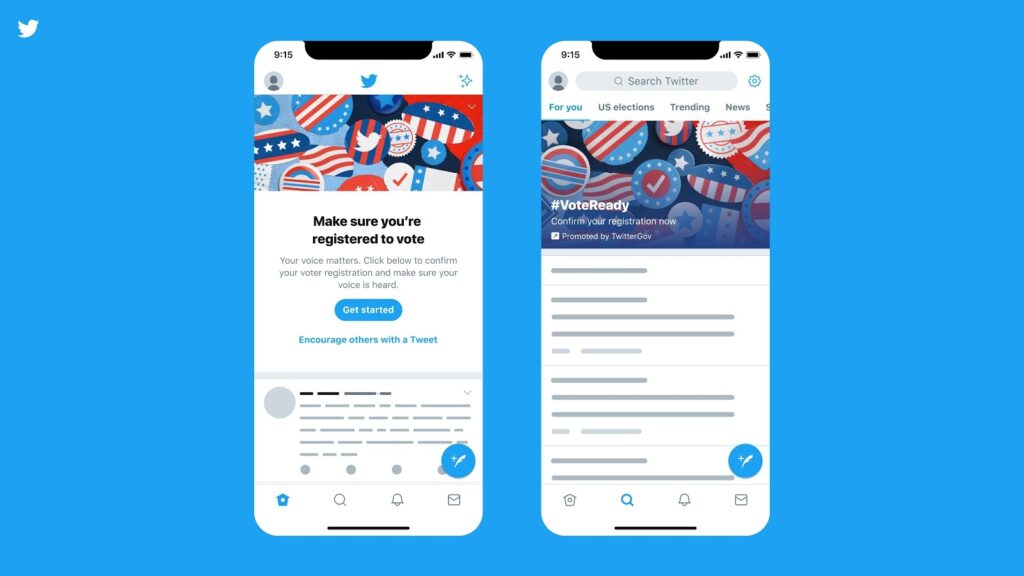 Here's why you should pay attention to these strategies–
9 out of 10 people on Twitter said they were planning on voting. This means that most users on Twitter are already aware and participative; they only need a push.
68% of people who registered to vote via TurboVote on Twitter turned up to vote in the 2018 midterms.
Here's how you can GOTV through Twitter–
Take a look at popular hashtags that are trending on Twitter for voter registration and GOTV. Use these hashtags in your post.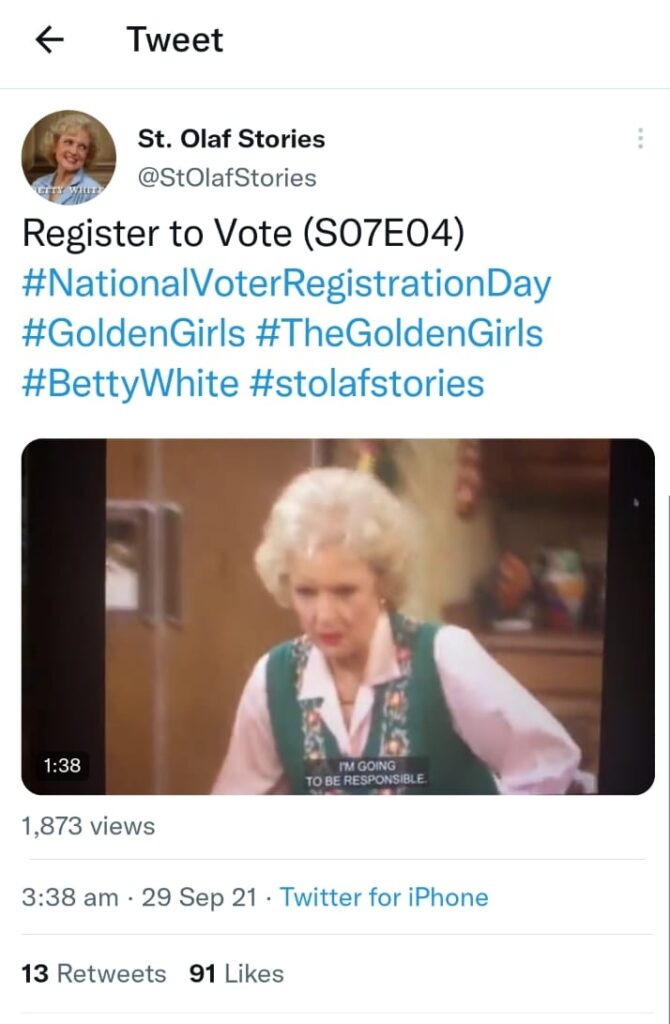 Get creative and add videos, posters, etc., to convey your message. Here's how Voters of Tomorrow Texas and Vote.org used videos on Twitter–
Sponsor hashtags to trend in relevant geographies.
Partner with celebrities and influencers to tweet using your hashtags.
Effect of Facebook messages
In 2020, Facebook helped register 4.4 million voters, an unparalleled record! Facebook is a great GOTV social media strategy partner, and here's why–
Campaigns can leverage the ad feature to reach out to specific audiences.
It is a great platform to engage in conversations with a campaign's target audience.
Your political or advocacy campaign can create events and invite people to join.
Your campaign can easily share resources and get volunteers to reply to people asking questions in the comments.
Facebook also lists detailed resources for getting out the vote through its platform. However, remember you must be authorized to run political or social ads on Facebook.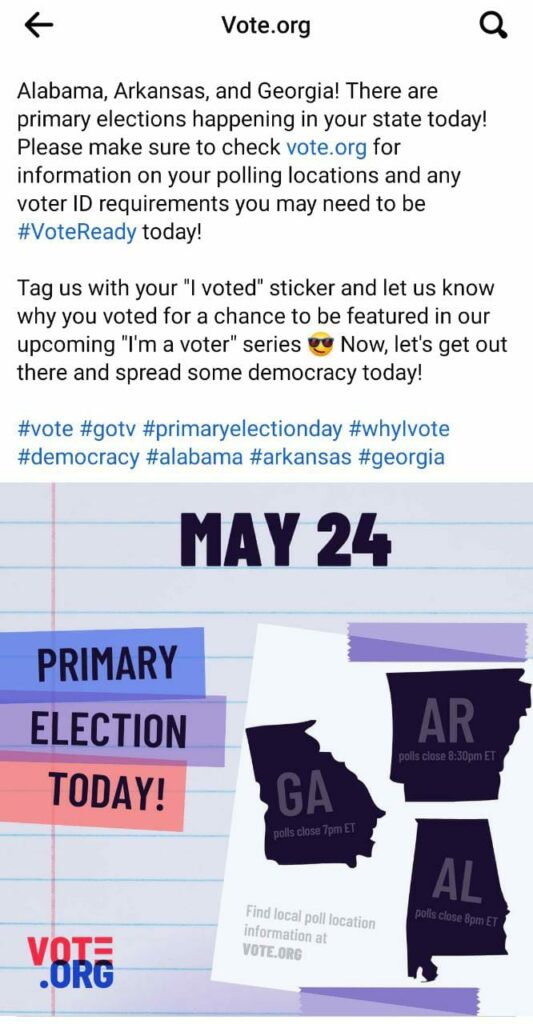 Integrate YouTube videos on different platforms
YouTube serves as a powerful platform for spreading campaign content to supporters and for convincing undecided voters. As the platform easily integrates with other social channels, you can spread your videos to a wider audience.
By making videos related to the campaign and specifying the candidate's issues and stances, YouTube makes it easy to persuade voters.
For example, right before the 2016 elections, YouTube partnered with celebrities and famous YouTubers to create empowering messages and increase voter turnout. First, YouTube released short videos of celebrities who filmed themselves doing anything they wanted for 1 minute and 34 seconds, the average time to register to vote.
Next, to create a sense of FOMO (fear of missing out), they posted a #voteIRL selfie with 43 Youtubers pledging to vote. And on election day, to keep the momentum going, YouTube posted a self-recorded video of Obama encouraging citizens to take action by voting.
Here's how YouTube can be a part of your GOTV social media strategy–
Make an explainer video for voter registration.
Share clips from influential people appealing to vote.
Share important information such as voting dates for different states through YouTube videos.
Share your Youtube videos across all your other social media platforms.
Use trending hashtags, such as #voteIRL in the example above to get more viewers to see your posts.
Promote campaign promotional material on social media
Promoting campaign material like t-shirts, posters, articles, or videos on social media is one of the easiest ways to build a cordial relationship with voters. Analyze where your target audience is and get on that social channel to engage with them, help with registration, and motivate them to pledge to vote.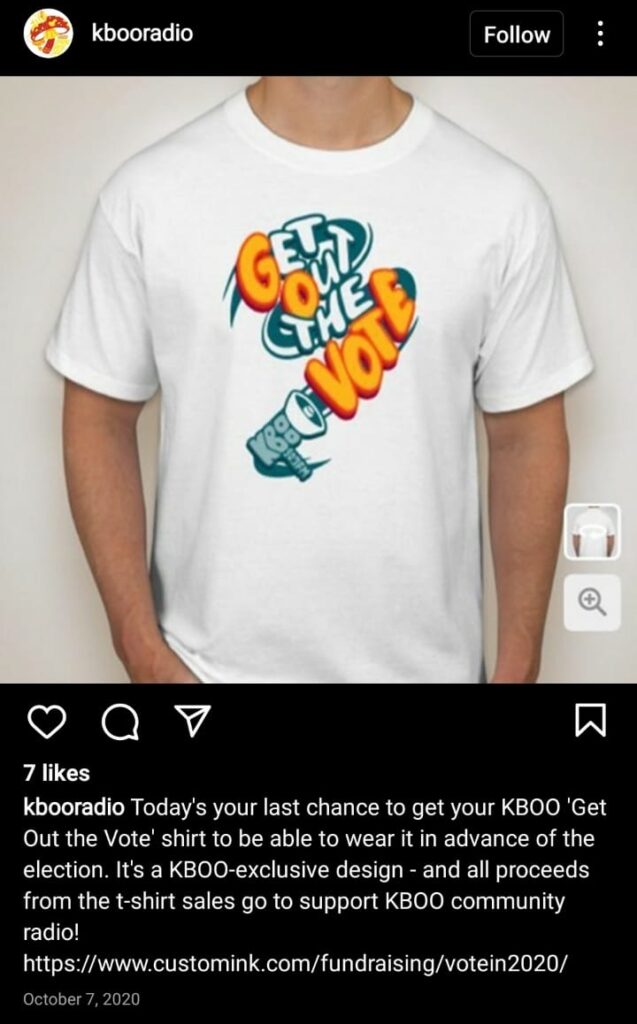 Promoting posters, flyers, or videos will encourage people to take action.
You could make catchy posters with slogans like, "If you don't vote, you're essentially invisible, or you care about the future of the cause you support. Remember to use bold, eye-catching colors and font styles that stand out.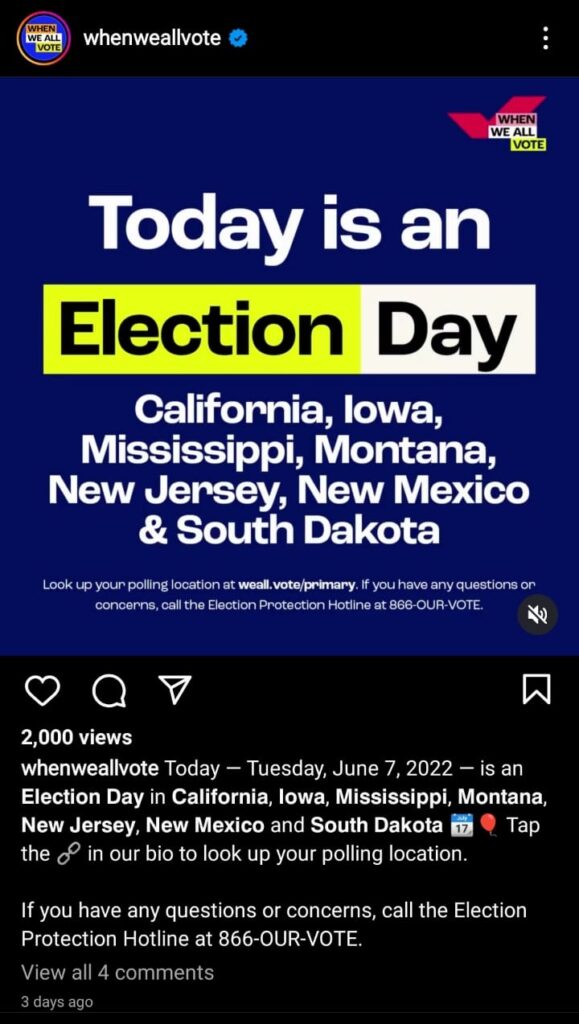 If you want to know how to design great campaign posters and other material, you should read our article The Top 5 Key Political Campaign Literature Types And Best Practices.
Utilize Instagram for GOTV
Instagram has 115 million users in the U.S and is set to grow to 127 million by 2023. By enabling several features on its platforms, Instagram allows you to get out the vote in very efficient ways. You can use features like stories, reels, posts, IGTV videos, build and promote filters, and more on Instagram to reach a wide range of audiences.
One of the best ways Instagram has been used for GOTV activities is by an improbable person – Taylor Swift (source: CNN). A month before the 2020 elections, Taylor Swift revealed who she was voting for and urged her fans to get out and vote. She asked fans to post their pictures using the hashtag #justvoted, and the response was tremendous.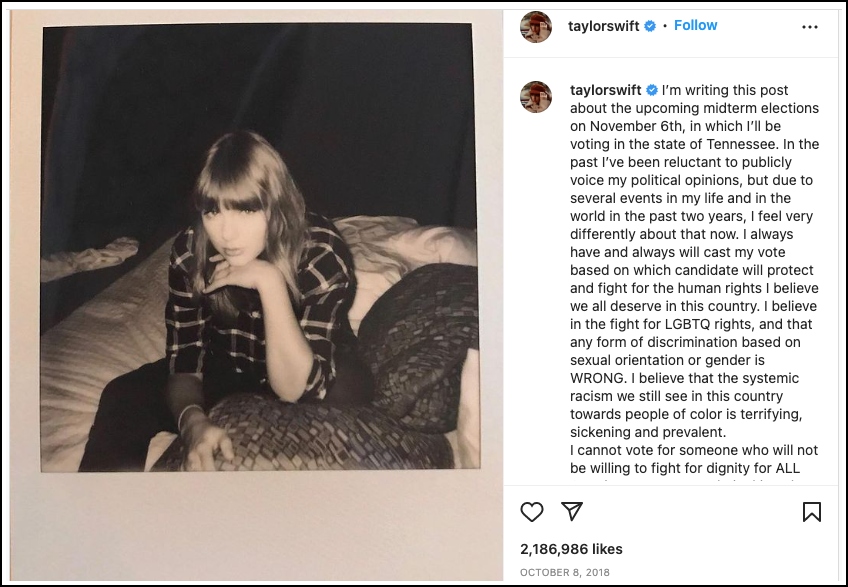 Here's how your campaign can replicate Taylor's success in getting people excited to vote–
Share pictures of your campaign workers voting.
Use relevant hashtags for better searchability.
Experiment with different Instagram features such as reels, stories, filters, etc.
Use different content formats such as photos, posters, memes, short videos, and long explainer videos to reach diverse groups.
The way forward
Apart from GOTV activities using social media, political and advocacy campaigns can use social media to drive tremendous results throughout the election season.
You can read our article How to Run an Effective Social Media Political Campaign to learn how else you can leverage social media to impact your campaign.
Featured Image Source: Magnus Mueller