Get Out The Vote Definition, Process and Strategies
October 10, 2017 - 3 minutes read
Get Out The Vote Definition
Get Out The Vote or GOTV describes campaign activities performed to get people out to vote on election day. GOTV efforts involve phone calls, SMS text messages, direct mail and/or in-person meetings with voters.
Get Out The Vote efforts can generally be classified into two:
(1) GOTV activities carried out by nonpartisan voter turnout organizations aimed at increasing voter turnout regardless of party identification.
(2) Targeted GOTV efforts by partisan groups such as election campaigns and candidates for getting supporters out to vote.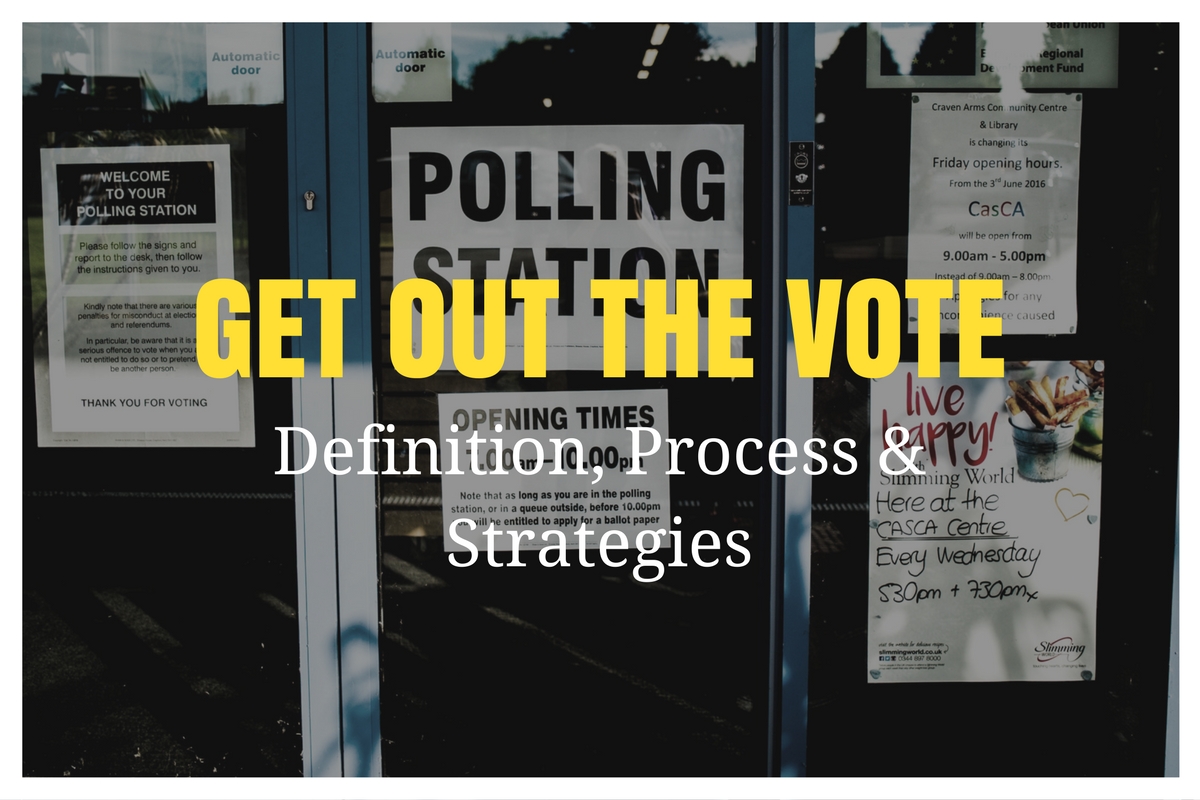 GOTV Process
Get Out The Vote efforts form the final stage of an election cycle. Before starting GOTV activities, campaigns will have completed voter identification drives to identify supporters followed by voter registration drives to get supporters registered on the voter list.
One to two days before election day, election campaigns reach out to supporters through phone, text, direct mail, and/or door-to-door canvassing to urge them to turn out to vote. GOTV efforts leave out voter persuasion and are focused solely on increasing voter turnout with supporters.
Need for GOTV
Many campaigns spend a considerable amount of time and resources building up voter support during the initial days of a campaign. For campaigns that have racked up considerable support before election day, it can be easy to take the votes of supporters for granted. But studies have shown that effective voter mobilization is essential to getting people (even ardent supporters) out to vote. While many of a campaign's supporters will present themselves at the polling station without GOTV efforts, the tides of an election often rest on the small percentage who would otherwise not show up to vote. GOTV efforts give first priority to strong supporters, making sure each one of them gets out the vote. This is followed by targeting swing voters who lean towards the candidate all the while making sure (for partisan GOTV efforts) that supporters from across party lines are not contacted.
GOTV Strategies
Volunteers making phone calls and sending texts to supporters urging them to go out and vote.
Election day text messages informing people of their polling locations.
Door-knocking efforts where volunteers meet supporters in-person and urge them to vote.
Pre-recorded voice messages with the voice of the candidate urging people to vote.
Providing to and fro transportation facilities from polling locations for supporters.
---
Planning your Get Out The Vote campaign? Check out phone banking, voice broadcasting, and text messaging software from CallHub.
---
get out the vote
,
GOTV
,
voter contact