In 2018, a young person of color was canvassing for Garrick McFadden in Phoenix. He was stopped by the police and detained for "soliciting" in a neighborhood that restricted salespersons. If the canvasser were familiar with political canvassing laws, he perhaps would have been better prepared to confront the police.
Alas, this incident had a lasting impact on the canvasser and made him anxious about other political canvassing opportunities.
Political canvassing laws protect volunteers and enable political candidates to have a grassroots mobilization campaign without violating any rights. But such efforts still invoke some frequently asked questions:
Does political canvassing count as soliciting? Or, is campaigning soliciting?
What are the laws regarding political canvassing on private property?
When is it illegal to canvass?
This article will answer these questions in the USA's context and shed some light on political canvassing laws that campaigners and volunteers must know.
What is political canvassing?
Political campaigns initiate a grassroots movement to mobilize volunteers, interact with supporters, and secure a promise of their vote. When campaign workers are canvassing neighborhoods, one of their goals is political solicitation. Canvassing is also done with the objective of:
Collecting voter data (voter ID)
Discussing issues and standpoints
Convincing swing voters to vote for you (voter persuasion efforts) or
Influence confirmed supporters to vote on election day (GOTV efforts)
There are multiple ways political campaigns canvass supporters. The most popular being:
Door to door canvassing
Phone canvassing [which also includes text canvassing or political text messaging]
Let's go over the laws governing each of these political canvassing channels.
Door to door canvassing
Studies have proven direct outreach to be the most impactful way of election canvassing. After all, two individuals discussing common interest and agony topics are bound to reach a consensus on them.
These efforts are often carried out on a massive scale—where hundreds of volunteers speak with thousands of strangers during door-to-door canvassing. So, it is crucial to know political canvassing laws to protect your volunteers and ensure a pleasant canvassing process.
Let's begin by addressing the three questions about political canvassing mentioned above and then discuss other important rules.
Does political canvassing count as soliciting? Or is campaigning soliciting?
Often, people mistake political canvassing for soliciting. However, political canvassing has been distinguished as different from commercial solicitation by law.
The First Amendment protects non-commercial speech. That includes discourse that "does more than inform private economic decisions and… provid[e] information about the characteristics and costs of goods and services…".
Does no soliciting apply to politicians?
Political speech is also a part of this non-commercial speech mentioned above.
So, if a notice board or individual says that solicitors are not allowed in a neighborhood, volunteers can still legally canvass it.
What are the laws regarding political canvassing on private property?
Canvassing is often done on private property—at the doors of individuals. To ensure volunteers are not disobeying political canvassing laws, here's what they should know:
Field canvassers are legally allowed to be on private property and knock on doors. This includes homes or neighborhoods that have "No Soliciting" signs. But beware, not everyone understands the difference between soliciting and canvassing. You may have to be very patient with such house owners. If they insist that you are not welcome, it's best not to push your luck.
If a property has "No canvassers" or "No Trespassing" signs, you do not have the right to knock on that door.
You have legal rights to offer campaign literature to voters and supporters.
Political canvassers are legally permitted to knock on doors, interact with voters, and distribute literature without any 'solicitor's permit.'
You are not required to give prior notice before canvassing neighborhoods.
The Supreme Court has ruled that municipalities cannot restrict canvassing between 9 am and 9 pm on all seven days of the week.
When is it illegal to canvass?
Apart from the laws mentioned above, here are some illegalities in canvassing:
Volunteers are restricted from canvassing if "noncommercial advocates" are added to the list of "No Peddlers or No Solicitors" by a town council. Among others, California, Kansas, and Louisiana include religious and political canvassers in their list of "No solicitors." To know where your city or state stands on this front, read this article.
Is political canvassing trespassing? You hold the right to enter the property with no obvious sign only until you are asked to leave. It can be termed trespassing if you stay on the property even after the owner asks you to leave.
Submitting false registrations is a felony. If you submit a registration with a false name or without the consent of a voter, you are treading on illegal territory during canvassing efforts.
Rules for canvassers to ensure legal safety
Do not push too much if a person expresses they do not wish to be canvassed.
Ensure your campaign literature has the candidate's name and office phone number (at least). If not, carry other forms of identification that show you work for a political candidate.
Always hand over literature during or after your interaction with a voter. Hand it over in person. Do not leave it in their mailbox.
If a police officer asks you to stop canvassing, explain the nature of your job politely. Local police may not be aware of the laws that let you canvass for votes even in "no soliciting" neighborhoods. If they insist you stop or warn you of arrest or detention, it's best to leave the area. Inform your campaign manager immediately.
Political leaflet rules
Political leaflets and campaign literature often increase staying power. They help in a quick introduction of the candidate and understanding of the campaign.
Studies have shown that a 3-10 minute interaction between volunteers and voters increases the chances of voter persuasion. Political leaflets can add to that convincing effort.
So what do political canvassing laws say about campaign literature?
You can leave leaflets/brochures/forms on doorknobs, between doors, or hand them over in person. However, putting campaign literature in a mailbox is a federal offense.
Make sure you leave it in a place that is easily visible to the voter and does not fly away or get damaged before the voter sees it.
In Summary
| | |
| --- | --- |
| Dos | Do Not |
| Knock on doors between 9 am-9 pm. | Try not to approach people at odd hours, when the chances of having a meaningful conversation are low. |
| Canvass in neighborhoods that do not include political canvassers in their "No peddlers/solicitors" list. | Don't knock on doors in neighborhoods that include political canvassers in their "No Soliciting" signs. |
| You can canvass neighborhoods that have no visible restriction signs. The letters on such signs must be at least ½ inches (in some cities, the required size is larger. Please confirm here.) | Do not enter the property that has a "No Trespassers" or "No Canvassers" sign. |
| Speak politely and ask if a person would be interested in talking about your candidate/campaign. | Don't push too much if asked to leave. |
| Share campaign literature in person or leave it near the door. | Never leave campaign literature in mailboxes. |
Phone Canvassing
Phone canvassing is a popular way of interacting with supporters and asking them to vote for you. It is done in two ways:
Telephone canvassing: Where volunteers call supporters and engage in a detailed conversation.
Text canvassing: Mass texting or Peer-to-Peer text messages are sent to opt-ins and people who have previously engaged with you.
Let's look at political canvassing laws that dictate these remote canvassing channels.
Telephone canvassing
Outbound calling laws can determine if your phone call is within legal limits or not. Before starting your phone canvassing campaign, make a note of these rules and restrictions:
Rule: The USA law forbids automated dialers to make calls on cell phones without consent.
Solution: Invest in a TCPA Compliant dialer that enables manual (but fast) dialing. Here are two dialers to consider for your telephone canvassing campaign:
CallHub's Collective Calling and Fast Click Dialer enable you to call cellphone numbers on your list while also abiding by the rules.
How do they work?
Features of the dialers
Collective Calling
Fast Click Dialer
TCPA Compliant
Yes
Yes
How it works
Campaign manager uploads the contact list and assigns calling agents. You can set up unlimited caller accounts, without additional costs.
Caller lists are assigned to each volunteer and get contact data and the script on their screens. They call up each number from their cell phone and access or update data on the computer.
Dedicate one member to manually dial numbers at a fast rate and organize the called numbers in a queue.
Only answered calls are connected with agents. If no agent is free, a hold message keeps the contact engaged. When an agent gets free, they are connected to the call.
When to use
Use the collective calling tool when you have more cell phone numbers in your caller list.
This tool can be used even when calling agents are spread across different locations.
The Fast Click dialer is an excellent tool when you have many numbers to call and have a short time to call them.
Where to set up your account
https://callhub.io/tcpa-compliant-fastclick-cellphone-dialer/
Get in touch with our team on https://callhub.io/talk-to-an-expert/
If you feel it's too late to get a new phone banking tool, filter only landline numbers and cell phone numbers with written/digital consent in your calling list. Automated or Robo dialers are legally allowed to call these numbers.
Alternatively, you can call all numbers on your list by getting volunteers to dial them manually.
Rule: You must identify the party/candidate and the caller at the beginning of the call.
Solution: Volunteers may miss out on the right introduction over a call. To ensure they abide by the rule, create a phone banking script. This script will:
Ensure volunteers provide the correct information without missing any details
Help them initiate a smooth, flowing conversation.
Rule: You must provide contact details of the calling party during or after the call.
Solution: Phone Banking tools like CallHub allow you to send follow up texts if need be. In case a volunteer forgets to share contact details during the call, they can provide the information via text.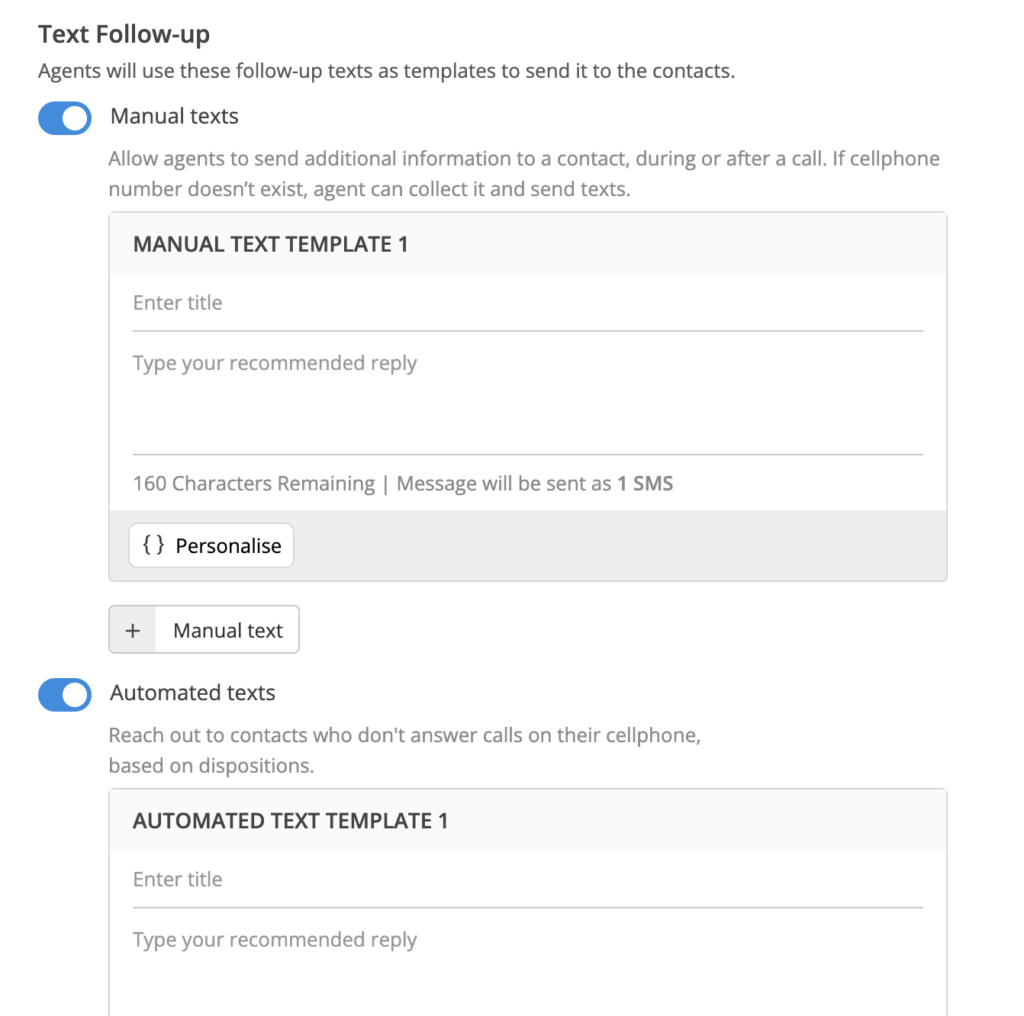 Rule: If a person wishes to be off the call/message list, the number must be added to a Do Not Contact list immediately.
Solution: Phone Banking tools enable callers to add numbers to a separate list with a single click. You do not want to anger a potential supporter by calling when they explicitly asked you not to.
Once a caller sets the call disposition to DNC, the algorithm automatically filters it out from the calling list. The outbound dialer will not dial these numbers even in your next campaigns.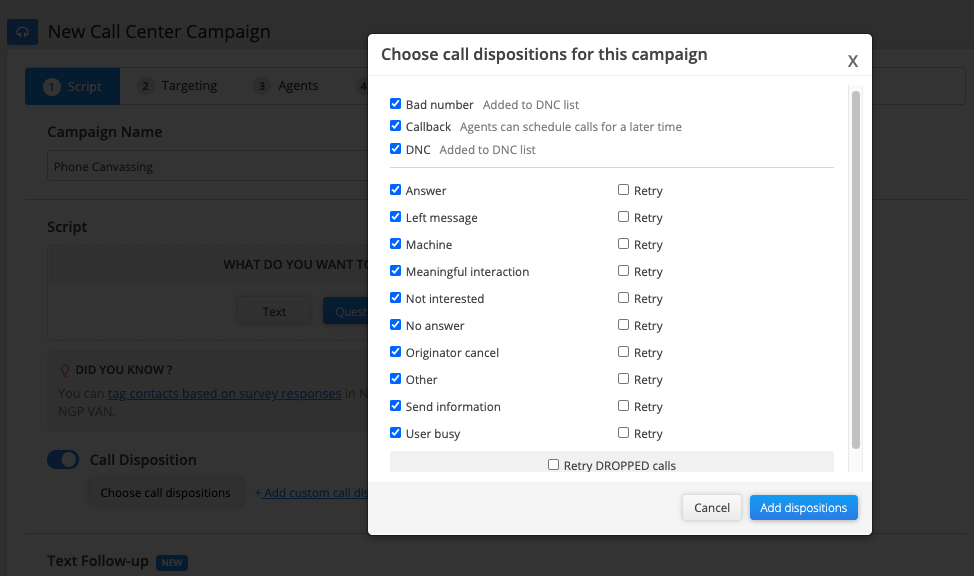 Text Canvassing
Text messages are a great way to send logistical and informative details to your supporters quickly. But even in this type of phone canvassing, you need to abide by rules and regulations.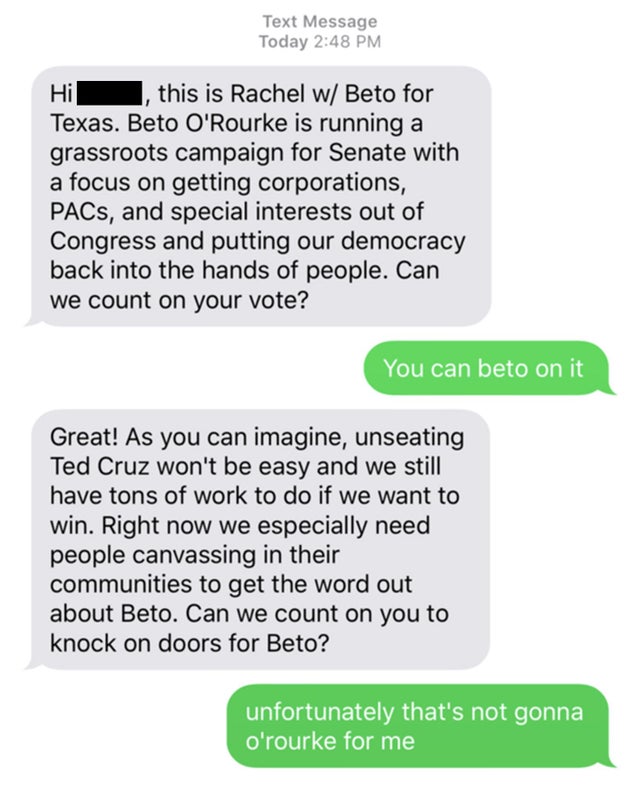 Rule: You cannot send automated text messages without written or digital consent.
Solution: Political campaigners set up an SMS opt-in campaign before text canvassing. When a person sends the designated keyword to a number, they,
Automatically give permission to receive messages from them (if specified in the campaign)
Should receive an initial message to confirm if they want to continue receiving messages (if not specified earlier)
If you haven't already started, use the following channels to get supporters to opt-in:
Mention your keyword and shortcode during phone canvassing campaigns
Add them in your campaign literature so volunteers can distribute them during your door-knocking campaign
Display them in prominent places on your social media (like display pictures, cover photos, or paid advertisements)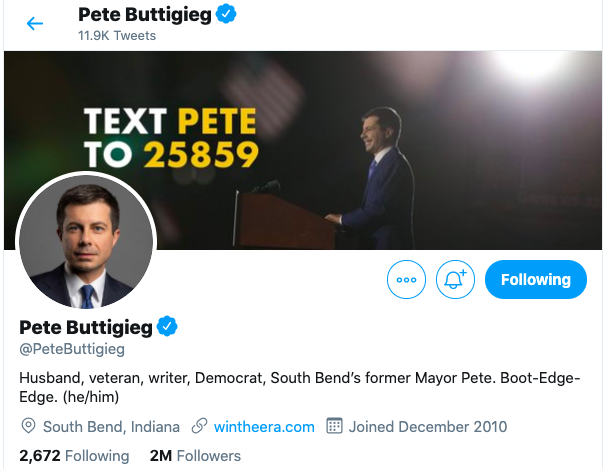 Once you have an opt-in campaign in place, use mass texting to reach out to thousands of numbers in a short time. You can legally send texts to numbers that haven't opted in using manual texting (volunteers manually type and hit the send button).
Alternatively, you can use peer-to-peer texting to converse with people who have engaged with you previously. A P2P text can:
Allow agents to send templated texts with unique details of your supporters (their level of engagement with you, location, etc.) to personalize conversations.
Enable you to send details such as donation links, addresses, sign-up forms, etc. individually to supporters.
Equip you with quick ways to record survey responses, update your database and act on each contact accordingly.
Rule: Informative political mass texts can be exempt from the mandatory DNC/DND list (but you still need people to opt-in before sending the text).
Solution: Make sure your messages aren't just promotional but also provide relevant details to voters. This can be:
Logistical (election date, polling place)
Informational (about political candidates, the importance of voting).
Rule: Messages must contain the proper introduction of the sender.
Solution: Investing in a text messaging tool helps you draft templates that ensure uniformity across all messages. When your first text goes out with the right information (campaign/candidate name, the introduction of the sender, etc.), the following messages can be more flexible, personalized, and conversational.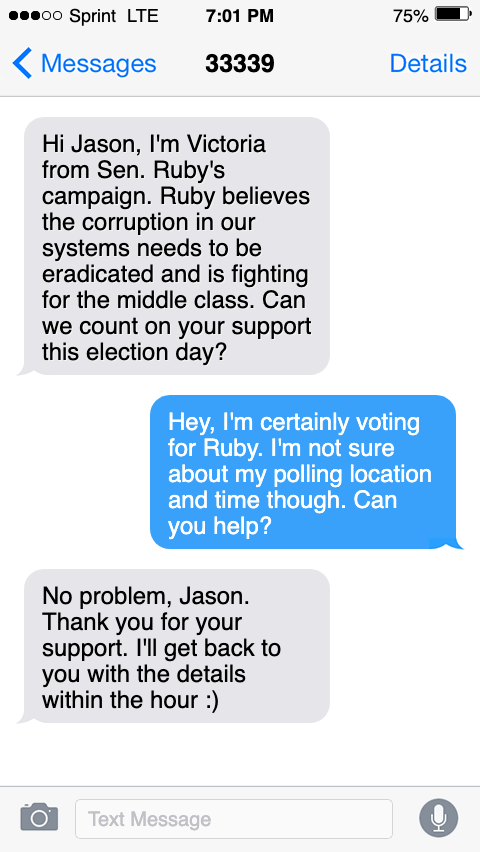 Political canvassing laws can change from town to town and state to state. They are constantly evolving due to the fluid and flexible nature of canvassing.
Campaign managers must read the latest legislation carefully to understand what's legal in their constituency and what breaks the law. These regulations must be conveyed to the volunteers to avoid any legal proceedings or unpleasant incidents from occurring and disrupting your campaign.
Do check out our phone banking and text messaging tools to make canvassing easier and quicker for your volunteers.
Feature Image Source: Image by Freepik