Your first time as a volunteer is an exciting experience! You might want to volunteer to canvass for votes for your favorite candidate or for a policy you truly believe in.
Volunteering as a canvasser entails either knocking on doors, phone banking, or texting with eligible voters for:
Soliciting support for a particular candidate or party.
Raising awareness about specific candidates and their policies.
Raising funds for a campaign.
Understanding public sentiment about an election campaign.
Identifying voters and helping them register to vote.
When you volunteer to canvass for votes, your responsibilities may include some or all of the activities listed above.
Wondering how to begin as a first-time volunteer? This article explains what canvassing is, its different types, and gives you tips to get you started as a volunteer.
Read on.
Why should you canvass for votes?
Political campaigns are incredibly competitive events. For them, canvassing for votes is essential for the 'ground game' – political activity driven from the grassroots level. Since candidates cannot always be present everywhere personally, canvassing helps them build a personal connection with the local community with help from local volunteers.
Such volunteers have a significant impact on an election campaign. If you strongly feel that your participation can help your candidate win, raise awareness or funds, you must consider canvassing for votes. Here are some reasons that might persuade you to volunteer:
Face-to-face interactions with voters increased voter turnout by 10-13%—a margin that large is enormous for any political party. Your presence and volunteering services can shift the results of an election.
Volunteers from within the community have a significant impact in influencing votes. People tend to place their faith in volunteers who canvass for votes within the community. The opposite is also true – volunteers who are not from within the community may end up dissuading people from voting for specific candidates.
Statistically, most volunteers tend to be college-educated, middle-class individuals. These college-educated individuals with access to the internet and technology can help a candidate canvass for votes through different mediums such as email and social media.
Volunteers make connections. When you step out to canvass, you are most likely to come across people from all walks of life. Canvassing is a great way to kill two birds with one stone. You not only persuade people to support your party through votes and funds but also build personal connections for yourself.
Canvassing for votes is the most direct way of participating in the political process without actually running for an election. Through your networks, personal connections, and goodwill in the community, you can change leadership and policies and improve your community.
Now that we know how canvassing for votes can be impactful, let's explore four ways this political activity is conducted.
What are the different types of canvassing?
Over the years, canvassing has combined modern technology with traditional door-knocking campaigns. While 2016 was known as the social media election, 2020 emerged as the election of text messaging. Campaigns have used social media, phone calls, and text messaging to reach out to voters to conduct surveys, canvass for votes, and raise funds. Therefore, there are more ways than one in which canvassing can be conducted.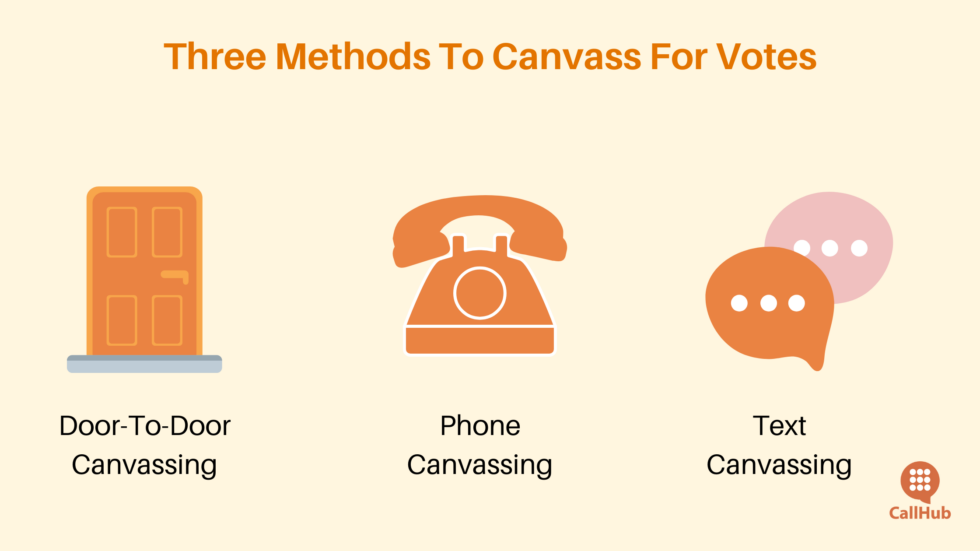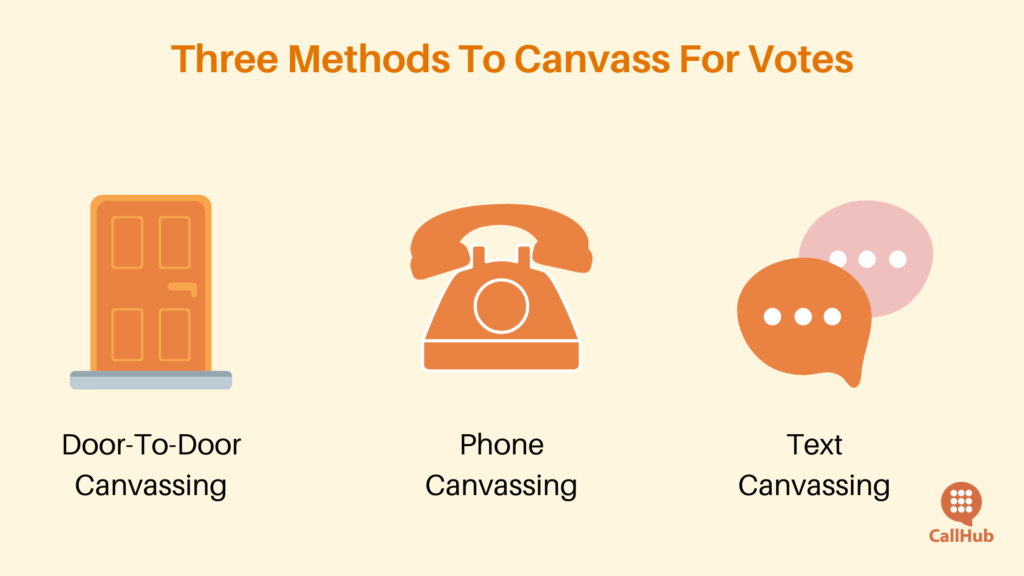 We've identified three primary methods for this political activity:
Door-knocking campaigns
Phone canvassing
Text canvassing
We speak about all three methods of canvassing in detail with tips you can include while participating in each.
Door-knocking campaigns
Door-to-door canvassing is the oldest form of canvassing for votes and is a profoundly personal interaction. Volunteers knock on each door in a particular locality to raise awareness, get voters registered, or persuade people to vote in a specific direction. And they are successful! Studies have shown that door-knocking campaigns lead to 1 vote in every 14 houses visited.
As a canvassing volunteer, you will need to carry campaign materials, understand the purpose of this round of door-to-door canvassing, and be open to any conversation you may have that day.
Tips for your first day of door-to-door canvassing
Your first day of door-to-door canvassing can be daunting. Here are some tips to make door-to-door canvassing more effective and comfortable:
Wear comfortable clothing & shoes: The first step to an excellent canvassing round is to stay comfortable. While the goal is to look presentable and smartly dressed when you canvass for votes, it is vital to remain comfortable while doing so. Remember, door-knocking campaigns entail walking quite a lot throughout the day from door-to-door, driving around your community, and dealing with the weather of the day.
Keep all of it in mind when you pick out your clothes for the day. We recommend wearing comfortable sports shoes, so your feet do not hurt at the end of the day.
Carry a water bottle: Hydrate! Hydration is key when you are moving around in the sun, speaking to people, and need that extra energy boost. Do not forget your trusty water bottle in all the excitement to go out there and canvass!
Confirm canvassing routes with the campaign: Ideally, volunteers canvassing for votes are the most effective when they visit homes within their local community. Your canvassing route should be limited to your own zip code.
Nevertheless, each day, confirm your canvassing routes with the campaign coordinator to ensure you are on the right track, are not repeating localities, and covering the houses that the campaign needs covered.
Carry material for canvassing: Each campaign has its own campaigning material, such as posters, brochures, lawn signs, etc., that they may need you to carry and distribute on your canvassing trail. You may even need FAQ documents that can quickly answer most of the questions that people pose for you.
If your campaign has collected data from eligible voters beforehand, make sure you go through it and include it in your conversations with people when speaking with them. For example, if some voters are particularly inclined towards certain policies, make sure you mention them while talking to them.
Rehearse your introduction: Your introduction is the most essential part of your conversation with a potential supporter. As they say, first impressions matter. Depending on how people relate with you when you introduce yourself, they may choose to speak to you or not, get persuaded or dissuaded to vote for your candidate.
You can use some of these tips to improve your introduction:
Determine which language would be most effective in your locality and use it if you are fluent in it.
Start with who you are, who you represent, and the purpose of your visit.
Act confident and approachable. Try not to stutter or use filler words.
Keep your conversation short, friendly, and relevant: There's nothing as off-putting as a conversation that goes on and on endlessly without particularly engaging a person. Know what the relevant points of your conversation are, engage people with topics they seem interested in, and do not overstay your welcome.
Overselling your campaign or initiative might just have the opposite effect of what you intend to achieve.
Be open to hearing a no: Let's face it. You are knocking on doors of (mostly) unsuspecting people and trying to canvass for votes, donations, or asking them to register to vote.
It may not always be the best time to speak to someone – maybe they're having a rough day, or they just plain do not want to change their mind. Staying open to hearing a no will save you a lot of grief and help you not take things personally.
Collate all information in the campaign's tools after every conversation: Your efforts to canvass for votes may not just help this election cycle but also future election cycles through the data that you collect.
Remember to collate all your information at the end of the day and upload it onto your campaign's tools for easy access.
Gain insights: The only way to improve your canvassing techniques is by gaining insights on various things, such as:
What is going right during your canvass for votes?
What can be improved?
How are people responding to the campaign?
Which pitch or policy is the most effective in a particular neighborhood?
There can be many different observations that you can make about yourself as a canvasser and the canvassing process for a particular political campaign. These are essential pieces of data to help you in the future.
Phone and text canvassing
Shifting from traditional door-knocking campaigns, canvassing is also now largely conducted through phone and text canvassing methods. Let's explore them in more detail.
Phone canvassing
Phone canvassing entails calling hundreds of eligible voters to canvass for votes. It is an excellent way to conduct surveys, gauge community sentiment about a campaign, reach more people in a fraction of the time it takes to canvass door to door.
Volunteers will need to:
Download or sign in to the calling software chosen by the campaign
Go through the phone script.
Understand the intent of the call
Begin their phone canvassing process.
This is perfect if you would love to canvass for votes but may not want to go door-to-door canvassing.
Text canvassing
Especially helpful when reaching out to younger voters during election season, text canvassing facilitates two-way conversations with voters using tools such as peer-to-peer texting. These tools allow you to share a message with hundreds of people at once and then have individual, personalized conversations with those who respond, at scale.
If you'd like to avoid the anxiety of speaking to people and your text message game is on-point (keeping campaign guidelines in mind, of course), then this is the perfect canvassing platform for you. Look for campaigns that want volunteers to text voters.
Tips for phone and text canvassing
Understand the tools: Phone banking and texting software are generally designed to make it easy for volunteers and staff members to use. Nevertheless, before you canvass for votes, you should go through the tools and understand how they work.
Figure out where the contact lists are, how to place calls, send texts, and find any campaign information such as scripts you need to use.
Go through the script: Go through the messaging or phone script that you will be working with to understand the message you are sending. Understanding the script will make it easier for you to communicate with people naturally, eventually learning what to say without referring to the script.
Understand FAQs and ask questions for clarity: Before you begin, it is a good practice to understand common concerns that people may have. It gives you an insight into the campaign when canvassing for votes and helps you answer questions that may come up during conversations.
You may also come up with follow-up questions or queries once you go through the list – which is excellent if answered before you canvass.
Learn on the go and implement feedback: You can gauge people's responses, interest, and the campaign's popularity during phone or text canvassing. Here are a few things you can do to learn and improve:
Make notes about the call, such as the recipients' political leaning, demographic details, interest in the campaign.
Identify what works on a call and what does not, such as a particular introduction or greeting, or the way you pitch the campaign.
Gauge, at what point do most calls end – are you able to have an entire conversation, do people hang up after the introduction? Identify that point and improve on it.
Rules and laws for canvassing
Implementing tips and best practices may help boost your campaign's success. However, knowing laws before you canvass for votes will keep you safe and out of legal trouble. Here are some general rules you must know:
As a political canvasser, you are legally allowed to private property and knock on doors.
If a property has a 'no trespassing' or 'no canvassers' sign, you cannot enter the property.
You cannot leave campaign literature on a property, mailbox, etc., without speaking to the resident first. After a conversation, though, you are well within your rights to offer campaign literature.
Canvassing is allowed between 9 am and 9 pm on all seven days of the week, and canvassers cannot be stopped during these hours. However, some states may have shorter timings allotted for canvassing. Do check local regulations.
If you are asked to leave, or the resident does not wish to speak with you, you cannot force them to have a conversation or stay on their property.
To know more about such laws, refer to our article Political Canvassing Laws Every Campaigner Must Know and stay safe out there!
The way forward
Knowing more is always the key to doing better. While you are equipped with tips on canvass for votes while you are just beginning, there is always more information you can prepare yourself with.
CallHub has several resources to help you in your mission to canvass. Read our article The Perfect Doorstep Interaction in Political Canvassing to learn how to interact with eligible voters while canvassing through door-knocking campaigns.
Featured Image Source: Pavel Danilyuk