TCPA, The Telephone Consumer Protection Act, was passed in 1991 to regulate the use of telephones and text messages concerning telemarketing calls and text messages. Ever since,
The FCC (Federal Communications Commission) continually issues rules and regulations around TCPA, further refining it to protect consumer rights, and
The courts issue rulings interpreting those regulations.
This all sounds pretty dry so let's address the elephant in the room.
Why should YOU care about changes to TCPA?
Well, first of all, 👇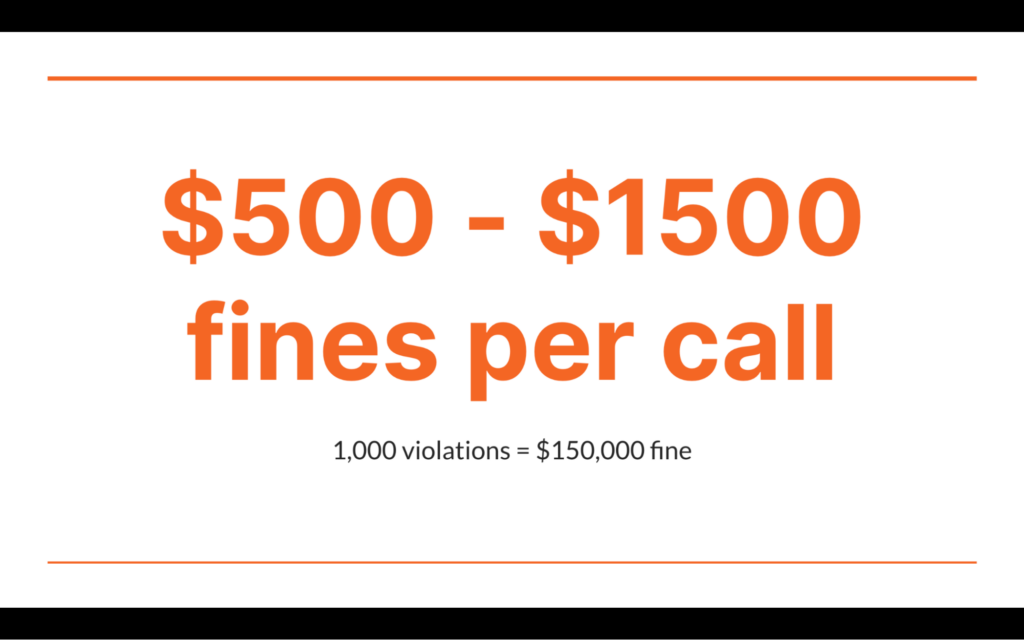 Let's understand this.
Despite following the Federal Communications Commission rules, organizations face multi-million dollar lawsuits.
You will be charged between $500 and $1500 per violation of the Telephone Consumer Protection Act.
The US Supreme Court's decision in Facebook, Inc. v. Duguid caused a shift in the definition of a few things associated with TCPA compliance.
TCPA cases can be filed against corporate officers and staff directly, even inside an LLC, putting your personal home, car, and retirement at risk in a court case.
As per the law, text messages are calls and are covered by the TCPA, so your organization could be in violation of calling regulations without ever making an actual "call."
What are the penalties for violating the Telephone Consumer Protection Act?
The standard penalty for one TCPA violation is $500. In some cases, your penalty may go up to $1500 depending on the severity of the violation. In case of a DNC violation, the penalty can go up to $43,280 per violation.
What is TCPA compliance – Brushing up the basics
The Telephone Consumer Protection Act was designed to safeguard consumer privacy by restricting unwanted telemarketing calls and texts. As a campaigner, you need to reach your audience, but you don't want to destroy your organization with huge lawsuits and settlements.
At the same time, the regulations evolve periodically, and staying on top of the laws in your state is the only way to prevent hefty TCPA penalties. This article will cover all the latest updates and ensure you know what to do to stay compliant.

What does TCPA prohibit?
Generally speaking, TCPA prohibits
Using an ATDS (Automatic Telephone Dialing System) to contact cell phones unless the consumer has given consent to receive calls or texts from you or
Sending prerecorded messages to landline numbers unless the consumer has given consent to receive calls or texts from you, and
Contacting people on the Do Not Call lists.
TCPA also requires you to maintain internal DNC lists, identify yourself at the moment of contact, and not exceed the maximum drop rate- more on these later.
For now, the trillion dollar question: What is an ATDS?
Definition of Automatic Telephone Dialing System (ATDS)
A lot has happened to define an ATDS- A key component of TCPA. Multiple court cases, multiple interpretations, and yet, the definition of Automated Telephone Dialing System is still a moving target.
Previous definitions were based around 'Human Intervention' and how much the system was automated, rules not found in the bill. As of April 2021, human intervention and 'clickers' were a thing of the past.
As per the latest definition, ATDS is a system that produces or stores telephone numbers using a random or sequential number generator.
Having said that, some states have their own definition of ATDS. For instance, Florida and Oklahoma passed a bill (Mini-TCPA) that defines ATDS as a system that
Initiates a call OR
Sets the sort order for a caller.
This means a VPB (Virtual Phone Bank) with a landline is ATDS. Supposedly, this only applies to telemarketing messages, but advocacy fundraising can sometimes look pretty close.
But, good news!
CallHub is not an ATDS per every definition, as it doesn't use a random or sequential number generator to produce or store numbers. The system lets the caller choose any number from their contact list and even lets them decide the order in which to upload the numbers in.

What are the TCPA requirements?
The TCPA includes numerous provisions. Let's get started!
Time restrictions
You cannot call residents before 8 am and after 9 pm in their respective time zones (local time).
Prior Express Written Consent (PEWC)
Like the rest of life, consent is key!
You are not allowed to
Call a cell phone or landline for telemarketing with a pre-recorded voice
Call a cell phone for anything using a pre-recorded voice
Call a cell phone for anything with an ATDS.
without Prior Express Written Consent (PEWC). PEWC means the person you are calling has given you specific permissions to call
Using an ATDS or
Using a pre-recorded voice (Express)
in a way that is trackable (Written) before you attempted to contact them using that method (Prior).
PEWC usually means your organization or someone else naming your organization specifically collected compliance from this contact. Someone adding a number to a public database (i.e., a Voter File) might be consenting to calls in general, but it is not expressly consenting to calls with an ATDS or pre-recorded message.
Let them opt out
Giving your contacts a choice to opt out is equally important as letting them opt in. This ensures that when they are not interested to hear from you anymore, they can remove themselves from your list, keeping you compliant with TCPA guidelines. This will also keep your contact lists healthy and drop rates under control.
National Do Not Call Registry
Do not call people listed in the National Do Not Call Registry. Campaigners must remove phone numbers in the national phone directory from their contact lists. Remember that many states also have their DNC local lists separate from federal lists.
Robocalls
The TCPA prohibits artificial or pre-recorded voice messages from being sent to any telephone number without prior express consent.
Identification requirements
The TCPA requires a caller to provide their name, the organization they are calling from, if any, and a number where they can be reached.
Internal Do Not Call (DNC) List
You need to maintain an internal Do Not Call list, and anyone on this list should be excluded from all your campaigns.
Keep call abandonment rate within 3%
An abandoned call is a telephone call when nobody responds to the recipient till 2 seconds after the call is received. It's usually measured over the duration of a single calling campaign, and is calculated as follows: [Total number of abandoned calls/(Total number of answered calls by a live person + Total number of abandoned calls)]*100.
As per TCPA, the maximum call abandonment rate for your telemarketing campaign cannot be more than 3% over the course of 30 days.
Pro-tip to avoid your numbers getting blocked: CallHub enables users to register their mobile numbers to stay compliant with TCPA's SHAKEN/STIR initiative. The SHAKEN/STIR certified phone numbers protect you against the incorrect classification of a call as a 'fraud' or 'spam'.

When it comes to texting too, CallHub helps you register your brand, campaigns, and use cases and get you 10DLC numbers that you can use in your campaigns on CallHub.
Who is required to comply with the TCPA?
To answer in a word: Everyone.
TCPA applies to all individuals and organizations making calls or sending texts or voice messages to a contact in the United States.
This means that any person making calls, sending texts, or voice messages on behalf of your organization should also comply with the TCPA regulations, or you and the organization could face severe penalties.
This is not to say that every call or text is covered by the TCPA. Informational, non-telemarketing calls to residential landlines and cellphones are exempted from the prerecorded calls, and manual calls to cell phones without using an ATDS are also allowed.
See the Exemptions section below.

Exemptions from the TCPA
Federal Non-Profit Organizations are exempted from certain parts of the TCPA. This would include organizations exempted under Section 501(c)(3), Section 501(c)(4), and Section 501(c)(6), among others.
This exemption extends to anyone making calls on behalf of these tax-exempt organizations. However, even organizations exempt from TCPA cannot make calls to those in the National Do Not Call Registry or use robocalls.
So, in a nutshell, here are the calls that are exempt from TCPA:
Calls made using a manual dialing system and don't have a prerecorded message.
Calls made for emergency purposes.
Calls that are not made for commercial purposes (informational calls).
Calls made for commercial purposes but without marketing or advertising, such as collecting the debt.
Calls made by or on behalf of a tax-exempt nonprofit organization or any other tax-exempt organization that is not using prerecorded voice and are not calling people on the National Do Not Call list.

What are the biggest TCPA risks?
Despite taking care of all the requirements, organizations find themselves in violation of the TCPA due to the fast-moving nature of phone numbers and the inherent lack of specificity in the law.
Inaccuracy of data
Organizations often acquire leads through third parties or external databases like voter files. Although this provides valuable new leads, it can also cause errors or outdated information. Getting wrong data is often the first step toward TCPA violations.
DNC Violations
DNC compliance has become increasingly important for several reasons. You must ensure that your communication platform removes people who don't want to be contacted from your list and never makes them a part of your campaigns.
You must also check your lists against the national DNC list or face TCPA violations. Cleaning data can take time, and it's easy to forget.
Reassigned Numbers
Over 100,000 phone numbers are reassigned every day in the US. Because the agreement is tied directly to the caller rather than a telephone number, the possibility of calling formerly assigned numbers poses a huge TCPA risk to a company.
In this case, your messages or calls may go out to someone who hasn't given consent to contact them. Calling a cellphone using an ATDS without PEWC is a violation even if you thought you were calling someone else who did have PEWC.

TCPA Call Center Compliance with CallHub
CallHub does not use a random or sequential generator(RoSNG) of any kind, making it a non-ATDS system. You don't have to worry about the constantly shifting regulations on ATDS calls since the CallHub system is not an ATDS at its core, keeping you safe from day 1.
CallHub's TCPA-compliant platform also has other features to protect call centers from a wide array of regulatory and administrative decisions.
Manually dial calls 10x faster with our FastClick Dialer.
Call people during the permitted time using timezone-based calling.
Know if the number you're contacting is a cell phone number or a landline one using our contact list analysis plugin.
Get consent to contact people using SMS opt-ins.
Remove people from your contact lists when they ask to be removed using DNC lists.
Capture verbal consent using the call recording feature.
Staff Leaders who love compliance and stay almost too updated on all the latest regulations and tricks. Trust us, ask our spouses.
CallHub partners with dnc.com to help you stay compliant
Certain law firms seem to be filing politically based TCPA suits against candidates they ideologically oppose and collecting huge settlements. Over ⅓ of TCPA cases come from repeat filers!
CallHub has a way to protect you there too, with built-in TCPA litigator scrubs for your uploaded lists. We partner with dnc.com to automatically scrub your lists of any known TCPA litigators, lawyers, and their families.

Text messages and the TCPA
All the TCPA rules apply to texting too. However, there is a way to do compliant texting through triggered texting.
That's right!
Triggered texting (sending SMS based on user action) is much safer now and compliant as long as it follows all the other requirements discussed above.
Our solutions: Peer to Peer Texting with automated initial messages and Texting from Call Center by sending automatically triggered text messages from calls or in general.
So, to wrap it up:

TCPA compliance checklist
Finally, being TCPA compliant means following all the rules in your campaigns to stay protected:
If you use a dialer that falls under the new definition of Automatic Telephone Dialing Systems, consent is a must. Additionally, ensure your platform does not use Random or Sequential Number Generation of phone numbers in its sorting and dialing. Look at the source code of your system if you must. For example, with the proper NDAs, CallHub will show you the code since we control the calling process end to end.
Don't send artificial or prerecorded voice messages without express written consent.
If you are a telemarketing firm, do telemarketing activities, or just want more protection, use a Human Selection System to set sort order at dial time.
Remove litigators and associates using a list cleaning service like Litigator Scrub on DNC.com.
"Scam Likely" labels make people dig deeper. A bad online reputation can make a lawyer think about class action and move forward. So, keep your calling numbers healthy with 10DLC, SHAKEN/STIR, and Spam Label Shield.
Rotate and compartmentalize your numbers to maintain their reputation. Don't use a single number for all your calls and campaigns. Use Dynamic Caller IDs to spread out the call volume.
Let your contacts opt out and move contacts that have revoked their consent to a Do Not Call list. Also, do not call people listed in the National DNC Registry.
Stay within the permitted hours for calling and sending texts.
At the time of contact, identify yourself with your name, the organization you are calling from, if any, and a number where you can be reached.
Keep the call abandonment rate under 3% by minimizing abandoned calls.
CallHub facilitates all these things so you can do more and worry less.
If you have any questions or need more information to understand anything related to TCPA, schedule a call with our experts.
Disclaimer: While all the information we have presented above comes from our in-house TCPA experts, and CallHub is a completely TCPA-compliant platform, we recommend you seek legal advice before proceeding with your campaigns. Also, district courts across the country are different and have a patchwork of standards. This post talks in generalities to cover TCPA compliance on a country level, but you will also need to consider your state regulations.
Featured image: Photo by Markus Spiske