Political text messaging has invited a lot of flak, with people furiously Googling "Why am I getting political texts" and "How to stop political text messages." From their outlook, asking these questions is justified, if they haven't signed up to receive the texts.
But you also have to win the popular vote, and getting in touch with voters at scale is a great way to gauge and increase support.
So what are the best practices to tread the fine line between welcomed outreach and annoyance? What rules stop you from legally sending such political texts? And what methods will help you make the most of text messaging during and after your campaign?
This guide will answer these questions in detail and provide you with the right direction to take up political text messaging.
Advantages of political text messaging
In 2020, 161.6 million US users used a mobile messaging app service and this number is expected to reach 171.3 million users by 2022.
It's clear that most of your supporter base is going to be actively texting. But there are more benefits in store.
Here are six solid ways how political campaigns benefit from text marketing.
Reach more people in less time
When you have a broadcast to send out to a large group:
Phone calls prove to be time-consuming,
Social media doesn't guarantee personal reach, and
Email depends on internet access. Moreover, nearly half of all emails are marked as spam.
Text messages overcome all these obstacles. Plus, there's a smaller chance of getting marked as spam because only 10% of text messages end up in the spam folder.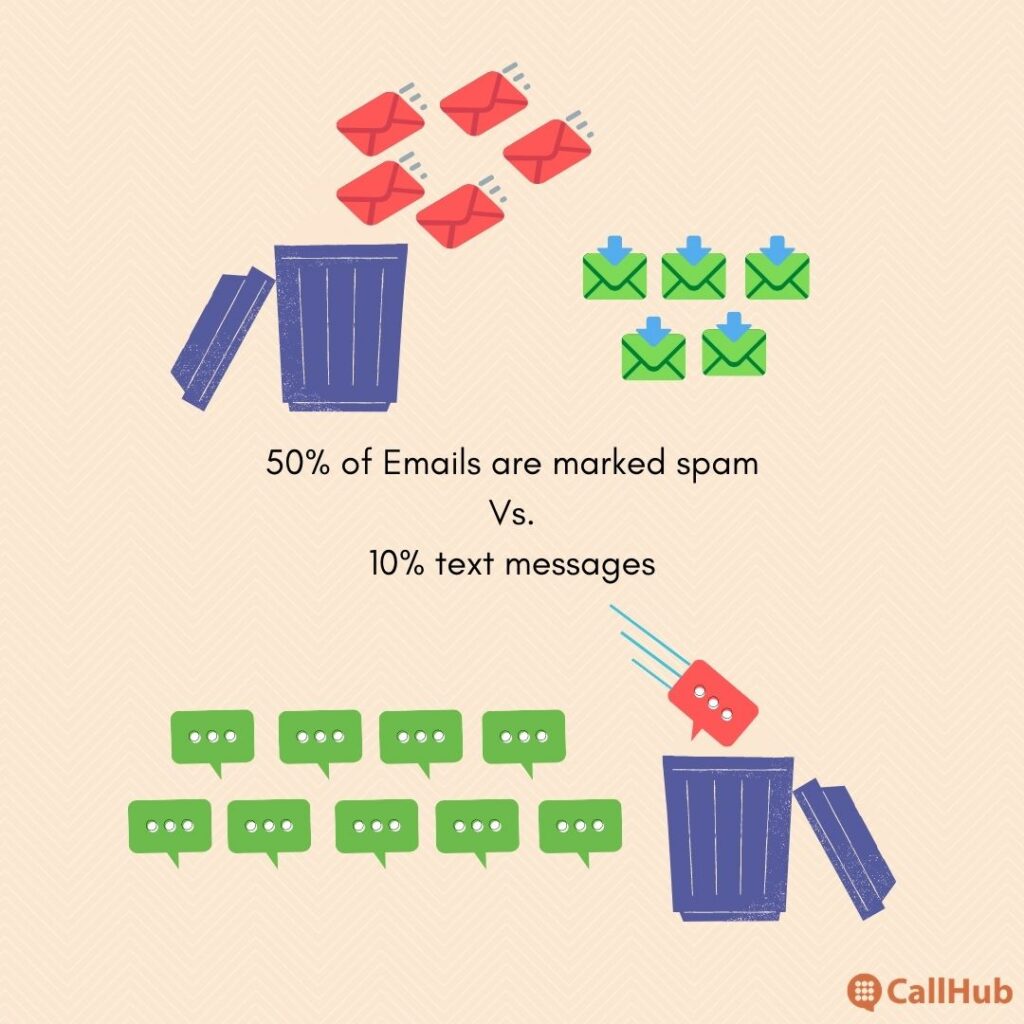 Better open rates than any other communication channel
You want an assurance that your appeals are not falling on deaf ears. Text messages ensure that because:
Texts have a 98% open rate while emails have 15-25%.
Texts have a 45% response rate, 7x more than that of emails.
Appeal to a younger audience
You already have a solid idea of how your older supporters prefer communicating with you. The generation as a whole has been with you longer than millennials or Gen-Z.
The younger generations, like myself, prefer texting. We do it with personal relations, businesses, and other organizations. According to Forbes, emails are reserved for communications that are not (or don't feel) urgent.
However, texting is not limited to structuring your campaign to win over millennials only. Older generations, too, have started getting comfortable with texting and may prefer this personal yet non-invasive way to communicate with you.
Excellent for event reminders and GOTV
Last-minute reminders and nudges go a long way in getting the crowd to attend your event or step out and vote. Text messages allow you to send these reminders to a large group almost instantly.
A long code can send one message per second, while a shortcode can send 100 messages every second. That means you can reach between 3600 to 360,000 people within the hour!
Moreover, you can add auto-responses to broadcast messages. These responses go out when a person sends a trigger keyword. Location pins and donation links are common use cases for auto-responders when using political text messaging for GOTV, fundraising, or event reminders.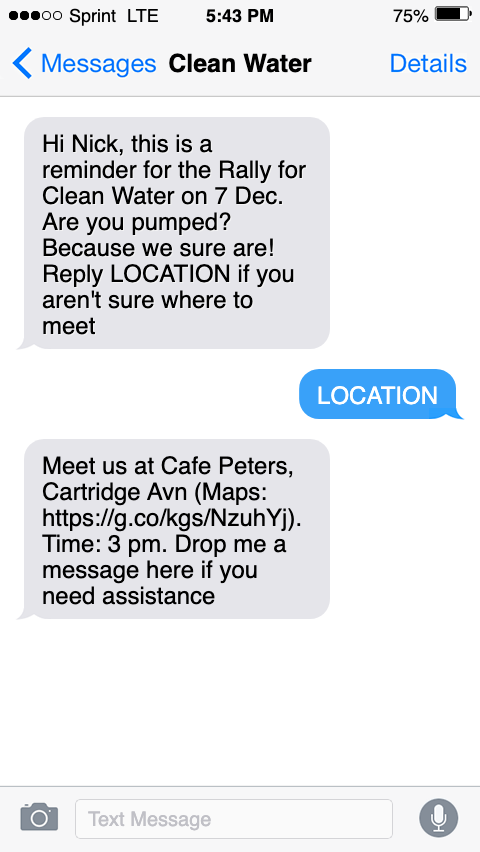 Personalized messaging, at scale
One doesn't require statistics to figure out that personalized messaging works far better than a generalized message sent to a group. Even when it comes to political text messaging, the rules are the same. Generalized and impersonal messaging sounds robotic and hence, is off-putting.
Personal conversations with your electorates may not guarantee their support, but it will ensure that they don't lose interest because they didn't feel valued.
With text messages, you can import vital data on your voters and include that in your conversations to make them personalized and personal.
Opt for a text marketing tool that integrates with your political CRM. Check out all our App integration here.
Follow-ups made easy
Some of your electorates may need diligent follow-ups (e.g., on-the-fence supporters, non-respondents to event invitations). Text messaging makes that not just possible but easy since you can segment your audience by their responses and schedule follow-ups after an appropriate time. This way, you don't fade away from their memory.
True, scheduled follow-ups are not exclusive to text messages. But digital nudges, such as SMS or push notifications, are proven to be effective in getting the desired action. Most text messages are opened within three minutes of being received– an additional reason why your political campaign text messages will yield better results.
These benefits of political text messaging are most effective when using the correct type of text for every communication. Let's look at four such text messaging methods and how to use them in your campaign.
Text message methods and how to implement them
Your audience may mark your messages as "unsolicited political text messages" if
You failed to get their permission or
Sent out the wrong kind of message to a person (for example, if a person has only opted to receive notifications for volunteering opportunities but is bombarded with event invitations.)
These four types of messages will ensure you use the correct method for every message and ensure optimum results.
SMS Opt-in
SMS opt-ins are the first and the most crucial texts for your political text messaging campaign. They are the digital consent you need from people to start messaging them legally.
Why it matters:
FCC rules forbid application-to-person (A2P) texts without consent.
You don't want people to be annoyed by your messages and report you as spam, or worse, pull back their support.
How to implement:
Pick a shortcode and keyword from your text marketing software. The keyword should ideally be something that reflects your campaign, messaging, or the candidate's stands (e.g., Trump, Give, United– used by the Trump campaign, Bernie campaign, and Biden campaign, respectively.)
Feature your shortcode and keyword on every platform– online and offline.
Set up an initial supporter journey when they send the keyword to the number (to confirm their consent and obtain essential information to guide future conversations.)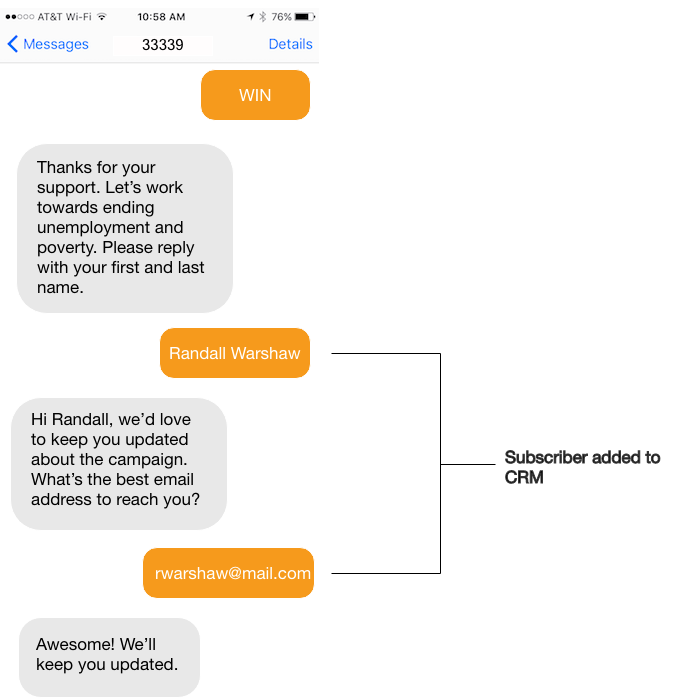 CallHub allows you to rent shortcodes, set auto-responses to trigger keywords, and set up a nurturing journey from the moment a person signs up. Check out our SMS Opt-In tool here.
SMS Broadcast (aka Mass Texting)
In August 2008, Barack Obama's campaign sent the following text to their contact lists: Barack has chosen Senator Joe Biden to be our VP Nominee. Watch the first Obama-Biden rally live at 3 pm ET on www.BarackObama.com. Spread the word!
The Obama campaign was able to send out this notice to millions of followers, who had subscribed to the campaign's SMS list, instantly via a text broadcast. The campaign could select all relevant contact lists, draft a message and schedule it to reach all supporters at once.
Similarly, a broadcast SMS can help you issue a notice, warning, reminder, or alert to all or some of your SMS lists, cutting down the time it will otherwise take you to reach them by a massive margin.
Why it matters: You want your electorates to know about upcoming events or happenings from the horse's mouth. But, you don't call for a meeting for something that can be conveyed over an email, right? Similarly, you shouldn't go calling people when you can send a text which will be faster and much more cost and resource-efficient.
How to implement:
On your SMS broadcast software, like CallHub, select the list(s) you want to send the broadcast to.
Draft a message, complete with relevant links and information.
If you are expecting replies (e.g., if you have asked a close-ended question), set the expected responses as trigger keywords and add auto-responses for them.
Sync your CRM with the text marketing tool to automatically save all newly collected information on the database.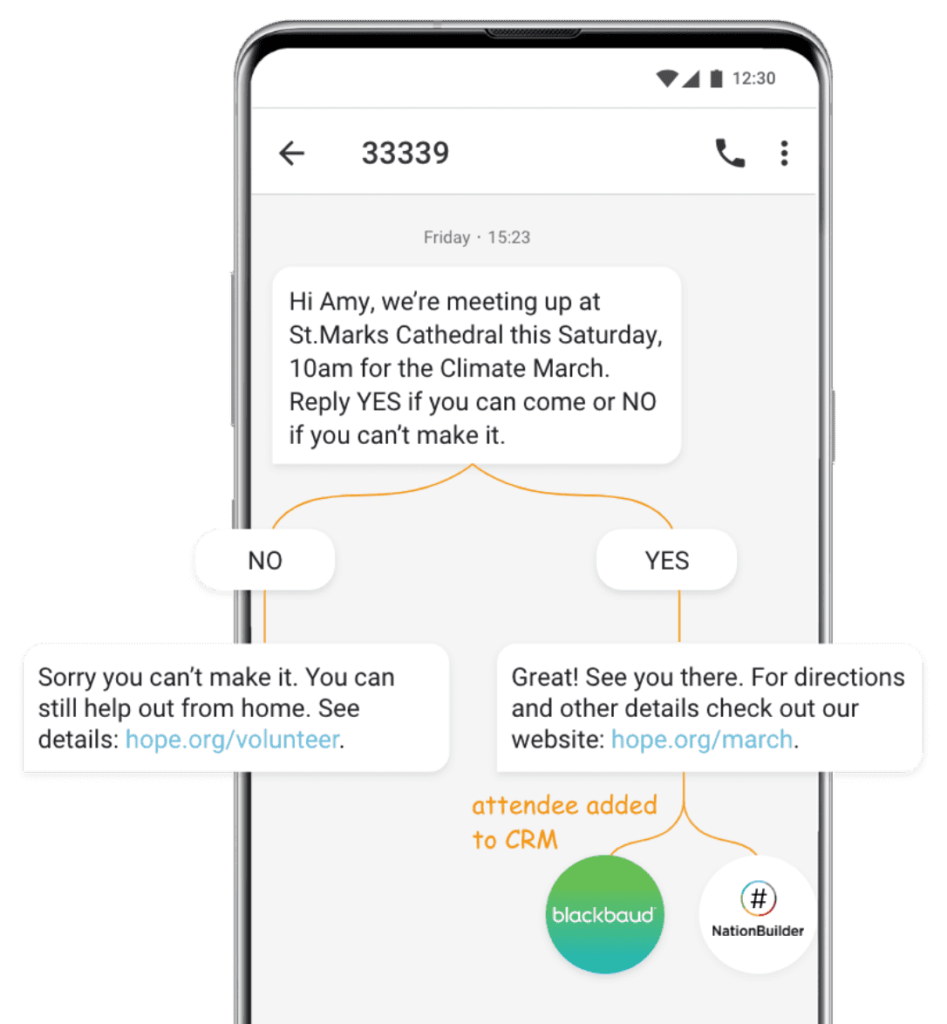 Get the most of your SMS broadcasts to mobilize volunteers, nudge supporters to attend rallies, and raise funds. Try CallHub's mass texting tool for free here.
MMS Broadcast
When a simple text won't do, add images, sounds, and videos to your broadcasts.
Why it matters:
People prefer ads and messages with image, video, and audio content. So aiding your broadcasts with such media that will grab and maintain attention becomes crucial with political text messaging. It also increases shareability eight-fold!
MMS can get up to 20% more opt-ins and about twice the conversion rate than SMS.
The media can provide more information using less space. Moreover, MMS has a 1600 word character limit Vs. the 160 character limit of SMS.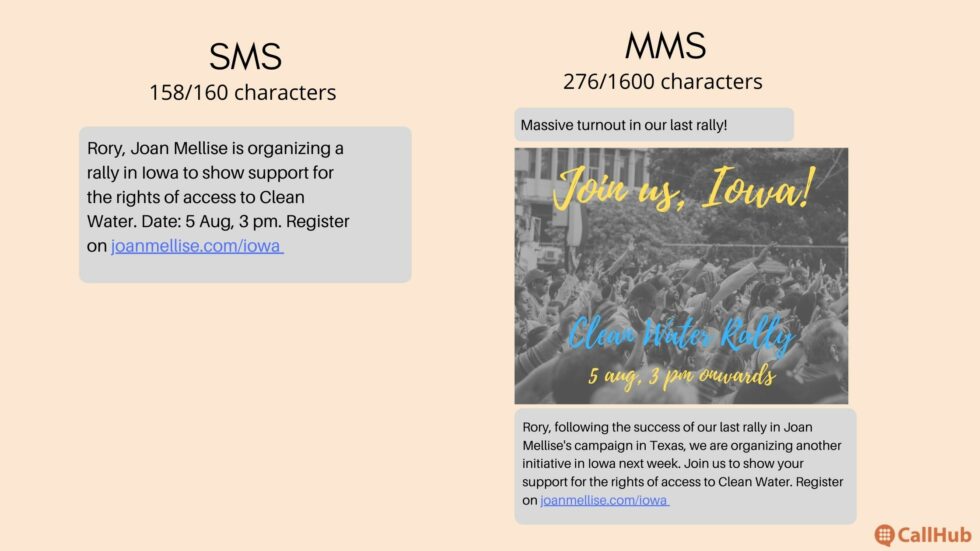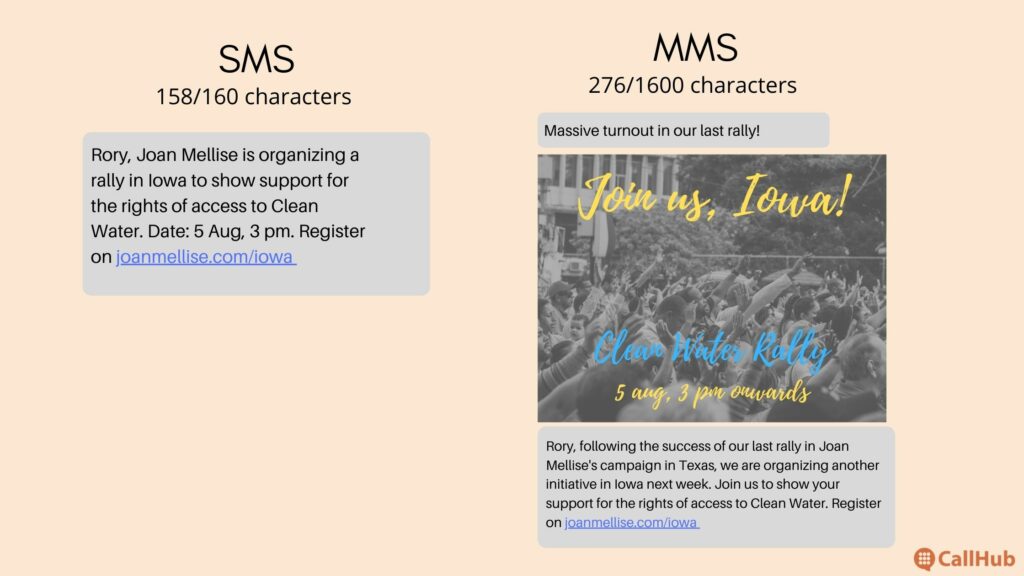 Related Reading: Difference between MMS and SMS – all you need to know
How to implement:
Make sure your contacts have opted in, to your SMS list and you've set expectations about sending MMS broadcasts.
Set up a text broadcast campaign following the same steps as an SMS campaign.
Add relevant pictures, videos, or audio files that suit the message.
Add a subject line.
Schedule your campaign.
Increase conversion and engagement rates among your voters. Check out CallHub's MMS broadcast tool here.
Peer-to-peer texting
Get your volunteers speaking to electorates via text, at scale! P2P helps you venture beyond the initial stages of political text messaging and enables personal conversations with your supporters.
Why it matters:
Election communications encompass not just speeches and interviews but also two-way and personal conversations with electorates to keep them engaged and interested. When doing this at scale, texting tools like P2P become a catalyst for such communications. P2P enables volunteers to have multiple conversations, on your campaign's behalf, at a time.
P2P texting is hailed as "the most significant advancement in political campaigning in a generation" because it essentially overcomes the obstacles of door knocking and phone banking like the need for comparably more human resources, and being able to reach out to only a few people per hour.
Additionally, P2P texting is not restricted by geography, like in-person canvassing, and enables you to share digital or written information during conversations, unlike phone calls.
How to implement:
Get supporters to opt-in to your messages.
Set up a campaign with an initial message (text or a multiple-choice or open-ended question.
Save replies for commonly expected responses.
Assign agents and schedule the campaign.
The agents can just select the saved responses and hit send for frequently asked questions or expected replies. They can also tweak these saved replies or draft their own as required.
Increase communications with your supporters and guarantee their vote. Try our P2P texting tool for free.
Political text messaging use cases and functions
It's important to understand which political text messaging methods will aid what part of your campaign the best. This ensures financial efficiency as well as gives you a good indication of possible outcomes.
Note: The use-cases given below assume you have gotten the required SMS opt-ins. As we will discuss further, it is helpful to get opt-ins for specific campaigns and causes and intimate contacts about the nature of messages they will receive.
| | | |
| --- | --- | --- |
| Use cases | Best text message method to use | Example |
| Fundraising | SMS Broadcast or SMS Opt-in messaging | Hi, Joan's campaign is not backed by big millionaires. We need the help of supporters like you to raise $250,000. Click here to donate and stand a chance to win exclusive merch! |
| Event invitations | MMS Broadcast or P2P text messaging | Hey, want to know how Joan's campaign office works? We are hosting an event on 7 Sept. to give you a never-before virtual tour! Register here. |
| GOTV | SMS broadcast or P2P text messaging | The much-awaited elections are here! Voting stations open on 3 Nov, 8 am – 8 pm. Have you registered to vote yet? |
| Reminders | SMS or MMS broadcast | Last chance to win exclusive early access tickets to Joan's NY tour! Register here before 8 pm today to avail the opportunity! |
| Sharing stance | P2P texting | Hi Rory, Senator Marshall wants to cut down city parking space and hand over the space to big corporates. We stand against it. Read here how Joan proposes to stand against this injustice. |
| Volunteer organization | SMS Broadcast | Dear volunteers, urgent meeting today to discuss tomorrow's virtual tour. Time: 4pm. Venue: Campaign office conference room. Reply YES if you can make it. |
| Alerts and announcements | SMS Broadcast | Rory, Joan is declaring her VP at 5 pm tomorrow! Sign up to our P2P texts to get the update in real time! Reply VP to sign up. |
| Mass mobilization | SMS or MMS broadcast | Joan is organizing a rally to protest against the cutting down of parking space. Join to show your support! 7 Sept, 3 pm in Central Park. |
| Canvassing | P2P texting | Hey Rory, the elections are two weeks away! We're counting on your support. Have you decided whom to vote for? |
| Voter Persuasion | P2P texting | Rory, we spoke last week and you hadn't decided on your vote yet. Joan has worked really hard for the community and for the environment. I would love to discuss her work with you. Do let me know if you can spare time. |
Note: Campaigns also use SMS Opt-ins for grassroots fundraising. They promote the keyword and number everywhere possible like social media, posters, during events, etc. to receive the donation link and in this way also get people to subscribe to their SMS list.
Rules and regulations for political text messaging
Fence-sitters are unlikely to be swayed, and supporters are likely to withdraw support if they are frustrated or think of your political texts as spam. To ensure this doesn't take a legal turn (in which case, it's a lose-lose), make sure you follow these rules and regulations set up by the federal authorities.
Note: The rules evolve as technology and campaigns adopt new ways of reaching their audience. Please refer to government notices for the latest updates.
About consent
FCC rules that auto-dialed calls require prior permission from the recipient if the number belongs to a mobile phone (landlines or home phones do not fall under this rule). Similarly, since political text messages typically go to mobile phones, they require the recipient's consent.
This consent is not required if the message(s) are sent manually and without an auto-sending technology.
Types of consent required
Explicit opt-in: When an individual signs up for your text messages directly.
Opt-in via email or other links: They check the "I agree to receive messages" box
Written consent: When they share their number and consent over an online or offline form to receive such messages.
In addition, you need to confirm their permission in your initial messages when they opt-in.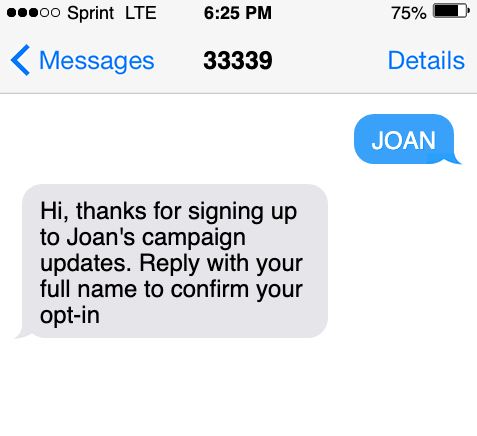 Disclaimers required
When displaying your shortcode and keyword, you need to describe what they will be signing up for. Your first outbound message should identify the sender, the campaign, provide disclaimers about charges and provide an easy way to opt-out.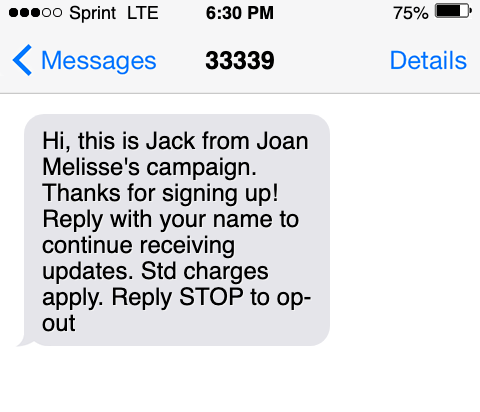 Limited time opt-in
Your campaign is considered inactive, and your opt-ins void if you don't send any message to the number within 18 months of their opt-in.
Hours of operation
Telemarketing and political text messaging must occur only between 8 am and 9 pm. If your P2P messages spill over, it is a good idea to reschedule the conversation for the following day to stay compliant.
About exemptions for texts
In 2020, the FCC declared that click-to-text would not fall under the Automatic Telephone Dialing Systems if phone numbers are added each time manually.
It issued a notice saying, "If a texting platform actually 'requires a person to actively and affirmatively manually dial each recipient's number and transmit each message one at a time' and lacks the capacity to transmit more than one message without a human manually dialing each recipient's number, as suggested in the P2P Alliance Petition, then such platform would not be an 'autodialer' that is subject to the TCPA."
Since you don't need permission to send messages manually, volunteers sending texts from their personal phones can be exempted from the prerequisite of consent.
Message content
Your audience must know the nature of your messages when they opt-in. Moreover, your content must not harm, offend, upset or be otherwise a cause for an issue to the recipient (deliberately or otherwise).
To be on the safe side, political text messages must comply with industry standards and laws that apply to marketing to children.
It is a good practice to get folks to opt-in to various campaigns and message contents separately as an additional precaution.
For instance, you start with getting folks opted into all your campaign messages. But these people will typically be your strong supporters. To ensure you reach those who aren't that engaged yet, you ask for opt-ins leveraging specific issues that they might be interested in – economics, environmental, citizen well-being, urban development, etc. and gradually ask them to sign up for other texts like campaign updates, event invites, etc.
Such targeted opt-ins will ensure your messages are relevant to that particular audience.
Features to look out for in a text messaging tool
If your campaign is well-versed with the FCC regulations and other applicable laws, you stay safe from legal action. As a communications head, another important duty is to pick a text marketing software that eases your political text messaging efforts and gives you the most out of it. Here are some key features to look out for when choosing such a tool:
Shortcode & Longcode Renting
Shortcodes (5-6 digit numbers) are memorable, have a brand recall value, and allow you to send 100 messages every second (as opposed to 1/second for a long code). When your software lets you rent shortcodes, it makes your campaign that much quicker and exclusive.
At the same time, you don't want to lose out on the benefits offered by a 10-digit longcode (10DLC numbers for marketing and communications). A tool that rents both types of numbers thus becomes an asset for your text messaging campaign.
Here's a quick look at shortcodes and longcodes, along with their respective benefits and drawbacks:
| | |
| --- | --- |
| Shortcode | Longcode |
| Sends 100 messages per second. | Sends 1 message per second. |
| Memorable. | Less memorable since they are normal phone numbers. |
| Has brand recall value (e.g., Obama's 62262 shortcode) | Can have brand recall value but more difficult since the number is less memorable. |
| Dedicated shortcodes can be expensive and shared shortcodes take away the brand value. | Renting 10DLC numbers is cost-efficient. |
| Shortcodes can take a couple of weeks to be verified and registered. But this decreases their likelihood of being marked as spam. | Longcode verification and registration can be done within seconds but are more likely to be marked as spam. |
| Shortcodes are dedicated to texting campaigns. | People can call and text back to longcodes even aside from the campaign. |
Dynamic caller ID
A political text messaging campaign must have a presence across geographies, and to electorates living there, it must feel customized and local. Dynamic caller ID lets you do that with collective texting by enabling the renting of numbers from various area codes.
Merge tags
The change from Hi, please support us to Hi Linda, please support us makes all the difference in political text messaging. With merge tags, this personalization becomes automated. CallHub lets you automatically personalize messages using merge tags such as:
First name
Last name
Email
Phone number
Mobile number
Address
City
Country
Agent Name
Agent first name
Agent last name
Agent phone number.
You can add custom fields as per your requirements to make your text messaging campaign even more personalized.
Scheduled messages and follow-ups
With thousands of contacts to send messages to, it's easy to miss sending follow-ups or nudges to a few. You don't want to miss out on that support. Scheduling messages ahead of time reduces the manual effort of remembering or adding reminders separately.
You can schedule a message when setting up the campaign or later while having a conversation with a supporter. You can also schedule nudges when setting up the campaign to motivate non-respondents to reply.
Create nurturing flows
You don't want to leave a person hanging when they opt-in. Create automatic nurturing flows that send out responses and collect information right from your first conversation to keep them engaged.
The nurturing flows start with collecting basic information, adding that automatically to your CRM and as the conversations advance, collecting more vital and detailed information about the supporter.
Here's a nurturing flow for political text messaging:
List segmentation
Filter and group audiences according to their responses and set up targeted messages and conversation flows to each group.
If list building is an important part of political communications, list segmentations ensure that your conversations are nuanced and customized to each supporter's history.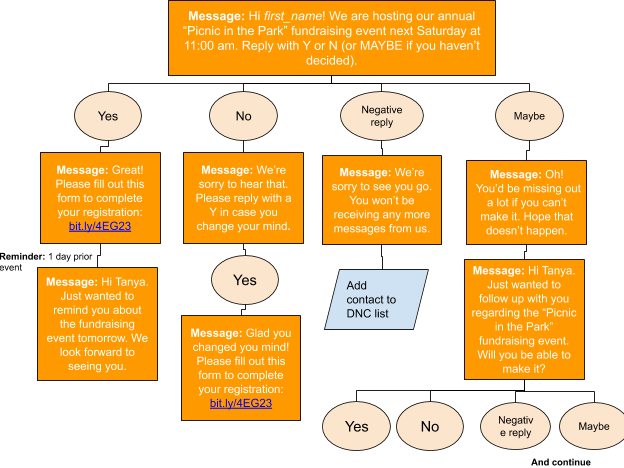 List cleaning
Filter out bad numbers and set up DNC tags for people who don't wish to receive messages anymore. Maintaining a clean list will stop you from getting marked as spam and improve campaign efficiency.
Campaigns usually have a set keyword like "STOP" to add the sender's number to the DNC list. However, smart text marketing software like CallHub recognizes other DNC keywords like QUIT, UNSUBSCRIBE, and CANCEL to add the numbers in the Do Not Contact list and prevent you from getting marked spam.
Enables MMS
Did your last rally have a huge crowd? Or is your candidate the next hero of memes? You don't want to waste either campaigning opportunity just because your software doesn't allow MMS broadcasts.
Check out CallHub's MMS broadcast tool here.
Tracking and Analysis
When dealing with a large list, it's easy to get lost in the flow. Real-time tracking of messages sent, responses, sender names, etc., keeps your campaign on track and gives you insights into improvement opportunities and success rates.
PS: Sometimes, real-time tracking can also boost agent morale and motivate them to keep going! Don't believe us? Read this case study!
Unlimited agents
Nothing should stop your volunteers from campaigning for you– not even geography. Get unlimited agents to work on your text messaging campaign from across the country. What's more, with the dynamic caller ID, you can still maintain your local presence no matter where your agents are!
Best practices for political text messaging
Americans prefer communicating with businesses and services over text more than any other communication channel. If political campaigns adopt the same rules and guidelines that make texting a desirable business communication tool to their campaign, they could get a high ROI and score brownie points from supporters.
Here are some of those guidelines that political campaigns can use.
Use reinforcements as motivation to participate
Sometimes the incentive can be as inherently connected to your campaign as progress updates, but when people are not sufficiently motivated, you can offer other incentives for opt-ins and responses.
Standard reinforcements and incentives for such political campaign text messages include sweepstakes, exclusive gifts, early access, and merchandise.
Obama's campaign utilized this persuasion technique beautifully by promising goodies to those who sign up. Furthermore, they also held regular Q&A sessions with their contacts, the incentive being that President Obama himself would answer a few important questions from supporters.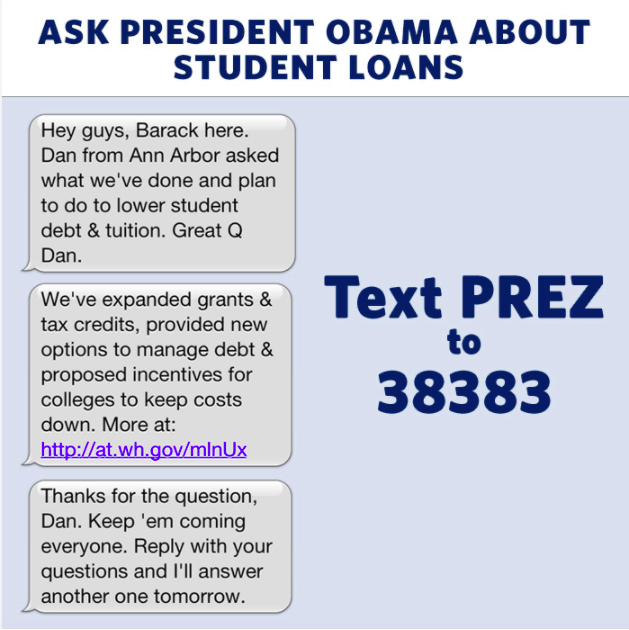 Give a detailed understanding of expectations when confirming opt-in
When a person signs up, you confirm whether they want to receive broadcasts, conversational texts, or both. Link them out to a landing page where you explain what to expect from each type of message, frequency of messages, and such other details that set accurate expectations from your text messages and prevent them from opting out.
There's a chance that folks will opt-out in the initial stages when you set the expectations. But that's a part of list cleaning and will ensure those who continue are engaged and happy to receive texts from you.
Mix up your content (while staying compliant with expectations)
Your aim of sending text messages to supporters is not just to give updates but to nurture them in a way that they vote for you. This means you need to motivate them to engage in two-way communication.
Instead of sending just one type of message, create a mix with updates like event invitations, surveys, gift coupons, asking for feedback, donation links, etc. Ensure that each message is still relevant to the expectations you set when obtaining their number (e.g., the survey and invitations can relate to a specific cause or campaign that they support.).
Pro-tip: Experiment with the tone of your messaging to make it more fun, energetic and appealing rather than the usual serious and business tone that campaigns take. Take inspiration from Pete Buttigieg's messaging: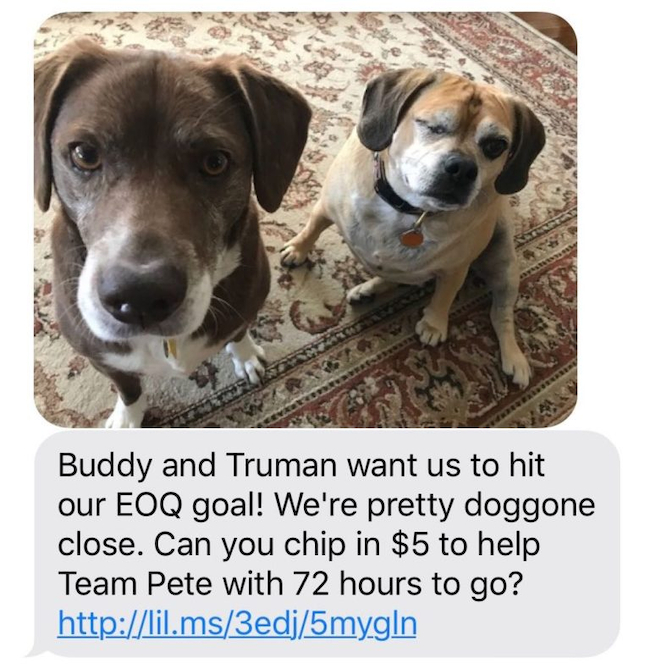 Track your best time of the day to schedule campaigns
While the FCC rules allow you to text anytime between 8 am and 9 pm, it is better to track open, response, and conversion rates for the initial messages and study their pattern. You may notice that certain supporters are more responsive after office hours (e.g., working professionals), whereas others are more likely to respond mid-day (e.g., homemakers).
Segment them accordingly and schedule text messages at the appropriate times for maximum ROI.
Every space is a good space for your shortcode advertisement
Getting people to opt-in to your messages involves staying in their minds and nudging them (in a non-frustrating way) to sign up. That means you need to utilize every bit of online and offline space to share your shortcode and keyword.
Some great spaces for this are:
Campaign literature
Brand buttons
Bumper stickers
Bus signs
Lawn signs
Website
Social media pinned posts and/or profile picture and cover image
Media appearances
Rallies and events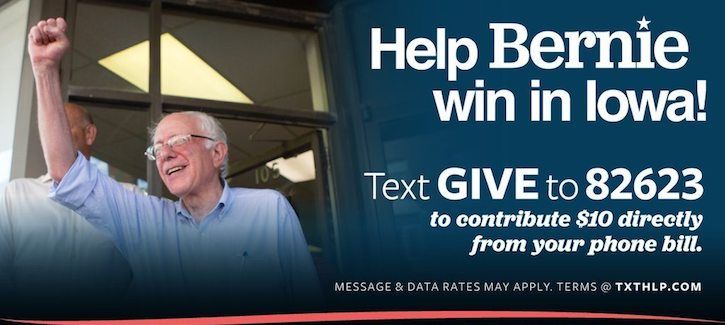 Limit the number of texts you send
A common reason people block political texts is that they are frustrated with the frequency of messages. To ensure you don't come across as too overbearing, fix the sweet spot between too few and too many messages.
We recommend starting with one or two text messages per week. As you start getting responses, you can sort out lists by engagement levels and increase the frequency accordingly.
To Conclude:
Political text messaging has increased exponentially since the last two presidential elections. But while campaigns are putting the communication channel in full gear, people feel spammed and cheated if they haven't given consent.
We covered the rules and best practices to ensure you have a clean history of campaign text messages. Look out for an excellent political text messaging tool that intelligently boosts your communications—CallHub ticks all the features mentioned above.
Try our SMS opt-in, broadcast, and P2P texting tools for free.
Feature image source: Roman Kraft/Unsplash.