Sheila Cherfilus-McCormick's political campaign in 2021 attributes its success to bulk MMS software. Sheila was contesting for the U.S. House (from Florida) and won by a margin of five votes!
Her campaign manager says that segmentation, targeting, and utilizing the power of bulk MMS is the reason for their campaign's success. We are not surprised, and this article will show you why bulk MMS messaging is the perfect choice for your enterprise or political campaign.
What is bulk MMS messaging?
Bulk MMS (Multimedia Messaging Service) messaging refers to sending out messages with
Audio,
Graphics,
PDFs,
Video,
or other Rich media elements in them.
MMS should be your go-to tool if you want to share media elements with text messages' deliverability and open rates.
Why use bulk MMS for texting?
According to CallHub's sales team, one of the most frequently asked questions is – Why should we use MMS texting? There are two reasons for this question:
On an average, Bulk MMS messaging can cost a marketer 2-3 times more than a simple text message.
You need more preparation to design or collate the media you want to send. Text messages just need a well-thought-out text.
However, time and again, to our sales team's delight, we've found that despite these challenges, 86% of enterprises and campaigns use or plan to use our bulk MMS software.
Is it counterintuitive? It does seem so, but the rationale is simple: the benefits of MMS outweigh its associated challenges. We list some of the benefits below:
Bulk MMS messaging helps you send various communications.
Bulk MMS software offers better conversion rates.
MMS texts are highly shareable.
MMS messages have higher character limits [160 for text Vs 1600 for MMS]
Bulk MMS messages are easy to set up.
Let's explore these benefits in detail.
Bulk MMS messaging helps you send a variety of communications.
You can use bulk MMS software in various ways:
You can share coupons for sale.
You can send payment receipts after a purchase. This can also double up as an SMS opt-in to collect phone numbers for marketing.
Share event invites and posters for your campaign through bulk MMS software.
Share fundraising video appeals to your supporters.
The possibilities of what MMS messaging enables are endless.
Bulk MMS software offers better conversion rates.
Customers are eight times more likely to click on a link in an MMS text message than a plain text message.
Not just that, the average conversion rate for multimedia messaging is 15%, compared to 3% for email.
High conversions are something you should take advantage of. It is one of the top reasons many enterprises and campaigns want to use MMS messaging for outreach.
MMS texts are highly shareable.
Multimedia messaging is incredibly engaging. MMS texting adds a zing to messages in a world filled with multiple outreach mediums.
People are eight times more likely to share a MMS text message than a plain-text message. That means your bulk MMS marketing can have a domino effect, getting in front of more people than just the contacts you are reaching.
You can raise awareness about your organization through bulk MMS software, get more people to know about you, and engage larger audiences.
MMS messages have higher character limits.
Have a lot to say about a new initiative or product launch? A 160-character text message might not raise awareness.
MMS texts have higher word limits of upto 1600 compared to 160 for plain-text messages.
While you share media files elaborating on your offering, MMS also allows you to say more through text.
Bulk MMS messages are easy to set up.
Setting up bulk MMS texts is as easy as setting up the plain text ones, even though the benefits outweigh the other by far!
On CallHub's bulk MMS software, you can set up a text campaign you usually do and add media elements to convert them into MMS texts. We will explain this process in detail later on in the article.
SMS vs. MMS: What's the difference?
Before we learn more about bulk MMS software, let's take a moment to understand the difference between MMS and SMS messages.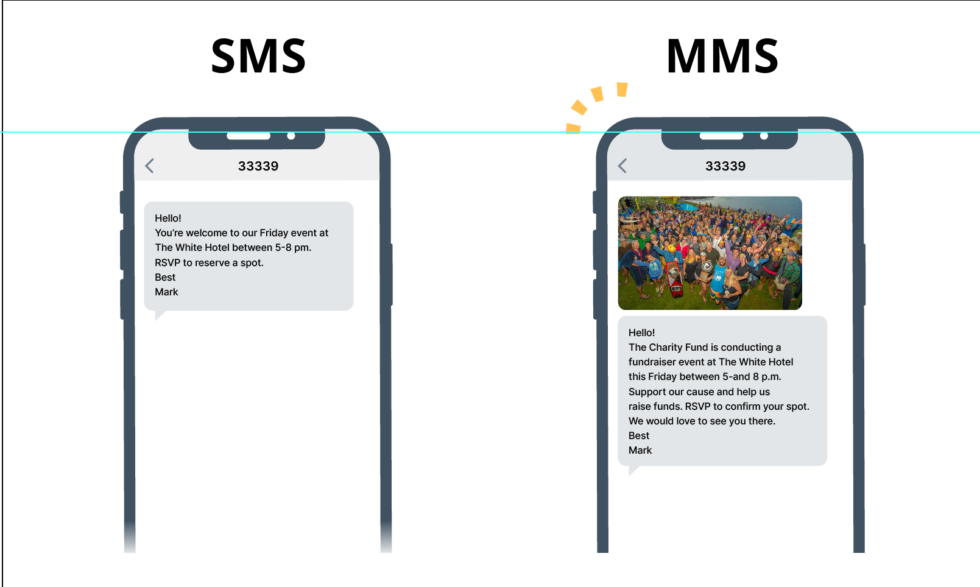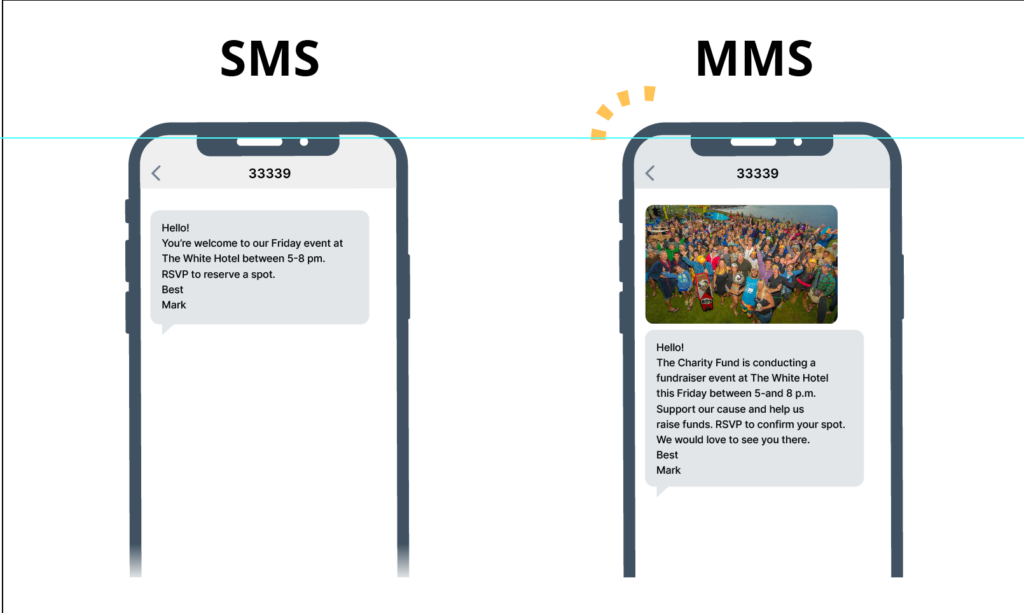 | | | |
| --- | --- | --- |
| | SMS | MMS |
| Character limit | Upto 160 GSM/ASCII characters or 70 Unicode characters | Upto 1600 characters |
| Delivery time | Shorter delivery time | Longer delivery time compared to SMS |
| Pricing | Depends on your text messaging software, but is cheaper compared to MMS, | On average, 2-3x costlier than SMS. However, VoIP or shortcode-based messages are cost-effective. |
| Content type | Text-only | Bulk MMS software supports audio MP3s, video MP4s, images, posters, GIFs, and other rich media elements. |
| Content limitations | Need to be precise and to the point. | Can express your message freely without worrying about character limitations. However, the file size you can upload is limited to 1 MB. |
| Delivery | SMS supports delivery to almost all mobile phones. | Multimedia messaging is only enabled for those smartphones that support them. Messages might miss some audiences that do not have smartphones. |
How can you use bulk MMS?
The possibilities for using bulk MMS messaging are endless. With a hint of imagination, you can use your bulk mms software to promote candidates for elections, launch new products, and more.
We explore a few ways you can implement a bulk MMS campaign.
Send event invitations.
Replacing postcards and emails with text messages? Keep the eye-catching visuals by sending an MMS to potential attendees.
Link out to a web page where they can RSVP for the event or ask them to reply to the message.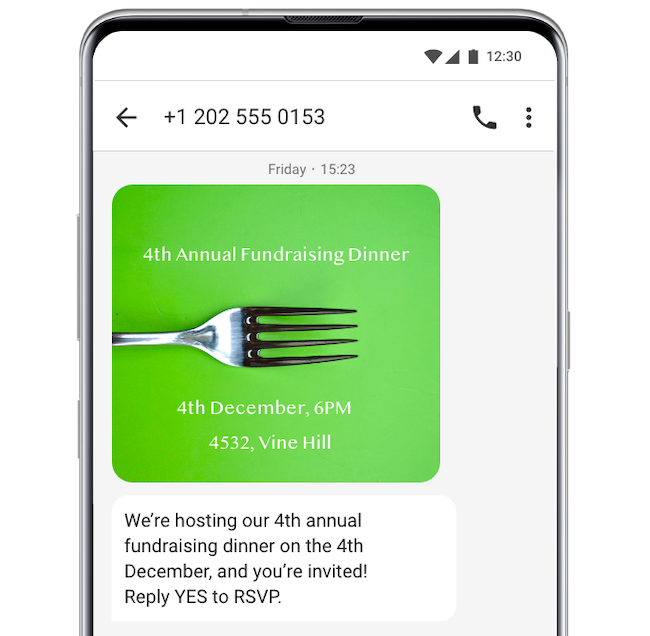 Announce sales
Send an announcement MMS to customers, highlighting the products on sale. If you have resources available, you can do this through a GIF or a video highlighting individual products.
Link out to your mobile-optimized store in the text message.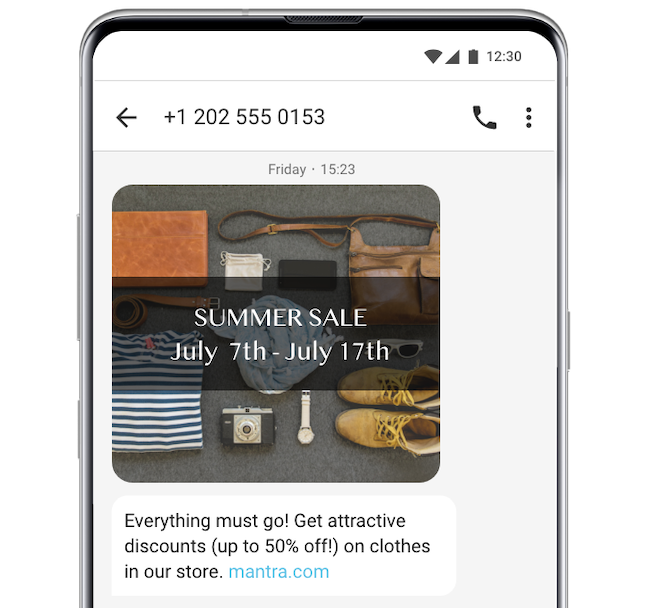 Send discount codes.
Visual discount codes are more likely to capture the attention of your audience. Make the code prominent in your image, and link back to a page where they can use it.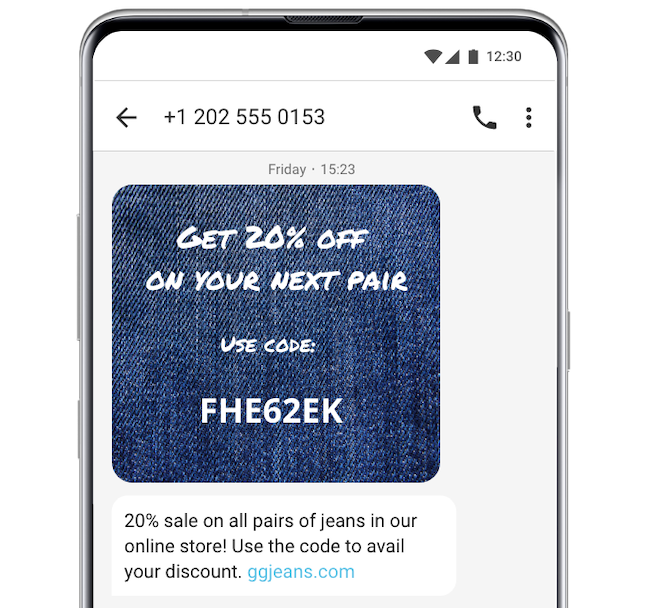 New products or services.
Include an image of your new product and highlight it in the text. Link out to a web page where your audience can learn more.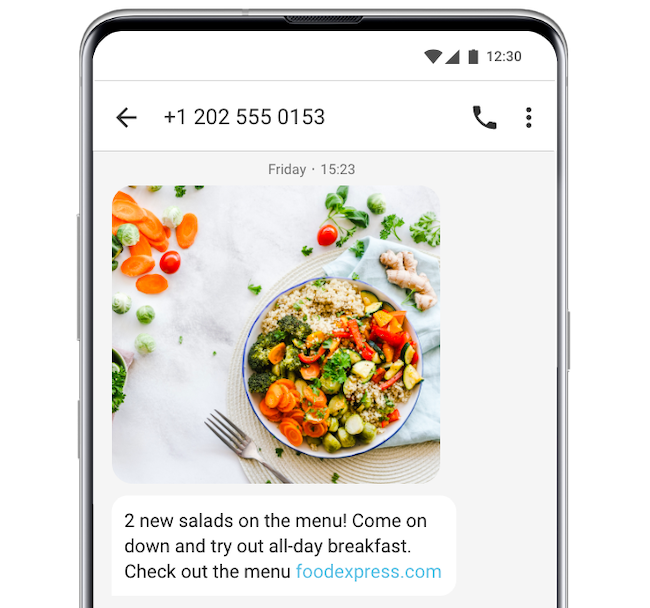 Blog updates or ebook links
Bulk MMS software can also come in handy for your content marketing. Send a link to a new blog post when you publish or an ebook downloadable if they signed up for one on your site.
You can even highlight the main takeaways from your blog post by including a short video.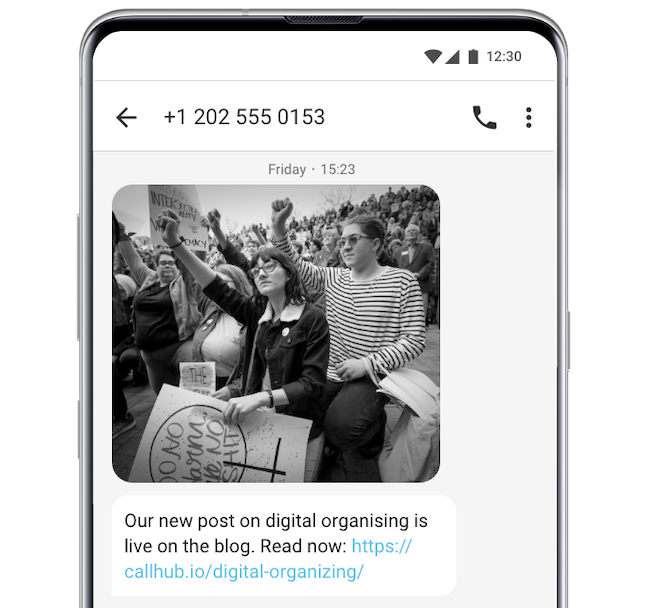 Mobilize people
Bulk MMS software can also help when you want to mobilize a large crowd to take action.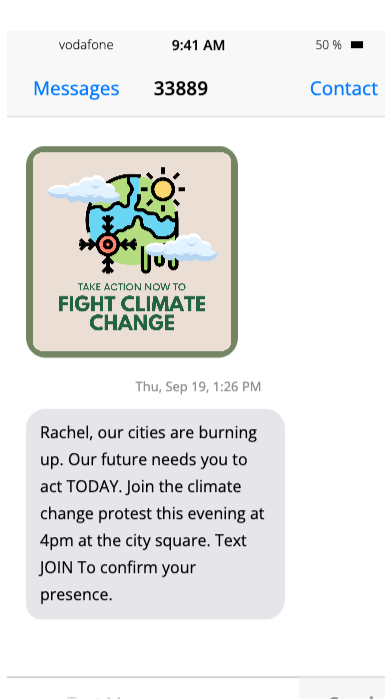 Those are just some of the ways you can use MMS messaging.
Ready to get started? Here's all you need before you get started on your bulk MMS software:
Onboarding a bulk MMS software
Before you begin your MMS texting campaign, there are a few prerequisites.
A registered phone number to send bulk MMS texts.
Opted-in contact list.
Promotional media material and script.
A registered phone number to send bulk MMS texts.
You need an official or registered number to send out MMS texts. Using your personal phone number will lead to–
Your number being marked as spam,
Undelivered messages,
Your messages being waitlisted, and
A low throughput rate for your texts.
You can use a registered 10DLC or shortcode number for your bulk MMS text campaign.
10 DLC
A 10DLC number is a 10-digit long code number mandated by the FCC and TCPA, especially for bulk text messaging campaigns. It ensures–
High deliverability rates,
Enhanced engagement, and
High trust in your brand.
The registration process for a 10DLC number takes five business days.
If you want to know more about a 10DLC number is and how it can help you, you can read our article What is A2P 10 DLC? Your Complete Guide
Shortcode
A shortcode number is a short 5-6 digit number. You must have seen brands use numbers like '33889', '567891', etc., to encourage their supporters to text them.
A shortcode number not only guarantees a high deliverability rate and no spam, but it also creates brand awareness. Supporters start associating the 5 or 6-digit number with your campaign.
The registration process for a shortcode number can take anywhere upto 8-12 weeks.
Sometimes, organizations do not want to wait that long, that's when they opt for shared shortcodes. However, recent policy changes have sunsetted shared shortcodes. You can no longer rent a new shared shortcode.
Read Also: What To Know About Short Code Texting Before Getting Started.
This is why registering your organization for a 10DLC or shortcode number is the best move for your texting campaign.
With these pre-screened numbers for bulk texting, you are ready with the first prerequisite of your campaign.
Opted-in contact list.
Under Telephone Consumer Protection Act (TCPA) guidelines, organizations must receive consent before sending bulk MMS texts to their contact lists. In addition to receiving consent, organizations must provide an easy way to opt out of such messages.
Here are different ways to obtain consent:
Use a webform that explicitly asks for SMS opt-in.
Run a text opt-in campaign before your MMS campaign. This means getting them to send a message to your number.
Collect details at events or conferences and get them to manually sign up for receiving text messages.
Promotional media material and script
It goes without saying, but design your media elements [images, audio files, videos, or GIFs] before setting up your bulk MMS software for texting.
At the same time, design an excellent texting script to get you conversions.
With these prerequisites, you can set up your bulk MMS messaging campaign.
How do I send MMS in bulk?
Bulk MMS software is easy once you know the proper steps. Here's how you can set up your MMS messaging campaign on CallHub.
Begin by creating a text broadcast campaign

Your MMS campaign will start much like a regular text messaging campaign. Click on 'Text broadcast' to begin.
Set up the targeting for your campaign.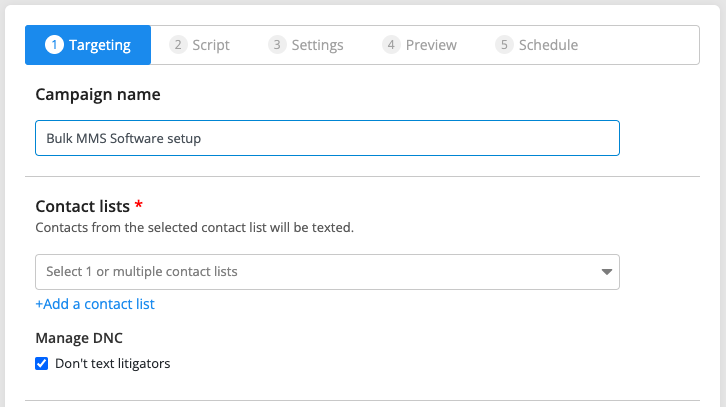 First, name your campaign. Next, select the contact list to whom you want to send your MMS texts. You can choose multiple lists at this stage to send bulk MMS messages.
CallHub also provides the option of managing DNC contacts. You can choose not to text litigators to avoid legal hassles. Our database runs through your contact list to identify litigators and avoid sending them a message.
Once you do that, you can select the number you will send the text message [caller ID].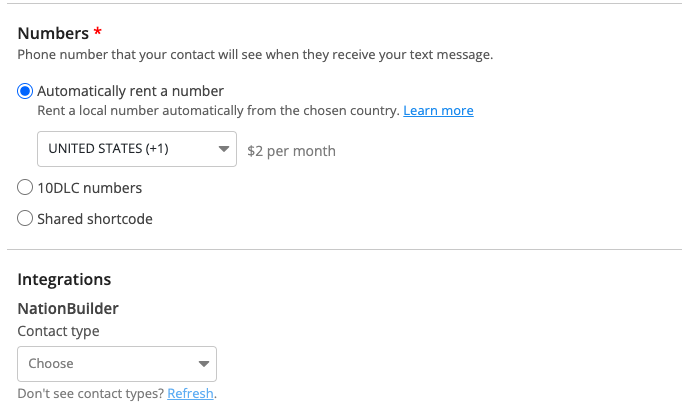 You can choose to rent a number automatically. Renting a number helps protect your privacy and security. You could also opt for a 10DLC or shared shortcode number. Yes, even though shared shortcodes have been fading out slowly, CallHub still offers the option to rent shared shortcodes for your campaign.
You can also select the CRM you want to integrate for easy data transfer at this stage.
Create your script and add media elements.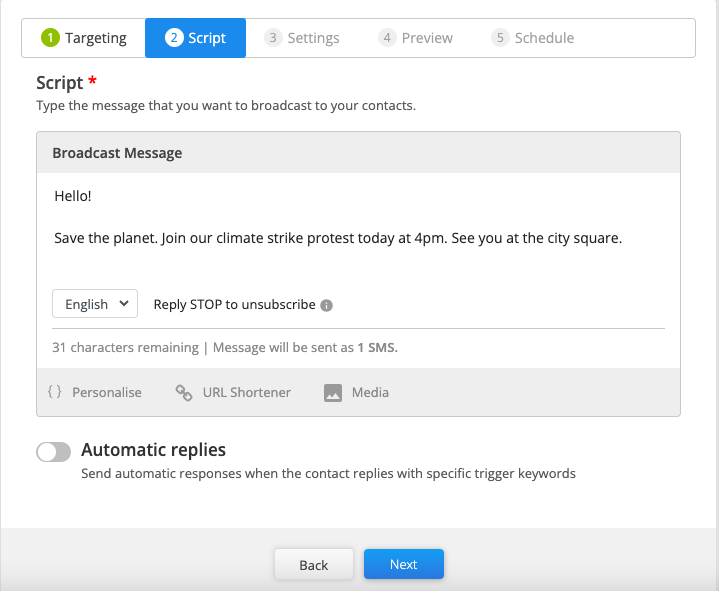 This is the stage where the magic happens. Enter the text script you want to send. CallHub automatically adds an opt-out message to stay compliant with TCPA regulations.
Once you are done, click 'Media' to upload your media files.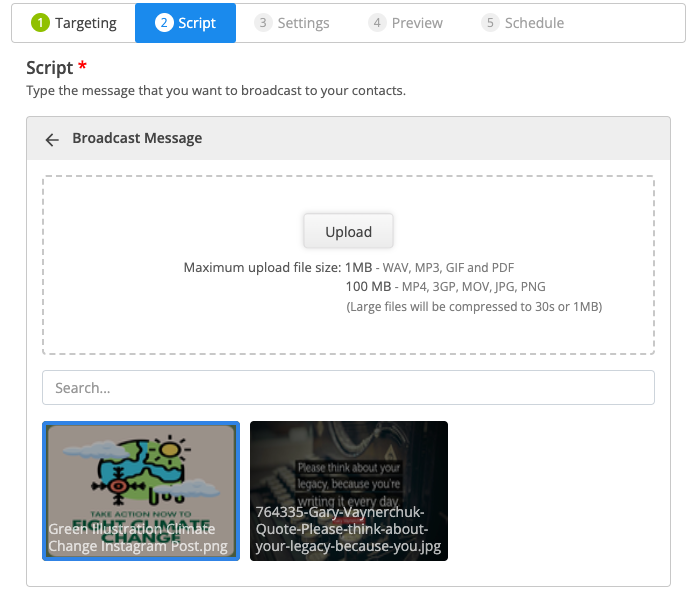 On CallHub, the file size for WAV, MP3, GIF, and PDF files is 1MB max. For MP4, 3GP, MOV, JPG, and PNG files, the size limit is 100MB. Larger files will be compressed for ease of sending.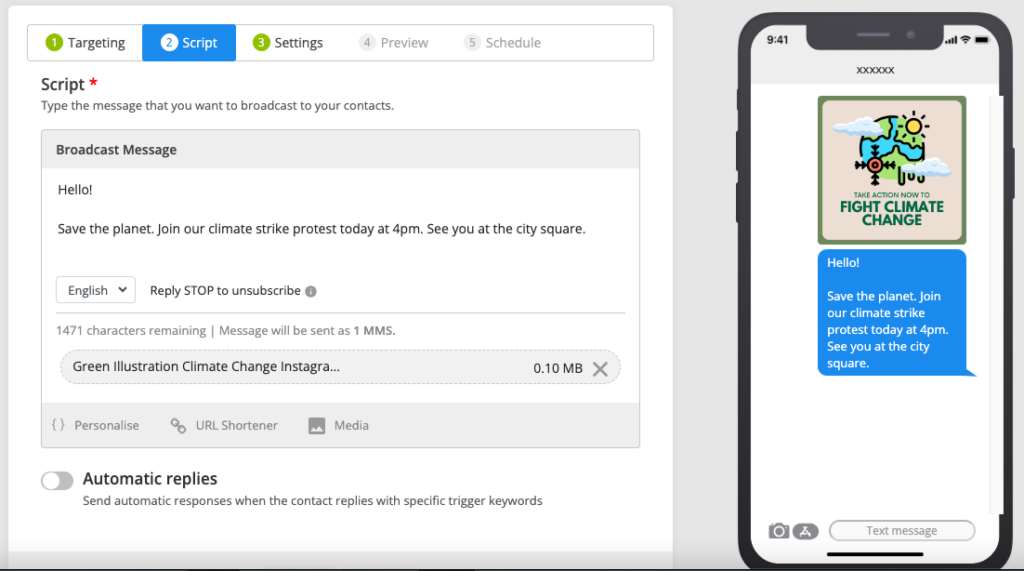 You can see a preview of your message and media file on the right side of the CallHub dashboard.
Once you upload your media files, you can add automatic replies. Automatic replies are sent when your contact responds to your message with defined trigger keywords. This is a great option when you have included a CTA in your initial message.
For example, if you asked them to respond with 'YES' to your event invite, your automatic response can be to send them the address for the event and tell them their name is in the attendee list.
Review your settings.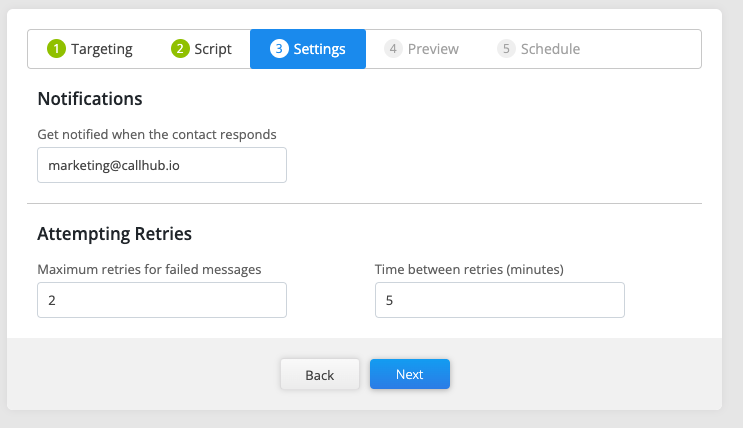 At the setting stage, you can set two features:
Get notified on your email when a contact responds to your message. Add the email ID on which you want to be notified. This way, you never miss a chance to engage quickly.
Incase your message fails to go through initially, you can determine the number of retries you would like to attempt and the time between each retry.
Preview your campaign.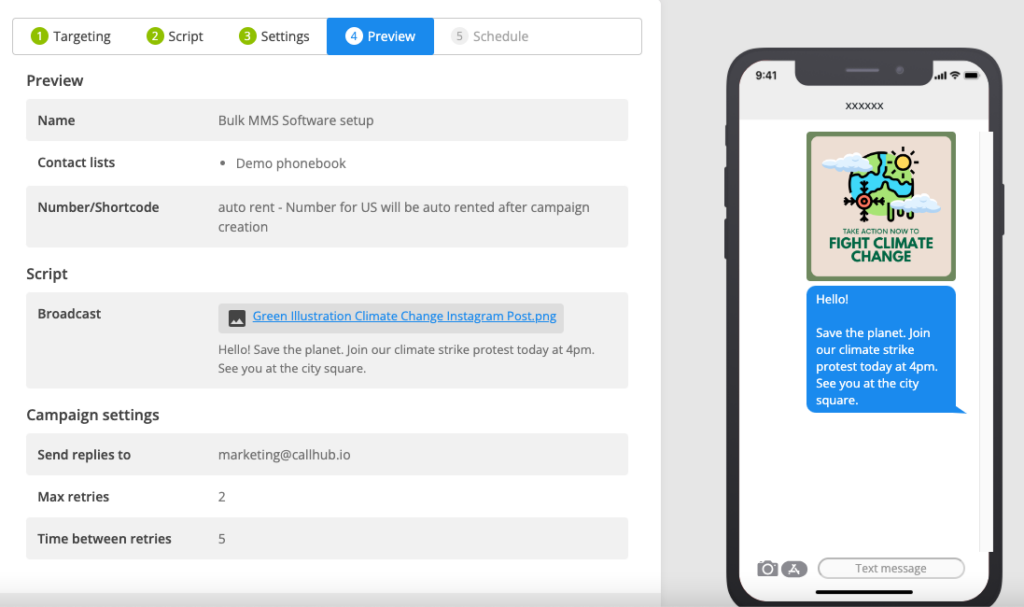 Preview all the details of your campaign and ensure you have got everything right. If you err, like humans do, you can always go back and quickly make changes.
Schedule your campaign.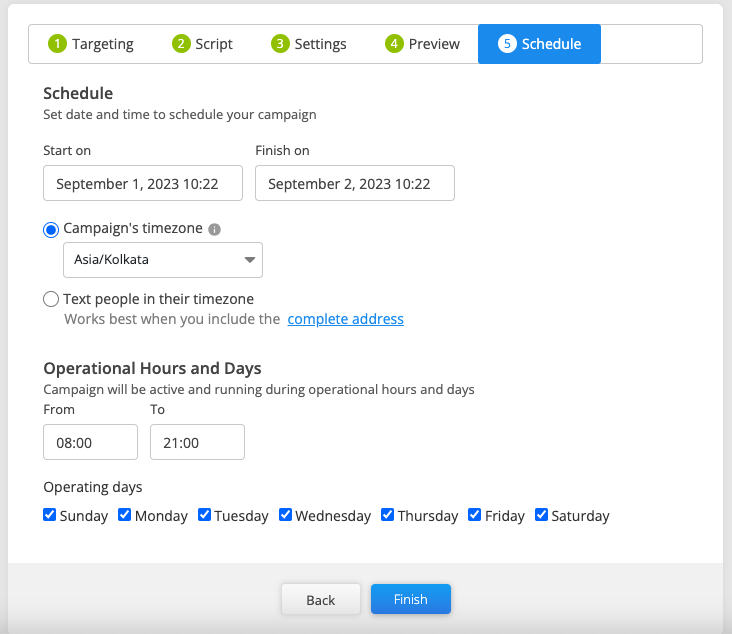 Lastly, select the dates on which you want to run your bulk MMS messaging campaign. Select your campaign's timezone to ensure you operate only during business hours. Operating outside business hours can lead to fines. These hours vary depending on the regulations of different geographies.
Select the hours and days you want to run your campaign, and click 'Finish' to begin!
Analyse results.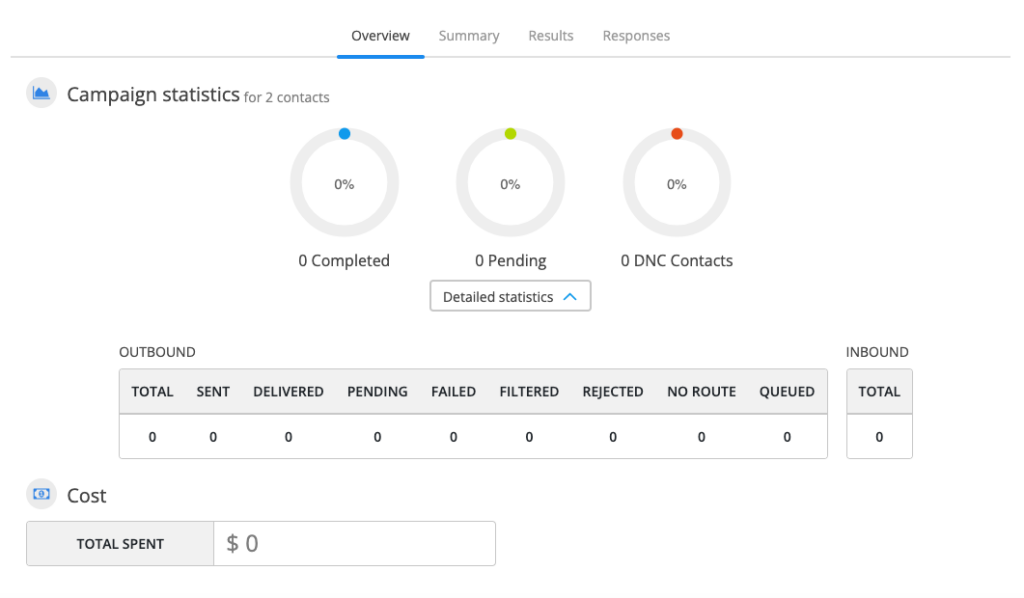 Once you click 'Finish', you will be redirected to this screen. You can track campaign analytics in real time to see how your bulk mms software performs.
Bulk MMS software costs
How much does an MMS cost?
On CallHub, outgoing MMS texts cost $0.06/text. Incoming MMS texts cost $0.04/text.
MMS software (additional) costs
While there are no additional costs associated with the bulk MMS texts themselves, you might pay for using shared shortcodes, rent a number, etc. These charges depend on your bulk MMS software.
On CallHub, you pay $25/month for shared shortcodes. You pay $2 for automatically renting a number.
Getting started with a bulk MMS software
Ready to begin your MMS campaign? Start by trying out a bulk MMS software that–
Complies with regulations,
Provides support tools,
Can be used for any type of text messaging such as P2P, text broadcasts, and text opt-ins.
Try CallHub's bulk MMS software with a free 14-day trial.
Featured Image Source: Roman Pohorecki