American adults watch traditional TV for over 4 hours per day on average.
Looking at this number, a political communication strategy focusing solely on TV ads may seem like a good idea at first. But there are two problems with that:
1. You won't reach all of your target audiences. A closer look at the demographics of TV watchers will prove this.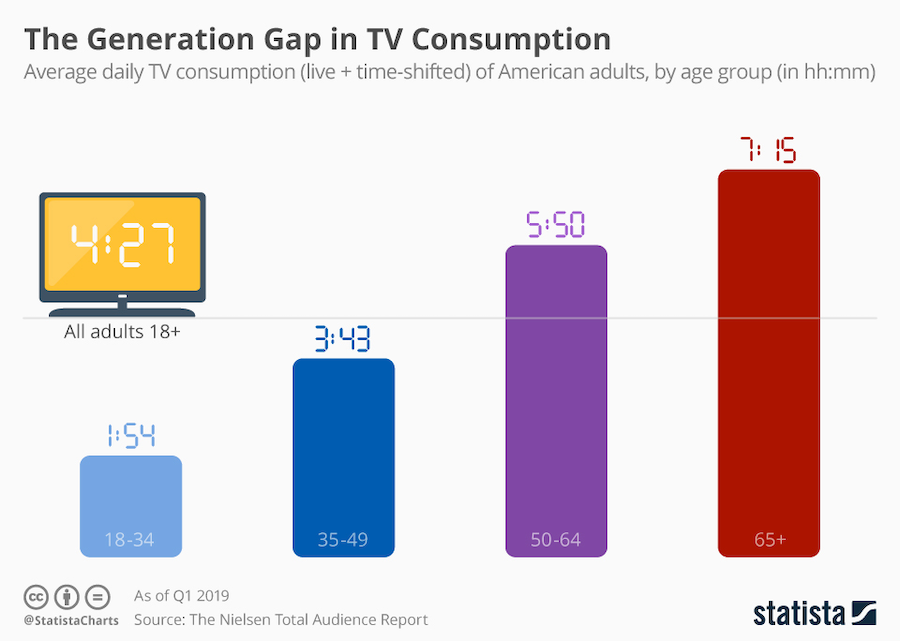 The chances of your TV ad reaching younger adults reduces significantly.
2. You won't be able to reinforce the message. People are exposed to different screens (showing different ads) throughout the day. On average, only 40% of people remember an ad. This reduces the likelihood of the message being conveyed.
This data proves that political communication through a single channel won't get you anywhere.
For better impact, you need an approach that delivers your message to your target audience across multiple channels to get the desired mindshare. This post will help you set up a strategy.
We'll go through all the major channels that your campaign can leverage to develop an effective political communication strategy.
Steps to develop a political communication strategy
The steps involved in developing a communication plan include the following.
1. Defining the target audience
Understanding everything about the voter base you will be targeting. This includes:
Defining who they are – the demographics, region they belong to, etc.
Understanding their pain points – to craft your campaign messaging to persuade voters.
Past affiliations and voting behavior – a voter id campaign will get you this data, which helps you segment them (supporters, undecided, etc.) and frame your messaging.
This data helps you decide the best communication channel and its objective, which are the next two steps.
2. Identifying the most important communication channels
Next, you will have to figure out the channels your target audience relies on for information. For example:
Newspapers and TV ads – for people above the age of 50.
Social media – for young adults, somewhere between the ages of 18-30.
Email and social media – for people between the ages of 30-50.
This helps you prioritize the channels you must focus on for political communication.
3. Defining the objectives
While the final objective is the same, each channel will work in its own way to get people there. So having objectives for each of them will help you better focus your efforts. For instance:
Social media – to raise awareness and encourage people to share the message to get more attention through word of mouth.
Television – ads to reach out to a mass audience to introduce and pique their interest in your candidate.
Texting/calling – to engage with supporters and remind them to take action (like getting out and voting or volunteering/donating).
Each channel will add new supporters to the journey. Depending on their level of engagement, you'll nurture them and lead them to the final objective.
4. Creating strategies for each channel
Since every communication channel works differently, the tactics for each would differ too. For instance:
Endorsement ads for TV – having someone voters trust endorse the candidate builds more credibility than ads that have candidates talking about themselves.
Paid ads on social media – search and social ads have great targeting options, but social media has better demographic targeting, making them more personalized.
Peer to peer texting – helps engage supporters better by enabling volunteers to answer their queries and address concerns they may have than text blasts.
Now that you know how to create a plan let's take a closer look at the major political communication channels you can leverage for your campaign.
Political communication channels
Typically, the media outlets that campaigners need a plan for include:
Print media: This includes written words or images on a hard copy. For example, newspapers, posters, banners, etc.

Broadcast media: Channels that broadcast images or sounds (or both) like television and radio.
New media: This is an umbrella term that encompasses all the latest digital or electronic communication like email, social media, online communities, etc.
Each of these outlets consists of different mediums that help you achieve a different objective.
Political communication through print media
Newspapers/Magazines
Communication objective: Awareness and Providing information
Through newspapers, political communication typically includes press releases to either introduce the candidate, spread the message, or more information about the campaign. They are also used to respond to an opponent's action/statement.
Generally, campaigns hire publicity agencies to write and distribute press releases to the news networks. The network then publishes the information as received or as investigated by their journalists.
Alternatively, you can also send press releases through distribution services, which pass it on to their publications to be published as received. This is typically for online publications.
Here's an example of a newspaper clipping announcing a mayoral candidate:




Source: Laoferta
Pro tips
Focus on a single issue or story. Press releases are supposed to be concise, so talking about multiple things is not recommended.

Get to the point in the first paragraph. You don't have to build a narrative. Keep it short and support it with relevant data/info. Longer press releases may cost more or require more time to be published, and it's hard to make them engaging.

Provide links or contacts (especially if it is an event announcement) for voters to follow-up.
Posters/Billboards
Communication Objective: Awareness, List building, GOTV
Depending on the CTA you use, different posters achieve different objectives. For instance, an informational poster with an SMS opt-in (for more information) helps build your SMS list.
A political campaign poster with website details may help spread awareness by driving traffic to your site. Some posters even serve as subtle reminders to voters for a specific action, like casting their votes.
Campaign posters may be put up in public places by volunteers for free. However, billboards are handled by ad agencies and will cost you depending on factors like location, size, etc.
Here's an example of a political poster working on list building (individuals who send a text will be automatically added to the list) while taking action (fundraising):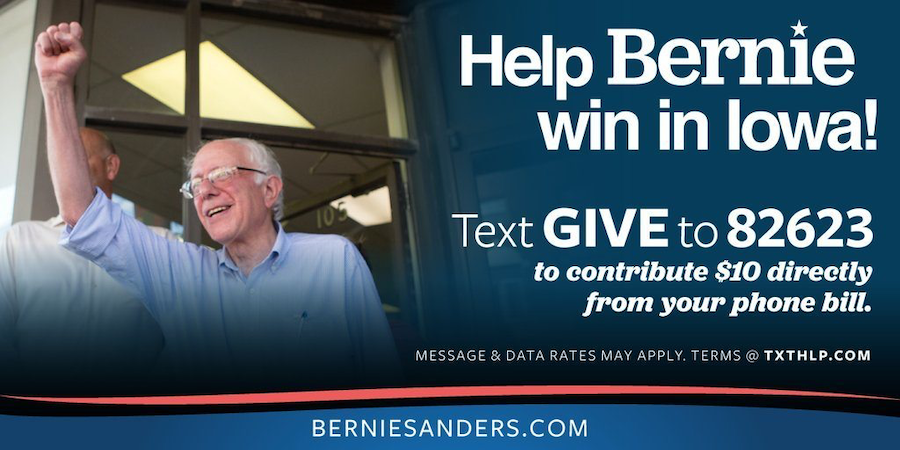 Pro tips
Choose brighter colors to stand out. Chances are your opponents would also be putting up posters in the same locations. So you would want to be more distinct.
Avoid cluttering the poster. Keep it simple with little text. People should be able to catch the information while passing. They may not stop to see the poster.
Carefully select high traffic areas to put the posters/billboards up. Malls, community centers, freeways, etc. will guarantee a higher reach.
Use a call to action that's memorable – for example, sending a text to a shortcode rather than a 10-digit number. People may not act immediately, so make sure the CTA is something they can recall later.
Read Next: Our Complete A-Z Guide To Boost Your Electioneering Efforts
Yard Signs
Communication Objective: Awareness among a community, Social pressure
Political yard signs are put up in front of houses. Political communication through yard signs revolves around spreading awareness about your candidate.
Apart from that, they also serve as social proof driving people to become more invested in a campaign after seeing that people from their community are doing so.
Strong supporters of your candidate typically put up yard signs. When running a voter id campaign, this is one of the asks made to strong supporters after volunteering and fundraising appeals.
These signs can also be put up in public places like sidewalks. But you may want to confirm with the authorities first.
An example of a supporter hosting multiple yard signs on their front lawn: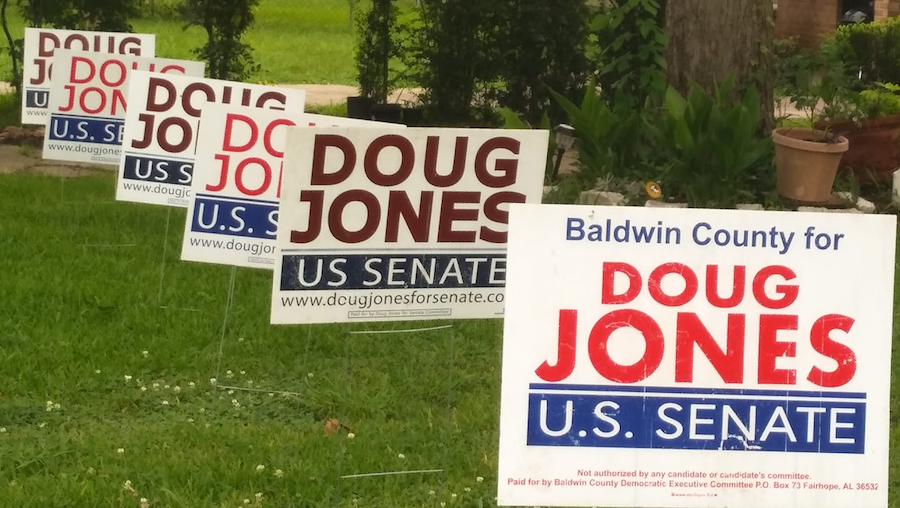 Pro tips
Choose the right locations to put them up. Typically, regions where people may not be aware of your candidate are perfect. Look for supporters in such an area and put up the signs to increase visibility.
Maintain the right color contrast. You want people to be able to read the sign even when they are moving.
Use large fonts and short texts. Avoid cluttering the sign with a design. Keep it simple with text. This, again, is to make it easy to read from afar and in passing.
Political communication through broadcast media
Television
Communication Objective: Awareness (mass scale), Candidate showcase, Persuasion
Political communication through television consists of:
Sponsored ads
Press coverage
Television ads are generally used to introduce or endorse the candidate, showcase their stance on current issues, and spread the campaign message. Incumbents may use TV ads to talk about their success in the last term to garner support.
Press coverage includes news channels (or other networks) covering a campaign activity, such as a candidate visiting a school and engaging with children. Celebrations of a campaign milestone, a fundraising event, etc. are also included. This coverage works towards reinforcing the campaign message and persuading people to support you.
Here's an example of press coverage by an online network covering Hillary Clinton's talk with activists:
Pro tips
Invite bloggers and new media journalists apart from news networks for coverage. People nowadays get their information from a variety of sources, so make sure that you are covered by most of them.
Showcase the candidate in an environment similar to that of voters. For instance, show how your candidate is also a working-class person trying to bring change. This helps establish a stronger connection with the voters as they now relate to him/her.

Avoid using text in television ads. People don't often read the text in ads. So, focus on a strong narration instead. Use text only to highlight important data (like numbers).
Radio
Communication Objective: Awareness (mass scale), Candidate showcase, Reminder
Campaigners leverage radio ads to spread the campaign message by talking about existing community problems and the candidate's plans to resolve them. This is how radio ads serve two purposes: showcasing a candidate's stance and importance while spreading awareness.
Radio announcements are also used as reminders prompting people to take action, like donating to the campaign or casting their votes.
Here's an example of an endorsement radio ad put out by the Obama campaign:
Pro tips
Create an easy to understand narrative for the ad. Most people listen to the radio during their commute or while working. So if an ad is too complex to understand, they may not pay as much attention. Keep it simple, with one narrator talking.
Have the candidate narrate the radio ad. It helps establish a better connection with the voters as it feels like the candidate is talking to them.
Political communication through new media
Social media
Objective: Awareness, Persuasion, GOTV, List building, Providing information
The wide variety of social media channels at your disposal today allow you to put out different content types and achieve different objectives.
For example, a video ad on YouTube works similarly to that as a TV ad informing people about your candidate's stance and achievements. Image and text posts on Facebook can serve as alternatives to posters to help you build lists, recruit volunteers, etc.
While the setup costs for social media are almost negligible, you may need to put in some money for paid ads to gain some initial momentum.
An example of a post on Facebook by Kamala Harris's campaign requesting for donations: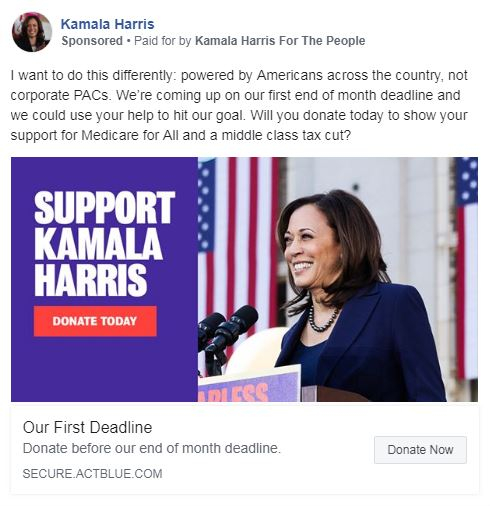 Pro tips
Avoid being active on too many platforms. While it is tempting, it can take up a significant amount of time to create content for each. Select only the relevant channels based on where you are most likely to find your target audience and focus on them.

Leverage your staffers and volunteers to mobilize voters. Have them build their own communities online and engage with them. This makes it easy to control different voter segments and mobilize them when needed. This is how Pete for America campaign dominated social media.
Email
Communication Objective: Send updates, Make appeals
Political communication through emails revolves around:
Sending campaign updates/information
Making appeals
Information campaigns include providing useful information to voters like issues surrounding their community, polling locations, or campaign updates like an upcoming event. These emails aim to keep voters engaged with valuable information.
On the other hand, appeal emails are more action-oriented with direct questions like donations or volunteering requests. These emails are more focused on mobilizing supporters who are already engaged with the campaign.
Here's an example of an email from Jeb Bush's campaign encouraging people to donate.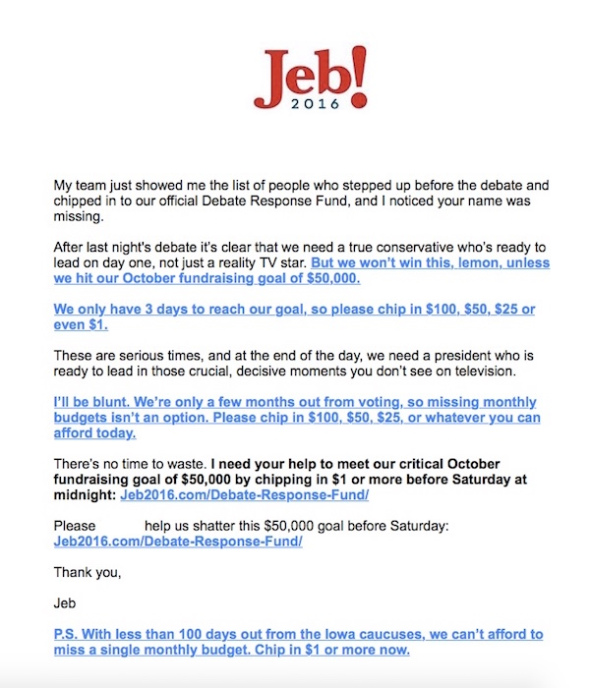 Pro tips
Segment your lists to send personalized emails. List segmentation based on age, location, engagement, etc. allows you to send personalized emails. Such emails are more relevant to voters and have a higher chance of converting them.

Use videos in your emails. It makes your emails more fun and interactive and something that voters may look forward to. This, in turn, increases your open and engagement rates of all future emails.
Text messaging
Communication Objective: Send updates, GOTV, Reminders
Like emails, political communication through texts also includes sending updates, appeals, and reminders for those appeals. There are two types of texts sent by campaigns:
Text blasts
Peer to peer texts
Text blasts are used to send information or campaign updates, like a candidate announcement. These are texts that are quite straightforward and may not require a back and forth conversation with the voter.
P2P texting comes in handy when voters may have questions, or you may have to follow-up to each message like event invites or opinion polls. It allows volunteers to converse with multiple voters at a time.
Texting is a more personal communication channel with higher open rates, which is why it's being used so extensively by campaigns in recent times.
Here's an example of an MMS sent by Pete Butigeg's campaign making a donation appeal: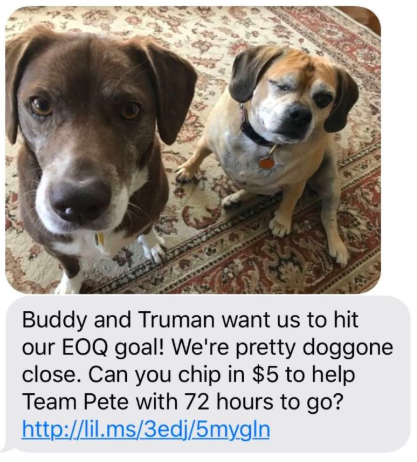 Pro tips
Mix up your texts with bulk MMS to make it engaging. Texts with media have a higher CTR and engagement rate. Your campaign can leverage this by adding media to make appeals more interesting, like in the example above.
Provide exclusive value to SMS subscribers. Barack Obama did this by answering questions that were raised by subscribers over text. Not only did this help retain existing SMS subscribers, but it also motivated others to join the SMS list too.
Phone banking
Communication Objective: Voter identification, Persuasion, GOTV
Political phone banking is a personal channel of communication generally used for canvassing. A typical phone banking flow for a campaign goes as follows:
Voter ID: Identify and segment the voter list into supporters, non-supporters, and undecided voters.
Persuasion: Persuade strong supporters to donate or volunteer and undecided voters to support your candidate.
GOTV: Motivate and help people to vote on election day.
Phone banking is a highly effective canvassing method as it enables volunteers to have one-to-one conversations with voters. It allows them to address any concerns or objections that may be stopping voters from volunteering, voting, or even supporting your candidate.
Here's an example of a phone bank from Joe Biden's campaign: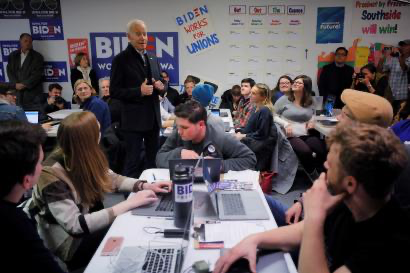 Source: Quartz
Pro tips
Use a comprehensive call center software. When phone banking, you will need a tool that allows you to do everything from one interface. This includes running a distributed campaign, sending a follow-up text through the calling dashboard to reinforce the conversation, recording calls for monitoring, keeping volunteers motivated, etc. It eliminates the need for a lot of technical training for volunteers allowing them to focus on calls.
Train all volunteers in calling etiquettes. They'll call people without their permission, so they need to follow calling etiquettes to get the most out of each conversation. This includes how to address objections, make an appeal, avoid arguments, etc. Creating a phone banking script and having volunteers practice it first helps.
Takeaway
When creating a political communication strategy, keep in mind that you need a multichannel approach because:
You have a better chance of reaching out to ALL of your target audience with a multichannel approach.

It helps reinforce your message by keeping you fresh in people's minds. People are exposed to multiple screens each day, and to be more memorable, you have to be seen on most of them, at the very least.
While it may seem daunting to plan for all of the channels mentioned above, you can start by planning and executing a political communication strategy for a few channels in the first few weeks and picking up the others later. That's how you can win.
Featured image source: History in HD