March 31st of this year, Chicago was hit with the first wave of the coronavirus pandemic.
On one hand, they struggled to find enough healthcare workers to meet the threat. On the other, they also found it challenging to keep their citizens updated about the crisis.
Text blasts came to their rescue.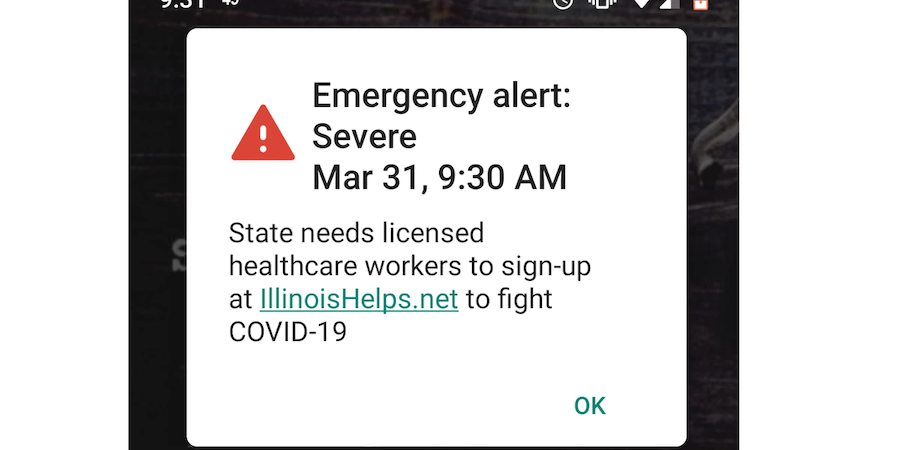 With the help of text messages, the government was able to ramp up the presence of medical personnel in hospitals to deal with the need arising from the pandemic.
They were also used to keep the general public informed about the crisis and send critical information on social distancing to help shorten the curve.
The reasoning for choosing texts over any other channel is obvious:
They needed a quick and easy way of reaching many people at once
They also wanted their messages to be seen.
Text messaging meant getting both advantages rolled into one.
Clearly, text blasts are a lifesaver during times of crisis. While text blasts have certainly found their place in emergency response, they are also extensively used in appointment reminders, event updates, and school notifications.
Having one more channel of communication helps reduce friction and increase conversion – resulting in a direct impact on your organization.
In this post, we will look at how to set up text blasts for your organization.
What is a text blast? Text/SMS blast is the sending of text messages to a large number of mobile users simultaneously, at the click of a button. This is done with the help of a mass texting software.
Group texts vs text blasts – What's the difference?
Applications that allow group texting, like iMessage and WhatsApp typically limit the number of people you can contact, and are often limited to those contacts who are using the same application.
By using mass texting software to send out text blasts, you can reach a large number of people at once.
Another advantage of text blasts is that replies sent to your message can only be seen by you. That means replies to your texts are private, unlike in group text apps, where the replies are seen by everyone else in the group.
Best practices for sending text blasts
Getting an opt-in
In the majority of cases, you are required to get an opt-in from your contacts before sending them text blasts.
Not only is this required by TCPA guidelines, but getting consent means a higher chance of your texts being read.
You can do that by
Getting written permission on paper or through a website form
Consent on a recorded verbal interaction
Selecting a key on a dialer when prompted
Texting in a keyword to a number through SMS opt-in
The climate advocacy group 350.org used SMS opt-ins to great effect, getting 3000 people to opt into their text messages at a climate rally.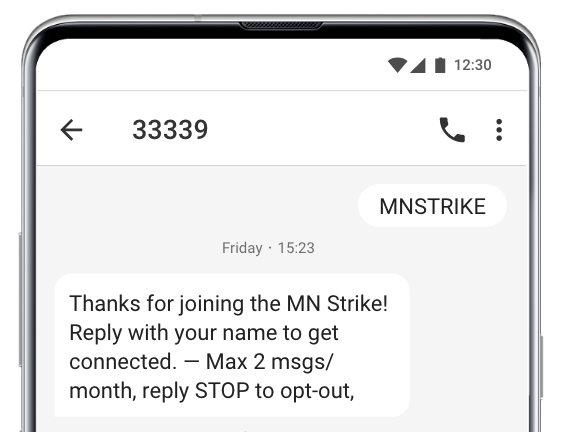 Concise, relevant messaging
A message that takes too long to get to the point can be tiresome. It would also cost more if the message spills over to multiple texts.
Thankfully, texting as a medium makes it necessary to be frugal with your words when composing your message.
Make sure you are getting the point across within the text and sending it to people to whom it's relevant to avoid any annoyance.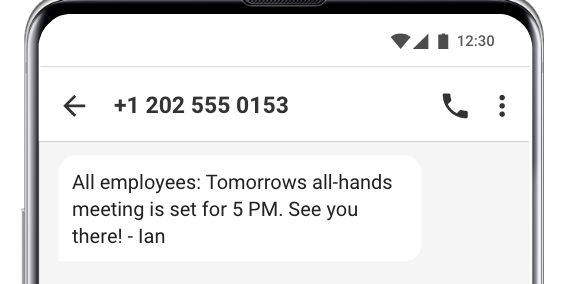 Making it easy to opt-out
The TCPA guidelines require that any consumer can quickly opt-out of your text blasts when they wish.
That means, making it easy for them to opt-out : maybe by sending out a keyword (STOP) or clicking on a link.
Take the example of the 2020 presidential campaigns. They had clear opt-out instructions in their initial text message upon opt-in.

Set up automatic replies
Sending individual replies to every response you receive to your text blast is going to be a hassle. The solution is to set up a text autoresponder to send out replies based on the response you receive.
This:
Saves time for your volunteers/agents
Allows you to send tailored messages based on keyword replies
For example, you can use automatic replies when confirming Event RSVPs.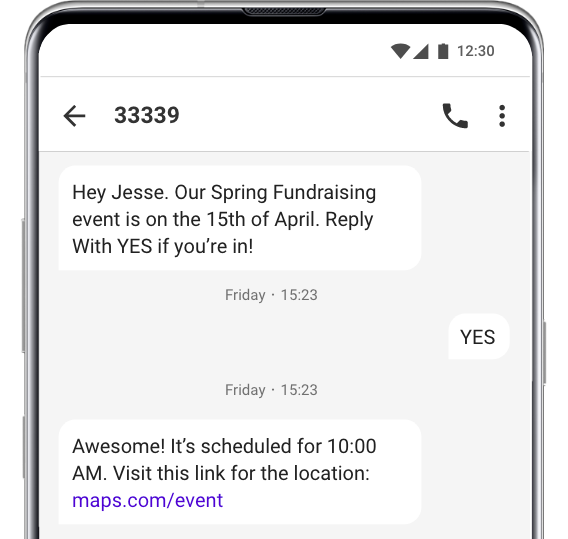 SMS/text blast Use cases + examples
Emergency response
We saw an example above on how text blasts were being used to send emergency messages to contacts during the COVID-19 pandemic to recruit healthcare workers.
You can also use text alerts to:
Send safety guidelines
Share evacuation procedures
Send urgent updates
Collect donations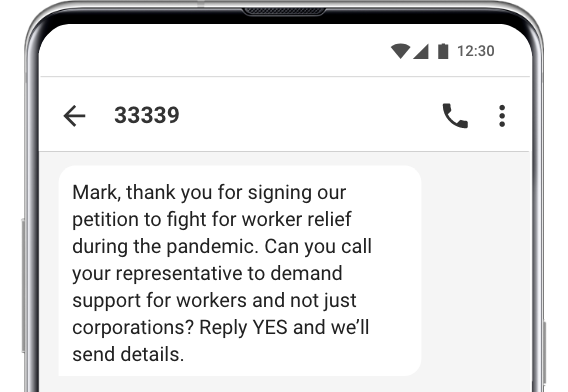 Event updates
Keep your event attendees informed and allow them to plan their schedules around your event. For example you can send text message reminders to the people who have RSVPd to your event.
This works for promoting live events too.
In the 2020 democratic presidential race, candidates like Cory Booker and Amy Klobuchar used text blasts to invite their contacts to campaign live streams.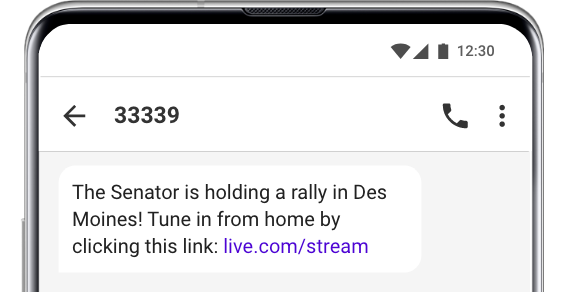 In the texts, they added a link to quickly access the event from their phone with just a single click.
Allowing for quick access in the updates helps improve conversion.
Sale promotions
90% of texts are read within the first 5 minutes. For promotions that may be time-sensitive, for example, limited time sale, a text blast is the best option.
Even when time isn't a constraint, text messages are a good option to augment your existing email campaigns. They help reinforce your message and make it more likely for your contacts to take action.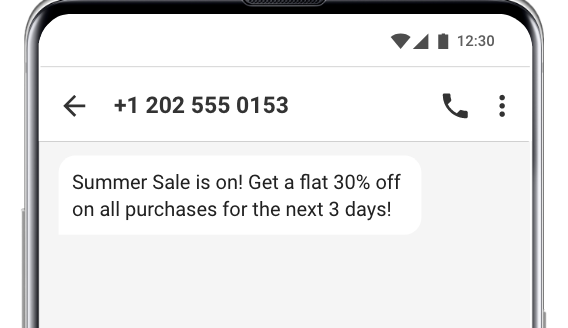 School notifications for parents and students
Schools and Universities have recognized that texts blasts are the best way to connect with parents and students.
Use text alerts to keep them informed whenever there are school delays, closures due to weather, PTA meetings, tuition payments due.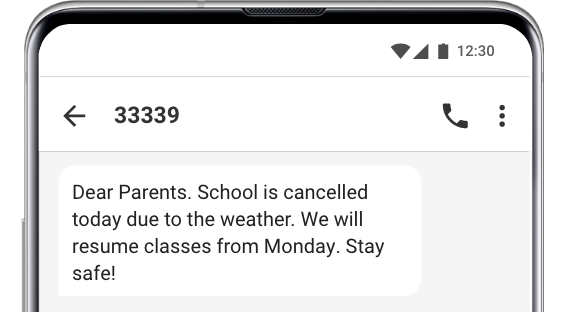 Payment reminders
Remind your clients about payments and send follow-ups if they haven't paid on time. You could like out to a page where they can make the payment on mobile.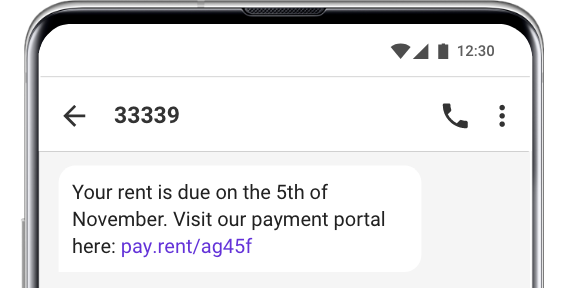 How to send a text blast
Get a contact list
Before sending text blasts, you need to get an opt-in from your contacts. If you already have a list of contacts, you are ready to send them text messages by uploading them to your texting software.
Upload your contacts
You should be able to import contact details and data from your CRM or a spreadsheet. Make sure you have important details like your contact's names stored in your database, so you can personalize your texts.
Create a campaign
To send text blasts, you need to set up a mass texting campaign.
Here's how you can do it in CallHub:

In the campaign set up, just select the contact list with the contacts you want to send the text blast to.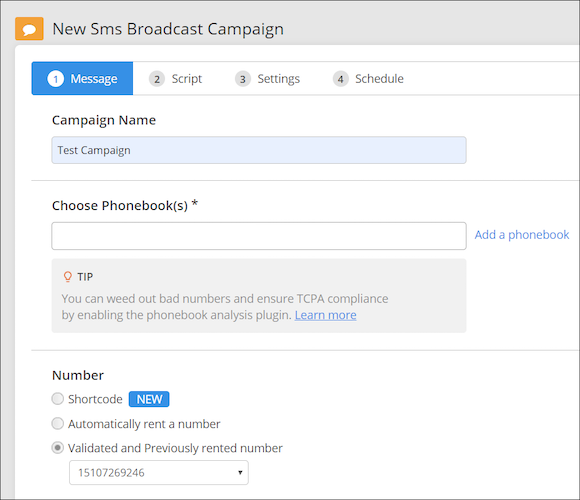 Learn more about setting up a mass texting campaign here. As mentioned earlier, setting up a campaign is just a few minutes of work – if you have the right text messaging software.
What to look for in the best text blast software
The typical criteria for selecting the software are the pricing and ease of use. While these are definitely important, you need to look for a few more features that will help you adopt texting to your communication mix.

These features should allow for better usability, as well as allow you to execute the best practices mentioned above.
Your text blast software should allow you to:
Set up automated responses
By setting up automatic replies for a text message broadcast, you can individually respond to every contact who texts you, with the least manual effort.
The automated text can be used for sharing more information, sending donation links, and collecting event RSVPs without manually typing out a response.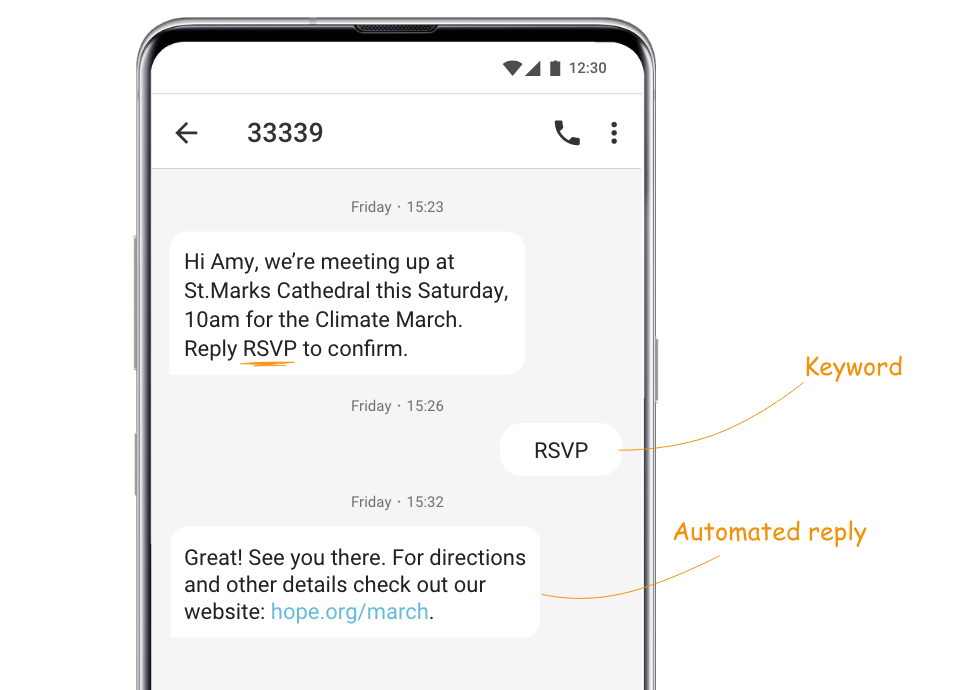 Schedule your texts in advance
You shouldn't have to wait to hit send on your text blast. Let your software send it at the time you want by allowing you to schedule your texts.
In CallHub you can schedule the time to send out your text blast. You can also determine the time frame (operational hours) you want your text to be sent.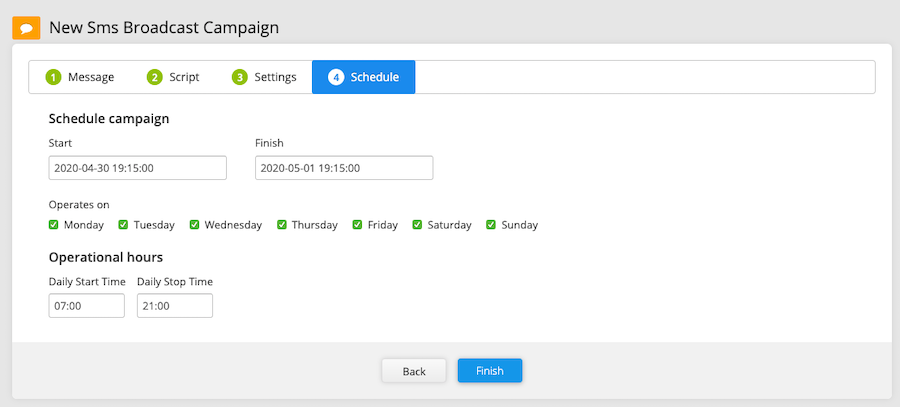 Personalize your texts
Yes, having the contact's name is a good start. However personalization also means referring to the contact's interest, past behavior, etc.
For instance, in CallHub, you can personalize content based on contacts' interests, political affiliation, volunteering experience, purchasing habits, and much more. This information can be synced from your CRM allowing for seamless data transfer.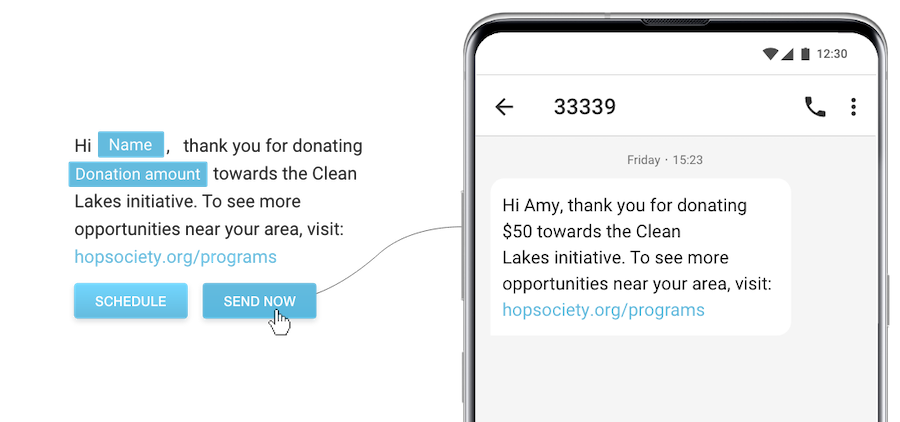 Manage replies
Not all conversations can be automatically handled. For instance, if a contact has a query to the text you have sent, it would need a one to one conversation.
Make sure the software you are using is able to highlight the replies you receive and allow for one to one messaging.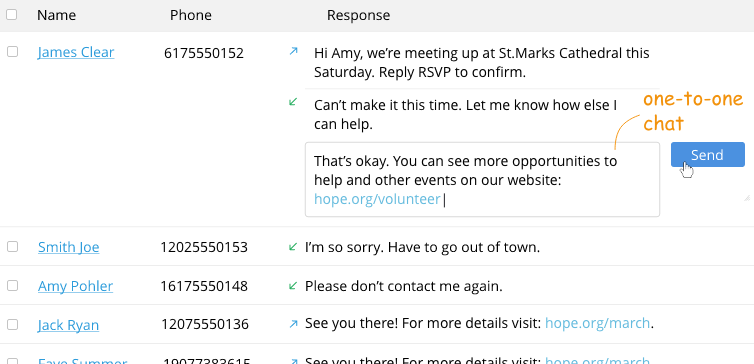 Automatically remove opt-outs from your lists
CallHub makes the opt-out process simple. Your lists are kept clean by unsubscribing people who reply with QUIT, END, UNSUBSCRIBE, CANCEL, and STOP.
CallHub can detect the most common opt-out keywords and automatically remove people from your list.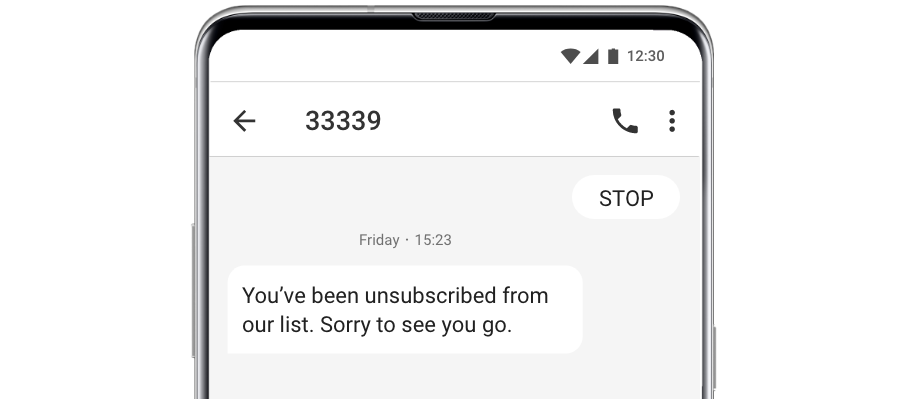 Ready to start sending text blasts to your contacts? Head on over to this page to signup and take advantage of all of the above features and more.