Every texting campaign is unique. They all have different strategies, practices and skill sets involved. However, there's one thing every good campaign manager has in common: Keeping track of campaign performance and optimizing it for best results.
The best campaigns constantly test and optimize.
CallHub's Link Shortener and Tracker has everything you need to run highly optimized campaigns.
What is the Link Shortener and Tracker?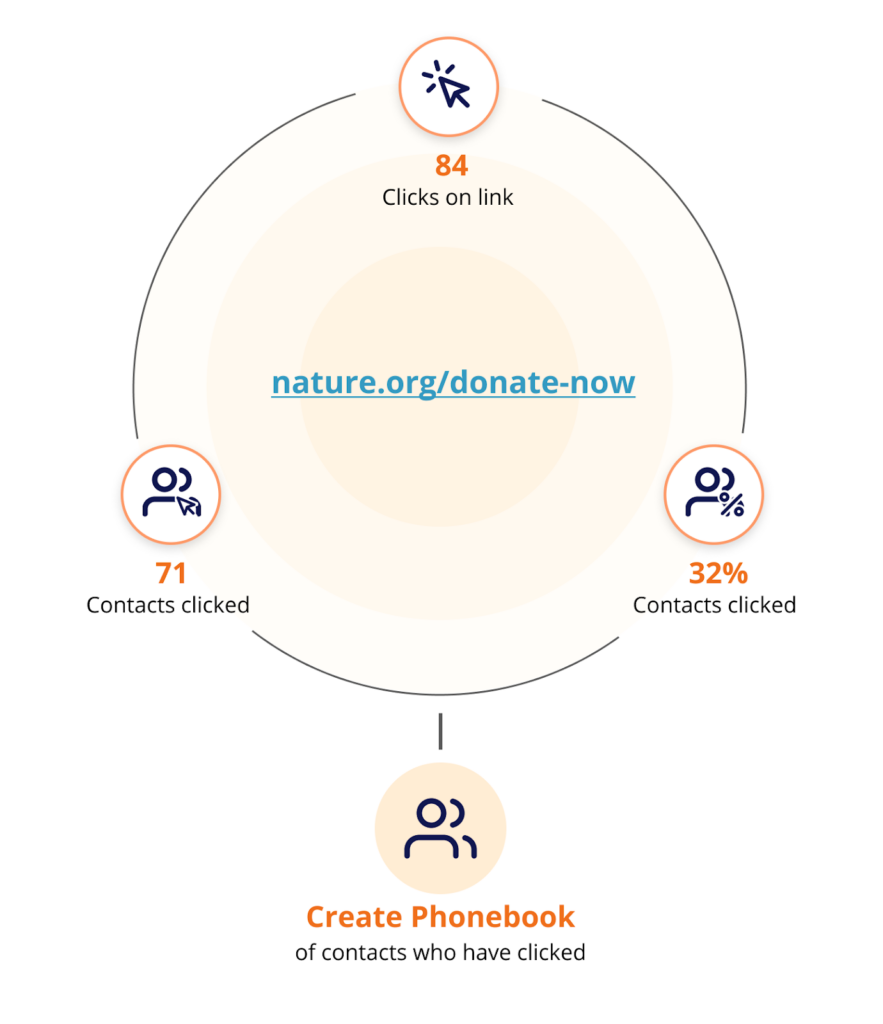 This is a key feature of our texting tools that enables you to
Shorten URLs
Share branded links in texts
Track performance(clicks) of links shared in a text
This helps you measure the performance of your text campaigns and optimize them for better results. Most importantly, the Link Shortener and Tracker tracks links to analyze your contacts' interests on an individual level. This further helps you to craft great follow-up strategies.
Let's see some of the best ways to do that.
Take your contacts down the funnel by understanding their interests
With URL tracking(of shortened links), you get insights on:
The number of times your link was clicked (total clicks).
The number of contacts from a campaign who clicked the URL (unique clicks).
% of contacts from the campaign who clicked the URL.
Identification of contacts who have clicked your link and who haven't.
With this data, you will understand what each of your contacts is interested in.
For instance, person A clicked on your landing page but not on your event invitation. This means person A needs more nurturing before they can be asked for contributions.
Now, say, person B did not click on a link to your landing page but they did click on your event invitation. The action clearly tells you they already know you well and are interested in engaging with you. You can further engage them with future events.
You get the idea, right?
Now, you can segment them in different lists based on their level of interest and target them accordingly.
Follow-up strategy tip: Nurture people that clicked on your link onto the next level and find out what went wrong with those that did not click.
For instance,
Send a donation link to all those who clicked on your event invitation or have attended your event.
Call people who clicked on your event link but did not donate.
Send a compelling video to those that did not click on the landing page.
Connect with your contacts better by discovering the best-performing campaigns
You have to start with UTM tracking.
UTM tracking involves adding different parameters to your URL to understand where exactly the traffic is coming from. Knowing which campaign, and specifically which text generated the highest traffic will help you get a better sense of the intent.
CallHub's Link Shortener and Tracker allows you to add up to 5 UTM parameters. Let's see what they are:
utm_source: Tells you what the source of your traffic is. Eg: CallHub.
utm_medium: Tells you the medium from which the traffic came. Eg: SMS.
utm_campaign: Tells you the campaign from which the traffic came. Eg: DecemberRally.
utm_term: Helps you understand the effectiveness of a keyword you use in your campaign. Eg: Vote.
utm_content: Helps you understand the type of content that performs the best. Eg: GIF.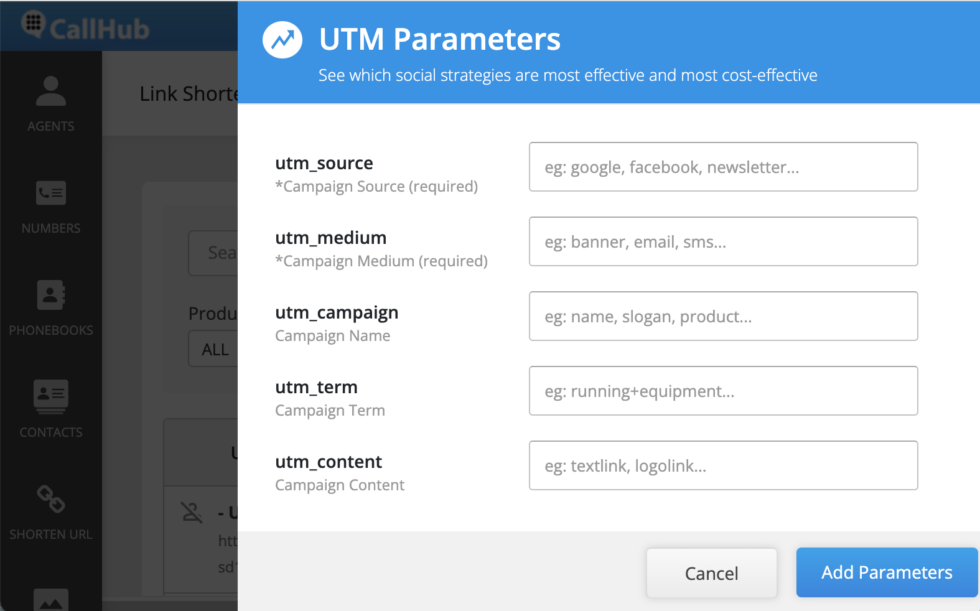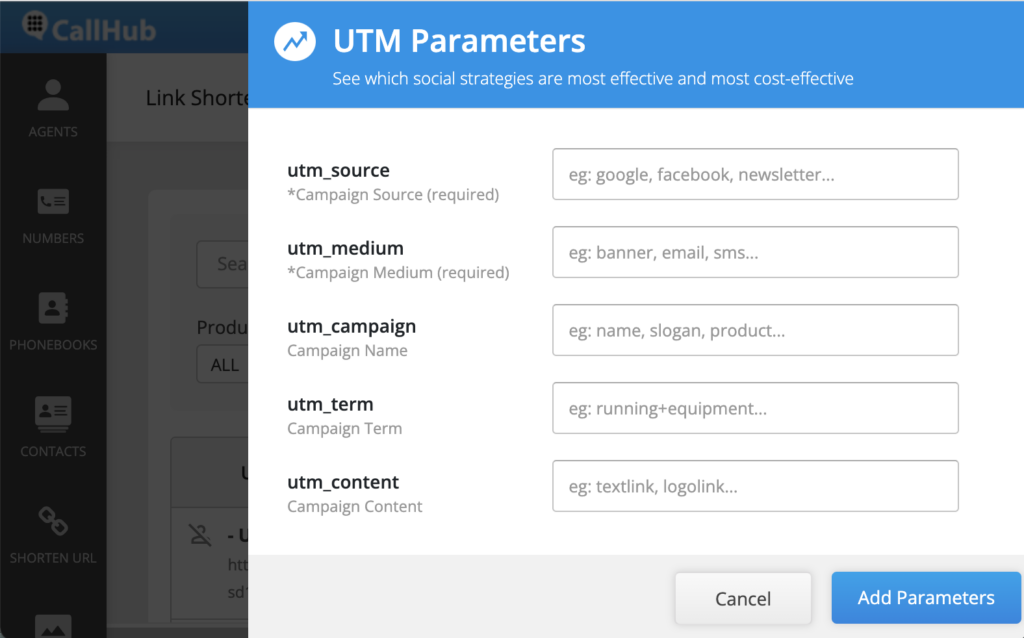 CallHub helps you keep track of all your UTM-tracking-enabled URLs in one place, making tracking more effective.
One of the most common uses of UTM tracking data is to discover the top-performing campaigns. Alternatively, identify the terms and content that are resonating with your contacts and use these insights to plan future campaigns and your follow-up strategy.
Follow-up strategy tip: Segregate the best and worst performing campaign(s) and see the contacts that are a part of it.
Now, for the best performing ones, you know that the contacts that were a part of this are interested in what you have to offer. Additionally, thanks to UTM tracking, you know the kind of content and keywords they resonate with the most. So, incorporate similar keywords and content into your follow-up communications with this set of audience.
For the worst performing campaigns, use a new set of keywords and content and run the campaign with the same audience.
Test, optimize, repeat.
Increase your click-through-rate using the phrases your contacts like
One of the primary goals of your campaign is to get your contacts to take the intended action. For example, to donate to your organization or sign up as a volunteer. So, in addition to your messaging in the text, focus on the phrases you add in your link. For example, 'join-now' would be a great phrase to use in a volunteer recruitment campaign.
Shortening the URL will make it concise and appealing. However, customizing them with effective phrases will entice your contacts to click. Here's how your link looks when customized: https://clhub.io/join-now/X23dgrt.
The best way to get enough data to optimize your phrases is through testing. Test your links with multiple phrases. At this stage, the messaging in your text, the destination, the audience, etc. will remain the same. You will only focus on the phrases you use in your links.
Measure the link performance by clicks. Identify the terms that work best and use them for your future campaigns.
Follow-up strategy tip: Now, your follow-up campaigns can incorporate the same phrase so people relate to it best.
For instance, say you tested your link with 3 phrases: 'join', 'volunteer', and 'join-now'. If the link with the phrase 'join-now' got the highest CTR, you know that incorporating a request for immediate action works well.
Now, the links in your follow-up campaigns can have phrases like 'now', or 'today', and so on.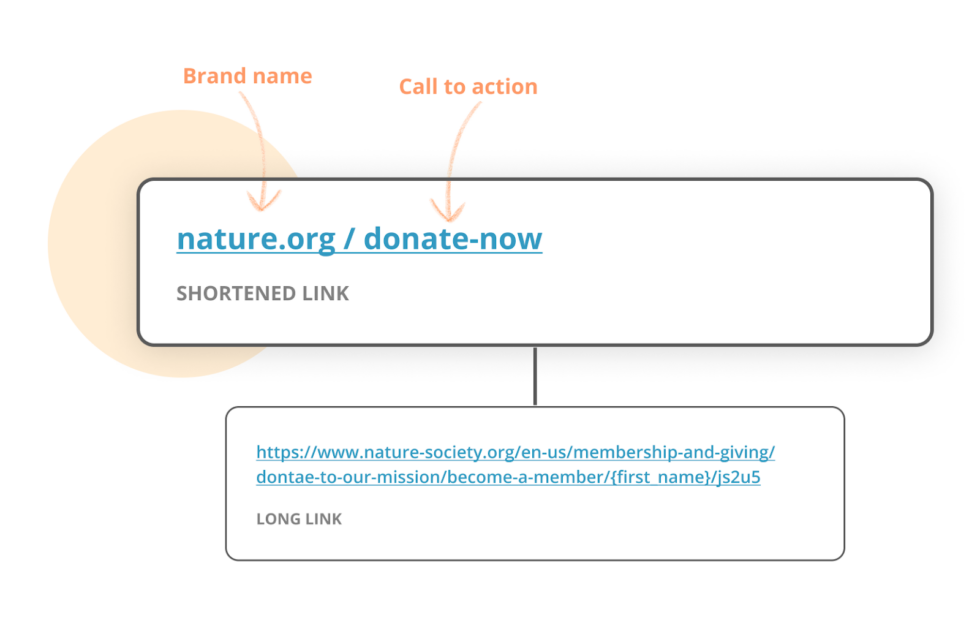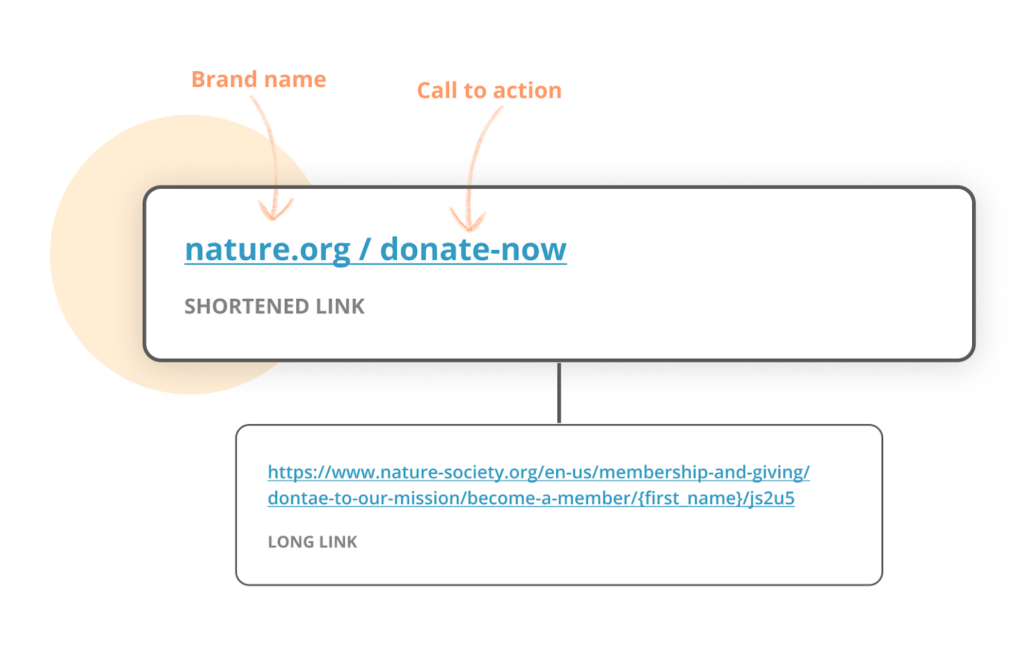 Keep your contacts engaged with the best messaging
In most cases, it is the messaging in the text that drives people to take your requested action. So, a link with a high click rate is a good indication about the power of your messaging.
Find out the messaging accompanying the links with high CTR and the ones with low CTR.
Notice the language, call to action, and the tone in these messages.
This gives you an insight into what kind of messaging works best for your audience and what doesn't.
Follow-up strategy tip: In your follow-up campaigns, make sure you use the same tone and language that's worked well in the past. For instance, say a friendly tone, text abbreviations and emojis get the most traction. All your follow-up communication with that set of audience should incorporate the same.
Convert them faster by incorporating branding into your links
You may have noticed organizations using branded short links. These links will be shortened and still represent your brand using letters that closely resemble the brand name. For example, callhub.io can get a shortened custom domain name such as clhub.io.
Incorporating branding into your links like this helps you increase brand familiarity among your audience. It can also increase your clicks by up to 39%.
It is fair to say that the people who click on your link are quite familiar with your organization.
Maximize your engagement by timing your campaigns right
Look out for trends and patterns.
You can run a texting campaign spread over a few months' time using one link. The idea is to notice the change in the performance of the link across days and hours.
CallHub's Link Shortener and Tracker lets you track the total number of clicks and unique clicks along with date and time. Note the days and times when your links are performing the best.
Follow-up strategy tip: Based on these insights, schedule your follow-up texts on the same days around the same time.
Maximize your ROI by discovering high-value campaigns
Each link you add in your texting campaigns tries to move your contacts through the conversion funnel in some way. Along with finding the best performing campaign in terms of clicks, find the campaign producing the maximum ROI by tracking each link. See how you can calculate your ROI.
Follow-up strategy tip: Once you have this winner, prioritize the respondents of that particular campaign for your follow-up campaigns.
For instance, say campaign A has a better ROI than campaign B. Focus on nurturing the contacts which were a part of campaign A down the funnel. Since they seem to be interested in your organization, it would also make sense to invest a little more in them.
The way forward
It's not just enough to get people to click on your links. The efforts don't stop at tracking and measuring the performance either. The key to getting maximum conversions is through forming the best follow-up strategies out of the insights you receive.
Our Link Shortener and Tracker is designed to focus on all three stages of your campaign. Want to see the feature in action? Reach out to us for a personal tour.
Featured image: Photo by Jeswin Thomas from Pexels