Everybody struggles with retention.
For nonprofits, it is retaining donors (only 23% of new donors stick!) For political organizations, it is consolidating support from their voters. And of course for businesses, it is getting their customers to buy again (they lose 15% of their customers every year).
When you look closer at all these segments, something really interesting pops up.
The reason why they leave is quite similar (check out the red highlights in the image).

82% of customers and 53% of donors could've been retained had the organizations simply had better communication!
Now, I know what you are thinking.
"We send them emails and call them all the time. This does not pertain to us".
Well, I would ask you to reconsider.
Because 'better communication' does not mean more calls/emails. It means targeted and pertinent communication at the right time!
For nonprofits that could mean knowing how to make a fundraising ask and via what channel – without annoying the donor!
Businesses could shoot out an email if a customer has not returned for their periodic purchase and win them back.
For advocacy organizations, it could mean reaching out to a specific list of supporters who are more likely to turn up for an event.
And hey, such targeted communication is quite easy to do – with the right segmentation. In this chapter we will see how you can segment and target your audience to get more from them.
What is segmentation?
Segmentation is the process of breaking down your audience into smaller chunks based on a common pattern.
This allows you to better focus your efforts on segments that will give you higher returns, and also send your audience targeted information.
E.g. A nonprofit can segment it's donors into two fundamental categories – major donor or a small donor, based on how much they donate.
For the next fundraising drive, depending on how much amount needs to be raised, you can target the segment that is more likely to donate.
Why segmentation?
So Jane prefers to read on the phone and John gives more during the holidays. Can such data really help your organization?
Absolutely!
The information you collect can give you a better idea of who your customers are and thus help you better cater to their requirements.
1. Better conversion
One of the secrets to high conversions, is leading up to the 'big' question (like a donation request or a product purchase), with a series of small asks.
The objective is to get a 'yes' for each of these small asks so that the prospect gets into the habit of saying 'yes'. This makes them much more likely to say 'yes' to the final 'big' question too.
Now, the tricky part is to get a consistent 'yes' from the prospect. That means asking the right questions and offering the right incentive to say 'yes'.
Segmentation will give you enough insights to help you there. It will help you understand your prospects better, so that you lead up to your big ask with the right questions.
Here is an example of how a conversation can go: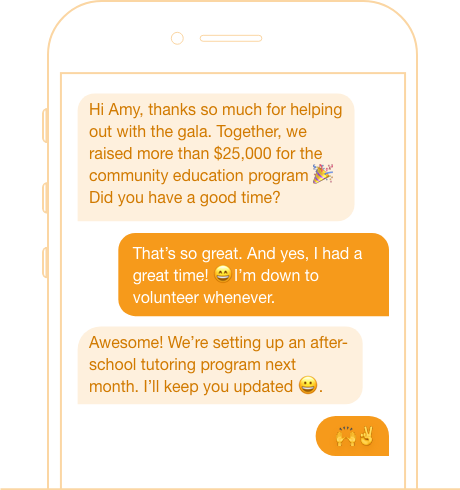 Notice that the above conversation is framed more like a volunteer update/appreciation. However it is followed by another volunteering request for the next month!
Segmentation would tell you which supporters to contact, based on their geographic location and also based on their past behavior (whether they have been previously engaged with your organisation).
That is, in the above example, the conversation over text would have been sent to only highly-engaged and interested volunteers (and not to every contact on the list).
Thus, for nonprofits it will help bring more people to events, raise more funds etc. For businesses, it will mean more conversions!
2. More efficient use of resources (better strategy)
Since you have a clear idea of what it will take to get a 'yes' from the prospect, you would be spending considerably less resources on nurturing.
That is, a volunteer or an agent will spend less time contacting the same prospects. He won't have to call multiple times. He will know exactly when to reach out to get a sale or a donation.
Here is an example of how Amazon uses segmentation to better understand their audience.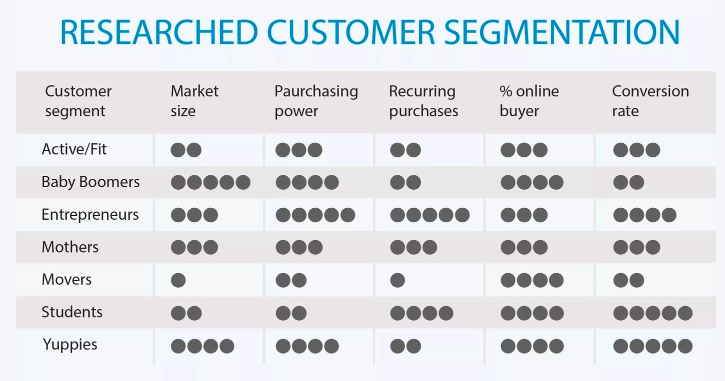 Based on this table, Amazon knows exactly which customer to reach out to for immediate growth. They will target the segment with high conversion rate and reasonably big market size.
However, since this segment doesn't have a tendency to repeat purchases, it will also focus on 'Entrepreneurs' – probably as part of their long term growth strategy.
3. Understanding your audience better (more opportunities)
Segmentation helps you understand your audience better (with hard research), and gives you insights that you would otherwise miss.
Let me give you another example here. BBC has well researched consumer segments (of six), that classifies their audience based on behavior that influences what content they consume.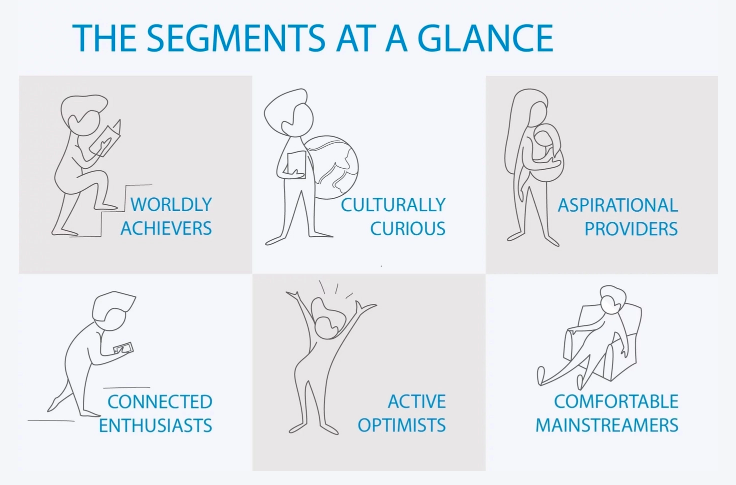 They found that, the 'Worldly Achievers' and the 'Culturally Curious' have a higher chance of reading their content than others and decided to focus their efforts on them.
But hey, if you think this was 'intuitive', let me tell you a surprising number. The 'Culturally Curious' formed only 11% of the total population.
Intuition will tell you that focusing on such a small number over others (say, the 'Comfortable Mainstreamers' = 18%), would not be a wise move.
However, because this segmentation takes into account behavioral data that ultimately ties to readership, they were able to uncover a hidden segment within their audience whom they could nurture better!
What are the various ways you can segment your audience?
Keep in mind that the segmentation carried out by Amazon and BBC outlined above are unique to their organizations.
That is, they may not necessarily work for you.
However, to get started, here are a few fundamental ways (called the 'classical segmentation') that can put you on the right path.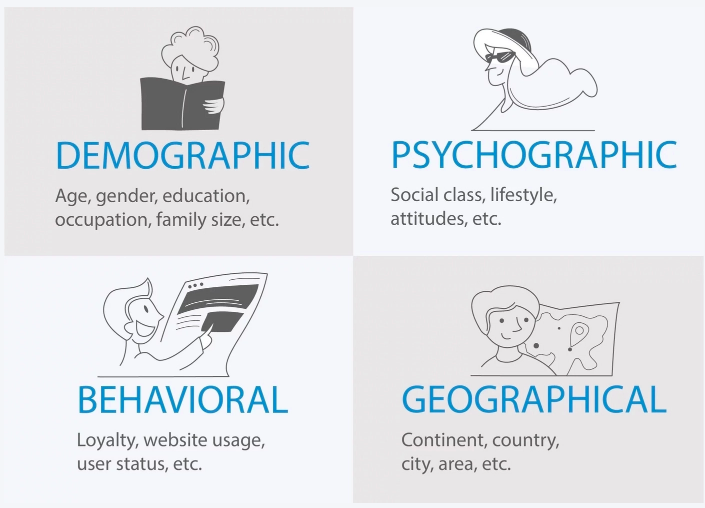 Analyze your existing donors and classify them according to the parameters above.
When you split the donor/supporter group based on age, it can broadly be done based on generation. That is, look at your audience to see if they are Millennials, or Boomers, or Gen Zs.
Giving behavior is definitely influenced by generation – for instance, millennials tend to give more time than money. While for boomers, it is the other way around.
Family size and education also impact giving behavior. Studies have found that single women are more likely to contribute to charity, and in higher amounts, than similarly situated men.
Middle class families have higher chances of being monthly recurring donors, than families that are better off. They are also likely to give more in the long run – when compared to those who give only once.
Behavioral segmentation will look at giving and engagement patterns of the donors with your nonprofit. Here are a few parameters that can be considered:
How often do your donors give?
What is the average giving size?
Do they prefer mobile/online giving?
What segment of donors give using cheques?
Do they prefer to engage with you via mobile?
Marketing strategies for each of these segments differ drastically. Once you have clearly identified the characteristics of each of your audiences, you will be able to segment them better.
Your target audience will always be a combination of all the above four parameters.
Say a nonprofit is struggling to meet its fundraising goal, then it can come up with a new channel, targeting one specific audience segment.
That is, it can show targeted social media ads to those
Who are loyal to the website (Behavioral),
Who have the most potential to give (Psychographic),
Who are most likely to use social media (Demographic).
If the cause is more pertinent to those in a specific area (Geography), then that parameter figures in too!
Apart from the above parameters, you can also segment audience based on:
Revenue: (or for nonprofits, donations). You can also classify your audience based on how much they spend on your organization.
Channel: though this partly comes under 'Behavioral', identifying which channel your prospects tend to use the most can help inform your marketing strategy.
Intent: Knowing why they interact with your organization. For nonprofits, it could mean knowing why a donor is giving. For businesses, it could be knowing the problem the prospect wants a solution for.
Prospect journey: If you already have a defined prospect journey, then you can also classify the lead based on which stage he is in. Eg. If he is still in the 'awareness' stage, then you won't call him with an Ask. Rather, you would send targeted Ads his way so that he moves down the funnel.
Lead segmentation begins at list building
When Obama tweeted that he would announce his VP candidate via texts, he generated 3 million sign ups for his campaign.
Way back in 2008, this was every campaign manager's and marketers dream – millions of prospects to engage, raise funds, and consolidate support!
Fast forward to 2020, and marketers would be a bit divided in their enthusiasm. Let me tell you why.
Here's how the campaigns were set up. The first is when a voter texts in with the keyword VP (2008)
The next is when a voter texts in with the keyword MIKE (2020)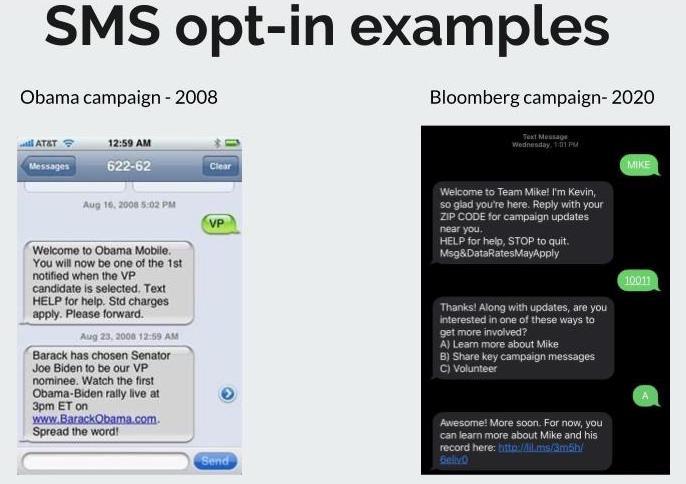 Essentially, all that the Obama campaign does is collect a phone number.
So while they had 3 million contacts (yaay), they also had 3 million contacts whom they know nothing about!
Now that is a humongous problem – as they cannot segment the voters in this campaign without more information.
For instance, if they wanted to run a get out vote campaign for only the democrats, how will they know whom to send it to?
The list could include a lot of republicans who had simply signed up because they were curious about the announcement!
On the otherhand, Bloomberg's campaign in 2020 not only asked for a pincode (for geographic segmentation), it also asked prospects if they would like to contribute more to the campaign!
That way, they could send volunteering requests to only those voters who send C. For the voters who choose A, they would send specific information about the candidate and so on.
The takeaway from this example is that – while segmentation is important for nurturing your contacts, the foundation for setting it up happens during lead generation!
Here are a few lead generation channels that can help you collect the information you need.
Lead generation channels for segmentation
A prospect/ lead engages with you across various channels during his journey. Any of these channels can be successfully used to collect information!
1. Chat-bots for data collection
You can either use the Facebook Messenger chat-bots to engage your social media followers. Or custom-build your own chat-bot for your website.
Since the bots are conversational, there are two things to keep in mind:
The information you ask for should be in line with the conversation you have with your prospect.
It should also depend upon the lead's behavior. That is, first time visitors to the site are not asked directly for donation, but are shown interesting content about the impact your organization has had.
Here's an example of how Drift does it on their website: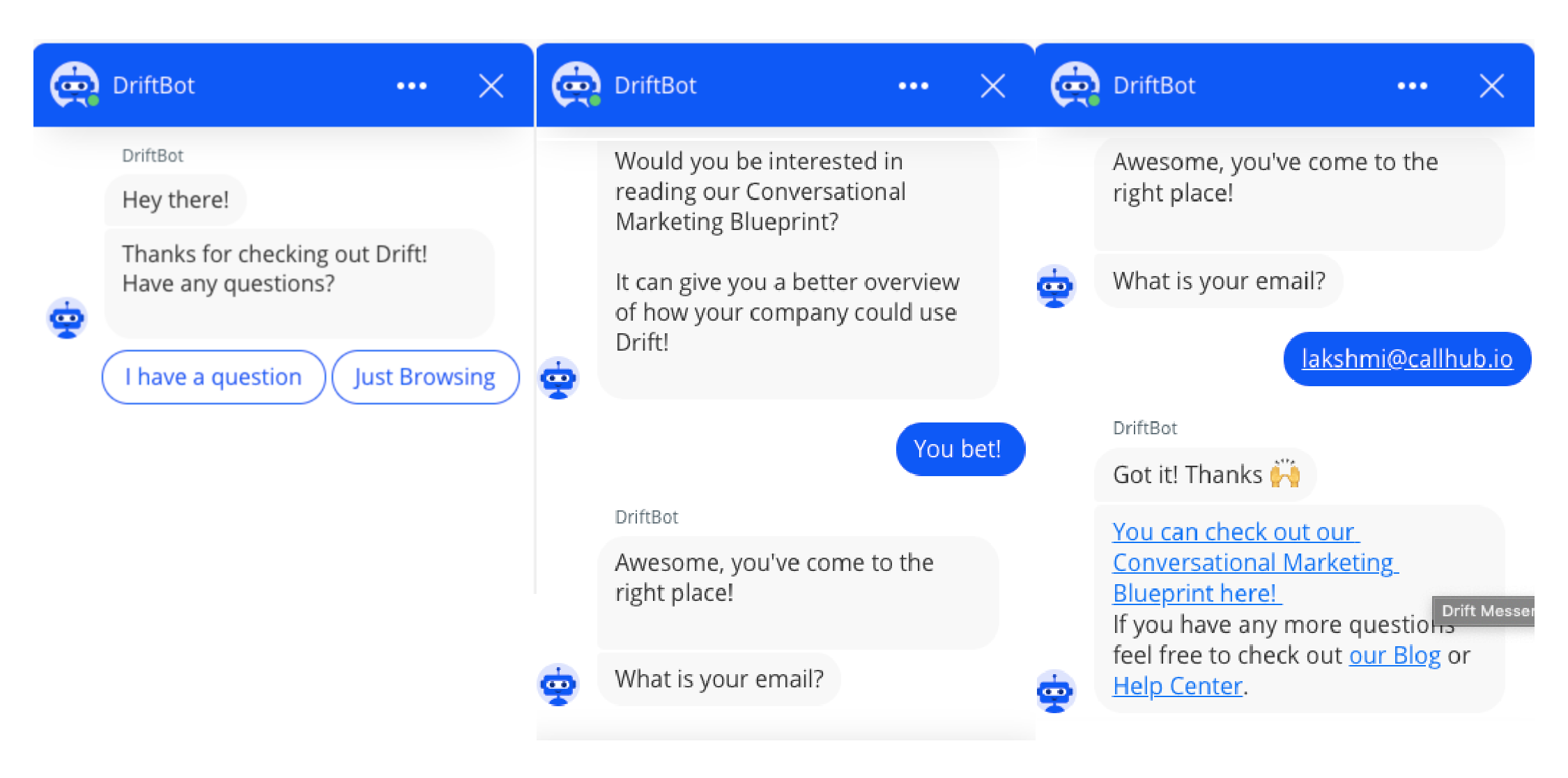 In this example since I was a first time visitor, Drift first asked me if I wanted to explore a bit more. Once I said yes, it requested my email id.
Asking for my email was a reasonable demand here – as it was in exchange for good content. If they had asked me what organization I belonged to, or the size of the company, I would not have shared the information.
For your nonprofit, the information you ask will be a bit different.
Email id, the cause they care about, why they want to support your cause etc.will be more important. The good news is, that they are all information that can be asked within a conversation.
However, requests to volunteer, making a donation, or attending an event are all high-barrier ask that cannot be pitched to new visitors. They can still be asked via a conversation, but a chatbot may not be the best channel for it.
2. Website forms for data collection
Your online donation forms are excellent channels for collecting more information about your prospect. The trick is in knowing where to make the ask and how.
The donation form itself should be easy to fill. Nothing more complicated than filling a name and donation amount.
Once the donation is complete, you can direct them to the acknowledgement page, which collects more information.
You can have a checkbox asking the donor why they made the donation. Or ask them how they heard about you.
You can also ask if they would like to receive further information (or be kept in the loop), about your nonprofit's major activities via text. This is an excellent way to get your donor's phone number and consent to reach then via texts.
Keep in mind that your donors have just made a donation. That is a big ask. So now is not the time to pepper them with another ask (like an volunteering effort or an event invitation).
Smaller asks like for a phone number (or consent) will work better.
You can also progressively collect information on the lead every time they visit your website (example below).

If it is absolutely essential for your organization to get a lot of information up-front, consider splitting the form in stages (with a progress bar), to make it easier for your lead to fill up.
3. Email for data collection
Emails come in handy for data collection, because the responses can be synced with your CRM and be later used to inform your communication
Here's how we did it at CallHub, sometime back: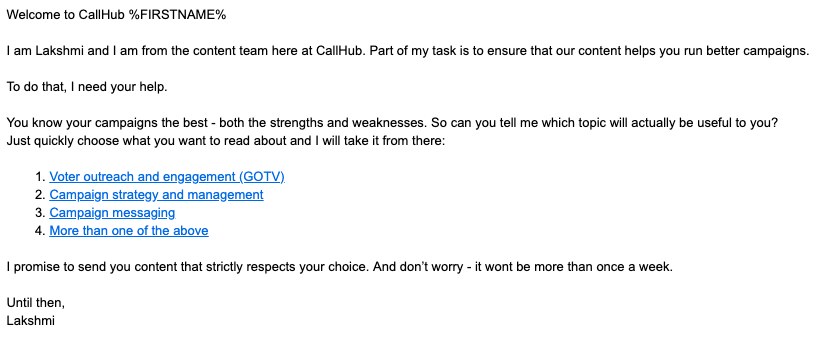 This email goes out to those leads who have subscribed to our newsletter. Depending upon their content preference, they can choose any of the links in the email.
The responses get recorded in our CRM so that we send them future communication according to their preference.
The idea here is not ensure that the barest minimum of information is requested in forms, and all follow-up information is requested via email.
This way, the forms are easy to fill and you can still get information to nurture your prospects better.
For your organization, the kind of question to ask via email would be different.
Questions like "Why do they support your cause" or feedback surveys are excellent information that can be collected here.
Emails also work well to gather progressive information. E.g. even if a prospect has not donated, but simply requested your newsletters, you can ask if they would like to be further involved with your organization.
If they say yes, then the data can be sent to your CRM. You can then filter the positive responses and approach these leads for volunteering efforts.
4. SMS for data collection
When it comes to text messaging, you have two options. You can either use an opt-in SMS campaign (like Bloomberg's campaign above), where a lead is asked a series of questions after his initial message.
Each one of the responses are automatically handled (based on certain keywords in the response), and the data is stored accordingly.
However, if your campaign has been like Obama's – direct and to the point, you can use P2P text messages to further engage the lead and get responses.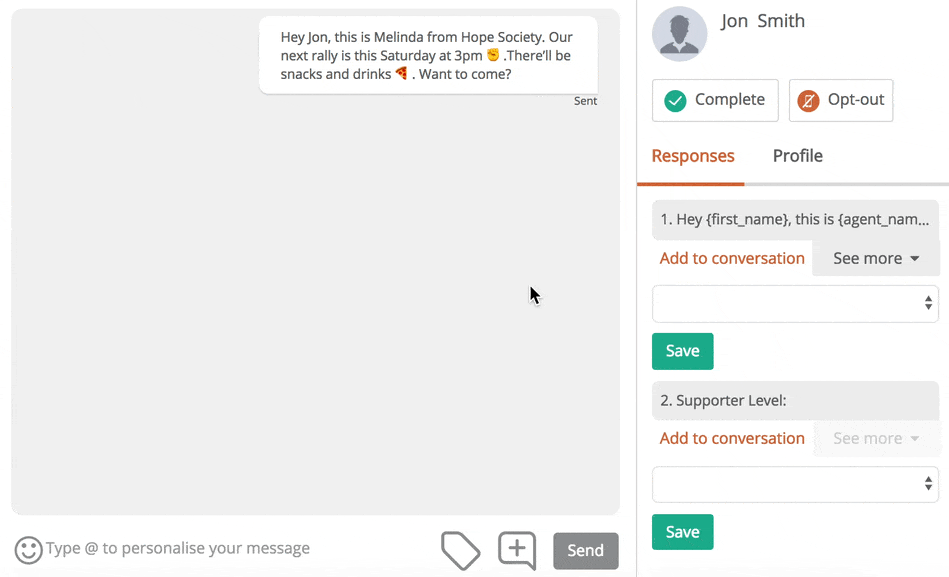 This example shows how an agent can update information on a prospect during P2P texting.
The P2P texting campaign need not be exclusively set up as a data-collection campaign. It can be done during other campaigns – like say, an event invitation, with the information blended in amidst a conversation.
5. Phone-calls for data collection
At the outset, it would seem rather counterintuitive to use phone calls – call center campaigns are notoriously resource intensive.
However, like in the above SMS channel, information collection can happen as part of another objective.
For instance, if you are reaching out to a landline number in your campaign, you can quickly collect the phone number of the lead via that call.
During a voter ID campaign, you can ask the voter what are they causes they care about (e.g. healthcare, climate change, education etc.)

If you are calling for an event invitation, you can check if the person would be willing to volunteer or help out in later events.

Regardless of what the purpose of your call is, quality data can be collected because it is via conversations.
For instance, during your call center campaign, saying " Can I please have your phone number?" may not be a good idea to get their phone number.
Instead you can say: "I can send you a short summary of what we discussed via a quick text. Can I have your number?" can get you better responses.
This chapter on persuasive cold calling has such handy conversation tips that you can use not just for phone calls, but for other channels as well.
Let us now see how you can use these channels in setting up your segmentation strategy.
Step by step guide to setting up your segmentation strategy
In a lot of organizations, fundamental segmentation would already be in place. A nonprofit will definitely segment a major and a small donor separately for communication.
Advocacy organizations automatically reach out to their strongest supporters with volunteering asks.
Similarly, a business will be reaching to a hot and a cold lead completely differently. The problem however, is that this strategy is not always so well structured.
If that is you, then this break-down will help you understand how to get more from your existing campaigns.
If you are setting up a segmentation strategy from scratch, you will get a solid headway in the right direction.
1. What is the problem you want solved?
In other words, define the end goal. What do you want to achieve by classifying your audience?
Merely classifying the audience to separate groups is not an end goal. What it will accomplish is give you insights that you can ultimately use to improve your goal.
For BBC it was increasing viewership, for Amazon, it was (and probably still is), increasing sales. For your organization, it could be any one of the below that will help you grow.
Increase or improve fundraising:
Despite having a list of prospects (major donors and small donors), a lot of nonprofits find it difficult to get them to donate again.
If this is your goal, then segmentation can help you identify repeat donors, highly engaged donors to make the ask.
You can also see which channels a donor prefers and use that to reach out to him.
Getting higher event attendance:
If you are repeatedly challenged with a low turn-out rate for events, then it could mean that you are targeting the wrong segment of audience.
See which age demographic resonates most with your cause (e.g., if it is climate change, then a lot of your audience would be millennials).
Also look at their past engagement details to see if they would be interested in turning up.
Recruiting more volunteers:
For a lot of organizations, a key metrics of growth would be calculating an increase in supporters/volunteers.
If you are struggling with that, then you may want to target your audience based on their demographic, lifestyle and income.
That is, millennials are more likely to volunteer for a cause they believe in – for while they have more time, they may not have the money to make a donation.
2. What is the data you need to collect?
Honestly speaking, not all organizations know what data to collect right from the get go. They typically go with "as much as possible."
However, it would be wise to classify the basic data you need (like the ones in the 'classical segmentation strategy') to get started.
You can always continue to add to the database, with whatever information you receive during the course of your interaction with that lead.
3. What channels to use?
Finalizing on what lead generation channels to use and how to use them for segmentation is the next step. This is typically informed by your goal and also the kind of data you want to collect.
It is also dependent upon your audience behavior.
E.g. If you have a large social media followers, using Fb chat-bots make sense!
4. How to use/integrate the data?
After all the effort you have put in to collect the data, remember that it will come in handy only if you integrate it with your outreach efforts.
That means, you have to put some thought into how you will collect data via different channels in one place.
It also means deciding how to integrate your database with your outreach channels – to ensure granular targeting.
Barriers you may face
Getting started with a fundamental segmentation strategy is not tough. However, it can get quite complicated, as some of the steps are not straightforward.
Here are some hurdles to watch out for:
1. Difficulty in segmenting existing contacts
This is usually a side-effect of poor data collection in the past. The complication can be twofold:
Bad data: Most of the data you have could be plain wrong! E.g. the number 898084 does not belong to Jane Doe!
Less data: If you do happen to find Jane Doe in that number, you realize that you know little else about her. What is her age demographic? What has her past behavior with you been? These are questions you have no answer to. And worse, it severely affects your outreach!
Solution:
Use follow up channels like texting and emails to collect more data about each lead. You can make information collection a part of every outreach strategy you run, to make it more efficient.
2. Unwillingness of leads to give out information
Don't worry, a lot of organizations struggle with it too. Thanks to the number of marketing campaigns, every lead is quite wary of handing out their information.
Solution:
Include conversational marketing in your lead generation program. Breakdown long forms into shorter ones. Follow up with your leads via texts and calls and get more information.
3. Integrating data collected into one system
Information collected during rally via forms never reaches your database. Or, you have audience behavior across channels in separate places that does not flow into one system!
For instance, the open and response rates for your texting campaigns doesn't flow into your CRM. This means that you do not have a comprehensive view of your audience's engagement behaviour. Your outreach efforts would be a lot poorer for it.
Solution:
Democrats Abroad faced a similar problem (of data quality) during the 2018 US midterms. Their volunteers did not have enough or accurate information on the voters they were having a conversation with. As a result the quality of conversations suffered.
To address that, Dems Abroad integrated their call center software (Call Hub), with Nation Builder so that the voter info from Nation Builder can be accessed while making calls.
Since the integration was two-way, any notes the volunteers made also flowed back to their database.
The take-away here is to use tools that seamlessly integrate with each other so that data is shared across all platforms.
Before using a particular tool for lead generation, see how well it ties into your existing database (open APIs) to make data flow easy.
4. Data access across teams
How does Dave in Marketing know if a lead has already converted? How does volunteer Mina know if a prospect has already contributed for the cause?
This information is crucial to plan outreach strategies. Otherwise, you will end up wasting resources in contacting the same lead with useless messages. Not only will it annoy your leads, but it will also be highly ineffective.
Solution:
Having a central database of all information is the first step. Arm your volunteers/agents with pertinent information right in their mobile or desktop.
Let us go back to the same Democrats Abroad case study. They used Call Hub's tags, custom fields, and surveys to ensure that the data collected can be used for segmentation.
Here is a quick snapshot of how they used the system: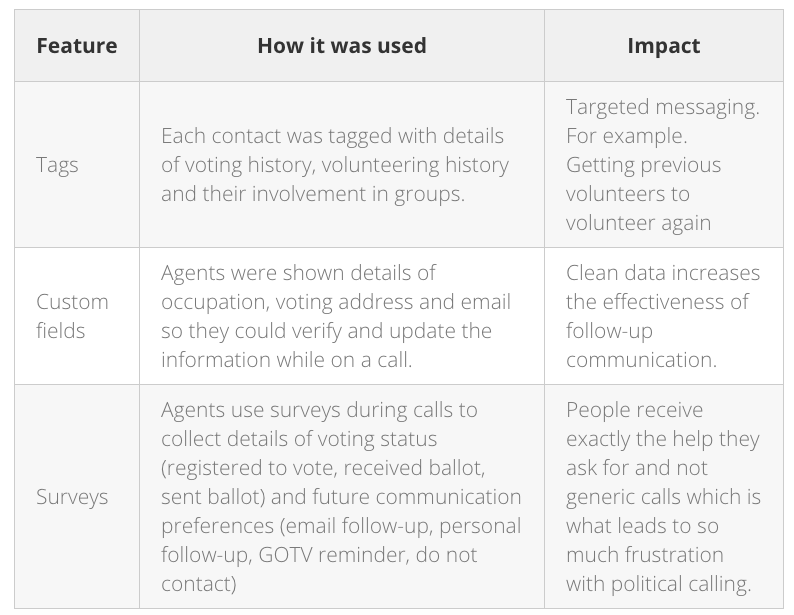 To replicate the same for your organization, check your APIs and integration between every team's database while planning campaigns.
Take-away
The idea of segmenting is to ensure that you have more meaningful conversations with your leads.
That means, ever after all this data collection (and segmentation), you can still struggle with conversions if you are not using it right.
In the next chapter, we will see how SMS can be used for conversations.