Yes, money makes the world go round, and knowing how to raise money for a campaign will surely aid your run for office. Any kind of political campaign that you might want to run– a local, grassroots initiative, or a Presidential campaign– it all costs money!
Whether it is to create a dent in the universe or playing your part in helping your local community– you can have myriad reasons to run for office. But the dinero in the campaign fund is the factor that can really make or break this vision! Here's why you need that money:
Your campaign has needs. You need to spend on advertising, public relations, hiring campaign staff, printing flyers, building your website, managing your social media, investing in software, and much more!
A campaign with funds is a credible campaign. Once you are successful in raising money, it sends a message to your supporters, lobbyists, and competitors that you are a candidate that others are willing to invest in!
Learning how to raise money for a campaign, planning a strategy, and managing your funds can initially be intimidating and anxiety-inducing. However, we've got a simple guide for you that can help you get started!
How do you start a campaign to raise money?
Let's explore steps that you can take to start your fundraiser campaign.
1. HIRE!
A good idea would be to begin your fundraising campaign by hiring the right people who will make the process easy, have the technical know-how and the strategies to guide you.
Lay the foundation by first and foremost hiring a campaign finance manager. Once you've done that, sit with her and lay down your political fundraisers' ideas.
A campaign finance manager is an essential addition to your team. She will be the first role that you hire for, even before the campaign manager because she will be responsible for raising the funds needed to do everything else on the campaign.
They need to be able to:
Plan how funds are to be raised.
Create a financial plan.
Research donor history.
Manage your donors.
Manage your fundraising calendar.
Budget your spending.
Run and organize fundraising events.
Keep the campaign compliant with financial laws.
A campaign finance manager is an extremely smart hire in the initial stages of a campaign before you have announced your plan to run. Before you hire, figure out:
What is your budget? Establishing your initial budget would save you a lot of grief when choosing a good financial consultant.
What skills are you looking for? Ideally, for a finance manager, it should be their ability to raise funds, networking, marketing, event management, and planning. Depending on your needs, the skills required may differ.
How soon do you need them? You need to accelerate or slow down your search depending on when you actually need the financial consultant to start the job.
What are their qualifications? Consider if they have previous experience managing a campaign's finances, a team, volunteer experience, interest in politics, or willingness to learn. Some qualifications to look for are:
Excellent interpersonal and networking skills.
Commitment to accountability, measuring outcomes, and a results-oriented culture.
Excellent project management skills. Can plan a project, program, track progress and adjust resources accordingly.
Can understand and build a long and short-term financial strategy for the campaign, reach goals and monitor progress.
Superior written and verbal communication skills.
Fundraising prowess. Understand how both low and high-dollar fundraising works.
Demonstrated experience with online fundraising. Has creative solutions to come up with new strategies of fundraising.
A deep understanding of state and federal election law.
Depending on the seniority of the position, a dedicated number of years working with political campaigns or nonprofits.
Knowledge of campaign management software.
Generally, when hiring for the position of a financial manager, campaigns look for experience over a particular degree. Take a look at financial managers from previous campaigns and their experience to determine what you need.
Once you have a financial partner to work with, it is time to build your team and get onto your fundraiser campaign.
2. Create a fundraising plan
When deciding how to raise money for a campaign, you should keep in mind:
How are you going to raise funds for immediate use?
What is your long-term fundraising idea?
How will you budget your funds to ensure they last throughout the campaign?
You need to break down your financial plan into months, weeks, and days to ensure the day-to-day availability of financial resources and optimal utilization of your budget. You need to allocate funds for every stage of your campaign– announcement, your run for office, election day.
Few questions that might give you clarity while creating a financial plan:
Do I need a campaign office or can my campaign work out of my home?
How much money do I require at each stage of the campaign?
Am I raising enough money to justify how much we are spending on fundraising initiatives?
What are my total campaign expenses? In which areas can I cut costs?
What tools do I require to make this campaign successful?
What are my office expenses, salaries to be paid, and compensations?
How do I execute, monitor, and report the spending to my staff as well as donors?
What are the spending trends of previous years? How much did it cost the successful candidate to win?
How much is my competitor spending? (Although bigger or smaller spending will not determine wins, this estimate can provide direction to what is working with the constituents' mood).
These questions at the start of your campaign will give you a rough budgeting idea that can then evolve and improve throughout the course of your campaign.
3. Create Deadlines
We all hate them but if there's something that will serve as your financial north star, it is this. Reaching where you want to reach without knowing when will only create chaos in the midst of a number of other things you need to do.
Here are some things that you need to map out on your calendar:
List down when your fundraising events are happening and what their money-raising goals are.
When your fundraising email campaign needs to be scheduled.
When a calling campaign is being implemented.
A month, week, and day-wise breakdown will constantly push you to measure where you have reached and how far you need to go. It will afford you the clarity of changing what does not work within your current fundraising system.
4. Fundraising appeal/communication methods
Once you've laid out your financial plan and everything seems perfect, it is time to determine how you are going to go about fundraising. What fundraising methods are you going to implement?
We've got a few ideas for effective fundraising appeals: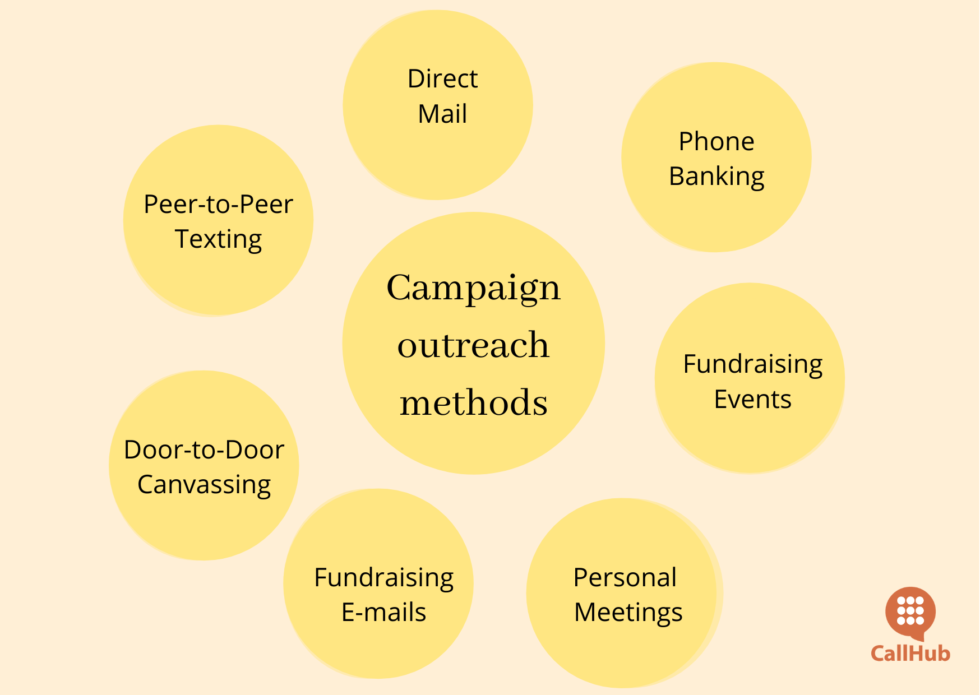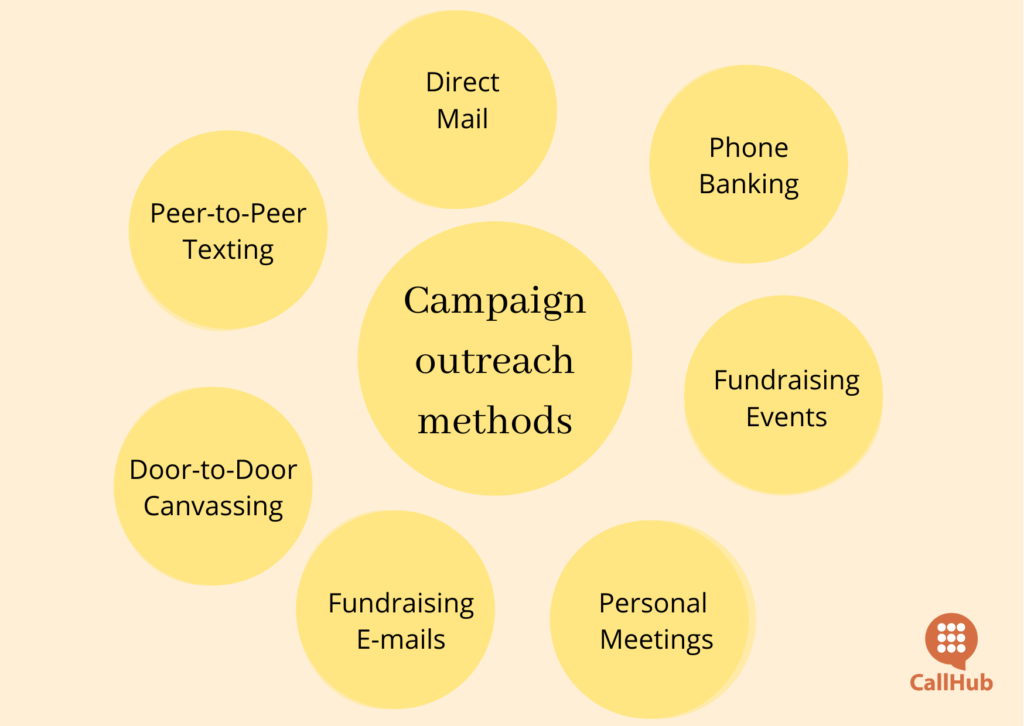 Direct mail: Direct mail involves collecting addresses of potential donors and posting fundraising appeals. While it is time-consuming and expensive, it also has a high likelihood of converting into a donation since direct mails are only sent to the most likely contributors.
Shortlist a group of people you would like to reach out to for donation appeals and send your mail!
Read Also: Direct mail fundraising ideas and making it work for you
Email campaigns: Email campaigns are a great way to start your fundraising outreach. Email campaigns result in 1/3 of online fundraising revenue.
Here's how to craft a great email fundraising request:
Be clear on your call to action and design the email– visuals, headline, and content– around it.
Personalize your email subject line. Add the first names of all receivers to increase open rates.
Make the call to action button very clear.
Less text, more visuals. 91% of people are more attracted to and engaged with visuals content.
Use concise, clear writing.
Make sure your email campaigns are a relationship-building exercise. Map out your journey with your contacts– from welcoming them, making an ask, following up, and thanking them for their support– this journey ensures repeat and trusted donors.
Personal calls: Calls are not only great ways to reach out to your supporters to vote for you or get new voters registered but also as a medium to raise funds.
Response rates for reaching out via calls are high. Here's a quick guide to call fundraising success:
Craft a compelling script that engages your audience.
Be aware of the common doubts, problems, and hesitancy that people may have about your campaign or candidate.
Train volunteers on appropriate responses to probable questions.
Have a follow-up strategy that ensures recurring giving.
Thank donors for their contributions to boost morale.
Using phonebanking tools, you can keep your donors engaged through personalized conversations. You can identify groups most likely to donate to your campaign, make notes, save relevant information into your CRM and continually upgrade your outreach through insights from reports. 
CallHub's range of calling tools is a great way to start your outreach journey.
An excellent tool to use is the Power Dialer that enables agents to look up a contact and their details before making a call so that they can prepare their pitch accordingly. Agents can also save notes from the conversation for future reference and relationship nurturing.
Text outreach: Text outreach has gained special popularity due to the increase in the number of millennial and Gen Z voters. Most people under 45 do not like to pick calls and prefer to communicate via text.
Text outreach is also a great option when you are dealing with a large pool of unvetted contacts (as opposed to calls, that are a good way to reach out to vetted, potential donors to establish a personal relationship).
Through text fundraising, you can have interactive text messaging conversations with up to 1500 contacts an hour.
Availability on mobile phones all through the day also contributes to an increase in donations. Two ways to engage donors through texts are:
Peer-to-peer texting: Peer-to-peer (P2P) texting enables your volunteers to have thousands of personalized conversations simultaneously. You can equip your team with a script, a handy FAQ guide, and log on to CallHub to start texting. Once the initial texts are sent, volunteers can spend time responding to people who reply to these texts. Solving doubts and engaging in conversation have a higher rate of conversion. 
Text to donate via text blasts/broadcasts: With the text to donate option, you can share a donation link with your supporters through one messaging blast. Donors can easily click on the link and complete the donation process.
Read Also: We Analyzed ~800,000 Texts To See What Are The Best & Worst Times For Political Text Blasts
Personal meetings: Identify groups who will benefit from your candidature, will support your policies and can support you by donating high amounts to your campaign.
Set up personal meetings with groups and high-value individuals. Update yourself about the individual you are meeting, their interests, why they would donate to you, how you would pitch your campaign, and prepare a fundraising deck.
Although highly effective, these meetings in addition to your other commitments would be time-consuming. Be smart about choosing your pool of contacts for personal meetings and do your best when meeting them!
Door-to-door canvassing: For a local, grassroots-level campaign, door-to-door canvassing for funds can be a good strategy. Soliciting support from people in your local community and actually receiving funds from this initiative only serves to increase your credibility. Once you are being supported not only through participation but actual dollars raised from your local community, you know you are on the right track!
Organize fundraising events: Perhaps the most important move you will make is to organize fundraising events. Some great event ideas are:
Private fundraising dinners with high net worth individuals.
Intimate house parties with members of your local community.
Large galas to invite the masses.
Getting a speaker slot at an event.
No matter which event you host, ensure that your audience gets to hear from the candidate directly. It will give them a personal connection as well as allow them to trust promises that come directly from the horse's mouth.
Read Also: Get a High Footfall: Your Political Event Planning Checklist
Using a combination of these methods is more likely to help you reach a larger variety of supporters– young, old, tech-savvy. Over a period of time, it will be easy to determine which method works best for you and what is the ROI on each.
You will also find out how much time and effort you need to spend on each and what their requirements are. E.g., you need to recruit volunteers for phonebanking and texting.
Lastly, an important metric to measure is the cost for tools in comparison to the amount they successfully bring into your campaign.
5. Identify who to reach out to
Identifying and categorizing donors based on who is more likely to convert, the donation amount expected and other demographic details are important when starting your political fundraising campaign.
The first people to go to when starting a fundraising campaign are your family and friends. While it is often tricky, a supportive inner circle would be the first ones willing to donate to your campaign. When they are convinced of your efforts, they can be evangelists for your cause, roping in their social circle and expanding your donor list.
Next, take a look at your local community, library, school, park, etc. People who have been connected to you for a very long time. Do they support your ideas? Do they stand behind the change you have envisioned? Asking them to commit– and commit through finances– is a great way to show support and help a campaign win.
Much like your family and core group, your supporters and volunteers can not only contribute to the fundraising initiative but also spread the word to their peers.
Lastly, your main source of financial support would be corporates, interest groups, and lobbyists that gain from your run for office. Identify these groups and reach out to them to raise funds for your campaign. Of course, do this while being mindful of the laws surrounding campaign funding. Other fundraising routes to consider:
PACs: Political Action Committees that are organized to raise and spend money on electing or defeating candidates. They can donate certain sums of money per election cycle and annually to candidates or parties.
Super PACs: They are independent expenditure-only committees that raise funds from large organizations, corporates, unions, associations, and individuals in order to openly advocate for or against political candidates. They cannot however donate money directly to campaigns but can work to benefit certain candidates.
Social media fundraising
Check-out charities
Peer-to-peer fundraising
Read more: 5 Primary Campaign Fundraising Strategies We Can Learn From the Pros
Over to you
Hope these pointers guide you towards effective campaign fundraising!
If you are a first-time candidate running for office, might we suggest you read our article How to Run for Public Office as a First-time Candidate
Additionally, subscribe to our blog. We promise to share only the best, most relevant content to help your campaign.
Featured Image Credit: Liza Summer