A voter registration drive is essential for every election cycle. This is because every election brings not just new candidates, issues, or governments. With each new election comes a new set of voters, ready to change the political landscape with the power of their votes. 
Every US State, except North Dakota, requires citizens to register to vote. In addition to that, if someone has moved, changed their name, or wants to update their party affiliation, they need to update their voter registration. Often, this process can seem tedious, inaccessible, or difficult for individuals. This is why advocacy groups and political parties need to conduct voter registration drives.
This article explores how to organize a voter registration drive to include newly eligible voters and eligible but unregistered voters and the channels through which you can persuade registered nonvoters to exercise their right to vote.
How do people vote?
There are primarily three ways in which people can vote:
Voting early: Early voting aims to increase voter participation by allowing sufficient time for voters to vote. It also helps individuals who may not be able to vote on election day due to travel, work restrictions, or any other reason.
Voting by mail: Vote by mail allows you to request a ballot in advance and vote from the comfort of your home. These ballots, apart from improving accessibility to disadvantaged groups, differently-abled individuals, senior citizens, etc., also help overseas and military registered voters to cast their votes.
Voting on election day: Voting on election day entails going to your assigned polling stations on the day of the election. You can vote anytime between 7am to 7pm.
Why conduct a voter registration drive?
Every citizen must have easy access to voting. It is the fundamental right of a citizen who is a part of a democracy. We collated statistics from a study by PEW Trusts; that tells us why a voter registration drive is essential. Take a look –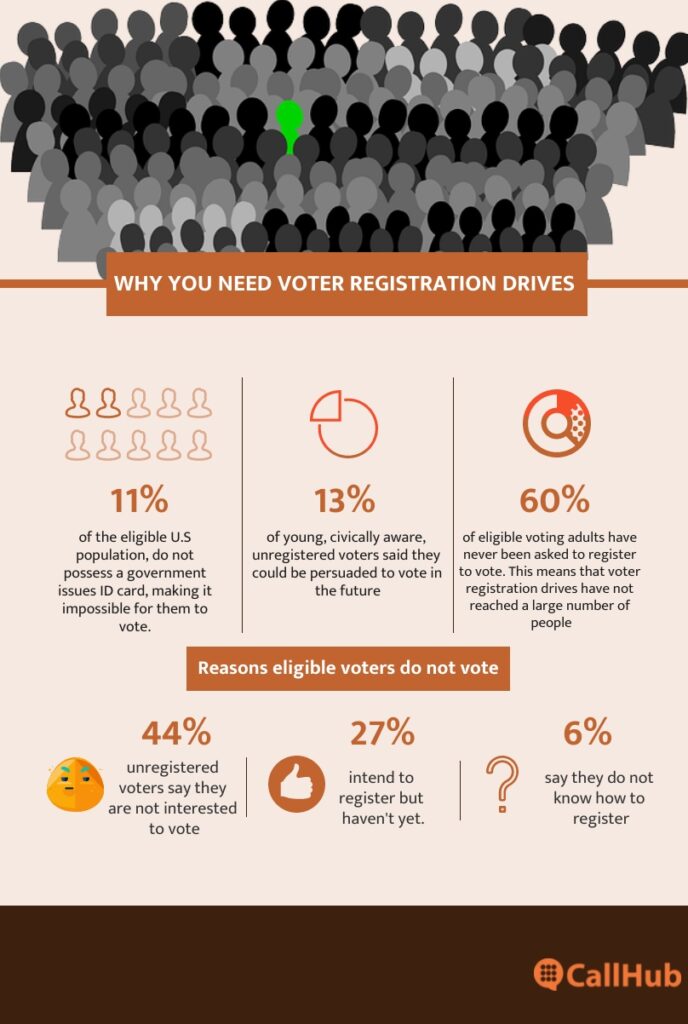 These statistics highlight the need for effective and targeted voter registration drives. Apart from this, issues like voter suppression and disenfranchisement are rising. In recent years, 440 bills have been introduced in 48 states that restrict access to voting. A voter registration drive can play a crucial role in combating these issues by increasing awareness and accessibility to voters. 
Keeping these challenges in mind, we explore how to organize a voter registration drive so that you can:
Help people navigate rules around voter registration.
Persuade uninterested voters to participate in the election process.
Drive more people to vote for your party or candidate or just exercise their rights as a citizen.
Help communities whose access to voting has been limited.
Ensure people who cannot make it to polling booths are registered for absentee ballots or mail-in votes.
How to organize a voter registration drive
Organizing a voter registration drive needs you to look at a few steps:
Knowing your goal.
Knowing your state's voter registration laws.
Recruiting and training volunteers.
Picking a good venue.
Creating an outreach strategy.
Creating a follow-up strategy.
Let's read about these steps in detail.
Knowing your goals
Your goals for a voter registration drive will generally include–
Who do you want to target: Do you want to reach out to students who are now eligible to vote, people who have moved between states, or voters who have moved abroad? You can receive voter lists from your local party office.
How you want to reach out to them: Your team's methods to reach out to eligible voters. It could be in-person interactions, direct mail, phone calls, text messages, or social media.
How many people you want to reach: This number depends on the number of unregistered eligible voters in your constituency and if the goal of your campaign is to reach out to all of them. You might want to, for instance, only reach out to eligible unregistered voters who lean towards your party or ones who have just moved to the State.
Plan your goals ahead of time and keep your whole team clued in, never to lose track of progress. These goals will inform your campaign's strategy throughout. When you look back at your goals and the progress you have made since the beginning of the campaign, you will find opportunities for realignment and growth in your campaign.
Knowing your state's voter registration laws
When you are running registration drives, you need to be able to educate eligible voters on the registration process and help them go through it.
Getting eligible individuals registered is only possible if you are clear on the voter registration laws. Since laws differ from state to state, you need to make sure your volunteers know state and federal laws that apply to your local community.
In most states, to be eligible to vote, a person must:
Be a USA citizen.
Be 18 years of age or older.
Not be a convicted felon.
Not be registered to vote in a different jurisdiction.
Not be judged legally incompetent by a court of law.
Apart from these federal voter registration laws, you also need to find out state laws like:
How long should eligible voters register to vote before the elections? (these rules vary for primary and general elections, so ensure you follow up with the different deadlines).
If party affiliation needs to be disclosed in case they are registering through a party's voter registration drive.
If a person is convicted of a felony previously or is serving a sentence currently, what is their eligibility to vote, according to the state they live in?
Rules for registration form submission, such as the deadlines.
The required length of residency in a particular state to be eligible to vote in it.
Do volunteers need any mandatory training to be able to register voters?
Recruiting and training volunteers
Volunteers play an essential role in all campaign activities. They canvass door to door, run phone banks, text, email, and social media campaigns, help with events, outreach to the community, and much more. Here's what you should keep a lookout for when recruiting volunteers:
Local volunteers are already well-knit into the community. Hiring local volunteers can strengthen your bond with the community and increase voter registrations.
We said it before, and we'll repeat it. Ensure volunteers are well-versed with local voter registration laws so that you are always on the right side of things.
Look for volunteers from different backgrounds, language groups, and ethnicities so that they can connect to different sets of people and understand their unique issues.
Divide volunteers into groups based on their unique skill sets. Some might be great at helping people register, while others might be rockstars when organizing the voter registration event itself.
Read Also: How To Recruit Volunteers for Political Campaigns
Picking an excellent venue.
In one experiment conducted to measure the impact of a voter registration drive, it was observed that face-to-face interactions increased voter turnout by 4.4%. One way to leverage face-to-face interactions is by conducting voter registration drives at a great venue.
A good venue for voter registration drives can help you reach a large audience in the local community or constituency and give you a chance to have personal interactions with eligible voters. It will allow you to have open conversations, even with visitors who may not have anticipated a conversation with you that day.
Choose stores, streets, and squares that receive a high footfall from your target audience and set up camp in those areas.
Good venues for a voter registration drive can include–
Schools.
Community parks.
Local cafes.
Famous squares or shopping localities.
Local libraries.
Churches.
Major bus or subway stations.
Read Also: Political Event Planning: The Stepwise Guide and Checklist You Need
Creating an outreach strategy
A voter registration drive can occur in two ways:
In-person – through events in local areas or venues as mentioned above.
Virtually – through phone calls, emails, text messages, or social media.
For both of these methods, you need to prepare an outreach strategy and a process on how you will register as many people as possible.
Tips to organize an in-person voter registration drive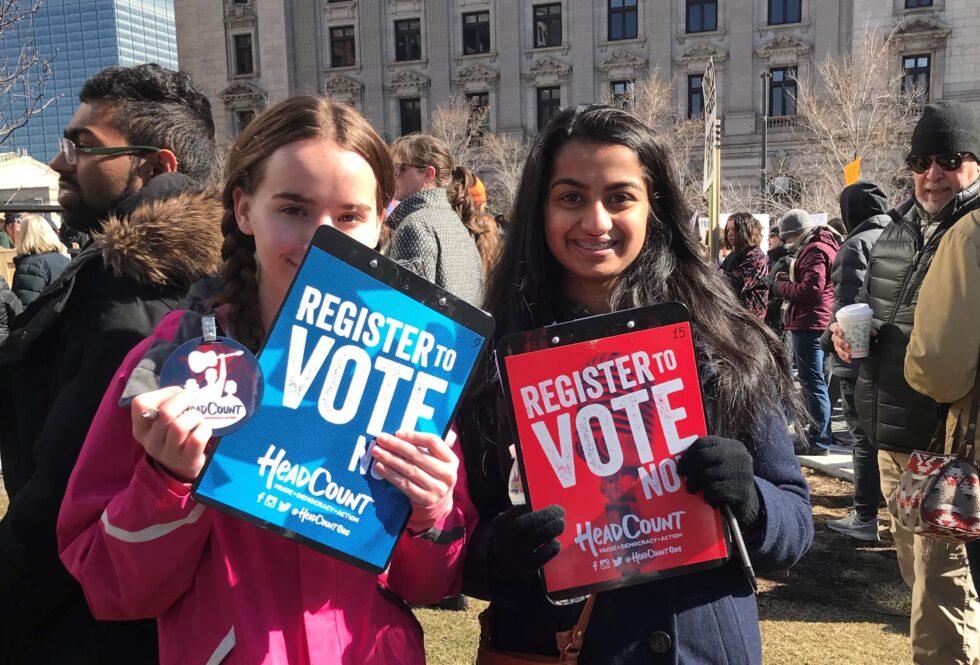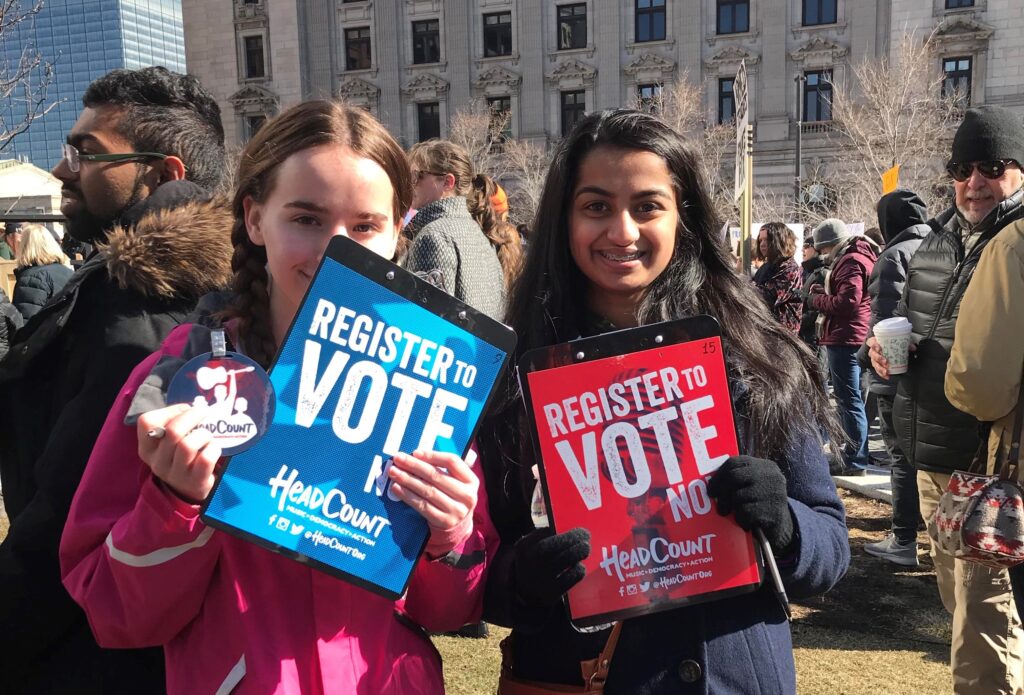 In-person registration ideas:
Always carry registration forms and stationery to help people immediately fill in forms. Persuade people to fill out forms right at the venue to avoid any delays.
Set up a kiosk where people can fill in online registration forms. Train your volunteers to assist voters in the best possible manner, such as having stationery on hand, answering any questions, or helping people fill out the forms.
Ensure people opt-in to your SMS service. Display your shortcode number at the in-person event and ask them to send a message. You can use this to share registration links and reminders for registration.
Tips to organize a virtual voter registration drive
Before you begin a virtual voter registration drive, you need to take these steps:
Acquire lists from your local party or election office to know the number of eligible voters in your area.
Clean your list to identify the voters you want to target and make your list more relevant. For example, you might want to reach out to first-time voters, voters who have recently moved to the constituency, etc. At the same time, it will help you eliminate people who have moved away, passed on, etc.
It is now time to begin your virtual campaign.
Phone campaigns
Phone campaigns are great for reaching out to many people and having personal interactions in the shortest time.
While setting up your phone campaign, to begin with, you will need to explore calling tools that will benefit your voter registration drive the most. This table shows you different features that you can opt for to improve your campaign.
Tools
Why it will help your call campaign
Autodialers
Autodialers will help you reach eligible voters quickly because your volunteers will not have to dial each number manually when using autodialers.
Take this quiz to determine the best autodialer for your campaign.
Agent notes
Agent notes indicate what happened on the call. Do you need to schedule a callback? Did the person register, and were they interested? You can mark all of that through this feature.
Dynamic caller ID
Dynamic caller ID will display a local number on your contacts' phones. This improves pick-up rates by 20% because people are most likely to answer a number from their local STD codes.
SMS follow-up:
An effective way to ensure more people are registered to vote is to immediately send a follow-up text after the call.
Timezone calling
Timezone calling helps campaigns schedule calls according to the timezone of their intended audience. This helps campaigns stay compliant with calling laws.
Look for software that allows these features to improve your campaign. CallHub's calling software enables you to do this and more that will boost your campaign.
Your next steps would be to write a great phone script to get the maximum number of people interested in registering to vote. Your purpose, conviction, and call-to-action need to be communicated within 7 seconds. Yes, that's how long it takes for people to form an impression about your trustworthiness and whether or not they are willing to spend time speaking with you. This is where a great script will help you.
On the phone, you can:
Persuade people to vote. Share statistics, stories, and more to persuade unregistered voters to register.
Guide them through the registration process, the deadlines, and the forms they need to submit.
Answer FAQs or any concerns that eligible voters may have.
We've come up with a few phone scripts keeping these tips in mind that you can use from this blog – Best Phone scripts for Political GOTV Campaigns (Strategy!)
Text campaigns
Text messages are the most reliable way to get out a message, especially when you are running a voter registration campaign. 98% of text messages are opened and read!
Here's how you can leverage text messages to run a voter registration drive:
Send mass text messages reminding people to register to vote or to share updates and information about voter registration.
Run peer-to-peer text messaging campaigns to encourage people to vote, address concerns, and guide them through registration.
Share links with eligible voters, directing them to voter registration forms. You can also track these links using the CallHub text messaging software.
Read Also: The Best and Worst Times to Send a Political Text Blast
Emails
As much as anyone will try to convince you that email blasts are obsolete, rest assured that emails are a great way to reach voters. An average of 21% of emails are opened within the first hour of sending them out!
Email is more effective also because about 60% of people view emails on their phones, which means people have immediate access to emails. If you've crafted a great email, that is a lot of people who will immediately see your email on their phone and click on it.
Here's how you can conduct your voter registration drive through emails–
Share information about the voter registration process.
Share eligibility criteria and redirect them to any relevant links like for online registration.
Allow them to reply to you in case they have any queries.
Include highly visible call-to-action buttons to help voters register swiftly.
Social media
Social media is one of the most powerful tools today to influence politics and political campaigns. If your organization is looking to register voters en masse, social media is the way to go.
How to organize a social media voter registration drive:
Create a voter registration event on Facebook and share it with people.
Make informative posts, stories, or short videos to spread awareness.
Run targeted ads towards segments such as first-time voters in your constituency.
Get local experts to speak about the voter registration process and stream it on social media platforms.
Creating a follow-up strategy
Once you organize virtual or in-person voter registration drives, you will need to follow up with voters to ensure they are registered. You can do so by–
Sending text reminders on a regular basis.
Scheduling follow-up calls before the deadline.
Sharing messages on your social media platforms.
Speaking at rallies in the run-up to the elections.
These are the tips to help you organize a voter registration drive. Use these in the next round of elections to successfully register new voters.
Where should people register to vote?
When you are organizing a voter registration drive, it is important that you also offer people different resources to register, based on their convenience. This video shows you how–
The three ways in which people can register to vote are–
Online: Voters can log onto vote.org/register-to-vote/. All information regarding voter registration is available on this website. 39 states allow voters to register online with proof of residency, like your State ID.
By mail: Voters in all States except Wyoming can register to vote by mail. They can do so by downloading the National Mail Voter Registration Form from www.usa.gov/register-to-vote
In-person: You can also deliver your registration in person to the local voter registration office. Many states allow you to register with the local or state election office directly. Depending on what your state allows, you can also register at centers such as your local DMV, army recruitment centers, etc.
With all the information handy to organize a voter registration drive, you are all set to begin a successful campaign.
The way forward
Voter registration drives push forward the cause of democracy by ensuring more and more people exercise their right to vote and elect a government.
CallHub has a number of resources that you can refer to ensure as many people get access to voting as possible. Read our article Why You Must Include Mail-In Ballots in Your Next Campaign to learn why mail-in ballots and absentee voting should be a part of your campaign strategy.
Featured Image Credit: Edmond Dantès