Voter engagement is crucial in getting citizens to vote and have a say in their future. During election time, we hear a lot about how voter turnout was underwhelming, but what we don't talk about is why this number is low. There are two major reasons for this:
One, people don't have the necessary knowledge about the voting process, and they feel it's too much of a hassle,
Or
Two, people believe their registration and subsequent vote isn't really going to make much of a difference, aka voter apathy.
However, both these notions aren't necessarily true and can be erased by actively engaging with voters by adopting a targeted and personalized approach. In this article, let's look at some strategies and tactics that nonprofits, advocacy groups, or political parties can use to engage their voters, thereby increasing voter turnout.
Setting goals and planning in advance
Setting your goals and strategizing well in advance is key to creating maximum voter impact. Research indicates that organizations planning their activities in June or before (for the November elections), and beginning their voter activities by July were more successful in engaging with voters as opposed to organizations who did otherwise. So when you set your goals, make them clear, attainable, and deadline-based so that you have a clear marker to go by. Examples of some objectives would be:
Educating people about the importance of voting as an act of civic engagement
Spreading information about the voting process, right from voter registration to polling venues and important dates
Reducing voter participation gaps and motivating communities with a history of poor turnout to vote
Pre-registering young voters to increase future participation
Keeping your goals timeline-based is an important way of assessing your work along the way and checking if they need to be readjusted.
The image below by LMV Texas serves as a good example of a solid voter engagement schedule: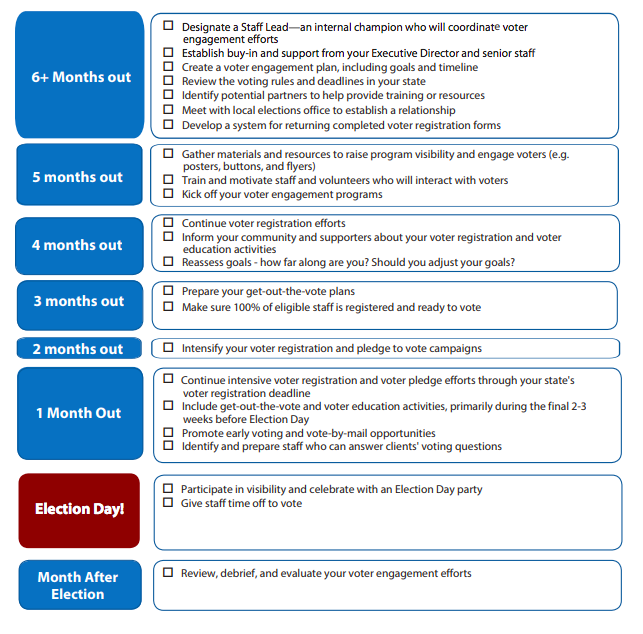 Using the Right Tools
Since several activities come under voter engagement efforts, it makes sense to use different tools to optimize the process and make it measurable. Some of the necessary tools would be:
Social media: From uploading videos and content about the importance of voting to putting up links to important websites for voter registration, social media has many use cases for mobilizing supporters and increasing voter participation. Almost all social media platforms provide detailed targeting and analytics for you to reach out to your intended audience and measure the progress of your ads or posts.
Phone banking: Using tools like CallHub ensures that you call your entire contact list in a fixed time frame without missing out on anyone. With different dialers to suit your convenience, integrations to sync all your gathered information in one place, and smart schedulers which let you know the best times to call constituents, you can phone bank for GOTV, voter awareness, and voter registration efforts.
Text messages: Texts have a high open rate. So whether you send reminders about voting deadlines, links to voter registration sites, or just messages to inspire people to vote, text messages are definitely your ally. By using tools like p2p texting, SMS broadcasts, and sign-up texts, you can have personalized conversations with constituents, target your entire contact list, and let people opt into your campaigns.
TV, radio, or newspapers: Traditional media, backed by research, is known to have the power to capture voters' attention. To spread voter awareness and for campaign promotions, definitely use TV, radio, and print advertisements.
Organize Community Festivals
One of the main issues with low voter turnout is that voting isn't really fun…but the interesting part is, that it wasn't always like this. In fact, back in the mid-19th century, voter turnout in the US was at a sky-high 80%, with the reason being that voting was a day of festivity with people having fun and bonding with each other. So what organizations can do is emulate this by organizing community festivals near polling sites with everyone invited for live music, good food, and a welcoming atmosphere. This is an effective way of seeing voter turnout increase and at a cheaper price than sending direct mail or going door-knocking. With an approximate increase in turnout by a significant 4%, community festivals are a fun way of celebrating citizens' place in a democracy while infusing a sense of inclusiveness.
Door-to-door Canvassing
Convincing people to vote through face-to-face conversations is arguably the most persuasive method of voter engagement. A personal social contact serves as the driving force which reminds people of their civic duties and inspires them to vote. When you go canvassing, it is important to talk about why voting is so important and to have an open-ended discussion instead of trying to pass your opinions off as absolute truths. While the former is an open-minded approach, the latter is just annoying.
Since you may have several houses to cover in a canvassing session, optimize your time and efforts by using tools like ECanvasser, which help you locate houses you want to target while helping organizers track canvassers in real-time.
Encourage Volunteering (especially among Youth)
It is impossible for your organization to carry out its voter engagement efforts without the help of volunteers. Recruit volunteers and train them to have the complete know-how of the benefits of voting, the procedures surrounding voting, and the different voter engagement tactics. Focus on recruiting youth by visiting colleges and through posts on social media, not least because they are full of ideas and energy, but also because they are an important vote bank. By encouraging them to vote, you're essentially instilling a pattern of civic involvement in their formative years, which is likely to stick and contribute to their future participation in voting and elections.
To encourage youngsters, tell them about how volunteering helps them develop a variety of soft skills and how it makes them more employable.
Pre Register young voters
By pre-registering 15 and 16-year-olds, you can ensure that they become part of their state's voter file which means that they would likely be contacted by campaigns and advocacy groups when they are eligible to vote. In the US, citizens can be pre-registered to vote before they turn 18, so reaching out to teens in schools, malls, and movie theatres is an effective strategy for youth voter engagement.
Related reading: The SMS Strategy to Improve Young Voter Turnout
Integrated Voter Engagement (IVE)
Integrated Voter Engagement is the practice of training community leaders to reach out to people in the community and mobilizing them to vote, thereby increasing voter turnout and affecting policy changes. IVE motivates people to vote by connecting change in people's lives with the act of voting. The reason it's so successful is that research has shown that people are likelier to listen to someone they know. So by partnering with local establishments such as churches, unions, and healthcare clinics to organize voter registration drives and awareness events, you can successfully engage in grassroots efforts to drive voter participation.
Phrase your Message Right
Just a subtle change in your voter engagement message can have an overall impact on voter turnout. Instead of asking people "to vote", call on them to "be a voter". It works because people subconsciously associate the former with a tedious task or chore, while the latter phrasing appeals to their self-image and has a more positive effect.
Also, use social pressure to boost voter turnout by telling people that:
Voter participation is high this year,
Their neighbors are planning to vote, and
Participation is a matter of public record,
You have a good chance of increasing voter participation because people usually want to confine themselves to the social norm. 'If everyone's doing it, I should do it too.'
---
Voter engagement is important to remind people of their civic duties and their fundamental rights as citizens of a country. With the right amount of planning and sustained effort, your organization can make a concrete impact in creating well-informed and responsible voters.