If you are not growing, you are dying.

Tony Robbins
This statement doesn't just apply to individuals but organizations as well, including nonprofits.
Think about it, as a nonprofit with average churn, if you are unable to replace your lost donors with new ones, it won't be long till you're left with no supporters.
Donor acquisition is just as important as retention. Unfortunately, most organizations focus on retention (given that it's cheaper and easier) than acquisition. And it's time to change that.
Here are some donor acquisition strategies that you can leverage to ensure your nonprofit keeps growing. Let's start by understanding donor acquisition in a little more detail.
What is donor acquisition?
Simply put, donor acquisition is the process of securing new donors for your nonprofit. This is achieved by leveraging marketing and networking strategies to put you in front of people unaware of your organization and motivating them to support you.
While acquisition might not be as much of a focus in the sector as retention, it is a critical component of a healthy organization.
When it comes to monitoring donor acquisition, there are two metrics that you have to be mindful of to ensure success:
Donor acquisition rate.
Donor acquisition costs.
Here's how you calculate and track them.
How to calculate donor acquisition rate
The donor acquisition rate indicates the effectiveness of your strategies in securing new donors.
The acquisition rate is the number of donors who donated for the first time by the total number of donors over a specific period (month, quarter, year, etc.).
Donor acquisition rate = Donors who gave for the first time/Total donors who gave over a period
Generally, the objective is to aim for a high acquisition rate. On average, 1.1% of website visitors, one of your main sources for lead generation, sign up to your email list.
This number may be lower for social channels and much higher for ads and referrals. But this is an estimated objective you can start with.
How to calculate donor acquisition costs
The cost of donor acquisition indicates the efficiency of the strategies in use.
Donor acquisition cost is the total cost of a campaign or channel by the number of new donors you acquired.
Donor acquisition cost = Total cost/Number of new donors acquired
The costs here include all the expenses you undertook to raise money. For example, in a telephone fundraising campaign, this would include:
Pricing of the call center software (estimated for the period of the campaign)
Costs of other tools like payment gateways, email marketing software (used for follow-up emails), etc.
Transaction processing fee, etc.
Typically, achieving a lower ratio should be your target here. On average, the cost to acquire a new lead through digital advertising, one of the most expensive channels, is $2.60.
If the acquisition costs for a campaign or a channel go too high, you may have to omit it from your fundraising plan or work on optimizing it.
Donor acquisition strategies
The typical donor acquisition life cycle comprises of the following stages:
Getting prospects' contacts.
Nurturing prospects to build a relationship.
Appealing to them to secure donations.
There may be times when you may be able to secure donors directly (without getting their contact first). However, since a fundraising ask is a huge one, more often, you will have to go through all steps.
Here are some effective strategies to help you with each step.
Strategies to get prospects' contacts
The first step to donor acquisition is getting in front of people unaware of your organization and procuring their contacts.
Their contact details give you an opportunity to connect with them, nurture them, and lead them up to a donation appeal. A few effective ways to get these details include the following.
1. Make the most out of your website and content marketing.
Your website is critical for all marketing and fundraising efforts.
It'll be the hub of all information that people will turn to (or be directed to by you) for more details and to donate.
Content will be the primary driver of the website, helping you attract visitors through organic searches and supporting your paid advertising efforts.
To make the best of it, you'll need to:
Create an engaging website in line with your nonprofit's branding guidelines.
Craft relevant landing pages (and a blog). Here's a nonprofit website building guide that you can refer to know what pages are important.
Research keywords relevant for your nonprofit and target audience and add them to your landing page copy. Here's a resource to help you with keyword research.
Use the keywords to create content for your blog to help you rank in search engines and attract visitors.
Add compelling CTAs on your blog and landing pages asking people to sign up for updates (as in the example below).
Have a dedicated donation page and add donation CTAs or forms in multiple places on the website. But keep a healthy balance between "donate" and "sign up" buttons to give people a choice.
Here's an example of a homepage from 350.org. While they do have a donate button (and form on top), they also provide an option to sign up. So even if someone is not motivated enough to donate, they may sign up (since it's a smaller ask).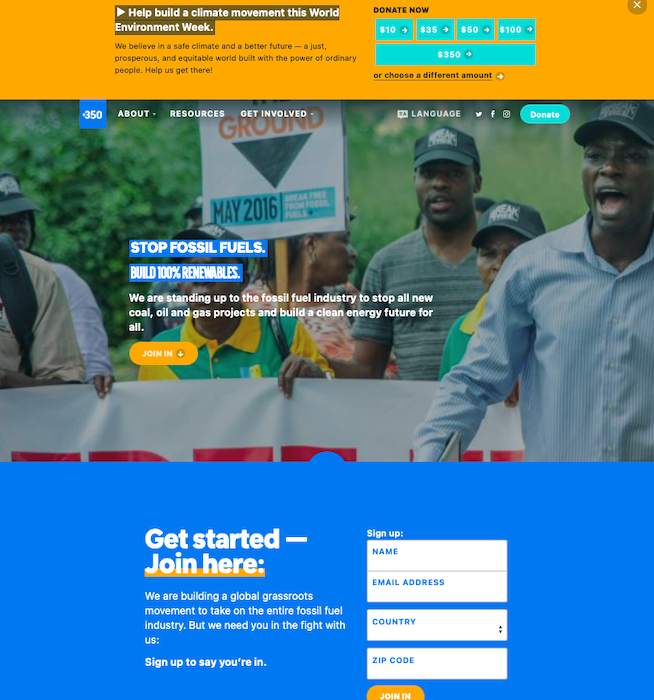 2. Promote engaging content on social media.
Social media is another channel to distribute your content and get in front of a large audience. It helps you build your brand image, increases exposure, and even lets you interact with supporters.
Here's how you can get started:
Create profiles on all major social networks (Facebook, Instagram, Twitter, LinkedIn, etc.).
Start creating content relevant to each channel. You can promote your blogs, snippets of your impact reports, opinion pieces, campaign results, announcements, etc.
Add links to your website and sign-up forms on your profile. You can link out from your posts too (to direct viewers to your website).
Ask people to engage with your content and share it with others. This puts you in front of your audience's network, thereby increasing exposure.
Here's a look at the different kinds of posts that PETA shares on their Instagram.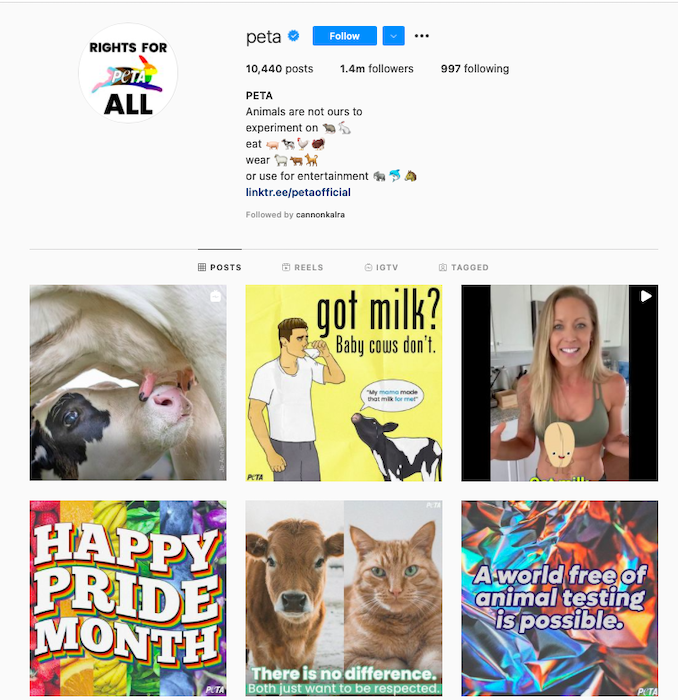 Getting people's attention on social media is hard. So make sure you're unique and eye-catching.
3. Leverage paid ads with gated content.
Paid ads help you target massive audience groups with precision. However, you need to offer something valuable in return if you want them to give you their details.
Gated content like eBooks, guides, etc., work really well. Here's how you leverage them:
Create gated content based on the keyword research and audience you wish to target.
Sign up for the ad service you want to use. This could be search engine ads, display ads, social media ads, etc.
Create compelling ad copy to get people interested and sign up for the content.
Tweak some parameters and test different versions of ads to find what works best.
Measure the success of the ads regularly.
Prosper Strategies, a nonprofit consulting firm, ran a lead generation Facebook ad to acquire donors for the McCormick Foundation.
They leveraged a two-page resource called the "Guide to Doing Good and Giving Back in Chicagoland," given the target audience were people based in Chicago who cared deeply about local issues.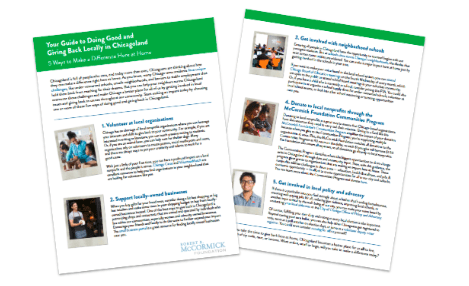 Refer to these resources to know more about creating Facebook and Instagram ads and Google Ads.
4. Referrals from existing donors.
Your existing donor database can also be an invaluable source of new donors.
You can reach out to these supporters and ask them to share your message, content or simply invite their friends to join your list. Here are a few ways you can do that:
Send out an interesting piece of gated content to all your donors to share in their circles.
Partner with a local business to offer an incentive (like a coupon) to people with the maximum referee sign-ups.  
Include an "Invite a Friend" CTA in most (if not all) of your communications with existing supporters.
Host fundraising events and give supporters the opportunity to bring along non-members who also might be interested.
Keep in mind that these referrals don't have to be limited to contact details. You can also ask supporters to get their friends to donate too. That's the principle of peer-to-peer fundraisers.
However, sometimes fundraisers could be too big an ask. So save them for your strongest supporters.
For one-time donors, volunteers, or prospects who signed up to your list but didn't donate, you can ask them for contact referrals.
Strategies to nurture prospects
With the prospect's contact information at hand, you can move to the next step of donor acquisition, engaging them with small asks before you lead up to a donation request.
Here are some ways you can nurture them.
1. Send them newsletters regularly.
Newsletters are a simple way of keeping prospects in the loop about what you do. The more they see your work, the more your credibility increases. This trust, in turn, translates to positive responses to your appeals.
Here's what you can include in your newsletters:
Organizational updates like team additions, board change, etc.
Newly published blogs that they could read and share.
Campaign updates, event highlights, and results.
Beneficiary stories, donor testimonials, volunteer experiences, etc.
While you can send out donation appeals too, keep the frequency minimal and focus on getting these prospects more interested in your work first.
Here's an example of a newsletter sent by The Nature Conservancy in which they share their latest articles.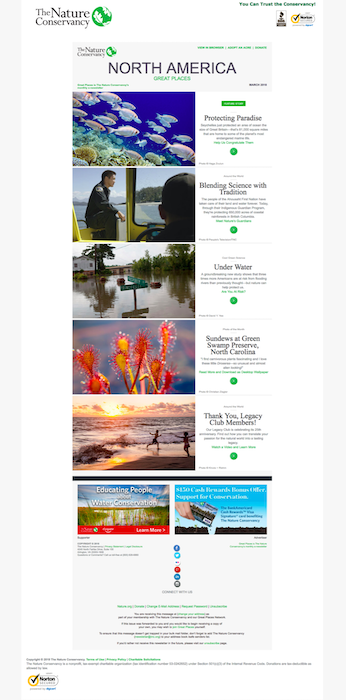 2. Get them to participate in a survey.
When connecting with prospects, the conversation needs to be two-way if you want them to take an interest in you actively. Surveys help you do that.
These surveys also help you procure prospect data that could help you make fundraising asks more effectively. Here's what you can ask prospects in a survey:
Personal information like phone/mobile number, address, family, etc.
Interests, hobbies, motivations, aspirations, and challenges.
Where did they hear about your organization, and why were they drawn to it?
Expectations from your nonprofit, philanthropic affiliations, causes they're interested in, etc.
Don't push to get all the information at once. Keep the surveys short and get the data over multiple interactions. Keep things engaging by having these interactions over different channels like:
Email
Over a call
Text surveys
In-person (during an event or a general meet up)
3. Ask them to volunteer.
Volunteering is a great alternative to donation appeals. For people who may not have money to spare, it's the perfect option to keep them engaged while making them feel valued.
A few volunteering options that you can provide for prospects to choose from include:
Short-term volunteering needed for a specific campaign or task.
Long-term volunteering needed for more regular tasks that require specific educational qualifications (like an accounting degree to help you with accounts).
Emergency volunteering required for disaster relief efforts.
A recommended strategy would be to start with a donation appeal. If they don't respond to it, offer volunteering as an option.
Next, segment your list of prospects and filter out those who responded positively in the following descending order of engagement:
People who replied to your surveys, opened all (or most) newsletters and clicked on links.
Contacts who responded to your surveys but have a low engagement with your newsletters/updates.
Prospects who only engaged with your newsletters but not the surveys.
Contacts who didn't engage with any of your communications.
The ones at the top are most likely to donate, whereas the ones at the bottom may require some more nurturing. Prioritize your fundraising appeals in the same order.
Strategies to secure donations from prospects
Here are a few ways to secure donors from the engaged prospects.
1. Email appeals
Email is a commonly used channel for both general updates and fundraising. The ease of automation and the mass reach are the primary reasons for that.
Here's what an effective email appeal strategy entails:
Craft compelling email with all the relevant information to motivate action (why should they donate, how will it be used, beneficiary and donor stories, etc.).
Add a Donation CTA that links to your donation page (where the prospect can complete the process).
Schedule at least two follow-ups to be sent to those who didn't open the email or donate.
Here's an email appeal that you can take inspiration from. It's concise, gives all relevant details, and has a distinctly visible CTA.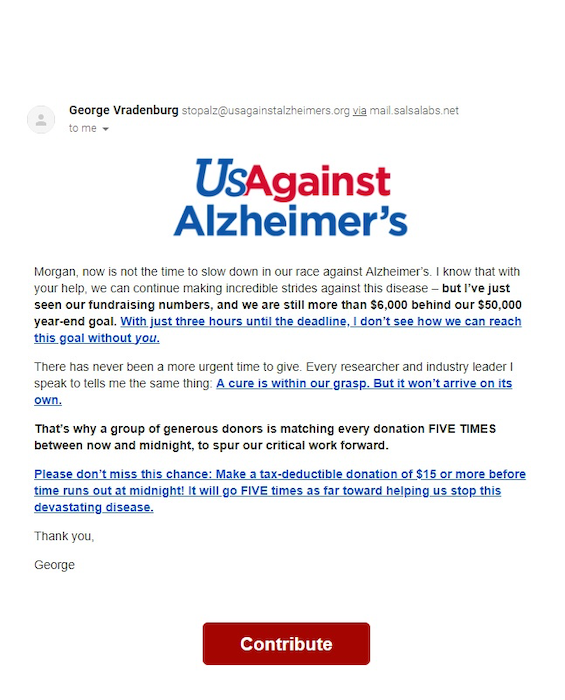 2. Telephone fundraising
Fundraising appeals over calls are highly personal. They give you a better opportunity to overcome objections that may be keeping a prospect from donating.
Given that calling can be quite time-consuming, it's often saved for major donor cultivation. But, with the right resources at hand, it can be a great option for other campaigns too. Here's what you need:
Smart call center software that lets you control the dialing speed, among other things.
A detailed fundraising script for callers to refer to.
A process to send a follow-up communication after the call to complete the donation process (check out our text-from-call-center feature that lets you send text follow-ups from the calling dashboard).
Volunteers to make these calls. You can even hire an agency to help you with it.
For more details on the process, check out our telephone fundraising guide.
3. Direct mail appeals
Direct mail fundraising is often brushed off as an outdated strategy.
While it can be laborious, it's still effective, with an average response (i.e. donations) rate ranging between 5-9%. It's quite high compared to its electronic counterpart at 0.1%.
To send out a direct mail for donor acquisition, here's what you need:
Home addresses of all the prospects. Make sure to verify their accuracy. You can use a direct mail tool like Lob to help you with that.
Tool to print out all letters with the right personalization tags. Your automation tool can help you with this too.
A return envelope with paid postage (included in the mail) to collect donations. Alternatively, you could also include a QR code or text fundraising details.
To know more about this, refer to this post on direct mail fundraising.
4. Social media appeals
It's likely that prospects who signed up to your list also follow on social media (you can ask them to in one of your emails). Hence, reaching out to them on social media is also an option.
Social media's multiplier effect gives you the opportunity to get in front of an audience apart from supporters and prospects too. This enhanced exposure is an added advantage.
Here's how to put out social media fundraising appeals:
Create catchy visuals for your appeal posts. You need this to grab a prospect's attention because most channels are visual in nature.
Link out the post CTA to your donation page.
Craft a compelling caption that will accompany the post. Include essential details about the fundraiser.
If the budget permits, give these posts a boost with paid advertising.
Include a share button in your donation thank-you pages to encourage new donors to share the donation appeal with their network.
Here's an example of a Facebook fundraising appeal from Best Friends Animal Society for inspiration.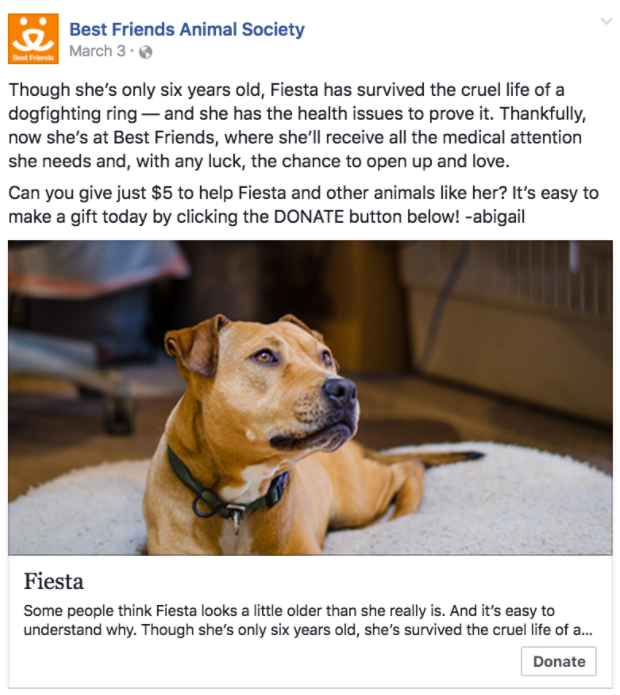 Moving forward
Donor acquisition is just the first stage of the donor lifecycle. Drafting and executing a plan based on the above strategies can help you with that.
But once a donor is on board, there's more value in them being a lifelong supporter than a one-time donor. This is where your efforts to retain these new donors begin. Learn more about building loyalty with these effective donor retention strategies.
Featured image source: Ben White