"There are two 'i's' in Fundraising – they should stand for inspiration and innovation, not imitation and irritation."

Ken Burnett
80% of Americans believe that coming out and working together is vital if they want to create change. Three-quarters of adults ages American believe that attending a live event is more impactful than taking action online.
This is excellent news for your fundraising event! Your prospects would be more willing to attend it because they want to create change!
Unfortunately, this does not always translate into results. There are still unsuccessful fundraisers that have poor attendance, which raises less money, and so on.
One of the biggest reasons why fundraisers fail is because they are not planned properly. It could be that the stakeholders did not target the right audience, or they did not promote the event sufficiently.
Whatever be the case, without meticulous planning a fundraiser is bound to fail. This fundraising event planning template can help you there.
We will look at the various steps that can help make your nonprofit fundraising efforts successful.
The problem with planning a fundraiser is the sheer number of tasks that it involves. For instance, something as simple as a marathon needs finalizing a venue, a date, recruiting the volunteers, marketing the event, selling the tickets, etc.
One such event was the "Victory, Run, Walk," which was organized by a local nonprofit. It was able to raise enough funds to help support Edgerton Hospital's programs, projects, and equipment purchases.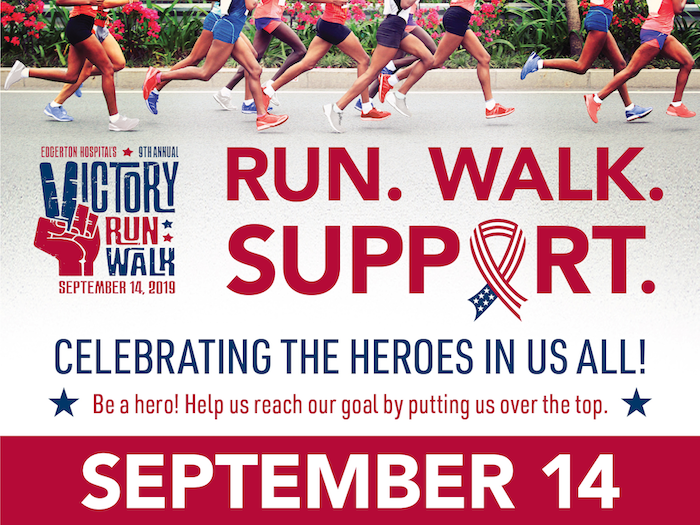 This event was a huge success because the organizers took care of all the above details.
Regardless of which event you are planning, this fundraising event planning template will have you covered.
I have very systematically crafted a fundraising event checklist, that will take care of each step of the planning process.
>> Download the fundraising event checklist
Get this right, your event is on track to be a successful fundraising event.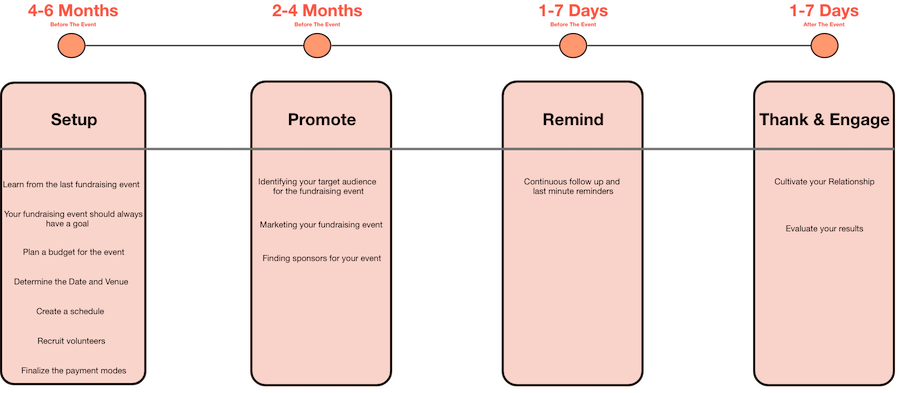 Step 1 on the Fundraising Event Planning Template:- Setup (4-6 Months before the event)
During this time, you would be making sure you have laid the perfect groundwork for the event, making sure every small thing is in place.
Things such as deciding on the venue, planning your budget, and establishing your goal, have to be done during this phase.
1. Learn from the last fundraising event
Analyze the recent fundraising event to understand what went wrong. That will give you a starting point to work with.
For instance, say that event attendance was poor in your previous fundraiser. Then, this time you would focus on identifying where you went wrong and rectifying that. There might be various reasons as to why the turnout was less, such as:
a) The people invited were not the right target audience. E.g., not everybody would be interested in coming for a run.
b)The people invited were not contacted by the right channel. (eg. calling may not be that persuasive anymore)
So this time, you will identify your target audience, and ensure that you contact them via the right channel to ensure attendance.
Read Next: 15 Unique Fundraising Ideas We're Sure You Haven't Tried Yet.
2. Establish your goal
Having a clear goal will help you plan the fundraiser better. Everything that you do for the event will be centered around the goal.
For instance, if the goal of your event was to raise $250 million. But your fundraising event had 500 attendees who had raised $120 million; then, your event was a failure. But instead, if your goal was to bring more attendees and cultivate them for later, then you can say that your event was a success.
Always remember that the goal of your fundraising event is not just to raise money; it is also about creating awareness or recruiting new members.
That's where this fundraising event planning template will help you to focus on these aspects rather than worrying about how to plan an event.
3. Finalize the fundraising strategies
Once you have finalized your goal, then comes the part where you have to decide how you will collect funds to reach that goal.
Would it be a ticketed event?
It would be best if you always have a secure and straightforward way of accepting donations and also a payment method for your event tickets. Plan as to how long the tickets will be available for sale and even the price of the ticket.
The price of the tickets should also be according to your goal.
For instance, you want to raise $50,000 thousand, sure. For this, you should consider how many people are coming to the event, and accordingly, you have to adjust the ticket prices so that you can reach your goal.
Like, if you have 800 guests. You can have a ticket price of $60. To reach your goal
Would you sell merchandise at the venue?
Yes, You can also plan on selling some merchandise during the event. This would also help you in collecting more funds.
One such example of merchandise is the one below that was sold by an Australian nonprofit organization. To raise funds for the Australian bushfire relief efforts.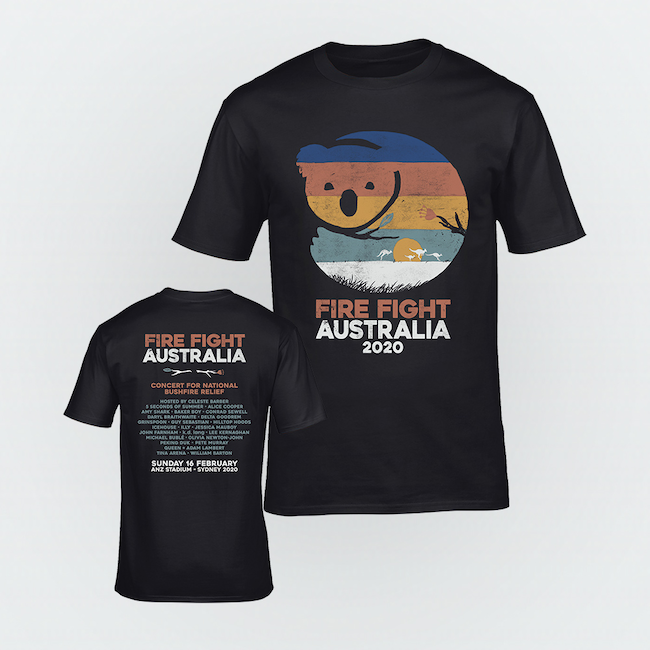 Credit: Fire Fight Australia
Would you be doing more promotions at the event?
You can use the peer to peer text fundraising to gather more donations from your community.
You can also use SMS opt-in during the event to collect donations from the people who are present during the event. Here is an example of how SMS can be used to collect donations: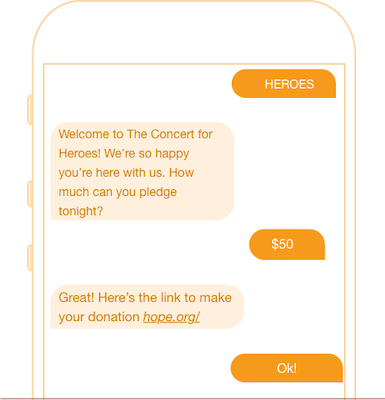 All the donors had to do was to send in the keyword 'HEROES' to your number, and the donation process begins.
You can choose to advertise this keyword right at the entrance, during halftime, or between breaks in the entertainment.
There are several tools for accepting donations and ticket sales. But, never be limited to one mode. Have at least 3-4 modes for accepting payments.
You can have full-service payment processing software and give enhanced options like reserved seating and direct deposits into your bank account.
In the case of online payment, you can always go to any digital and mobile payments in advance. For the door to door donation and ticket sales camping, you can use your CRM platform to sync data about the collected amount.
More for You: Nonprofit Fundraising: The Most Comprehensive Guide.
4. Establishing the budget
A lot of decisions you make in your event planning will depend on the budget. That is why I have made it an essential part of this fundraising event planning template.
It is essential to have a full budget breakdown before getting started.
Not only will this help you make the right decisions during event planning, but it will also help you avoid unforeseen costs.
Below is an example of the budget breakup of a fundraising event., Yours might look a little different according to the requirements of your fundraiser.
For instance, you can reduce the budget on entertainment and increase the venue and refreshments budget if you have a large number of people coming in.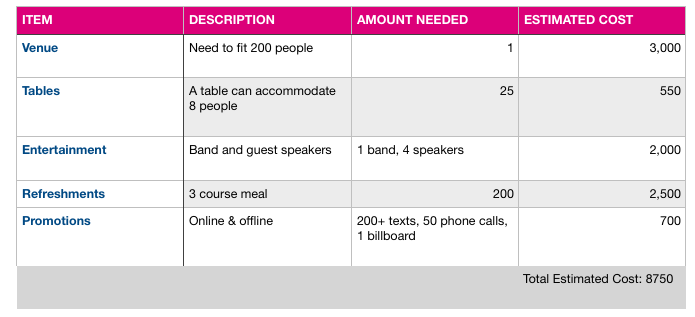 5. Determine the Date and Venue
Choosing your date and venue well in advance is something that would help you to take your campaign or event a notch higher. Here are a few reasons why:
Finalizing the venue and date well in advance gives you a lot of options (in terms of availability)
It can also help you select a venue that will resonate with your audience. For instance, if your organization promotes science-based education for underprivileged kids, then a venue like London's Earth Hall is perfect since it's practically a science museum.
Keep in mind that the venue is also determined by the scope of your fundraiser. E.g. If you are planning a rally and expecting a massive turnout, then the venue options would be a big open-air ground.
Also, do have a backup option, just in case. For instance, in case of rain during your event, you can shift the venue from an open-air ground to a hall.
Because the venue will also play a significant role in the marketing of the event, having a venue will help you to plan everything around it smoothly. And, a well-planned fundraiser is the first step to a successful one!
6. Create a plan of action to stick to
The plan of action for your event day consists of a detailed breakdown of what every volunteer does and when.
If you do not have a plan as to what to do on the day of the event and how the event will go about. The whole effort that you put into the event will be a lost cause.
That's where this fundraising event planning template will help you to make sure you always stick to your plans.
The plan of action needs to be precise, and all the necessary information must be communicated to the event committee, sub-committee, and individuals.
All the tasks have to be well described and explained with a full detailed view of the timeline of the flow of the event and also who is responsible for completing the task.
Like,
Receiving the guests
Looking after the tickets
Managing the on-stage events (if you are planning to do one)
Taking care of the refreshments
7. Recruit your volunteers
Recruiting volunteers can be a difficult task because you have to encourage people to leave their work and support your cause.
To recruit volunteers, you can set up a peer to peer SMS campaigns. In these SMS Campaigns, you can have personalized conversations with them.
You can give them the option to choose from what type of volunteer activity they would like to do. This gives them the freedom to choose what they want to do, this keeps them more interested and motivated in the whole activity.
Take a look at an example of one such SMS campaign below.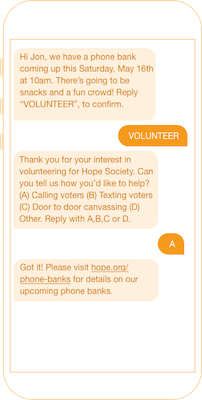 One of the best volunteer lead campaigns was Obama's presidential campaigns in 2012 and 2016.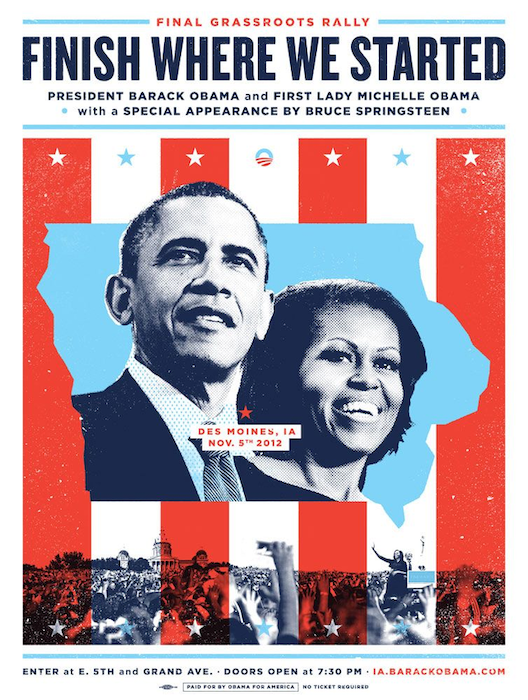 The volunteers were so passionate that they drove the whole campaign from the ground up.
It was because they were motivated to do so through peer to peer texting campaigns. As it is more personalized and interactive.
This made the people more invested in the whole campaign. People felt that they were also part of the cause; this made the campaign a huge success.
8. Other minor arrangements
See if you need permits of any sort, for instance, to serve alcohol or hold raffles.
Fill out paperwork with regards to health code compliance.
Buy or rent supplies like sound equipment, tables, or chairs as certain venues may not provide this.
Seek sponsorships or partnerships.
Purchase any material or tool you'll need to promote your event.
Step 2 on the Fundraising Event Planning Template:- Promote (2-4 Months before the event)
Once you have decided on everything, from the venue to your team, then it comes to the part where your actions determine the outcome of the event. It is advisable to start your marketing at least four months before the event so that you have enough time to reach your target audience.
1. Identifying your target audience for the fundraising event
Connecting with the right audience will help you plan better fundraising events.
You can divide your audience into three types on the basis of their involvement and knowledge about your cause.
One set of the audience is those who have already donated to your cause, so this time you can try and get them to donate more.
You can contact them through peer-to-peer texting since you already have their details. You can use it to talk about previous donations and have personalized conversations and get them to donate more.
The other set of audiences is those who know about your cause and have come to some previous non-ask events.
You can contact them through peer-to-peer texting where you can talk to them about the previous events that they visited. How their donation would have made the difference, so this time you can push them to donate.
The last set of audiences is those who have no idea about your cause.
Before planning to invite these sets of people you must consider the budget and volunteer constraints. Then make a final call as to whether you want to invite them or not. You can use Text Broadcasting over here, using this you can reach a large number of people at once.
2. Marketing your fundraising event
How you choose to market your event, i.e. the channels you want to promote it in, depends upon the target audience you want to reach.
For instance, if your fundraiser is focused on millennials and the objective is to raise small donations from a number of people, the promotion would be digital-aggressive.
Social media (Instagram, Facebook, etc.), emails, and promoting your event on Youtube are the best channels to reach this audience segment.
For a slightly older generation that prefers mailers and phone calls, you can focus more on offline channels. TV, radio, print ads, and posters will also come under this bracket.
Remember that a successful marketing strategy combines a good mix of both offline and digital targeting. The extent of using a channel (i.e. whether you should go digital heavy or focus on offline marketing) is determined by your target audience.
Your promotional materials and the marketing plan have to be according to the audience that you are planning to target. The content has to convey what the event is about, and how it can make a difference.
Ensure that the content that you are creating fits the channel that you are using for promoting the campaign. This will help make your ad more powerful.
Regardless of which channel you use, you can always reinforce the message using texts and phone calls.
Here you can see how a peer-to-peer text campaign has helped in reaching out to a supporter who is interested in attending your event.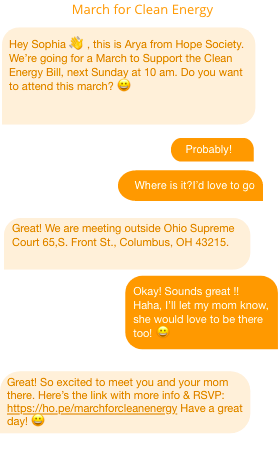 You can see how informal and one-to-one the conversation is. This encouraged Sophia to be more excited about the event. It not only convinced her to attend the event but also take her mom along!
Step 3 on the Fundraising Event Planning Template:- Remind (1-7 Days before the event)
1. Follow Up
Follow-ups can be really important, as this will help in reconfirming from the people about their participation. Even if people had said that they would come to your event. Make sure that you send them reminders at least once before the event.
Text Broadcasting would be the perfect tool over here. Where you can send reminder messages to all the groups of people at once who have agreed to come to your event. SMS Broadcasting.
As you can select a keyword in the text that the people can send back for their confirmation. From this keyword, you can have a rough count of the people who would be attending the fundraising event.
You can also attach a link that will give them the direction and more information about the event.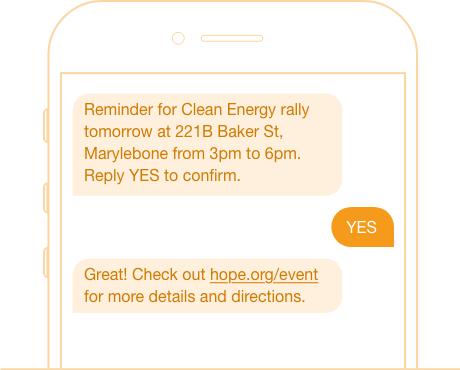 Step 4 on the Fundraising Event Planning Template:- Thank and Engage (1-7 Days after the event)
The event might be over, but your work is not.
1. Thank your volunteers and donors
It will help if you will show appreciation as soon as the event is over. Everyone should be appreciated; therefore, you make sure that your volunteers, vendors, your staff, and board members are recognized.
You can send out a broadcast message to them where you can thank them for their help in conducting a successful event.
You can also ask them to give their feedback on the event. This will help you to have a different perspective on the success of the event. You can get an idea of how the event was executed on the ground level. You can use this feedback in the next event.
It will also help you to tap into the good feelings of your supporters, which will eventually help you build a long-term relationship with them, which will be useful when you would be doing other events.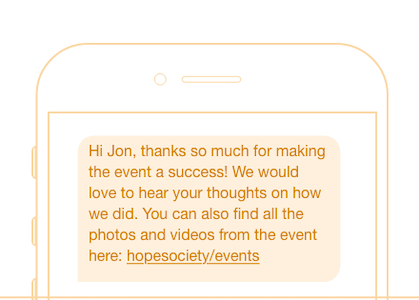 Don't forget to thank the donors, the people who had purchased the event ticket, and anyone else who has contributed during your event. Sending out an appreciation message will make them more involved in the cause.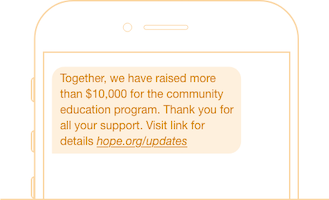 2. Evaluate your results
Once the event is over, do a full review of the event.
This is the time for you to check whether you have met the goal that you had set initially, you can use this fundraising event planning template to make this step easier.
It will help you determine the success of your event, such as:
Whether your budget allocation worked
If your promotion and marketing strategy attracted the desired number of attendees
If you were able to collect enough funds that were required
If the turnout was better than the last event
If you repeated the same mistakes that you did last time
Well, here you have a fundraising event planning template that you can use to get more out of your fundraiser. If you need more points and details about planning a successful fundraiser or if you want to share with me how your event was, you can write to me at [email protected].