Can you think of a nonprofit organization without donors or supporters? Nope, not at all. They are like the peanut butter to your jelly and the Batman to your Robin. What would you do without them?
Your supporters are your biggest assets, they're the pillars that keep your organization going and help you keep up the good work. Your main priority should be to honor those who have invested in you. So how do you keep them invested?
You ask for their opinion, keep them posted, thank them, and let them know that they're part of the team. Of course, this should be done consistently and in a personal manner as opposed to sending a general email before fundraising for a cause.
Text message marketing makes it easy for nonprofits to hold large-scale personalized conversations with donors. The main advantage being: people are less likely to ignore texts as compared to other forms of outreach thereby giving your nonprofit higher visibility.
In this article, I will take you through a few ways in which you can use mass texting to improve communications and keep supporters invested in your nonprofit.
Grow Your Supporter List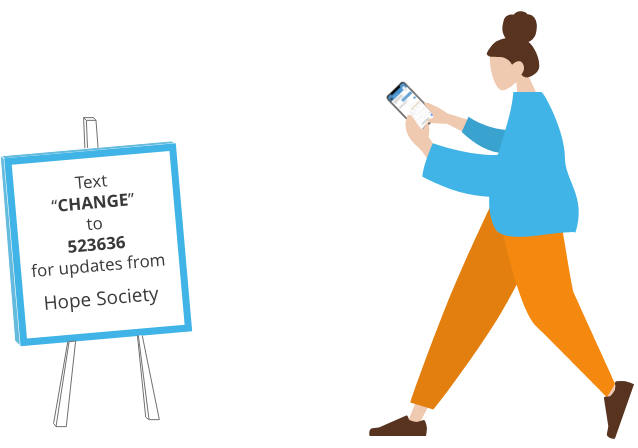 What's that one thing your nurturing campaigns, event promotions, and donor asks have in common?
A consistent brand identity, you say? Yes, definitely that.
But more importantly– your list.
A comprehensive list of supporters who are invested in your cause forms the backbone of all your outreach and engagement efforts. And building a strong list should be your top priority.
That's where SMS sign-up campaigns come in. By publishing your number at an event, rally or your social media handle, any person interested in your cause can send in a text to automatically get added to your list.
While a sign-up form limits itself to your website, SMS sign up campaigns can be promoted anywhere from your website and social media to emails, events, advertisements, and direct mail.
Promote Events And Other Opportunities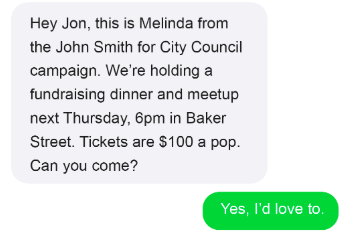 Although email is the most preferred route to promote events and volunteering opportunities within your organization, it lacks immediacy and gets hindered by low open rates (20-40%) when compared to text messages.
For better results; get the word about your event, boost event attendance, generate interest, send updates, reminders, and collect RSVPs through text messages.
For instance, send a text to your supporters asking them if they plan to attend your event. Any person who responds is automatically engaged in a conversation and their details collected. At the end of the day, you have detailed profiles of every person who agrees to attend back in your database.
Coordinate Events And Groups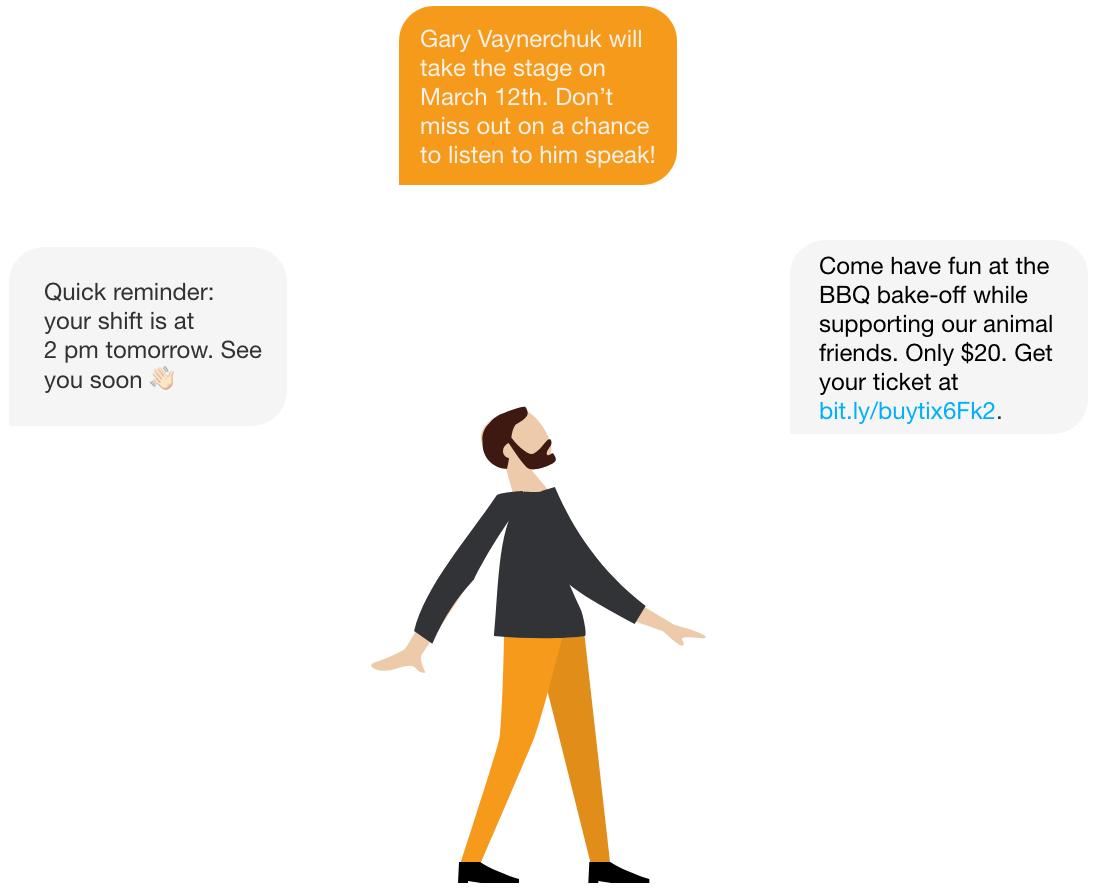 With every event that you plan, there are a thousand minuscule details that have to work in unison. Planning volunteer shifts, sending out reminders to attendees, making sure everyone has the necessary information – all of these and more have to be conveyed to your staff, volunteers and attendees. And not just conveyed, they have to be seen and followed. That's where mass texting can work in your favor.
No matter how minor the information is, sending out timely updates helps people plan ahead. You can convey your message in 160 characters or less which will help them avoid any unnecessary hassles and be kept up to date on issues or changes at your nonprofit.
Collect Feedback From Supporters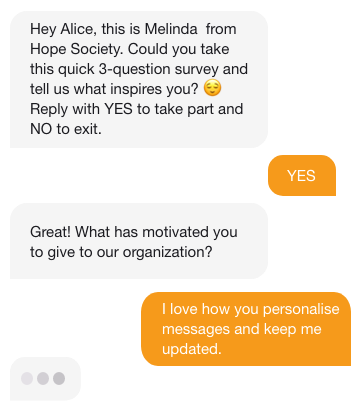 Feedback is important for your nonprofit to figure out what's working and what isn't. While you can simply give your supporters a paper form to fill in when they're leaving an event, this just becomes an unnecessary hassle.
Sending mass texts increases convenience not just for supporters, but for you as well. They can quickly answer your survey even if they happen to be on the go and you can send these personalized texts to all your contacts in a simple click.
You can even choose what sort of a survey you want to send: a link which directs supporters to an online survey form, or a text-message based survey which automatically sends the next question after receiving the reply.
Emergency Alerts
During an emergency, reaching out to your supporters over email or phone calls is not viable since you can't contact everyone in a short time. Rather send out simple text alerts to make sure everyone's safe. And then follow-up with the ones who've indicated that they're in danger. The alerts could be to inform people about severe weather, nearby crime, or potential threats to health.
For example, SIREN sends time-sensitive alerts to immigrants about ICE (Immigration and Customs Enforcement) and what they can do to make sure they have all their documents in place. Other nonprofits using text alerts are Humane Society of the United States, Service Employees International Union, World Wildlife Fund, National Center for Missing & Exploited Children, etc.
Volunteer Recruitment
Every nonprofit organization needs a dedicated team of volunteers to help them with their cause. Whether you're looking to staff an event or help out at a soup kitchen, mass text messages can help you recruit and organize volunteers.
Once you have a list of segmented volunteers based on their skills, you can contact them through texts. For example, you can call volunteers by saying: "Hey, we've got a fundraising event coming up on January 28th at 10 am. Would you be interested in helping us organize it?" Based on the reply you can take things forward.
Fundraising
The best way to raise funds for your organization is by sending your supporters a personal message. But if you're a small nonprofit with limited staff and resources, broadcast texts do a great job of getting your ask in front of the right people.
You can easily draft texts and send it all your contacts within minutes. For instance, "Help us reach our fundraising goal of $5,000 for the Clean Iowa ballot initiative by donating $10. Reply with Yes if you're willing to donate or No if not." You can set an automated response to the keywords (yes and no) to guide them through the process.
But bear in mind that the best fundraising asks always come in the form of a personal request. Especially when you're reaching out to first-time or lapsed donors. People are more likely to engage with you and donate when the ask comes as part of a personal one to one conversation. Phone calls and face to face conversations get the cake here. But tools like peer to peer texting are more practical, letting a single staff member engage thousands of people over one-to-one text conversations.
Your fundraising needs the right mix of both these messaging tools – mass texting and peer to peer text messages.
Regularly texting your donors and supporters gives your organization a way to engage them, keep them updated, increases their chance of becoming recurring donors, volunteer for your organization, and attend your events. If you're still not convinced about the merits of mass text messaging, write to us at [email protected] and tell us why.