Think of all the times you've signed up for something. Like running a marathon, attending a rally, or volunteering. All these signups owe the conversion to an effective call to action (CTA).
These simple words can make a big difference when it comes to guiding your nonprofit supporters to take a specific action. Think of it this way: If you hadn't been drawn in by the words or design of the CTA or guided so smoothly throughout the signup process, you probably wouldn't have made an action.
Similarly, when talking to your supporters about your nonprofit's cause, if you don't make your CTA's stand out, you're not likely to see many people following through with the suggested action.
In this blog post, we'll cover call-to-action examples over text, email, and website so you get a good understanding of what an effective CTA looks like.
Call To Action Examples Over Text
Nonprofit organizations like United Voice, Australian Youth Climate Coalition, and Australian Conservation Foundation make use of text-based CTAs to reach out to their supporters, rally support, solicit donations, and move them toward taking a specific action.
Let's look at an example and see why it works: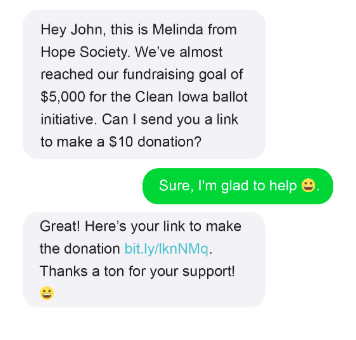 Why does it work?
This text is meant to initiate a conversation and drive the contact towards donating a certain amount of money. Unlike the usual fundraising message that asks for money right off the bat, this message encourages people to reply with a personal message.
The message is personalized for each individual contact — "Hey John" makes it evident that this text is meant for a specific individual i.e John. "This is Melinda from Hope Society," assures the supporter that it's not a robot at the other end of the line.
When the reader sees the actual dollar amount in the CTA, they are more inclined to make the donation as they don't have to spend time figuring out how much to give.
As research suggests, people are more likely to support a cause nearing its fundraising goals than one just starting off. "We've almost reached our fundraising goal of $5000" puts the psychological hack known as the Goal Proximity Effect to work.
When the supporter is sent a link to a donation page, it becomes much easier for them to donate since they just have to click on the link, make the donation, and carry on with the rest of their day.
Related Read: 52 Proven Nonprofit Fundraising Ideas
Call To Action Examples Over Email
The World Wildlife Fund works to protect the diversity of life on Earth and the future of nature. 84% of the organization's spending is directed to worldwide conservation activities. They take initiatives to learn more about their supporters through the survey CTA they include in their emails. The survey consists of three open-ended questions to help WWF learn about what inspires supporters to give to the organization, why they care for the cause, and what keeps them motivated.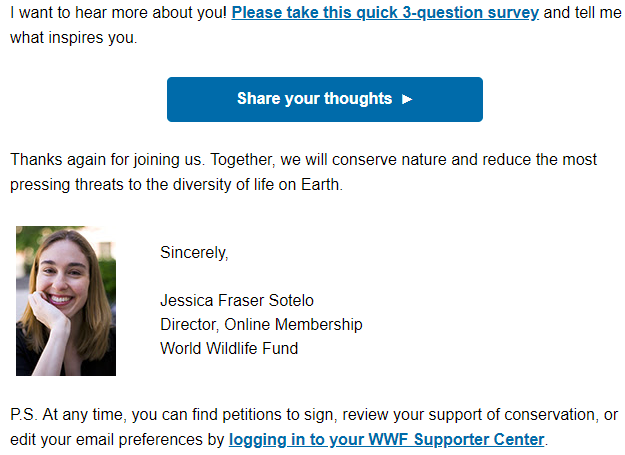 Why does it work?
The email is easy to glance through and reinforces the primary CTA multiple times, urging readers to take a short survey.
The CTA, "Share your thoughts," stands out with its positioning and use of prominent and actionable wording. It also starts with a verb that tells the reader what they should expect from taking the action.
The organization makes it clear to the reader that the survey is short and consists of only three questions, assuring readers that it won't take up a lot of their time.
Call To Action Examples Over Website
Khan Academy's main goal is to provide a free, comprehensive early learning app that will inspire a lifelong love of learning. Users who visit the Khan Academy website see a pop-up that asks them to make a small contribution so that the organization can provide free resources to students, teachers, and learners.

Why does this call-to-action example work?
They include two important CTAs on their homepage that offer different payment methods, i.e., to pay via credit card or PayPal. The CTA does not assume that everyone wants to pay in the same manner.
They pre-fill donation amounts ranging from $10 to $50, along with the option to include a custom amount. Various studies have proved the advantages of setting default amounts in donation forms to boost donor participation.
The organization makes use of a sense of urgency to motivate people to give by saying, "Gifts through midnight Dec 31 will be matched."
They make it easier for donors to decide to become recurring donors by providing them the option of supporting the organization monthly or just once.
By saying, "If everyone reading this gives $10 monthly, we can continue to thrive for years", the nonprofit sends a strong emotional appeal to readers, driving home the need for supporters for long-term survival.
The main goal of a CTA is to make it easy for supporters to take a certain action to help your cause. Having a strong, well-crafted CTA will breathe new life into your outreach efforts, while not having one could sink it. Keep these call-to-action examples takeaways in mind when crafting your next CTA.
Feature image source: Afif Kusuma/Unsplash