There are quite a few things that nonprofits may not know about their donors to make important decisions about funding, fundraising activities, monthly budgets, initiatives they can commit to, etc. Information such as–
What motivates donors to give to your organization?
Why do they repeatedly give?
On the contrary, why did they stop engaging with your organization?
Are there commonalities between donors? For example, are young people more likely to support you?
The easiest way to get answers to these questions? Donor surveys.
With the right set of donor survey questions, your nonprofit may be able to gain essential insights into your donors, your donor outreach and retention strategies, and even boost your fundraising. You can even gain feedback from donors about things you can do better and implement.
Simply put, donor surveys are the gateway to better decision-making and improved results for nonprofits. In this article, we explore donor surveys and point you towards the best donor survey questions to ask for great results.
Why do donors answer a question?
To begin with, you need to know why a donor would carve out time and spend it on filling your donor survey. We discovered a few reasons why:
They support you: Donors might look at a donor survey as an opportunity to help you apart from monetary donations. They believe what you are doing is worthwhile and want to contribute to it through their insights.
They're curious: Donors might just want to know what you want to ask. Curiosity is a big pull.
They want to share their opinions: Donors often might not find the appropriate outlet to share their feedback. A donor survey serves as the perfect opportunity.
They feel valued: People only ask questions to those who they value. A donor survey might make many donors, especially major donors, feel valued.
They just want to be helpful: Well, some generous donors might just want to help in whichever way they can. If they feel a survey is a good way, they would be more than happy to participate.
For your nonprofit, understanding what motivates your donors to answer a survey can help you:
Plan your outreach strategy to include the above. For example, if donors would like to share their feedback, club a survey campaign to include a section for feedback.
Craft your content to include these points. For example, you could use intriguing email headlines to hook the curiosity of your donors.
Segment donors based on their motives and pitch the surveys differently. You could pitch your survey as a way in which donors can help you to a specific segment, while you can pitch it to get feedback to another segment.
Read Also: Figure Out Donor Persona To Personalize The Ask
Now that we know why donors answer surveys, let's dive into what donor survey questions you should be asking. We have divided these questions based on the intent of the survey.
Donor survey types and questions
Organizations that can leverage data to guide their decision-making will benefit in the long run. For different types of donors and scenarios, you need different questions to gain relevant insights. Let's explore.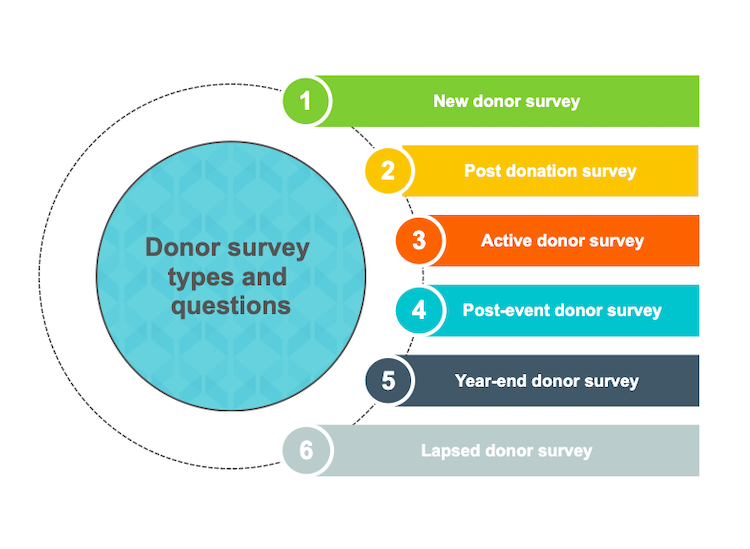 New donor survey
As the name suggests, this is a survey for new or first-time donors. This survey can be part of a new donor's welcome kit. You can ask the following questions to get a better understanding of your newly acquired donors:
Why did you choose our organization to donate?
Which platform did you discover us through?
What are some causes we champion that interest you?
Did you face any problems during the donation process?
Can you share your full name, DOB, and email address? (if not already collected before the survey)
How often would you like to hear from us? Weekly, bi-weekly, monthly?
You can also use this survey as an opportunity to collect demographic details such as their full name, date of birth, email address, phone number, location, gender, etc.
This is a very crucial step as interacting with your donor personally will help in the first-time donor retention rate.
Active donor survey
Communicating with your active donors helps you find the areas you can work on when it comes to donor engagement. This survey helps you to know your donors better and focus on their pain points to improve their overall experience.
This survey can also act as a net promoter or customer satisfaction survey. It can include questions such as:
Do you enjoy reading our newsletters?
Did you like our recent fundraising event?
How likely are you to recommend us to your friends and family?
Active donor surveys can be further classified into three types:
Post donation survey
It is one of the most important surveys, and every nonprofit should do this after a donation drive. You can ask your donors to do a small favor after they have donated and ask them to fill in the survey, as this will help in improving their donor experience.
This will help you get their feedback, which you can use to improve your marketing, awareness, and donation plans.
Try asking donors:
How do you prefer to donate?
How much impact do you think your donation makes?
What other causes do you support?
Would you be open to donating via text messages?
How do you get to know about our donation drives?
What inspires you to donate?
Post-event donor survey
You can measure the success of your event by taking a look at the net amount raised (total amount minus the expenses) and see if it met the initial goal that you had set. You should also look at the intangible benefits. That's when the donor survey can come in handy.
You can share this survey after 2-3 days of the event. In this survey, you can ask questions such as:
How much would you rate the event on a scale of 1 – 10?
Would you have changed anything in the event?
What is the one thing that you liked?
How do you think we could have improved the experience?
This kind of feedback comes in handy as you plan your next event.
Read Also: 4 Major Steps to Plan Your Next Fundraising Event
Year-end donor survey
Year-end is the best time to evaluate your nonprofit's success.
These surveys are the best to send targeted questions according to the donor's participation throughout the year. You can ask questions such as:
Which campaign did you like the most?
Through which mode of communication did you get to know most of our campaign details this year?
How would you rate the current relationship between you and the nonprofit?
What are the things that you would like us to implement next year?
Read Also: Fundraising Strategies to Exceed Your Year-End Giving Goals
Lapsed donor survey
A lapsed donor survey is a great way to re-engage with donors who have stopped giving out of the blue. This survey can include questions such as:
What can we do to encourage you to renew your support?
Did we make you feel unappreciated?
Would you like to hear from us more?
What did you think of our recent initiative?
This survey can have three possible outcomes:
The letter is enough, and the donor donates
The donor doesn't donate but completes the survey
They complete the survey and donate.
With every survey method you use, make sure you segment your donors. Once you have a segmented list, it will be easier to send survey questions according to the segment you're targeting.
These survey results will prove to be helpful over time as, by this, you will be able to know your donor behavior patterns.
You can use this to make relevant changes that will, in turn, help in improving donor experience and retention.
Donor survey methodology
A successful donor survey combines great survey questions and excellent donor survey methodology. We have explored methods that you can implement when conducting your surveys.
In-person donor surveys
In-person donor surveys are when you meet with donors and have a prepared list of questions you want to be answered.
A great way to do in-person surveys is to set up a kiosk at your next fundraising event. You can also ask donors who visit your office or facility to answer a few questions and give them a questionnaire to fill out.
The only drawback to in-person surveys is that you need to wait for donors to visit you to conduct them. Therefore, it may be challenging to reach lapsed donors or donors who live in other states.
Online forms
Platforms such as SurveyMonkey or Google Forms are great for creating online survey forms and distributing them. Through online surveys, you can reach donors across the country or the world with ease.
You can share your online survey links through text messages or emails so that donors can easily access them. You can even advertise your online forms on your website or social media.
Read Also: The Essential Qualities of an Online Donation Form
Phone calls
Conducting a phone survey is the best way to enhance your donor relationships through a personal conversation. You can engage donors in a conversation, clear doubts about any survey questions, and foster a sense of community with them.
Your volunteers or staff can enter notes into your calling software for future reference and easily keep a record of the conversations.
Read Also: ​​How To Set Up Survey Phone Calls For The Best Insights
Text messages
A text survey is excellent for collecting demographic information or asking close-ended questions that do not require detailed responses.
There are three ways in which you can conduct text surveys:
SMS Opt-in: Use SMS opt-in where you advertise a shortcode (such as 33999, 65789, etc.) associated with your nonprofit. Your donors can text a keyword such as 'SURVEY' to the number and begin answering the survey. On your end, you can simply set up a series of automated responses and sync the data with your CRM.
Peer-to-peer texting survey: Peer-to-peer texting allows your staff to reach out to your donors and have personalized conversations individually and at scale. If you want lengthier answers or the option of two-way communication through text, this is the method to go for.
SMS broadcast: You can share links to your donor survey through SMS broadcast. This is especially helpful when you want to share your survey with as many donors as possible. In one go, your donation can reach thousands of people.
Read Also: Send Text Surveys To Contacts – Here's How.
Before you go, we've also added a list of important do's and don'ts that you can follow while setting up your donor survey. Read on.
Important do's, and don'ts of a good donor survey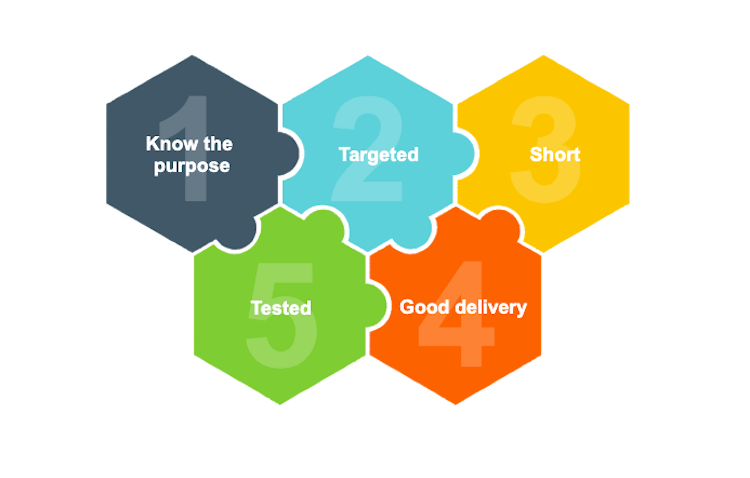 Know the purpose of your survey
Never ask your donors to take their time off to fill a survey unless you know what information you want to obtain and what strategic decision you will make out of it.
You should have a clear idea about your goal with the survey. This will help you measure its effectiveness.
For instance, if your initial goal is to get feedback from at least 60% of the people who attended your last fundraising event. Once you get the feedback, you have a number to quantify whether you got an adequate number of responses to make a good case out of it.
Target your survey
You don't want everyone on your CRM list to get the study. Select your audience based on the purpose of the survey.
For instance, in the case of the previous example, where you want to take feedback from the people who attended your fundraising event, you won't be sending the survey to everyone in your CRM but to only those who have participated in the event.
A good way to ensure you can do this is by segmenting your list on your outreach software. For example, CallHub allows you to tag your contacts when you call them. You can filter your contacts on that basis and specifically reach out to them.
Want to know how exactly to segment your lists for targeting?
Read our article List segmentation in 2020 – a practical guide for your organization
Keep your survey short
A well-planned, short survey is likely to get more responses than an extensive one.
Having close-ended questions that are quick and easy to complete will give you uniform answers that you can use to segment your donors. E.g., multiple-choice, yes/no questions, checklists, etc.
For instance, if you want to get the opinion of people who attended your fundraising event, an example of a closed-ended question can be, "Would you recommend someone to our future fundraising event?"
Here you can offer "yes," or "no." In this way, you will get a decisive answer to your question.
Read Also: Donor relations during a pandemic: Top 10 tips to ensure they stay with you.
Good delivery of the questions
The platform that you use for surveys can also significantly impact the response rates since most of your surveys would be delivered online.
Even if you have the options of good and cost-effective tools such as SurveyMonkey or even Google Forms (they have an option where you can send the survey as a part of the mail body. Therefore, people don't have to open another link from the mail to reach that survey).
But, whichever online tools you use, there are a few basic things that you should always consider:
It should be easy to understand for the user and easy for you to get a meaningful conclusion out of it.
Your survey should work well with all the browsers
Make sure that your survey should be mobile-friendly.
You should also send reminder messages to your donors who have yet to fill the survey, not to those who have already responded.
Test your survey
Just like a blog post; your survey also needs to be tested and proofread before being sent out.
To try a survey, you can send it to a group of friends. Let them complete it while you sit with them. This will help you understand where they hang up. Those are the areas you need to work on before releasing the survey.
What's next?
Engaging donors in a long-term relationship with your organization is crucial to maintaining a continuous flow of funds. Considering the cost of acquiring a new donor is five times more than retaining an active donor, you need to focus on building better relations with your donors.
Apart from conducting surveys to know more about your donors, you can also read about The 5 Biggest Mistakes That Hamper Donor Relations.
Featured Image Source: Pixabay