How To Plan A Successful Fundraising Event ( Template Included! )
February 27, 2019 - 6 minutes read
Nonprofit professionals swear by events as one of the best ways to raise money for your organization. They can be big or small, one-time or annual, but they all come with a single goal in mind –– to get people to invest in your cause.
Just in case, you are looking for one, here's a list of 52 proven nonprofit fundraising event ideas.
While events can generate a lot of money for your nonprofit, they can be time-consuming and expensive to organize. Success always depends on how well you plan out the event and how clear stakeholders are about your goals.
But figuring out where to start can be tricky.
That's why we've crafted a fundraising event planning template (scroll to bottom) to help you plan your fundraisers. These are the steps you should follow to organize a great event.
Pre-Event Planning (4-6 Months Ahead Of The Event)
Review your last fundraising event
Analyzing your last fundraising event is a great way to understand best practices and areas of opportunity. It helps you make room for improvement around important aspects of an event which include reaching financial goals, setting a budget, and increasing attendance. Start with the basics –– did we reach our goals? And by how much did we exceed or fall short? Answering these questions will help you decide what you want to achieve by hosting this event, i.e., if you should reach new people and cultivate them or if you should ask your existing base to give more.
Set your financial goals
Your goals are based on the needs of your organization. You should have one main goal alongside minor objectives. Make sure these are specific and measurable. For example, the main goal can be to raise $10,000 to start new technical education programs in the community. The minor goal could be gaining 20 new potential donors or volunteers.
Draw a budget
Write down how much you expect to spend on organizing the event, inclusive of venue, event programming, administration, advertising, P.R, and anything else that's required to make the event a success. You should also take into account your fundraising goal, to make sure that you raise the amount in spite of all expense. And make room for unforeseen costs.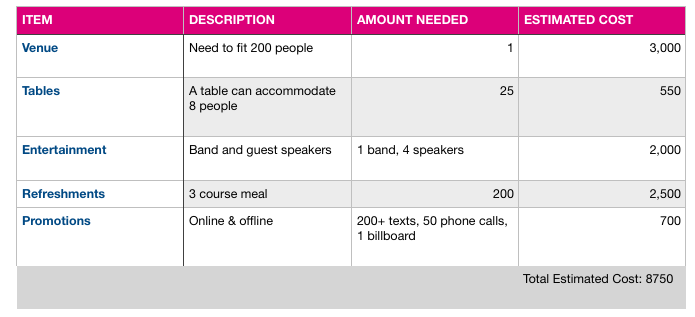 Volunteer recruitment
Build a team of core volunteer specifically for event planning. Look for people who can commit from start to finish and assign each person with a specific task. For example, one person can develop goals, another can decide on a venue, and another can determine the theme.
Pick a date and time
Once you have your core team of volunteers, its time to set an event date. Avoid conflict with major events, like an awards show or super bowl and other public holidays.
Other minor arrangements
See if you need permits of any sort, for instance, to serve alcohol or hold raffles.
Fill out paperwork with regards to health code compliance.
Buy or rent supplies like sound equipment, tables, or chairs as certain venues may not provide this.
Seek sponsorships or partnerships.
Purchase any material or tool you'll need to promote your event.
Prepping For The Event (2-4 Months Prior)
Market your event
You need to start creating your event promotional material at least two to three months prior to the main date. Use both offline and online channels to do so. Offline marketing includes direct mail, print ads (newspaper ads, magazine ads, bus stop ads, and billboards) and word of mouth. Online marketing includes sending out emails, making phone calls to large donors, sending out text messages to all your donors and prospects, and creating a buzz on social media.
Sell tickets for your event
You don't have to wait until the event invites are sent out to start selling tickets. The earlier you get the bulk of tickets sold, the better. For a faster process use peer to peer texting tools for getting people interested and collecting RSVPs for your event. In the same vein, encourage your supporters to sell tickets to their friends, families, and coworkers.
After The Event
Follow up with attendees
Sending a thank you message is one of the best things you can do right after the event. This should be done no more than 48 hours later. Depending on the number of attendees, you can choose to make calls, send texts or emails. Either way, your communications should be as personal as possible. Also, don't forget to thank your staff members and volunteers.
When planning an event, following a step-by-step process increases the probability of it being a success. Make use of our fundraising event planning template to run your nonprofit fundraisers.
Tags:
fundraising event planning
,
organizing fundraising event