Nonprofits often host fundraising events to spread awareness about their cause and increase fundraising revenue. These events are a meaningful way to engage with your constituents and raise an incredible amount of money— however, planning it isn't easy. A consistent point of stress is attracting donors and supporters to attend.
An event isn't successful without guests, so it's imperative that you and the rest of your team work hard to increase registration rates. However, the fundraising event world has become so saturated it's hard to identify the exact way to grow attendance.
It's been shown time and time again that solid event registration software can lead the way for maximized success. According to Regpack, some tools can help you lead you to 31% more completed registrations, 25% less cancellations, and 30% increased cash flow.
We at Regpack work with many organizations that plan and host events. We understand that the event planning world can be chaotic and competitive, so we wrote this list of top tips to increase registration rates for your next event:
Contact past attendees
Provide online registration
Optimize registration for any device
Personalize each registration process
Offer group registration
Ensure payments happen right on your site
Is your nonprofit ready to start planning its next event? Follow along with our tips and increase those registrations now!
Contact past attendees
As you develop your marketing strategy, one of the initial tasks you should do is contact past event attendees. As a fundraising professional, you know that many nonprofits prioritize donor retention and you can apply that same thinking to your events.
However, you can't just email previous guests, hoping that they'll also want to attend your next event. Using your event registration tool, consider the following steps to prepare for the best results:
Browse your data. The best software lets you access event data from anywhere, at any time. Look into software with data in the cloud, getting rid of the need for you to carry around hard drives or papers. This way your staff can get a better sense of who is more likely to register for this next event based on past attendance.
Go over past event surveys. It's good practice to ask your attendees for feedback once an event is over. Make note of the guests who had positive experiences and reach out to them first.
Offer active supporters a perk. Some registration tools will automatically apply discounts as a person starts registering for an event. Thank your loyal supporters with a ticket discount or early-bird registration.
After you've contacted your supporters, there are several ways you can further leverage communication with registrants, as well as potential registrants who are still in the registration process to increase registration rate. The best communication tools automate content based on certain "triggers." This means that depending on a specific action a user makes, your event management software will then activate another action in response, like an email.
For example, Someone starts the registration form but doesn't complete it. This prompts your event registration tool to send out emails including the necessary forms needed to complete registration, encouraging more to attend.
Additionally, the best communication tools should allow you to schedule out emails in advance. This way, as the event nears, you can send guests pertinent information and any reminders of things they have to do beforehand automatically.
Reaching out to already known supporters and sending them an event invitation is a great way to jump-start your event's guest list. Make sure you have an accurate and centralized database that your team can refer to. From there, keep up communication with registrants and get them excited about the event!
Provide online registration
This may seem obvious, but it's a necessity to offer online registration. A few outdated organizations still rely on paper and phone calls and as a result, are missing out on a huge segment of their audience. With capable event registration software, you can provide a designated space for people to learn more about your event and register.
Your online registration form should be simple and easy to use. Many times people turn away because filling out the form is unnecessarily complicated and takes too long to complete. Follow these best practices:
Embed the event registration form in your online website. Your website is the first place people will go if they want more information about your event. Make sure you make it easy for possible registrants to find the form and sign up.
Brand the form to your organization. In order to keep the whole experience streamlined, brand your registration form to your organization. If you don't, you risk your nonprofit looking unprofessional and unreliable.
To take this even further, put your registration form link in other online mediums, like your various social media platforms.
Optimize registration for any device
Online event registration is crucial, and you need to consider those who browse the internet on devices that aren't their computers. These days, one in five American adults are "smart-phone" only internet users. This means that a mobile device is the only way they go online.
Ensure that people browsing your website and event page can do it from anywhere and any device. According to Morweb, the best nonprofit websites will have mobile responsive forms and pages.
Mobile devices and smart-phones are now more ubiquitous than ever. You don't want to miss out on any registration opportunities, so take the time to make sure your event registration form is mobile optimized and accessible.
Personalize each registration process
Your registration form is the catalyst that turns a supporter into an active event attendee. Though not common throughout all event registration tools, some software solutions have conditional logic capabilities to help personalize the registration process for each registrant.
What is conditional logic? To put it simply, conditional logic prompts the registration form the change based on answers that the user inputs. Let's go over a few examples to show how this works:

If a registrant marks that they have a food allergy, the form will add fields so that the user can specify the allergy.
If the registrant selects a specific attendee type (standard, VIP), conditional logic will automatically add the necessary fees to their cart.
If the registrant indicates they're bringing a guest, conditional logic will add the relevant additional forms.
If the registrant chooses to participate in an optional activity, they'll be presented with all the necessary event waivers.
To ensure an increase in registration, it's always a good idea to make the process as easy as possible for registrants. Having a quick and simple form will make the process easy for any applicant, from any device. Look for event registration software with conditional logic capabilities to ensure this.
Offer group registration
A simple way to increase registration rates is to offer group registration. Any nonprofit event registration tool will let you register each of your guests one by one, but only some solutions will allow one person to register multiple people at once.
Studies show that group registration can net you 26% more paying attendees, so it's essential that you make the moves to make registration as quick and easy for guests.
For instance, guests from the same family, school, or employer will love this feature. Using conditional logic, your registration form won't make you resubmit the same information for each attendee once you indicate that you're registering as a group.
Let's say you're the head of a team for a company and you're tasked with registering everyone for an upcoming fundraising event. As soon as you indicate group registration, you only have to input one main head unit and each additional guest as a sub-unit, already using the general details that apply to everyone in the company from the head unit. This way, you don't have to fill out the same fields over and over again, making group registration intuitive and easy to use.
Ensure payments happen right on your site
Often, even though a user completes the entire registration process, the payment processing stage can be what turns them away. It's normal to be a little wary about paying online, we're constantly being told to not enter our card information on certain sites for fear of being hacked. However, some registration software actually aims to prevent this, taking extra steps to secure the process.
Make sure your event registration software has integrated payment, no one wants to go to a third-party website to enter their payment information. It makes the whole process seem unsafe and prompts potential guests to exit. Look out for these additional features to optimize the payment process for registrants:
Automated payment invoices. One of the benefits of an integrated payment processor with your registration software is you can also take advantage of your communication tools. As soon as a registrant pays, you can automate the process of sending an email invoice summarizing the details of the payment.
Payment plans and autobilling. Meet the needs of your registrants by offering payment plans for those who cannot afford the entire price right away. This gives your registrants more flexibility. Additionally, you can automate the billing according to the set payment plan to maximize convenience.
Variable pricing. Increase registration rates with variable pricing models. Set different prices for early-bird, late, members, and nonmembers. A good discount can attract a good amount of people, and with conditional logic, your registration form will automatically apply the discount if the user is eligible.
Prevent losing your registrants at the very last step because of your payment system. Make sure your registration software has integrated payment for a more secure and streamlined experience.
---
Don't worry if your last event didn't give you the results that you wanted. Follow our tips to increase registration rates and help your nonprofit reach its next fundraising goal! Good luck.
---
Author: Asaf Darash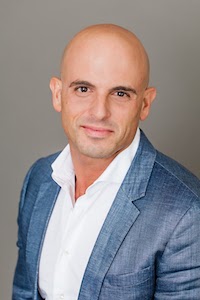 Asaf Darash, Founder and CEO of Regpack, has extensive experience as an entrepreneur and investor. Asaf has built 3 successful companies to date, all with an exit plan or that have stayed in profitability and are still functional. Asaf specializes in product development for the web, team building and in bringing a company from concept to an actualized unit that is profitable.