Events hold a special status in nonprofit fundraising. They are a way for nonprofits to:
Network with potential donors.
Share their mission with the public to raise awareness.
And, of course, raise money.
But you reap these benefits only if everything goes well. There are a lot of risk elements involved in an event, which, if gone wrong, can cost you more money than you raise.
To ensure that doesn't happen, you have to oversee the execution of each aspect of your event right from the start and make sure that everything goes as per plan.
This is what nonprofit event management entails. It involves everything from handling the overall logistics of the event, working with staff, and coordinating with outside vendors and professionals.
Efficient event management is key to a fundraising event's success, no doubt. But what does it take to manage an event efficiently? Let's take a look.
How do you organize a nonprofit event successfully?
A successful event is one that goes as per your plan. Your nonprofit's event management efforts consist of overseeing the planning and the execution to ensure the outcomes don't deviate from your plan. Getting into the specifics of these efforts, here's what they comprise:
1. Fundraising planning
2. Event budgeting
3. Setting up the venue
4. Communications and Marketing
5. D-Day
6. Follow up and looking back
Let's look at each of these in detail.
1. Fundraising planning
Most nonprofit events are organized with the objective of raising money. Even if it isn't the primary objective, it is always one of the goals.
So the obvious first question is, "How are we going to raise money?"
This question can be perceived in many different ways. For example, for a fundraiser, it may mean what sort of nonprofit fundraising ideas can they execute to raise money.
But from a nonprofit event management perspective, it is about the process of collecting donations. This depends on the type of gifts you're expecting to receive. Here are some common gift types and popular ways of collecting them:
Gift type
Method of collection
Small cash gifts
1. Cash
2. Text-to-give
3. Online payment
Medium-sized cash donations
1. Online payments (credit/debit cards)2. Text-to-donate
2. Checks
Major gifts
1. Checks2. Wire transfers3. In-person
In-kind donations (items like clothing, food cans, antiques for auctions, etc.)
1. In-person2. Courier/Delivery services
Stocks and securities
1. Donor-advised funds
2. Selecting the type of event
Apart from the method of collection, the type of gifts you wish to receive also dictates the type of event that would be perfect for fundraising.
Here are some suitable fundraising events you can plan for as per the gifts:
| | |
| --- | --- |
| Gift type | Event |
| Small cash gifts | 1. Virtual events (like game night or movie night).2. Merchandise selling events like bake sales, t-shirt fundraising, etc. |
| Medium-sized cash donations | 1. Virtual events2. Marathons or other competitions like a baking contest.2. Merchandise selling events with higher value items like paintings, celebrity experiences, etc. |
| Major gifts | 1. Galas or charity balls2. Auctions |
| In-kind donations (items like clothing, food cans, antiques for auctions, etc.) | 1. Collection drives in a community or in schools. |
| Stocks and securities | 1. Galas or charity balls. |
It's only after selecting the type of event that you can move on to the next step.
3. Setting up the event venue
A critical aspect of nonprofit event management is setting up the venue for the event, the environment where all your efforts will be put on display.
Based on the theme and objective of the event (which will be decided during the planning phase), there are three directions that you can take:
In-person events: These are held in a physical location like a community hall or a school.
Virtual events: Completely online events that are hosted using communication platforms like Zoom.
Hybrid events: These are in-person events that are generally streamed virtually for participants to join remotely. For example, an auction that is held online in a museum and with people joining from other parts of the country too.
The requirements for each type of event will differ, and so will the execution. Here's a brief list of tasks that you'll be carrying out as your nonprofit's event manager for each event:
| | |
| --- | --- |
| Event Type | Tasks |
| In-person events | 1. Book a venue for the day.2. Set up the infrastructure (chairs, stage, microphone, sound system, etc.)3. Get the catering in place (if any).4. Recruit volunteers to guide attendees to the venue, provide valet services, plan out seating arrangements, etc. |
| Virtual events | 1. Select a software to host the event. 2. Set up and test if the sound system works well and is clear to everyone joining. 3. Create a guide for attendees explaining how to join the event and troubleshoot basic tech issues. 4. Get volunteers to man the chat section (if any) to solve queries or help attendees with technical issues |
| Hybrid events | All tasks mentioned in the above rows. |
Note: This list is by no means exhaustive but just gives a brief of the major functions.
4. Event budgeting
Once you've decided on the type of event and the venue, it's important to set a budget for the event that covers all related costs. Setting a budget for an event helps:
Ensure your expenses are in check and don't go overboard, thereby ensuring that the event is profitable.
Make event ROI calculation easier for future reference.
Typically, the following are the costs that you need to budget for:
Venue rental: The cost to book the venue for the day your event is held. In case you're holding a virtual event, consider the cost of the platform or software that you'll use to connect with everyone.
Catering expenses: For in-person events like charity balls, you'll need to provide refreshments. Contact different vendors and get an estimate from them, and include it in your budget.
Decoration expenses: You may have to decorate the venue with flowers, plaques, tapestry, etc., to enhance its appeal. Budget for that, too, by getting an estimate from the vendor.
Infrastructure costs: This includes items like sound systems, microphones, hiring tech staff to help you set it up, transportation costs for these resources, etc. It can also include resources like tables and chairs if the venue isn't providing them.
Software subscriptions: Facilitating functions like collecting registrations, selling tickets, managing check-ins, team coordination, sending out text reminders to confirmed attendees, etc., will require various software. Make sure to budget for their subscription costs too.
Marketing budget: This includes approximate costs for online and offline advertising and promotions. For example, poster marketing or PPC advertising.
Apart from these costs, nonprofits should also consider keeping a buffer amount aside to cover any additional costs that may come along the way.
5. Marketing and communications
Communication is key for nonprofit event management. Typically, there are two types of communications that you need to manage for a nonprofit event:
Internal communications: Communication between everyone involved in organizing the event (e.g., managers, volunteers, outsourced merchants, etc.). This is important to ensure smooth coordination between different teams.
You'll need to set up a communication channel that all your staffers are comfortable with and reply to quickly. Texting is one such channel that has proven its efficiency as an internal communication channel. Learn more about using SMS for internal communication here.
External communications: This includes interactions with event attendees, prospects, donors, etc. A multi-channel approach works perfectly for this.

For example, email to communicate with prospects at scale, phone calls to invite donors who are close to your organization, text reminders to all attendees on the day of the event, etc.
Along with your communications, you can also plan out your marketing efforts to get as many eyeballs as possible. Your marketing efforts can be divided into two major areas:
Offline marketing: This includes putting up posters and billboards, passing out flyers, newspaper ads, going door to door talking to people about the event, etc.
Online marketing: This includes all your digital efforts like sending out text blasts, social media posts, PPC advertising, etc.
To learn more about creating the right strategy to advertise your event, check out our post on Nonprofit Advertising here.
6. Overseeing all execution on D-Day
You can plan for a thousand things for the event and still come across the one thing that messes everything up. This is why come D-Day, the importance of nonprofit event management goes through the roof.
To ensure that things run smoothly, here are a few things you can do:
Do test-runs with all the tech right before the event to ensure everything's functioning properly.
Assign volunteers to manage different tasks during the event. For example, someone could man the chat to resolve any technical issues or general queries during the event, while others could oversee that the catering is set up.
Call-up third-party vendors to confirm if everything is on time and as per your demands (especially for in-person events). This includes catering, decorations, tech provisions, etc.
Follow up with all positive respondents to confirm their attendance and if they need any guidance. Call-up non-respondents (if possible) for a final nudge.
Ensure that all internal communication channels are set up, and people are actively using them to make coordination during the event seamless.
Depending on the type of event you're organizing, there can be many more tasks that you may have to undertake to ensure smooth execution. For instance, managing check-ins, setting up tech alternatives in case something breaks down, etc.
7. Follow-up and looking back
Nonprofit event management efforts don't culminate at the end of the event but extend a bit further than that.
Once the event is done, your final task is to follow-up with all stakeholders and look back at the event. These stakeholders include:
Ask them about the challenges they faced and what could have been done better.
What went well according to them.
How could you make their task easier next time, etc.?
The answers to these questions will give you relevant insights to help you manage your next event better.
For your staffers, you can either set up a meeting to get their feedback or circulate a form (online or physical) for the same.
Event attendees: Start by thanking everyone who attended the event and those who donated. Get their feedback on what went well and what could have been improved according to them.
Following-up with event attendees will depend on their engagement level. For example, those who attended and made a donation are highly engaged and hence deserve to receive personal calls. You can connect with attendees who didn't donate over a peer-to-peer text because it's personal but non-invasive.
Make sure to send event highlights to non-respondents to keep them engaged.
All your event management efforts can ensure that your nonprofit's event is a success and provides you with the benefits that you were expecting.
Nonprofit event management software
A lot of your nonprofit's event management efforts can be automated using software solutions. This, in turn, makes your efforts more efficient.
Here are a few solutions that you can opt for to make your tasks a breeze.
1. Event scheduling & organization
When planning out your event, the following solutions can help you visualize how everything will come together and organize the data for it accordingly.
AllSeated
AllSeated is an event management software for nonprofits that enables organizers to design floor plans, manage guest lists and meal preferences, and organize event timelines.

A 3D view of the seating arrangement generated by AllSeated
NonProfitEasy
NonProfitEasy is a comprehensive software that helps event managers easily manage attendee data. Using this, organizers can create events, send out invitations, track registrations, and even accept text-to-give donations.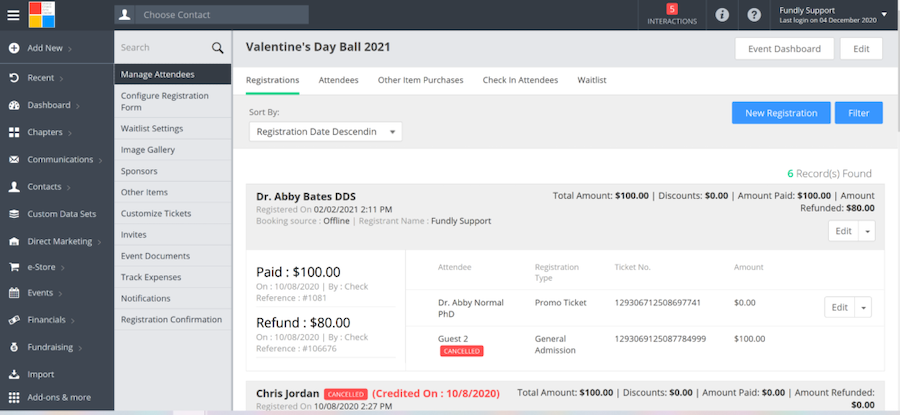 2. Event fundraising software
Fundraising is an important part of any nonprofit event. A nonprofit fundraising software can help make the process of collecting donations automated and efficient.
Snowball Fundraising
Snowball Fundraising is an all-in-one fundraising solution for growing nonprofits. It offers a range of features for event management which includes creating online donation pages, text-to-give tools, fundraising thermometers, and peer-to-peer fundraising abilities.
Apart from that, you can also use the software to organize silent auction events for fundraising.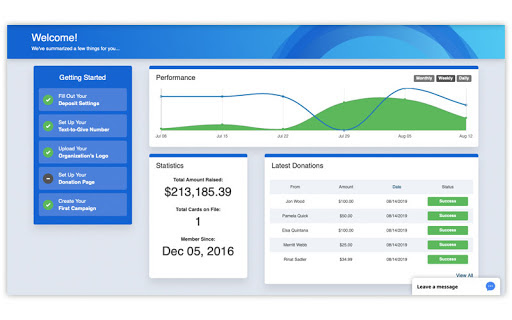 Donately
Donately is a fundraising platform that facilitates seamless online fundraising. With Donately, you can provide multiple online giving options to event attendees, create customizable donation forms and embed them to any landing page, and set up peer-to-peer fundraisers.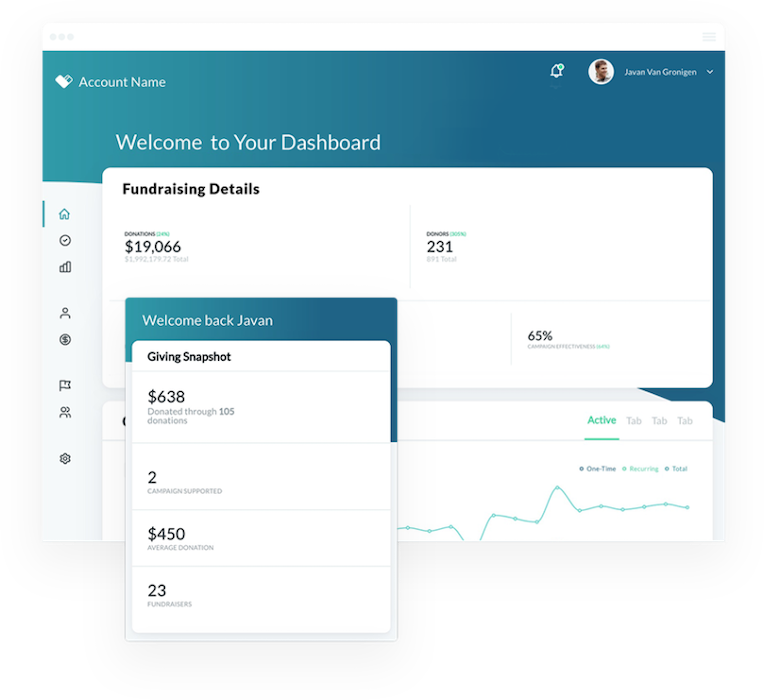 CallHub
If you want to keep fundraising simple, you can stick to using text-to-donate during your event. All you have to do is display the keyword and shortcode that attendees can text to receive a donation link.
With CallHub's comprehensive mass texting solution, you can set up text-to-donate in three simple steps. All you have to do is:
Select a keyword and a shortcode.
Choose a contact list to store all incoming contacts.
Set up text prompts to reply with the donation link when people send in the keyword.
Learn more about setting up text-to-donate using SMS opt-in campaigns here.
3. Event registration and ticketing software
Whether you're organizing a physical event or a virtual one, you need a way to collect registrations (or give out tickets). This category of event management software for nonprofits helps you with that.
OneCause
OneCause is ideal for organizations who wish to integrate the registration and check-in process for in-person events. The software also allows you to sell tickets while also accepting donations during the check-in process.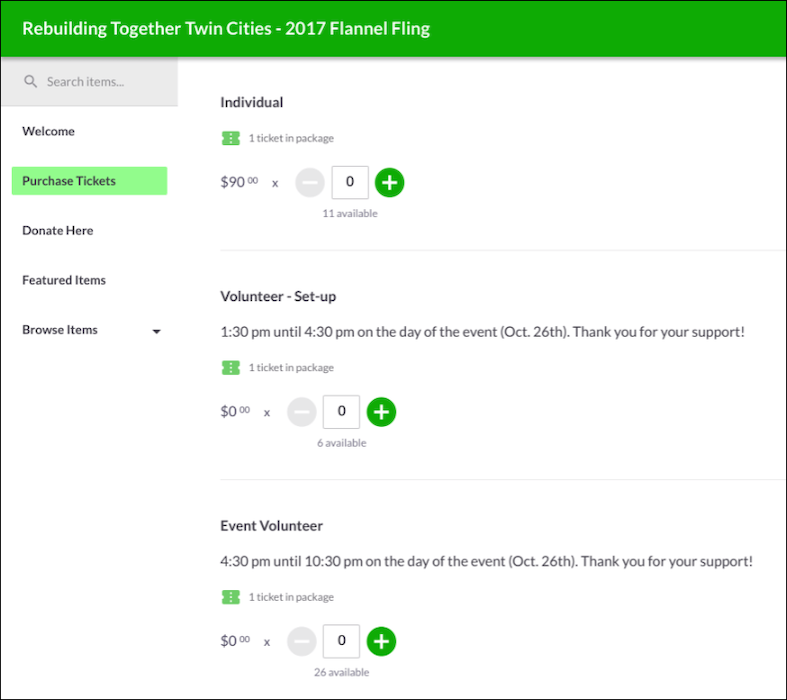 ePly
ePly is a nonprofit event management software that makes registration and ticketing quick and easy. Moreover, it enables collecting data from the event, which is categorized in its analytics reports that you can use to get valuable insights.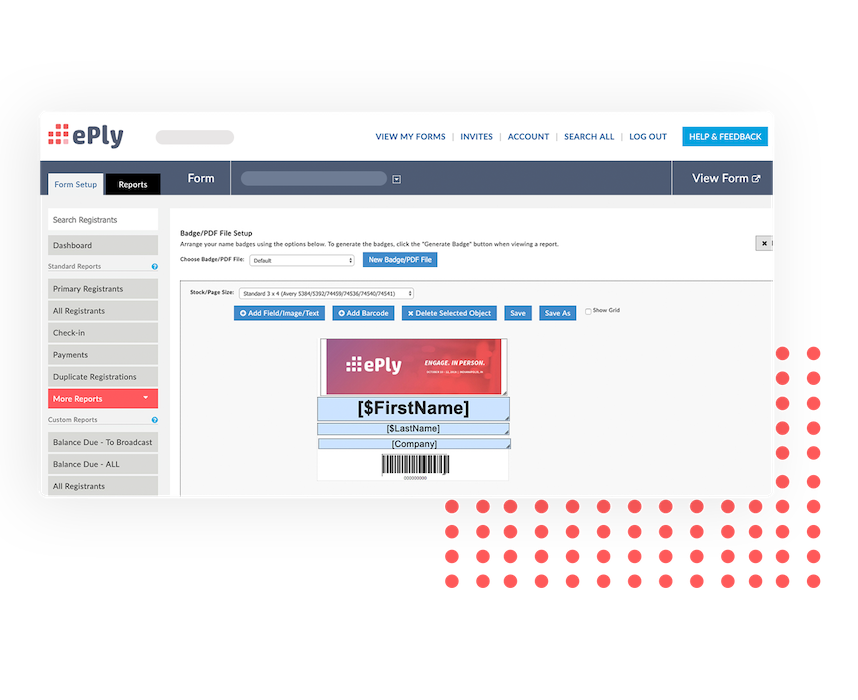 The above event management software for nonprofits can catapult your event to new heights of success. Based on your needs, you can either select one or use multiple solutions in tandem with each other.
Takeaway
As a fundraiser, your objective of organizing an event should be to create an unforgettable experience for your sponsors, donors, and volunteers too. The steps described above can help you with that by taking your nonprofit's event management efforts to the next level.
But remember, while execution is king, planning out the event on paper is the advisor that every king needs to stay on top of everything.
So make sure you don't skip out on that. To learn more about how to craft the perfect fundraising event plan, check out our article on creating a fundraising event planning template.
Featured image source: Mitchell Lawler