"By failing to prepare, you are preparing to fail." – Benjamin Franklin
A strong outreach plan is the backbone of a successful nonprofit. Poor planning is one of the reasons nonprofits fail. Outreach makes up a large part of nonprofit campaigns – but how do you create an outreach strategy?
This post answers the most common queries about nonprofit outreach strategies. We've broken down the topic and provided you some tips to include in your nonprofit outreach strategies.
What are outreach strategies?
An outreach strategy is a method to convey your key messages. The term "outreach strategies" comprises the following:
Goals
Plan
Best practices
Tools…
…through which an organization conveys key messages about its mission and principles to its target audiences and partners.
Why does your nonprofit need a well-planned outreach strategy?
Nonprofit outreach strategies help increase engagement, which finally forms a community around your cause. Successful outreach strategies for nonprofits involving various communities help your organization solve problems at regional levels and accomplish lasting benefits.
How do you create nonprofit outreach strategies?
Powerful nonprofit outreach strategies need to be built keeping every stakeholder of your organization in mind:
Beneficiaries
Supporters
Donors
Associates
Volunteers
Board
Employees.
These stakeholders are your community, and your outreach strategy needs to align with their interests. Here are the steps to build your nonprofit outreach strategy:
1. Carry out an evaluation
This evaluation must collect details on your existing outreach strategy.
It needs to tell you the…
Strengths and weaknesses of your nonprofit
Funds and assets available
Restrictions that influence your outreach, etc.
…and thus present a better picture of the areas you are lagging in.
Having a clear picture of the current scenario is the first step in developing a strategic outreach plan for your nonprofit. It takes assumptions away and helps you make reliable choices.
You May Also Like: Guide to Devising Great Community Outreach Strategies That Win Big
2. Draft your primary outreach goals
The next step of successful nonprofit outreach strategies is defining the goals.
14% who have goals are 10 times more successful than those without goals. Unfortunately, a majority of nonprofits take this for granted, spending barely 15 minutes writing down goals like:
Increase supporters
Improve donor retention
These goals do close to nothing. Everybody wishes for more supporters and higher retention.
These goals are way too generic and fall short in suggesting the actions that a good outreach strategy requires.
What do great outreach goals look like? Commonly they are broken down by a handful of elements:
Priority
Measurability
Actionability
A good outreach goal would look something like this – "Increase our nonprofit brand mentions by 10% on social media.".
In this case
The priority would be relative to your other goals.
Measurability would be using social listening tools.
Actionability would involve a social media strategy to build awareness.

3. Define the right prospect
You don't send your outreach messages to everyone. Your research should define the communities and demographics that fit in with your cause.
With a few good tools and assets, your nonprofit can perform prospect research to define your ideal prospect. Here is a common procedure of prospect research:
Define your goals, timelines, and desired outcomes.
Clean your database by removing invalid and unsubscribed contacts to obtain accurate results.
Gather prospect data, beginning at public sources.
Analyze the results to distinguish between high-value prospects, medium-value prospects, and low-value prospects.
Create user personas for each of these prospect segments and list out their characteristics, interests, etc.
Build a plan for stewarding and soliciting these prospect segments accordingly.
4. Define the channels
There are many channels out there to get your message out, but defining the right channel for you depends on the preferences of your target audience. Your prospect research should have you covered in that aspect.
Here are a few commonly used channels for nonprofit outreach:
Social media
• Educate people about your organization
• Announce events and workshops
• Launch creative and engaging campaigns
Email
• Send newsletters
• Send annual reports
Traditional media
• Post advertisements in newspapers, magazines & billboards
• Make radio announcements
• Run television promotions
Phone calls & texts
• Have one-on-one conversations about your nonprofit
• Answer queries
• Send quick updates
Also, have an excellent website for your nonprofit so people can learn more about you whenever they want to.
5. List out the activities
List the activities you arrive at to create an action plan.
For example:
Partner with 'xyz' organization
Contact supporters from previous year's event attendees
Create an awareness-building plan
Develop 'x' materials to generate leads

6. Track the results
Effective nonprofit outreach strategies have the necessary plan to handle a massive volume of data. Track metrics like
Number of donors you've reached out to
Total amount raised
Number of community meetings held
Frequency of donor outreach
Total number of event attendees, etc.
Although a regular Excel sheet could work, more sophisticated tools are available to help you optimize your campaign and track results more easily and quickly.
For instance, if your outreach medium is SMS, then your tool should provide you with a complete view of the texts being sent at the time and in the past. CallHub's SMS marketing software presents the most valid data in the simplest forms, including graphs, detailed reports, call statistics, and general campaign statistics.
How can you improve your community outreach?
Effective nonprofit outreach strategies help you engage members of your community. This engagement can have favorable outcomes for all involved. Here are a few ways to make your outreach even more impactful.
1. Use surveys to find out more about your community's requirements
Community surveys help nonprofit organizations acquire direct opinions from their donors. These inputs help you define the kind of goals you should focus on and the best ways to gather the help you need.
Surveys also help organizations discover the gaps in their communication by helping them identify their audience's preferred communication channels.
You can use text surveys to collect this data from contacts through a series of text messages. Although there are other options, a text survey will likely get you the most results given its high open and response rate.
Here's how text surveys work and why they are the perfect way to reach contacts for your nonprofit campaigns.
2. Collaborate with regional establishments
Collaborating with like-minded organizations boosts your outreach efforts. If you collaborate with an organization that already has a toehold in the community, it will help you reach your goals faster.
In addition, discover other influencers like
Priests
Community leaders
Schools and colleges
Public health care centers, etc.
Since these are all familiar faces in the community, your communications would be more effective coming through them.
3. Share stories of people involved
Anecdotes are a powerful way to bond with your community. Tell stories of your beneficiaries or your volunteers. Here are a few tips and examples of nonprofit storytelling:
Keep the end goal in mind.
Show people in action.
Create inspiration.
Compliment impact with data.
Include powerful visuals.
Give a strong conclusion.
4. Be an opportunist consistently
Effective nonprofit outreach strategies combine timing and consistency. Good timing is subject to a few factors.
You want your community outreach program outline to align with current events.
Every response must go out within minutes, especially if they're related to contributing to your organization.
Understand when your community is active on different communication channels.
Use these insights to inform your outreach to your target audience.
Read Next: List segmentation in 2022 – a practical guide for your organization
5. Improve your community's understanding of your organization's mission
Awareness campaigns are one of the most common and effective ways to increase your community's interest in your nonprofit's mission.
Awareness campaigns can attract large audiences during national awareness months – for example, LGBTQ pride month. Several nonprofits plan their awareness campaigns around these timelines to capitalize on the exposure.
Team Rubicon, a disaster relief organization, uses its website to connect with its community through stories and articles.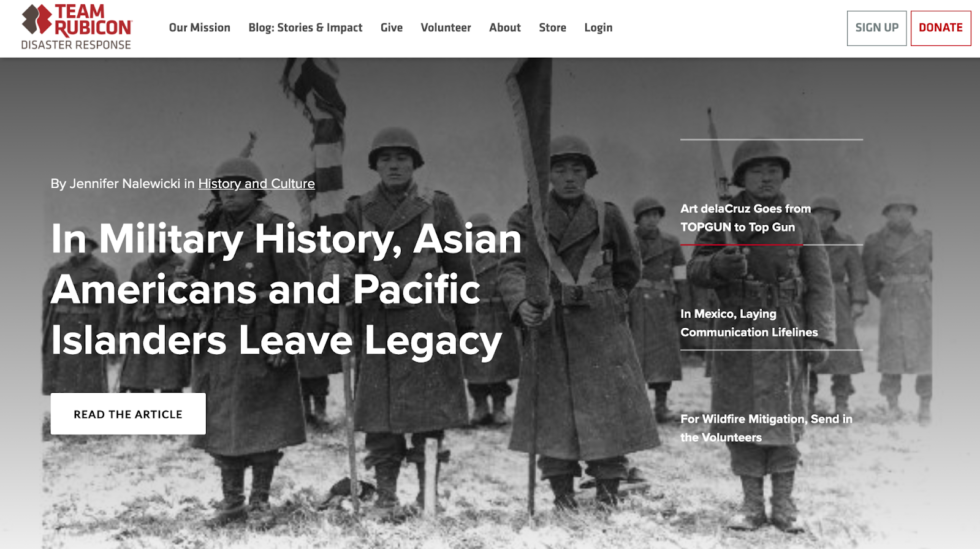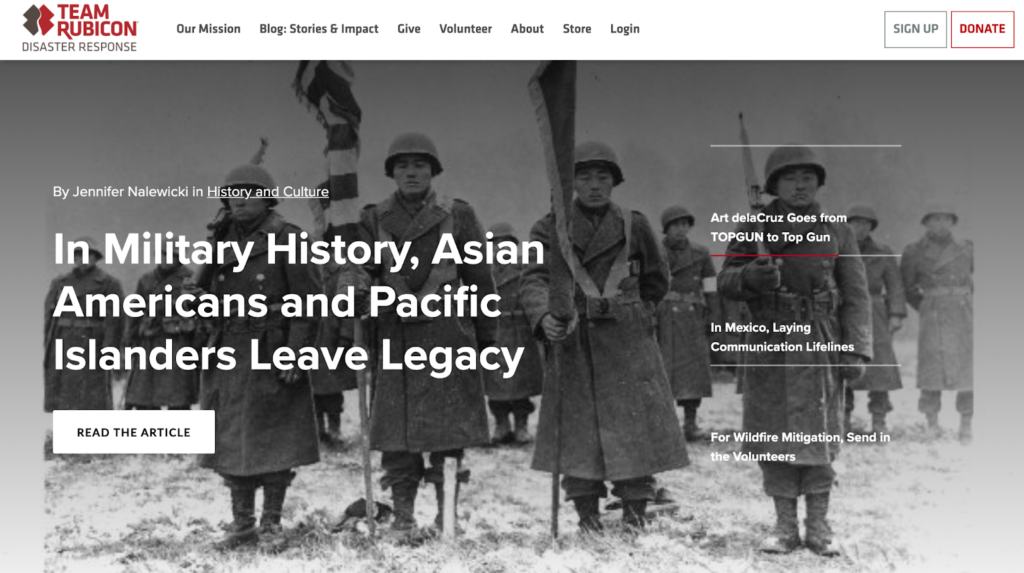 Irrespective of the type of campaign, grabbing your community's attention and engaging with them can be difficult. So, here is a guide to start a sustainable and successful community outreach program.
6. Keep your nonprofit outreach database updated
Keep the information about your supporters up to date by collecting data while on call or through surveys. Maintaining the information about your supporters will simplify your future outreach efforts.
7. Engage individually
Make connecting with your community a priority in your nonprofit outreach strategy.
One-to-one calls with your supporters are crucial for eliminating any skepticism people may have and building relationships. Better yet, get your leaders involved in your nonprofit outreach program.
Always keep in mind that communities want to be a part of the process.
8. Retain existing volunteers
To achieve your nonprofit outreach goals, your organization may highly rely on the support of volunteers. Your bond with volunteers must also be a priority. Here are some ways to engage with and retain your volunteers:
Offer rewards and recognition.
Align their skill levels to the tasks.
Respect their time.
Communicate regularly.
Create a career path for them.
9. Personalize your messaging
Your donors give to your cause out of an emotional response. It's relatable to them, so you should personalize your messaging too.
72% of consumers only engage with marketing messages that are customized to their specific interests. Texting based on your supporter's preferences is a good approach to execute this.
Here's an example of CallHub's texting software interface where the agent can have personalized conversations with your supporters based on the data collected from previous interactions.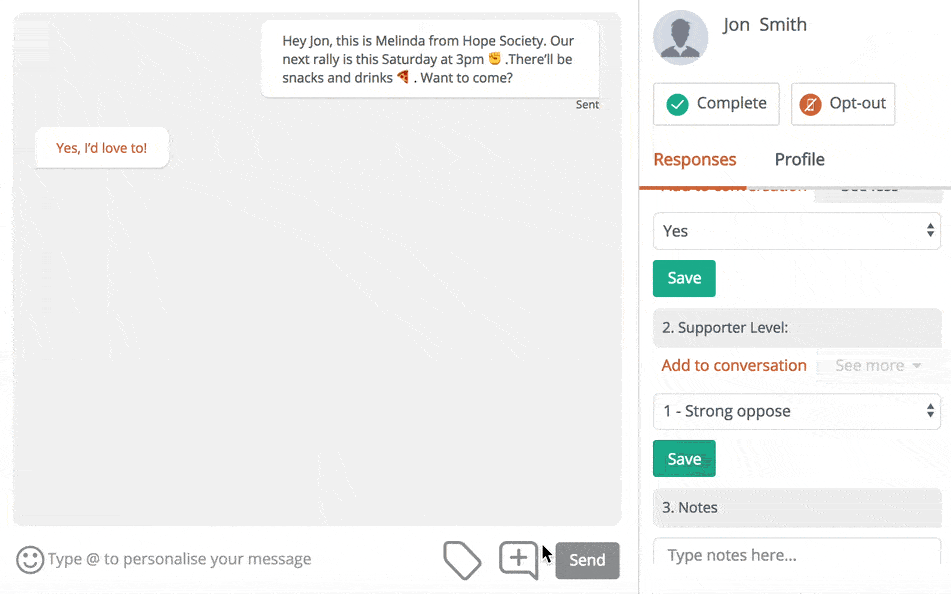 Segment your donors based on the nature of donations in the past, their interests, past interactions, etc., to facilitate targeted communication.
Here are a few other examples of SMS campaigns your nonprofit may run.
Event invites
In case you're organizing an event targeting your attendees from previous events, your event invites could look something like this: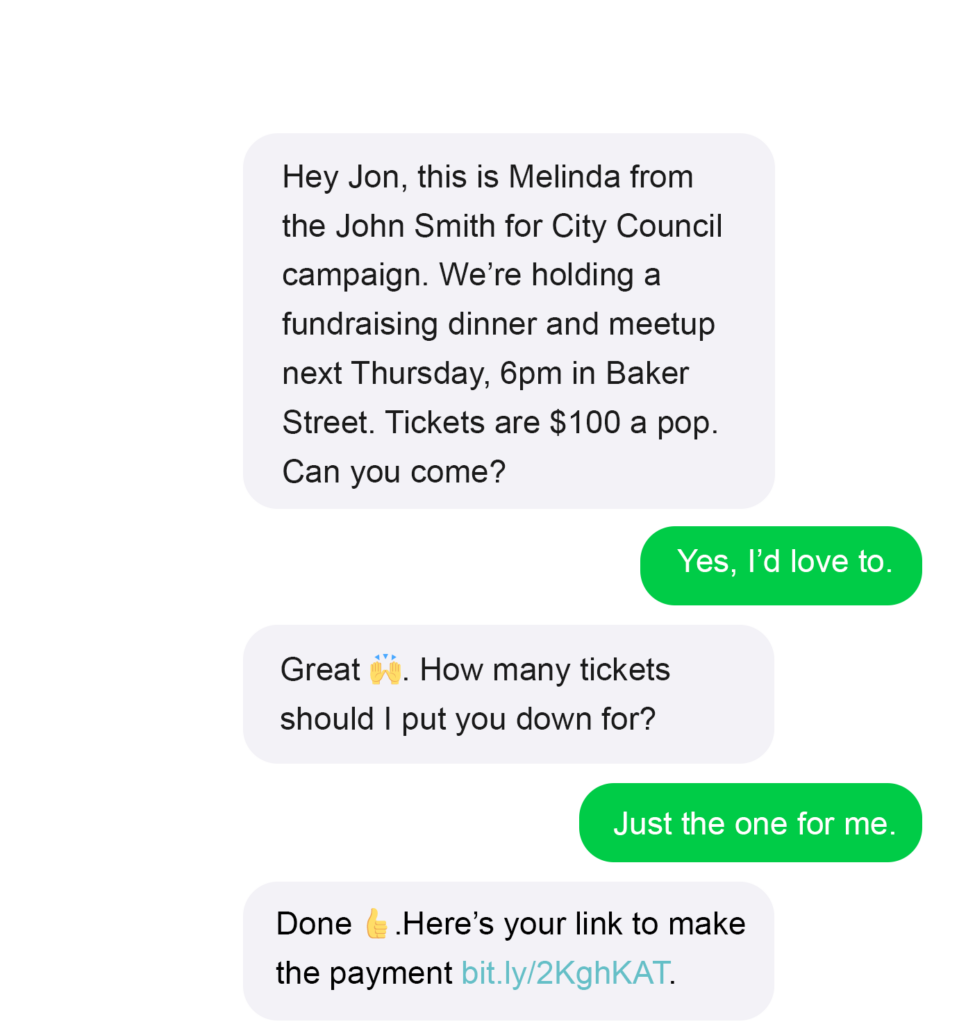 Donation pleas
Starting a new campaign? Create a tremendous impact by sending donation pleas to supporters on your list who have previously shown interest in this kind of campaign.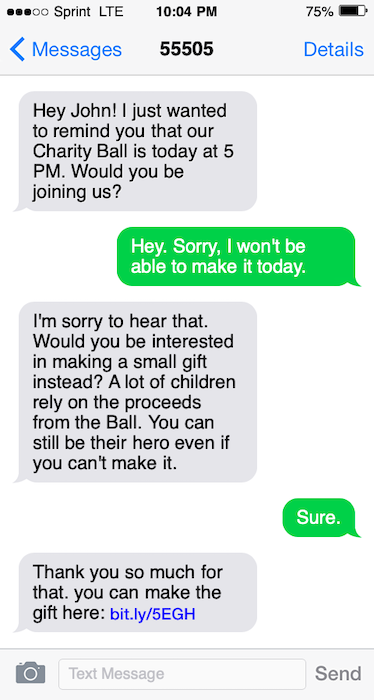 'Thank you' texts
Using the data and information you have on your donors, make these messages very specific and personalized.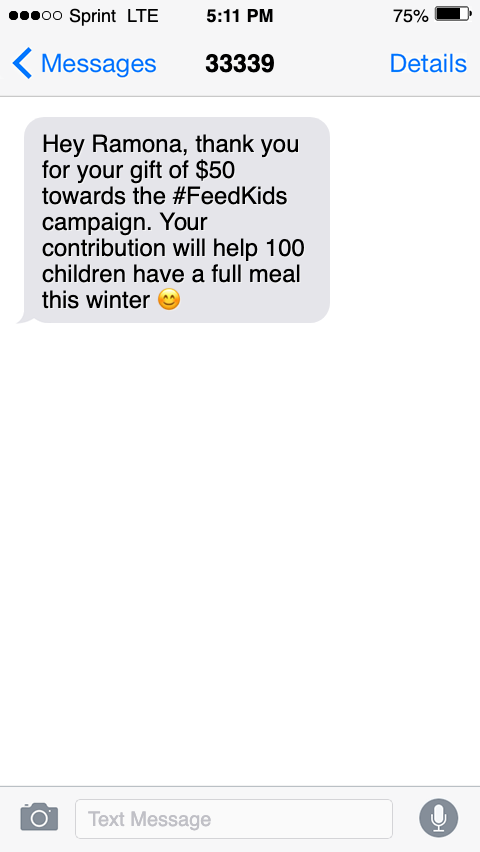 Sample action plan for a nonprofit outreach program
We have included a sample action plan for you to create your nonprofit outreach strategy. Feel free to make the necessary edits to best suit your needs.
Nonprofit Outreach Action Plan
Existing outreach strategies:
Primary outreach goals
Priority
Measurability
Actionability
Evaluate the needs of different target groups on a monthly basis.
Identify 10 emerging trends every quarter.
Find 5 new target groups every year.
Find 1 opportunity to expand our outreach on a weekly basis.
Prospect Definition
High-Value
Medium-Value
Low-Value
Name:
Goals:
Background:
Demography:
Motivations:
Expectations:
Channels of outreach:
Channel
Action
Social media

• Educate people about your organization
• Announce events and workshops
• Launch creative and engaging campaigns
Email
• Send newsletters
• Send annual reports
Traditional media
• Post advertisements in newspapers, magazines & billboards
• Make radio announcements
• Run television promotions
Phone calls & texts
• Have one-on-one conversations about your nonprofit
• Answer queries
• Send quick updates
Other activities
1. Partner with 'xyz' organization
2. Contact supporters from previous year's event attendees
3. Create an awareness-building plan
4. Develop 'x' materials to generate leads
Get Started!
Did you find this article helpful? What other nonprofit outreach strategies have helped you? I would love to hear from you.
Download the sample action plan and start drafting your outreach strategy. If you have any questions, feel free to drop me an email at [email protected].
Featured Image Source: Photo by Mikhail Nilov from Pexels