"It was a bright sunny Sunday morning.
I could feel the warm and shimmering rays of sun coming through my window.
While I was making coffee,
I saw a mail in the mailbox, which had my name on it.
That's when I heard my phone notifying me about an email,
I overlooked it, took my hot cup of coffee, went outside, and enjoyed my coffee in the sun, taking a look at the handwritten mail that I got.
That's the example of a perfect Sunday morning."

Here you can see how I was more interested in the direct mail that I got rather than the virtual mail on my mobile. It's because it is more personal and gives a tangible feel in comparison to emails.
Direct mail response rates are 10-30 times higher than digital mails.
70% of Americans say that direct mail feels more personal than digital ones, and it makes them feel more special.
These stats prove that Direct Mail is not dead, as many marketers are saying. According to a study, half of US consumers prefer direct mail over email. This backs up the fact that direct mail is the unsung hero of marketing channels.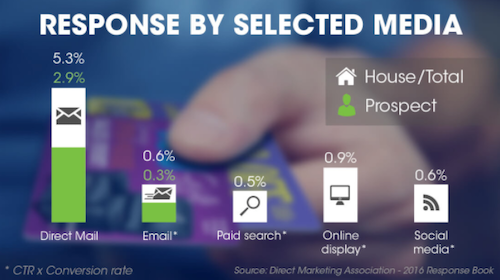 It doesn't feel surprised at all, given the cluttered nature of all of our social media feeds and email accounts.
Now, let's take a look at some direct mail fundraising best practices to get more donations.
1: Choose your direct mail target audience
Direct Mail Campaigns often have two sets of target audiences, your house file audience, and your prospect file audience.
House file audiences
These are people who are regular contributors to your organization. They are familiar with your cause, and you are just nudging them to give again.
These house file mails have better ROI, as you are mailing people who have already donated in the past.
Therefore, I would recommend that all nonprofits, whether you have 10 addresses or 1000 addresses in your house file, should be mailing them at least once a year, asking for donations.
Curious what your direct-mail ROI could become? You can go here to calculate it.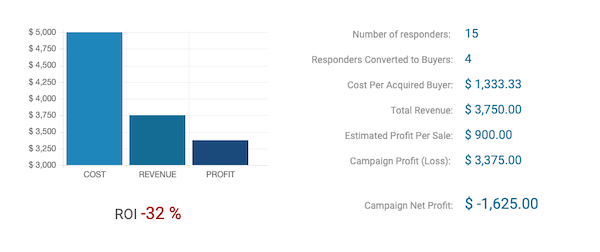 Prospect file audience
These people are your lost donors who donated once and never returned, people who came to your fundraising event, and even strangers.
4/5 Donors will not donate again. This is a huge problem, but with the right message, you can encourage a lot more of these people to come back to the fold.
The Prospect file has less success rate; therefore, I will not recommend doing this as often as a house file mail. These mails are usually sent to make back whatever you invested, i.e., the cost of mail.
If done correctly, this method can help you to get back lost donors.
How much does it cost?
It depends on how many direct mails you print. Wellstone puts the cost at around 58¢ per piece (including consultant/mail vendor fees) if you print 20,000 copies with the price coming down to 35¢ per piece for 100,000 copies and up.
2: Thank your past donors
There's nothing worse than sending a direct mail to one of your regular donors only when you're asking for a donation. You should remind them how much their contribution is helping your nonprofit.
Direct mail is suitable for this as it helps in creating a real physical connection. You can even send donors a small gift. Sending a small gift to donors is a nice gesture.
Try to keep the gift relevant, as when the gift is appropriate, it can have a considerable impact.
For instance, if yours is an organization that takes care of the education of underprivileged children. Then you can get the children to draw some cards with the donor's name on it.
These types of gifts are shareable on social media, which will increase your exposure.
Apart from this, you can also send these donors tickets to your fundraising event. Since they have already donated, it will not affect your budget, and also it will make the donor feel important.
3: Tell a story
"There's nothing more powerful in the world than a good story. Nothing can stop it. No enemy can defeat it."

Game of Thrones
When people are reading your mail, you want to capture their attention on the very first go. Therefore, pull them in with a story!
Whatever story you are writing, you should keep in mind that every story has the same essential parts:
There is a problem in the world which needs to be solved
If the problem continues, it will cause harm and distress
You (the donor) can solve this problem by working with us (the organization)
Now, these stories can also be of two types:
Your story
Here you focus on telling the donor the story about the struggles and triumphs of your organization. How your organization stayed true to its cause and was able to bring a positive change. It will help if your organization has a unique origin story.
For example, let's consider an organization that takes care of the education of underprivileged children from developing countries.
The nonprofit can possibly write a letter, that the organization was founded by a previous student of that country and how he struggled to get a basic education. But he was eventually able to get a scholarship from a generous donor.
Now, the organization started by him provides education to over 5,000 children every year.
With these types of stories, you can inspire donors through the growth of your organization. This will make them feel that since they have donated, they are also a part of this growth.
Individual story
The individual story is an effective method of inspiring donors. Since it is an individual's story, donors feel more emotionally attached to it.
For instance, it can be a story of a child who was raised from a nonprofit organization that provides free football classes to becoming one of the biggest football stars and then later being the largest donor of that organization.
These types of stories get donors to feel that they can also make a positive change in someone's life. Individual stories also help in keeping the donor-focused on one subject, and thus it will increase compassion. This will encourage them to donate more.
Therefore, you must include a story in your direct mail fundraising letter. A story will evoke sympathy in your reader.
Another way to make donors donate more is to use trigger emotions to communicate your story.
One such example can be the one below where the nonprofit organization was helping children in Africa. They used the trigger emotions to communicate the problems faced by people there so that they can get more donations.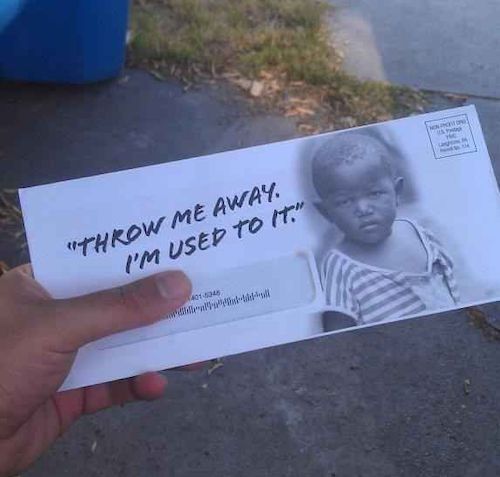 4: Donor is the hero
Your direct fundraising mail should be more about your donor, not yourself, or your organization. As a nonprofit, you are doing something significant for your beneficiaries, and the donor knows about it.
So when you are writing a fundraising mail, one of the most important things to remember is that you should give due importance to your donors.
Your mail should bring a feeling of happiness to the donor, just like hot baths and candlelit dinners.
A well-curated mail will make the donor happy and make them feel valued.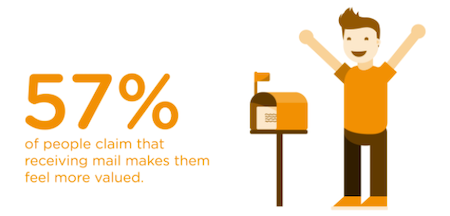 The other important thing that you should consider while crafting a perfect fundraising mail is that.
"You-attitude" is one of the most common concepts used in business writing to connect better with the reader. The general philosophy is that people tend to be more interested in their actions rather than the need of the writer.
Therefore the most important word to include in your whole direct mail is "You."
"You" is classed among the top 20 "power words" in the advertisement as it has the magical ability to raise money.
Another thing that you can do is to send postcards or flyers as they are so visual, tactile, easy to produce, and can be personalized for each donor easily.
5: Create skimmable direct mail
The owner will not take the time and read your entire mail. It would be only a matter of minutes from the time that your supporter opens your letter until the time they have finished reading.
Never write long sentences and show off big words.
Tell your story using simple sentences, uncomplicated words, and direct calls to actions. Be specific with your ask, say what you need, for what, and when you need it.
This will help the donor to understand what you are asking for quickly.
In your mail, you can include particular keywords or phrases that can be effective in your nonprofit fundraising efforts. Some of these keywords are:
The Donor's Name: You can automate a system which will auto-populate a supporter's names in your template. Their name captures the attention of the supporter from the word go.
Tax Deductible: This term talks about the benefit that your donor will get when they give to your organization. Not only will they receive a tax write-off, but they will also feel good about helping others.
Give and Donate: Most fundraisers make the mistake of using the word "support" in their fundraising mail. "Give" and "Donate" are words that directly call for action, and they won't be confused. This will clarify your reason for writing the mail.
You: As discussed in section 4, "Your Attitude" will help you connect with the donors and will help put them in perspective rather than you or your organization.
And finally, if your letter asks for donations or gifts more than once or twice, It will create disinterest in the mind of the donor. Inertia is a significant issue in nonprofit direct mail fundraising campaigns, which is one reason why many organizations fail to gain full benefit.
6: Cross channel (direct mail and digital strategies)
According to Nonprofit Source, marketing campaigns using a combination of direct mail and digital mail have a 28% higher conversion rate.
A combination of direct mail and digital strategy can work together really well. One crucial factor to consider is that in each of the platforms, it's essential to maintain information unique to that platform.
People are likely to take action if they see your message repeatedly across multiple channels.
For instance, you can promote videos for an event on social media, send event information via email, and drive the call to action with a sticker pack for direct mail.
7: Track and measure your direct mail
Technically there are no automatic ways to track the direct mail response rates, ROI, and general engagement.
But you can put in the effort to compare the amount of money spent versus how much the campaign brought back. Individually looking at the list of people whom you have sent out the direct mail and how many donated from that list.
Another example of this can be if your goal is to get someone to call you. Then choose a phone number that is unique to that direct-mail campaign. You can mention that phone number in your direct mail.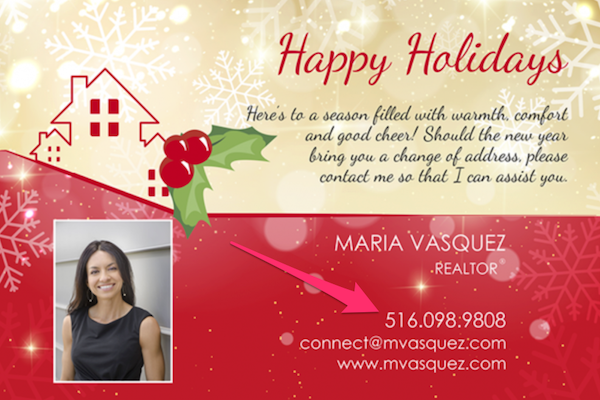 Whatever your method might be, make sure that you track the success of your direct mail fundraising. This will give you an idea as to how well it plays into your revenue goals.
Ideally, over time your direct mail costs will come down, and your ROI will increase. As now you know what worked and what didn't.
I have made a flowchart that has the breakdown of how to go about direct mail fundraising for your nonprofit.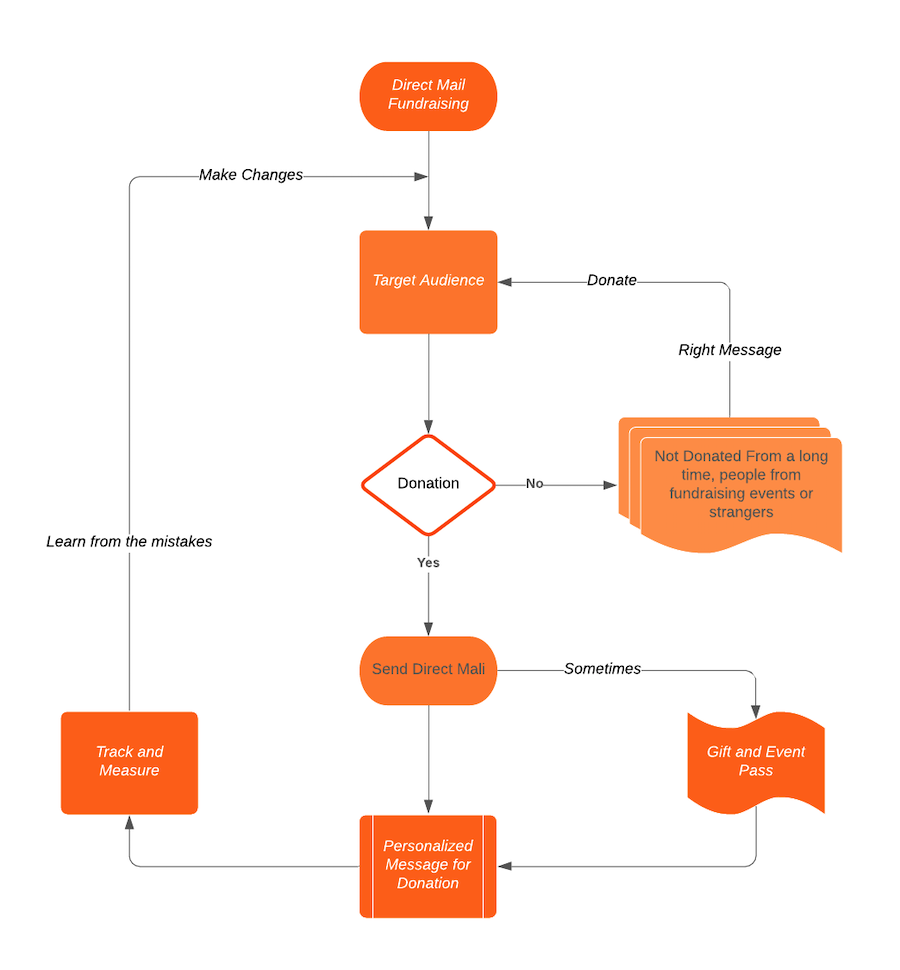 Nonprofit direct mail fundraising, if done right, can be one of the biggest drivers of your success.
Despite the belief that direct mail is dead, it couldn't be more alive.
Thus your well thought and targeted direct mail would undoubtedly encourage the donor to go through it on a peaceful morning with their cup of coffee.