Nonprofits work hard to raise money for their cause.
But, often, donors are simply not motivated enough to get involved. In such cases, you need to work smarter, not harder, to get you out of this situation.
How do you get people to donate to a good cause?
Offering donation incentives is one smart way to motivate people to give.
But do they help? If yes, what kind of fundraising incentives can you provide to get the best results? How do you reward donors? This post will provide you with the answers to these essential questions.
What are donation incentives?
Donation incentives (or fundraising incentives) are perks that you offer to your supporters to motivate them to take action (donate). These incentives could be something physical or intangible (like emotional incentives).
So, what is an example of incentives for charity?
Here's one: For donors who opt for a monthly giving program, ASPCA provides them with a membership kit that includes cards and a lovely t-shirt.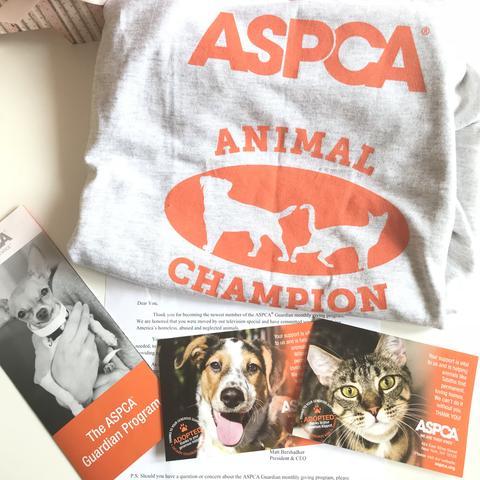 How do you make donors feel appreciated? Donation incentives. They are not necessarily prizes or rewards for donating; they are also a means to convey how much your nonprofit values the donor.
Is it ethical to give incentives for charity?
You're likely riddled with this question of morality too.
In simple terms, ethicality is determined by what is right for a majority. When you consider the benefits of the donations that these donor incentives bring in, it seems right. And it is! Because it is virtually impossible to get anything without some form of incentive, be it physical or emotional.
Some argue that incentivizing donations can solidify the "What's in it for me" mindset in people. If that happens, people are less likely to support you when you cannot provide an incentive in return.
But this argument doesn't take into account the emotional reward you provide donors.
How do you make donors feel special? An emotional reward is the answer. It's something as simple as inducing happiness with a personal thank you letter communicating the impact the donations made. That is one fundraising incentive that you never run out of, and it has an equally positive impact on giving.
Getting back to the question, the simple answer is: Yes! Donation incentives are ethical, especially if they help you help those in need.
Do donation incentives work?
Theoretically speaking, fundraising incentives should work as people would be more obliged to give in for an incentive. However, a study by Yexin Jessica Li, associate professor of business at the University of Kansas, showed surprising results.
Here's an overview of the results:
People, on average, donate less on receiving a monetary incentive with the appeal.
Non-monetary and no donor incentives perform equally well and better than monetary incentives.
Pre-giving fundraising incentives make people perceive organizations as less communal and more focused on the capital.
While these results may not seem promising, the fact is that based on your objective, donation incentives do work. Professor Li's study also showed that:
If the objective was to increase gift size/donations, non-monetary donor incentives, or giving no fundraising incentives worked better.
If the objective was visibility, pre-giving monetary donor incentives worked well.
So if you have the right objective in mind, a donation incentive strategy can help you achieve your goal faster.
Read Next: 10 Essential Donor Acquisition Best Practices To Help You Get New Donors.
Donation incentive ideas
What are good incentives for fundraising? There are two types of fundraising or charity incentives that your nonprofit can offer for donations:
Tangible/physical incentives
Intangible/emotional
Here are some of the most popular and effective donation incentive ideas for both types.
Tangible/physical incentives
1. Personalized incentives
This includes any type of merchandise that is personalized for the donor. Some popular options include:
Personal thank-you letters or cards that directly address the donor.
T-shirts or other accessories with the donor's name.
Getting out personalized merchandise can be a little costly or time-consuming since they generally can't be produced in bulk. For example, writing personal thank-you cards for each donor may require a lot of effort. Hence, they are most suitable for either major donors or recurring donors who have been with you for a while. 
There are three ways you can send out these fundraising incentives:
Through mail or a courier service
Hand it over during a fundraising event
Visit them at home and give it to them. Alternatively, you can also ask them to visit you for a meet and give it then.
Read Next: How To Create Donor Recognition Levels For Your Nonprofit Today
2. General merchandise
General merchandise may not necessarily include any personalization, but they still make valuable gifts for donors. Some options include:
T-shirts or other apparel with your organization's branding.
Accessories like pens, a coffee mug, keychains, masks, etc., with your branding.
A gift basket with food items, daily essentials, stationery, etc.
The American Red Cross often offers a free t-shirt during their blood drives to draw in larger crowds. Typically, they put out these posters in high-traffic areas and also on social media.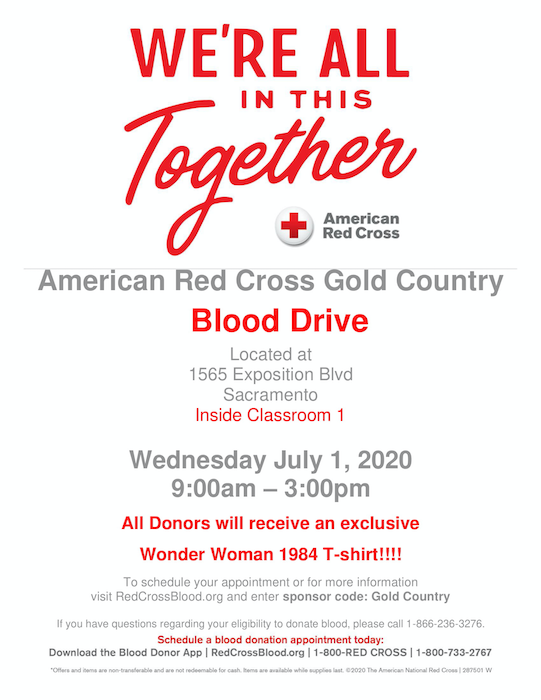 Since producing such merchandise is comparatively cheaper, it can be given to medium-sized donors or donors who just signed up for monthly giving.
You can send these gifts out by mail or hand them over in person during an event or whenever you meet them.
3. Monetary incentives
If you're looking to raise awareness, apart from raising money, monetary donation incentives like the following could work well for you:
Money: cash or check of a few dollars sent with the donation request
Gift cards for stores. You can send these after the donation too.
Tax benefits: Studies showed that giving could decrease by 125% without tax benefits. Letting people know that their gifts are tax-deductible can also motivate them to give more.
Institut Pasteur, a healthcare nonprofit, does a great job explaining the tax benefit for larger gifts on their website to motivate people to give.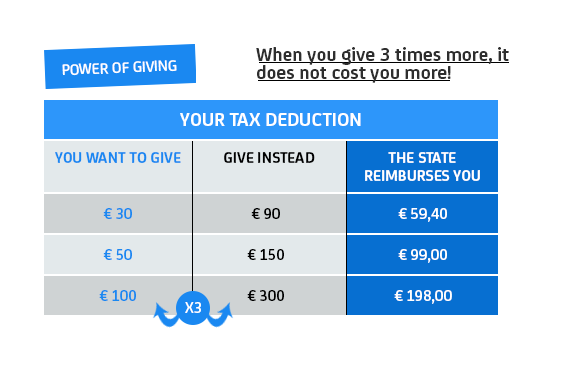 Since monetary donor incentives are better suited for awareness, they would be suitable for prospective donors who haven't given yet or lapsed donors (who might have forgotten about your organization).
Typically, cash and checks are sent out through direct mail. You can send out gift cards over mail or even digitally, for instance, in your fundraising emails.
4. Matching gifts
Matching gifts can motivate more people to give and even increase the average gift size a little.
Companies often match gifts at a rate of 1:1, or sometimes even more. Seeing that their donation can double the impact is an incentive that many donors may respond to positively.
However, to capitalize on this opportunity, you will have to market the matching gift program well, so donors are aware of it. Here are a few steps you can take:
Announce the matching gift program on social media, by email, or via a text blast.
Add the details on your fundraising page and your nonprofit's website, wherever possible.
Ask your volunteers and staff to spread the word about it in their circles.
If you're running a text to donate campaign, you could even let them know when they opt in to donate. This would encourage them to complete the donation and hence reduce drop-offs.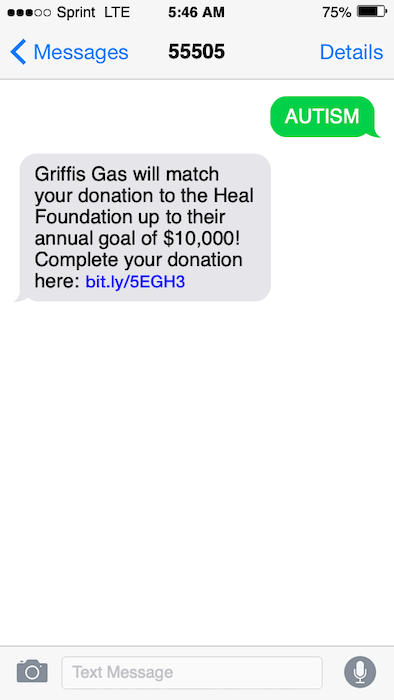 5. Fundraising auctions
A fundraising auction is a perfect incentive-based event to motivate donors. In an auction, the items people bid for are donor incentives on their own. Apart from them, the fact that the proceeds are going to charity also encourages people to give more.
A few ideas of the list of items that you can include in your auction are:
Merchandise like gift baskets, gift cards, electronics, etc.
Tickets to events or shows with high demand.
Experiences like music lessons, photography classes, etc., with an influencer.
For example, Omaze offers exciting donor incentives like cars, exclusive premieres, or even experiences with celebrities.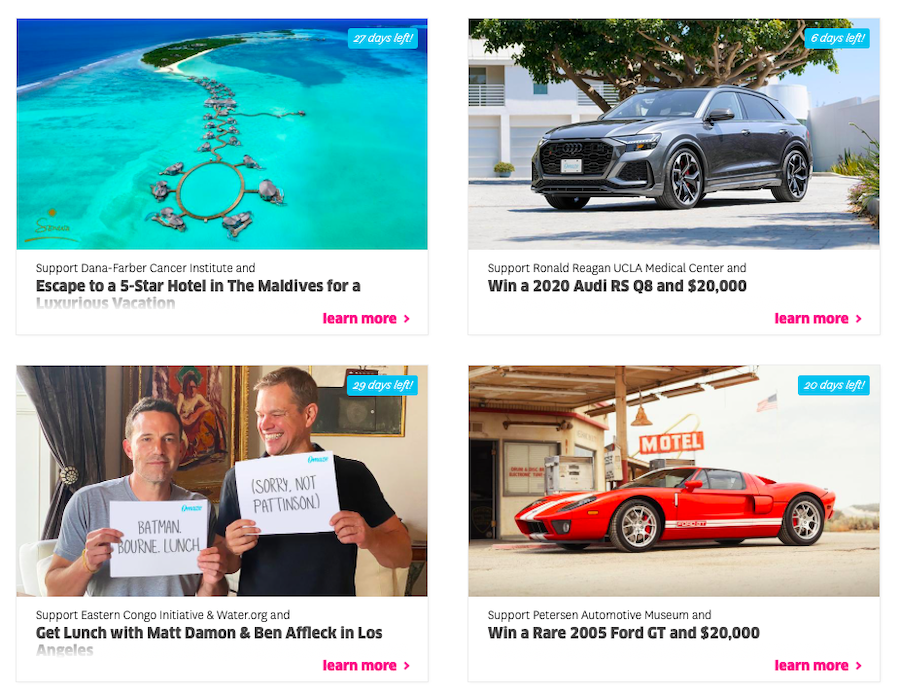 You can ask companies to gift these items to you or assign some of your annual funds to buy these items.
Apart from an auction, you can also leverage a fundraising raffle (if you can't organize an auction) and offer these items as donor incentives for winners.
Intangible/emotional incentives
1. Donor recognition
The motive of donation incentives is to motivate people to give and convey how much your organization values the donor. Directly recognizing the donor is an excellent way to demonstrate that appreciation.
You can convey your donor recognition either:
Publicly
Personally
Public acknowledgments include:
Publishing a list of all your donors publicly. You can add this to a page on your website.
Thanking donors publicly during an event. This could be a live fundraising event or a virtual event.
Shoutouts to donors on your social media handles. You can tag them, so their network is notified about it too.
Charity: Water often gives shoutouts on their social media to donors who make significant donations.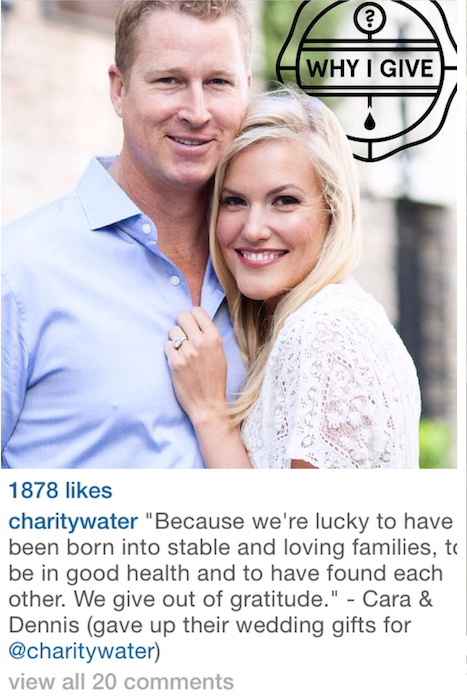 Personal appreciation is more private. It includes:
Thank-you calls to donors.
Sending donors a personal thank you note, letter, or text.
Visiting them at home or setting up a meeting to thank donors for their support.
You May Also Like: Donor Recognition Ideas: 10 Easy Ways To Thank Donors.
Choosing the right channel for personal appreciation
Personal recognition can often be a laborious task. For instance, making a call to each donor will require a significant time and manpower commitment.
The perfect channel to communicate personal appreciation for you would be one that:
Is personal and quick; it should allow you to send personalized messages in bulk.
Allows you to have one-to-one conversations with people at scale.
Peer-to-peer texting is one channel that fulfills both criteria. With P2P texting, each volunteer can send out 3600 personalized texts in an hour and continue engaging with recipients on a one-to-one basis.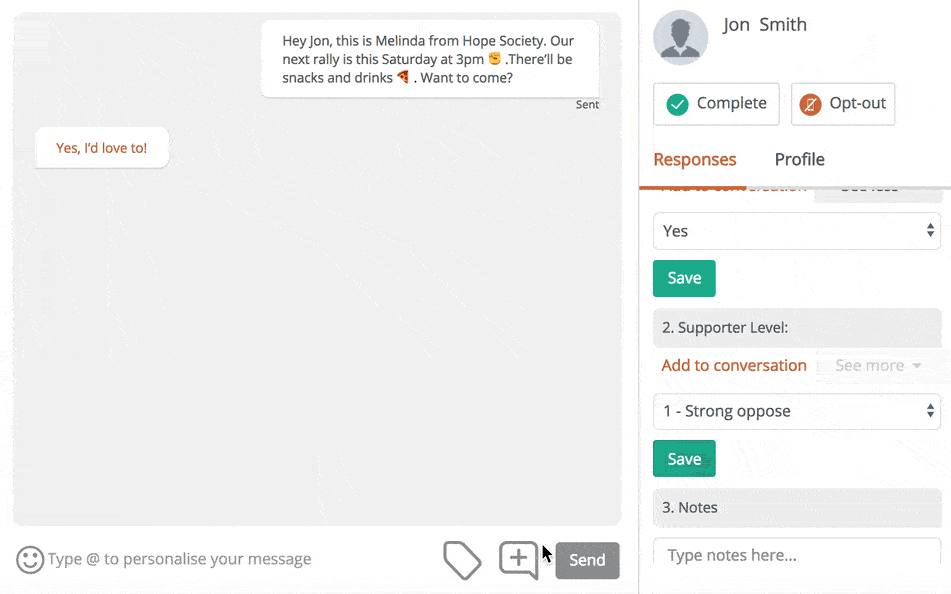 Learn more about how to set it up on CallHub here.
2. Action or close involvement
Another way to demonstrate value to your donors is by getting them more closely involved with your organization. The more closely involved they are, the more important they feel for your nonprofit.
The best way to incentivize donors with close involvement are:
Peer to peer fundraising
Asking them to be a promoter
In peer-to-peer fundraising, your donors will be responsible for:
Setting up a fundraising page with all the campaign details.
Creating visuals and compelling copy for the fundraising campaign to encourage people to give. You can help them with this.
Promote the fundraiser among their network to get more people to donate.
As a promoter, donors will help raise awareness about your organization or a fundraising campaign by:
Sending out email newsletters or texts to people in their network informing them about your work.
Sharing the fundraising campaigns details on their social media accounts for others to see.
Sharing the fact that they donated to your cause and others should do so too. This could be done through emails, social media, or even texts and calls.
Enhancing the incentive of close involvement
Both peer-to-peer fundraising and promotion can give your fundraising efforts a boost, unlike anything else. This is because people are more likely to respond to appeals made by their friends and family than an organization that they may not have any relation with.
However, often donors may lose the enthusiasm they start fundraising or promoting your campaign with, especially if they don't see good results.
One way to tackle this is Gamification.
Gamification is a way to incentivize this incentive by introducing a little healthy competition. Here's what you can do:
Set up challenges or timed contests. For example, the fastest time in which someone raises a specific amount.
Track and display the progress of each so others can take motivation from them too.
Incentivize winners of these contests with merchandise, social media shoutouts, etc.
Gamification is a simple way to maintain that enthusiasm all the way while ensuring your fundraising efforts have the maximum impact.
3. Sense of community
The need to belong to a community is inherent to human nature, and you can fulfill that need as an incentive for giving.
Create an exclusive community of donors who have special privileges that other donors may not. Promote the opportunity and let others know how to be a part of this community. Some special privileges that you can offer to these members include:
Membership card or certificates.
Exclusive content like newsletters, letters from beneficiaries, beneficiary stories, etc.
Special access to all your events without any extra costs.
Many nonprofits offer such memberships to recurring donors and some major donors. For example, for those who sign up for monthly giving, UNICEF makes them a part of their "Monthly Donor Family" with exclusive benefits.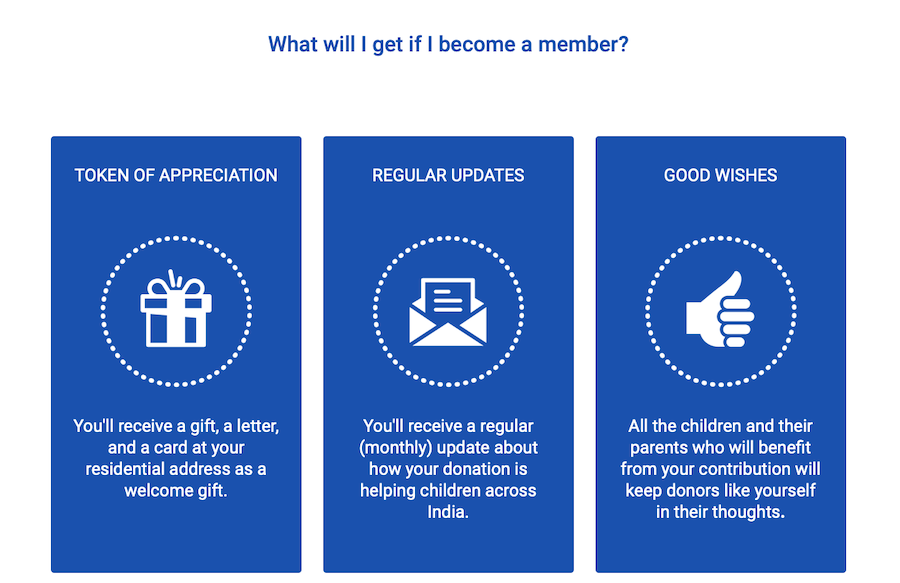 To summarize
Fundraising is a means to bring change to the world, and donation incentives are a way to maximize the results.
Do they work?: Yes, they definitely do.
Are they ethical?: Yes, they are, since they help you help those in need.
What kind of donor incentives can you give?: They don't always have to be a tangible gift (like a t-shirt). Emotional benefits, like donor recognition, work equally well. In fact, emotional incentives, like a sense of community, aid long-term supporter engagement than a physical fundraising incentive that works just for one campaign.
So, the next time you plan your annual appeals, make sure to map out a plan for the donation incentives you'll offer too.
Featured image source: Jordan Rowland