"If nonprofits are to succeed, they need to develop fundraising practices that reflect the genuine needs of donors, inspire commitment to the cause and build loyalty over time."
– Dr. Adrian Sargeant, Building Donor Loyalty.
Building supporter loyalty begins with effective donor communications. If you're not following the latest donor communication best practices, your interactions will just end up being forgotten.
Clearly, no one wants that happening. In this post, we go over donor communication best practices that can revamp your interactions and make them memorable and effective.
The Donor Journey
Before we get to the best practices, it's important to understand the different touchpoints in donor communications.
Donors go through a number of stages before committing to your organization. There's a wide gap between discovery and donor acquisition that you must bridge. This gap consists of the following stages: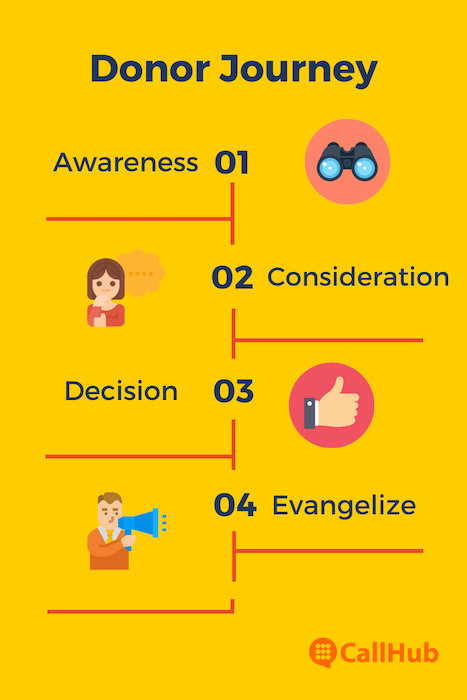 Donor communications differ in each of these stages based on how engaged they are and how much they know about you. It comprises of the following:
Awareness
In the awareness stage, people realize that they want to give. This realization is brought on by the fact that there is a problem that exists, and their help is needed.
Donor communications for people in the awareness stage revolve around:
What problems exist in the world.
Data on who and how people are affected by it.
Possible solutions and how donors fit in.
Consideration
Once prospects have decided that they want to give, the next stage in donor communications is the consideration stage, in which they contemplate who to give.
For people in the consideration stage, your donor communication comprises of:
How are you solving the problem (that you highlighted in the awareness stage)?
The impact you've made so far.
Why should prospects choose your cause or organization?
Decision
Successfully convincing prospects to donate to your organization leads to the decision stage. This is when donors decide to give to you. However, even during this stage, they may drop off for many reasons:
The donation process may be too long and off-putting.
They may feel like the donation amount they can give won't make a difference.
They may have second thoughts about giving to your organization.
During the decision stage, effective donor communications involve:
Making it easy to donate.
Keeping motivation high, so people see through the process.
Evangelize
Once people make a donation, they move to the evangelize stage where they become strong promoters of your organization. However, this only happens if you keep donors engaged, thus improving donor retention and boosting their evangelist side.
Communications at this stage typically revolve around:
How are they helping you get closer to your goals of bringing change?
How can they get more closely involved with your organization?
Effective donor communication helps supporters stay encouraged in the current stage of giving and transfer to the next without losing interest or motivation. The following donor communication best practices will help you with such nurturing.
Donor communications best practices: Awareness
During the awareness stage, you need to bring the problem you're trying to solve to the prospect's attention. Here are some donor communication best practices to help you achieve that.
1. Leverage a multichannel approach in donor communications.
A recent survey by the CMO Council asked people what communication channels they prefer when interacting with companies. These were the top five channels they chose:
Email (86% of respondents)
Telephone (65%)
Website (53%)
Text (52%)
In-person (48%)
As you can see, the difference between the most preferred channels is not as significant. This means that focusing on a single communication channel cannot guarantee that your message will be seen.
Moreover, communication preferences change from person to person and may depend on factors such as demographics and donor interests. For instance, millennials prefer texting, while baby boomers may prefer a phone call. So if you focus on a single channel, there's a good chance you may engage only one demographic and lose out on others.
Leveraging a multi-channel approach expands your reach and increases the likelihood of your messages being seen.
2. Use storytelling to highlight the problem.
Research shows that messages delivered as stories can be up to 22 times more memorable than just facts.
When you communicate the problem you're trying to solve, you want people to remember the facts, so they understand how important it is to resolve it.
Wrapping your messaging in a story helps you with that. Here's a brief of what you need for it:
Defined characters: An identifiable victim that people can relate to.
Data to support your claims and convey what's at stake.
Visuals to grab the viewer's attention.
Here's an example of Hope of Life International leveraging storytelling to highlight the problem they want to address.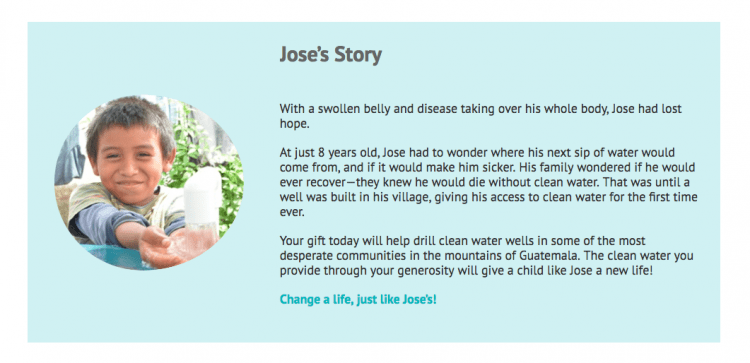 For more insights on how to create a compelling story, check out this post on Nonprofit Storytelling.
Donor communications best practices: Consideration stage
At this stage, your donor communications need to be about proving your worth as a nonprofit. Here are some best practices to communicate that effectively.
1. Leverage peer pressure.
Humans are social animals, which is why the bandwagon effect hugely influences our actions. The bandwagon effect is a cognitive bias that causes people to think or act in a certain way because they believe that others are doing the same.
You can leverage this effect in fundraising and get people to give to you by showing that others are doing the same.
You can get these testimonials from:
Major and recurring donors
Influencers
Fundraising professionals
Your organization's evangelists, etc.
Here's an example of Anchor House, a nonprofit serving at-risk youth, leveraging the bandwagon effect of using existing donors to drive donations with the #Unselfie campaign.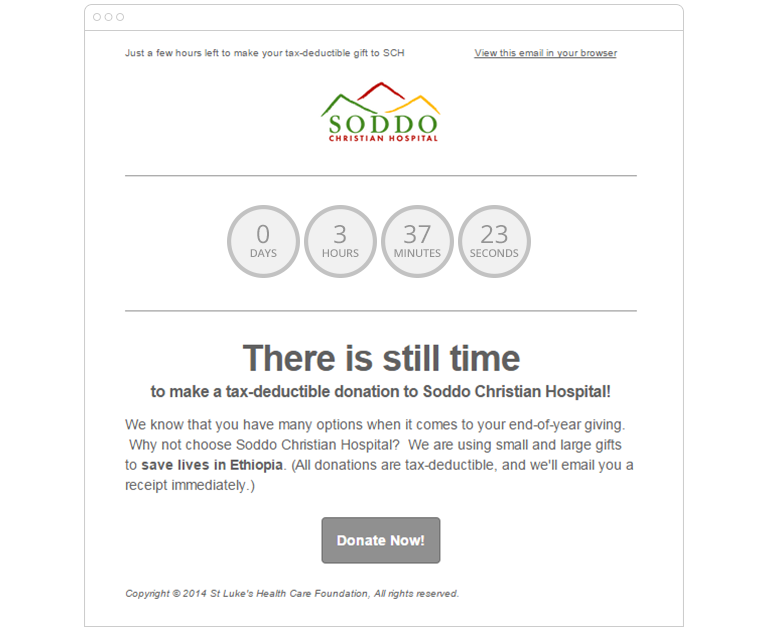 They communicated these messages via emails and social media.
Read Next: Building a digital nonprofit communication plan for the donor journey
2. Showcase impact in donor communications.
Root Cause conducted a study on the giving process and the psychology behind donor motivation. The results showed that 75 percent of respondents look for concrete information about a charity's achievements before making a decision about giving to them.
Typically, nonprofits can showcase these tangible results through:
Beneficiary stories and testimonials.
Data on how things were before you got involved and your subsequent impact.
Visuals that showcase you in the process of helping out.
Here's an example from Feeding America that showcases beneficiary stories on their website.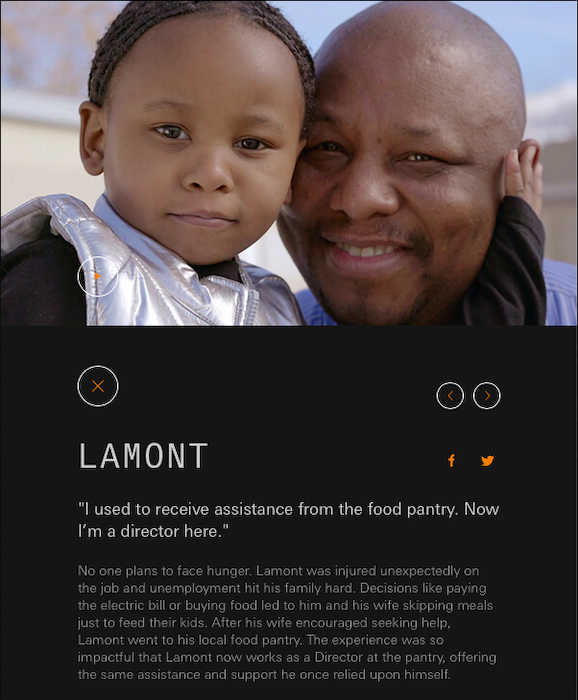 They also make storytelling videos and post them on social media. You can include such visuals in your emails, and your nonprofit's impact reports too to trigger donor interests.
Donor communications best practices: Decision
In the decision stage, the best practices for donor communications should be focused on helping donors see through the donation process.
1. Be specific about your asks.
When making a fundraising appeal, ask for a specific amount – for example, a donation of $50.
This is called price anchoring. When it's hard to value or put a price on something, humans tend to rely on price anchors.
Donations are a perfect example of that. People can't figure out how much it costs to help your beneficiaries effectively. They might give you small contributions when you needed them to be major donors.
This is why they need an anchor to guide the amount they give. Higher anchors have been shown to increase average gift sizes by 41%.
You don't have to worry about losing people who can't give as much or want to give more. Use price anchoring to get them on the donation form first and then provide them with options while ensuring that:
You highlight/autoselect one option as the most commonly chosen amount. This will be your main anchor and will also add a peer pressure effect, so people don't choose the lowest one.
Provide an option to enter a custom amount so donors can give more or less than the anchor if that's what they are more comfortable with.
For example, Wikipedia followed this best practice and asked for a specific amount but also gave more options to choose from in their form.

2. Include a strong CTA.
Whether you're sending out an email or a fundraising text, including a strong call-to-action is a best practice that you must follow for effective donor communications.
An effective call-to-action in your communications serves two purposes:
It tells people exactly what to do.
It motivates them to act on it.
A CTA doesn't necessarily mean a button on a page. CTAs apply to all kinds of donor communications.
For example, here's a CTA for text-to-donate on a physical poster that serves both the purposes of a typical CTA.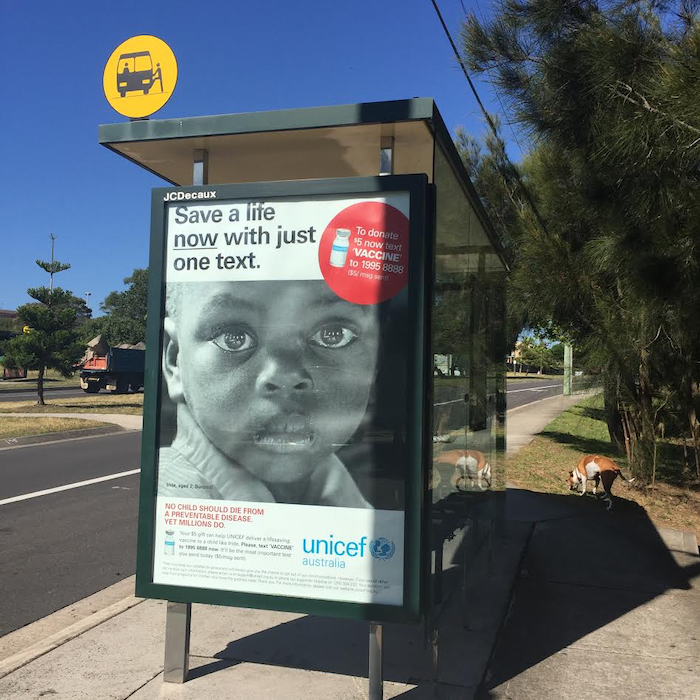 For more insights on how to create an effective CTA, check out this post: How to create an effective call-to-action
3. Follow-up with drop-offs
No matter how effective your efforts are, some people may still drop off during the decision stage. Don't be alarmed; there's still a good chance you can get them back.
As per studies and fundraising professionals, it takes between seven to twelve touchpoints for a donor to make a decision to donate to your nonprofit.
This shows that while some people may convert after the communications during the awareness, consideration, and initial parts of the decision stage, others may need an extra nudge.
Following up with nonrespondents is a donor communication best practice that helps you tackle this. These follow-ups typically include:
Reminders for the appeal.
Added information (like more reasons why you need the donation) to motivate prospects.
Here's an example of Soddo Christian Hospital sending out reminder emails to people who didn't go through the donation process.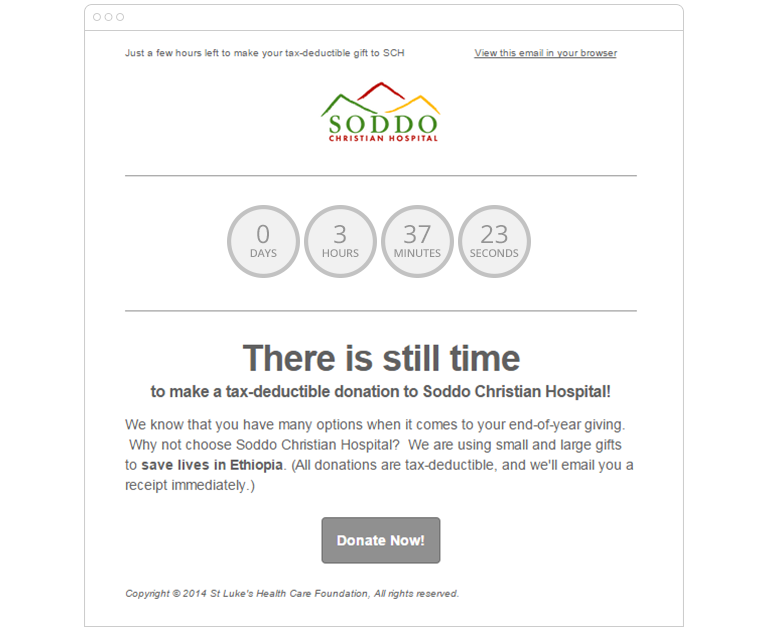 You May Also Like: 10 Essential Donor Acquisition Best Practices To Help You Get New Donors
Donor communications best practices: Evangelize stage
In the final stage, donors—especially major and recurring donors—will become evangelists of your organization. But that won't happen if they aren't happy enough after donating. Here are some effective donor communication best practices to keep their endorphins levels high.
1. Use donor-centric language.
Whether you're sending out a thank-you letter or making a thank-you call, using donor-centric language is critical.
Why?
Two reasons:
Donors made the gift because they want to be a part of the solution, the change you're bringing.
They want to feel valued and good about donating.
Only then can you ensure donor loyalty and boost donor retention.
Making your interactions more donor-centric is just about replacing the "I's" with the "You's." So instead of talking about how you will bring change, focus on how the donor is helping you accomplish it.
Here's a great example of a donor appreciation letter that leverages a donor-centric tone.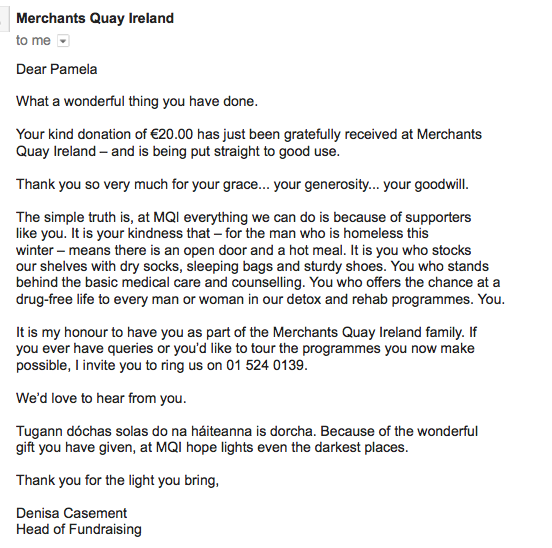 For more insights on using donor-centric language and recognizing donors the right way, check out our post on Donor Recognition.
2. Personalize communications.
One of the most important donor communications' best practices is to ensure that all communication is personalized.
As per communication trends of 2021, personalization is not optional anymore. Studies show that 72% of people only engage with personalized messaging.
For nonprofit communications, personalization can also directly translate to more funds. A survey by Accenture showed:
59% of people would give up to 10% more for a more personalized experience.
25 % would donate up to 25% more.
8% said they would donate up to 50% more.
To personalize your communication, you will need a streamlined process to collect donor data to be used for communication. Organizations typically depend on collecting this data via Chatbots and SMS opt-ins.
Collecting donations through text
With a staggering 45% response rate and no additional requirements (like an internet connection or visiting a website for a chatbot), SMS proves to be a more efficient way to collect donor data.
Here's how you can collect data with a mass texting tool, like CallHub:
Create an SMS Opt-in campaign
Set up text autoresponders to reply to donors when they send in the keyword. You can create a conversation flow with these auto-responses to collect relevant data.
Schedule follow-ups to be sent to nudge donors to reply in case they stop responding.

Here's an example of what the flow would look like: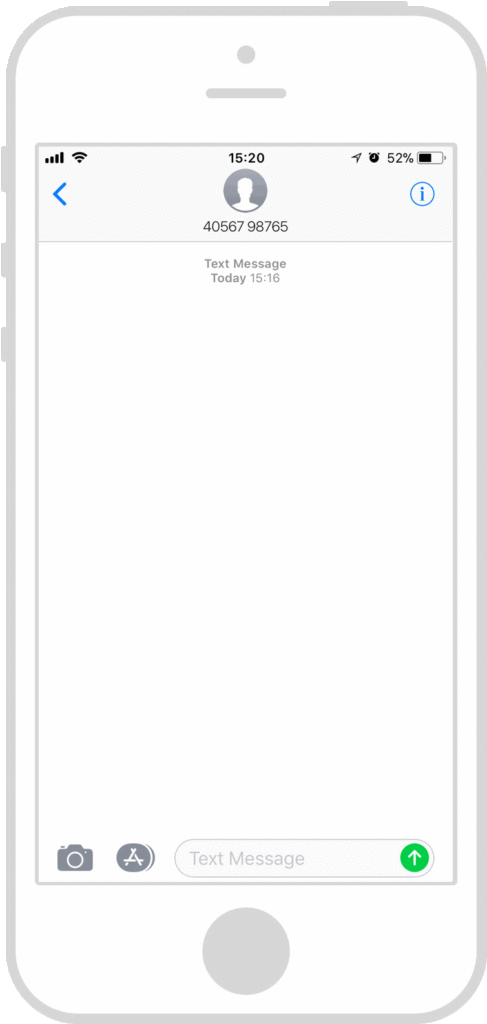 Learn more about SMS data collection here.
3. Keep the conversation going for optimum donor retention.
As per Dr. Adrian Sargeant's research, some of the top reasons why donors leave include:
Thought the charity did not need them – 5%
No information on how donations were used – 8%
No memory of supporting – 9%
Never thanked for donating – 13%
Poor service or communication – 18%
The total is a staggering 53%. However, what you may not notice is that all these departures can be avoided by simply ensuring proper and regular communication with donors. Here's how:
Sharing your nonprofit impact report and your future plans cover the first two points.
Regularly sending newsletters with updates, achievements, new campaigns, etc., can help ensure they remember supporting you.
Appreciation letters and thank-you calls cover the fourth point.
Asking them for feedback, testimonials, and promptly replying to their inquiries helps you with the final reason.
Consistent communication helps you build strong donor relations, which in turn significantly improves donor retention.
The way people interact is constantly evolving, and it's essential that your strategies evolve with them, too, if you want your messages to be seen. The donor communications' best practices highlighted above help you with that.
So make sure to include them in your communication plan and follow them more strictly. For more insights on building an effective communication plan, check out this post: Building a Nonprofit Communication Plan for the entire donor journey.
Featured image source: Puwadon Sang-ngern