Donor acquisition might not be as huge a buzzword as retention in the nonprofit sector. However, it is equally important and is the only way to keep your nonprofit growing.
But, convincing someone to donate is a huge ask and often challenging. The average donor acquisition rate is:
0.65% for cold prospects (those who have no prior relationship with you).
2% for warm prospects (those who have interacted with you in the past).
While the numbers are small, the donor's lifetime value will make up for the costs you put into acquiring them.
So, why not aim high to acquire new donors?
We list out some of the most effective donor acquisition best practices to ensure that your strategies are lucrative from the start.
Donor acquisition best practices
As we saw in the stats above, you're more likely to secure a donor if you have an existing relationship. That requires regular interaction before making the fundraising ask. Keeping that in mind, your donor acquisition process can be split into two stages:
Getting prospects' contacts and nurturing them.
Securing a donation from them.
Here are some best practices to help you make the maximum impact in each stage.
Donor acquisition best practices to capture leads
When trying to get prospects' contacts and nurture them, here are a few steps that you can take to maximize your results.
1. Define your branding elements.
These elements include:
Your logo
Brand color scheme
Tone of messaging
When you market your content, these elements register in your prospects' minds. This familiarity with your brand, in turn, breeds trust and preference. This is the familiarity principle.
Therefore, when you approach them with a small ask (like asking for their email), they are more likely to respond positively to you than to a brand that they don't recognize.
So before you try to reach out to people, build this trust by defining your brand. It'll make your nonprofit's marketing and outreach more fruitful.
2. Offer something in exchange.
If you approach a stranger and ask for their contact, the first response you're going to get is, "Why?"
Instead of going through the awkward conversation, prepare for the "Why" and present it before making the ask. This way, you're more likely to hold their attention and get them to give you what you want.
As a nonprofit, here are a few things that you can offer in exchange for contact information:
Guides or eBooks that they may find interesting or helpful.
A chance to win something (coupon or merchandise) in the form of a raffle.
Exclusive content.
Here's an example of how a community pet center offers valuable content to get the prospect's email.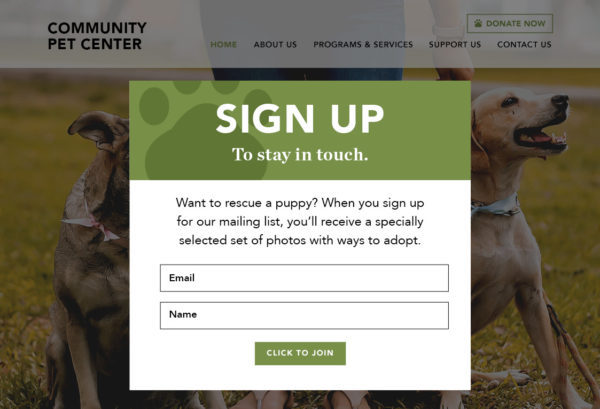 3. Leverage recent subscribers to spread the word.
This can be the start of your nurturing (while also a way to get more contacts).
People signing up for your list (be it your email list, blog updates, or a petition) is a sign of high engagement. At this point, they are likely to respond positively to small barrier requests.
A simple engagement strategy would be to ask them to share the fact that they signed up to your list and invite others in their network to do the same.
This also puts you in front of a new audience that presents the opportunity of procuring new contacts. Plus, since the invitation is by someone familiar, the probability of people signing up increases.
But you can't go overboard with it, or you risk putting them off.
Our Health California does this by encouraging new email subscribers to share a pre-written tweet or a Facebook post with their networks.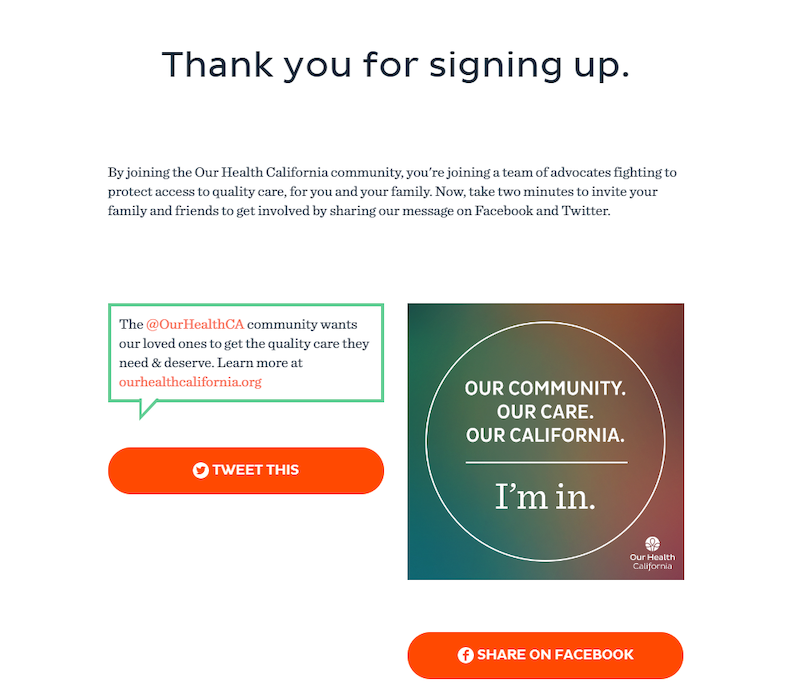 4. Invest in the right tools as a donor acquisition best practice.
Successfully nurturing supporters requires your communication to be:
Timely
Consistent
But the more people sign up to your list, the harder it's going to be to keep up. With the right tools, however, you can automate all your communications to check the above boxes.
Ideally, here are the tools that you should invest in:
CRM: This will be the hub of all your data and integrate with other tools to ensure a seamless two-way flow of data.
Email marketing tool: To help automate email nurturing flows and schedule regular updates/newsletters for your contacts.
Call center software: Connecting with prospects over a call is highly personal and effective in helping build a strong relationship. A call center tool lets you do this on a large scale.
SMS Marketing software: With higher open and read rates than any other channel, SMS marketing is perfect for communicating with prospects. Like email, an SMS marketing tool can help you automate message flows.
5. Personalize your outreach.
Personalization is another essential aspect of your communications.
72% of people only engage with personalized messaging. That means a majority of your prospects will ignore all your communications if they are generic and impersonal.
Apart from addressing prospects by their names, personalization also entails:
An individual communicating with the prospect rather than an organization (as in the example below).
Referencing small details like prospects' interests, challenges, past interactions with your organization, community, etc., in your messaging.
Expressing your interest in knowing more about the prospect so you can align your messaging and outreach as per their preferences.
However, implementing this donor acquisition best practice requires you to have some initial intel to implement personalization. Here are a few ways you can get that information:
Send out a survey with the welcome email when a prospect signs up. You could also run text surveys if you get their mobile number when they sign up.
Carry out prospect research to learn more about leads. There are tools and consultants who can help you with it.
Leverage petitions, event invites, and gated content to get more data from them.
Here's an example of a simple follow-up email survey sent by WWF to know more about a prospect after they sign up.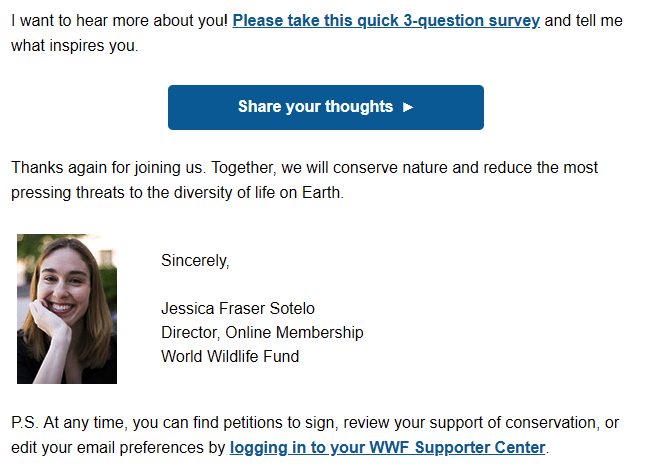 Once the data is added to your CRM, your communication tools will take care of personalizing all communications using merge tags.
Best practices to get more donations from prospects
All your nurturing leads up to this, the fundraising ask. Here are a few ways to get more people to respond positively to that ask.
1. Focus on targeting high-value prospects first.
Conducting prospect research reveals a lot about your prospective donors' past affiliations, giving history, characteristics, etc.
This information comes in handy to prioritize high-value prospects. Here's how to identify these prospects:
Look for similar characteristics among prospects and current loyal donors.
Analyze the prospect's giving history to other nonprofits.
Look for wealth indicators to gauge the prospect's giving capacity.
Analyze the kind of causes the prospect has affiliations with to identify their affinity for your cause.
Filter out these prospects and plan for a fundraising campaign to appeal to them.
Securing donations from these prospects first ensures a higher ROI for your nonprofit's fundraising campaign. This, in turn, helps you cover the costs of acquiring donors who may not have a high first gift value but a high lifetime value.
2. Make donation asks as per the prospect's giving capacity.
A prospect's giving capacity isn't just helpful in prioritizing your outreach but also improving your appeals. A donor acquisition best practice is to request an amount that suits the prospect's giving capacity instead of asking for a blanket amount to all prospects.
Asking for a major gift from a prospect with a low net worth wouldn't be wise. But an appeal for a micro-donation increases their chances of donating because it's within their reach.
Here's what you can do to implement this:
Rate each prospect based on their giving capacity starting from 1 for the lowest range.
Segment your list based on these ratings.
Plan your fundraising appeals for each segment.
Here's a sample of a rating scale you could use:
| | |
| --- | --- |
| Rating | Giving capacity range |
| 1 | $1 – $1K |
| 2 | $1K – $2K |
| 3 | $2K – $3K |
| 4 | $3K – $5K |
| 5 | $5K – $7.5K |
| 6 | $7.5K – $10K |
| 7 | $10K – $15K |
| 8 | $15K – $20K |
| 9 | $20K – $25K |
| 10 | $25K – $30K and so on… |
You can group the first five rows and plan for mass scale appeals (like email or social media) and more personalized appeals (like telephone fundraising) for the higher-value five.
3. Leverage existing donors to raise funds from their networks.
This is the principle of peer-to-peer fundraisers.
If your donor acquisition rates are low, getting current supporters to make appeals to prospects kills two birds with one stone:
It keeps existing donors more engaged and makes them feel like an important part of your nonprofit.
It increases the chances of getting more donations because people are more likely to respond to appeals from their peers.
With P2P fundraisers, however, the chances of your donors getting through to the prospects you want might be slim.
What you can do instead is use a tool like Prospect Visual to map out relationships between existing donors and your target prospects. Use this data to directly ask existing donors to appeal to the specific prospects or make an introduction.
Keep in mind that donation appeals or making an introduction is a much higher-barrier ask than requesting people to sign-up to a list. While the latter is the perfect way to keep new prospects engaged, the former would put them off. Save these appeals for your strongest supporters.
4. Leverage donation incentives.
A lot of your prospects may not be motivated enough to donate just yet. Donation incentives are a smart strategy to encourage them to do it.
If you're riddled with the morality of this practice, be assured that it is both ethical and commonly used.
When we talk about incentives, it doesn't necessarily mean monetary. It includes both tangible and intangible (or emotional) incentives like:
Personalized thank-you letters or cards.
Nonprofit merchandise like branded t-shirts, mugs, etc.
Public recognition or acknowledgment.
Exclusive membership opportunity with multiple benefits.
Tax benefits.
UNICEF's exclusive membership opportunity for monthly donors is a perfect example of donation incentives done right.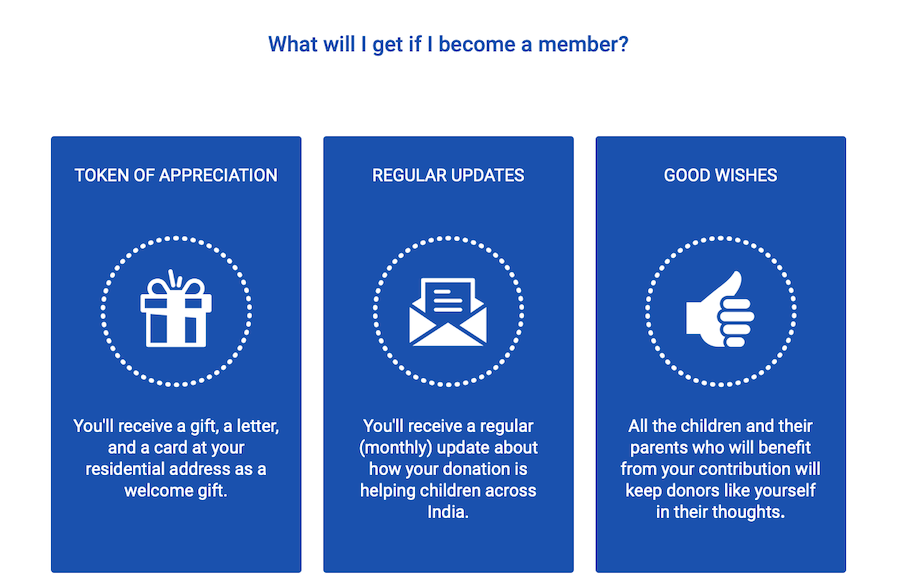 5. Use a storytelling approach for appeals.
Stories make appeals more convincing.
People don't make decisions based solely on data or statistics. Emotions are an essential component of decision-making. Stories make it easy to induce those feelings and drive impulsive action (in this case, a donation).
A good story comprises of the following elements:
A beneficiary and what they're going through.
How your nonprofit fits into their story and is trying to bring change.
The donor's importance in your mission and how their actions affect the beneficiary.
A suitable and specific ask.
Here's a great example of a nonprofit's storytelling approach as a donor acquisition strategy from Catholic Medical Mission Board.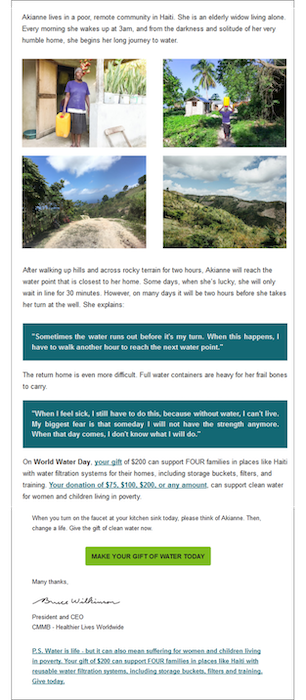 Moving forward
These donor acquisition best practices can help you improve your acquisition rates and expand your donor base. But your job doesn't end with that.
Here's what you need to do as you advance:
Keep track of acquisition costs for every channel: If the costs for a channel are too high and the returns too low, stop using it or work on optimizing the process.
Have a stewardship plan for all your new donors: You'll see more value from your donors if you successfully retain them and get repeat donations. A good stewardship plan helps you do that. Here's a resource to help you build one: Donor stewardship plan.
These steps will help you get the most out of your outreach even with limited resources and keep your nonprofit growing.
Featured image source: Photo by Lukas from Pexels