Have you ever thought about what could motivate your donors to give more?
Well! You don't have to wonder.
When you can know by asking the right donor survey questions.
If you are in the fundraising industry, you would know how important it is to segment your donors.
But, for segmenting these donors (based on their preferred mode of communication, average donation, etc.) or even getting their feedback on various aspects, you would need to ask them relevant questions. The data that you collect with these surveys will help you to make better decisions.
Surveys can help you with event planning, donor recruitment, volunteer activities, and much more. A donor survey can help in strengthening your relationship with your donors.
This will make donors feel that you value their opinion and want to engage them beyond monetary asks. This way, they will feel invested in the cause and that would increase your donor retention.
With this in mind, let's dig into the various aspects that will help you in creating a perfect donor survey.
Important aspects of the donor survey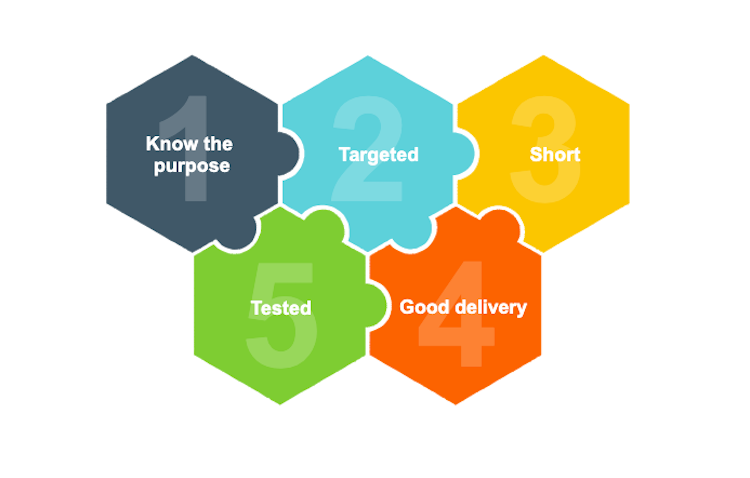 Know the purpose of your survey
Never ask your donors to take their time off to fill a survey unless you know what information you want to obtain and what strategic decision you will make out of it.
You should have a clear idea about your goal with the survey. This will help you measure its effectiveness.
For instance, if your initial goal is to get feedback from at least 60% of the people who attended your last fundraising event. Once you get the feedback, you have a number to quantify whether you got an adequate number of responses to make a good case out of it.
Target your survey
You don't want everyone in your CRM list to get the survey. Select your audience based on the purpose of the survey.
For instance, in the case of the previous example where you want to take feedback from the people who attended your fundraising event, you won't be sending the survey to everyone in your CRM, but to only those who have attended the event.
Short Survey
A well planned, short survey is likely to get more responses in comparison to an extensive one.
If you have a lot of questions, then you can split the survey into two. It's better to get 100 responses in two parts to a short survey than 10 responses to a long one.
Have closed-ended questions that are quick and easy to complete. That will give you uniform answers that you can use to segment your donors. E.g., multiple-choice, yes/no questions, checklists, etc.
For instance, if you want to get the opinion of people who attended your fundraising event, an example of a closed-ended question can be, "Would you recommend someone to our future fundraising event?"
Here you can offer an option of "yes," or "no." In this way, you are sure to get a decisive answer to your question.
Good delivery of the questions
The platform that you use for surveys can also have a significant impact on the response rates since most of your survey would be delivered online.
Even if you have the options of good and cost-effective tools such as SurveyMonkey or even Google Forms (they have an option where you can send the survey as a part of the in the mail body, therefore, the people don't have to open another link from the mail to reach that survey).
But, whichever online tools you use, there are a few basic things that you should always consider:
It should be easy to understand for the user as well as easy for you to get a meaningful conclusion out of it.
Your survey should work well with all the browsers
Make sure that your survey should be mobile-friendly.
You should also send reminder messages to your donors who have yet to fill the survey, and not to those who have already responded.
Test your survey
Just like a blog post, your survey also needs to be tested and proofread before being sent out.
To test a survey, you can send it to a group of friends. Let them complete it while you sit with them. This will help you to understand where they hang up. Those are the areas that you need to work on before releasing the survey.
Once you have covered these points, then comes the part where you have to divide the questions according to the survey type.
Donor survey types and questions
Often asking the right questions to the right people will help you to get the information you need. Here are some common survey scenarios.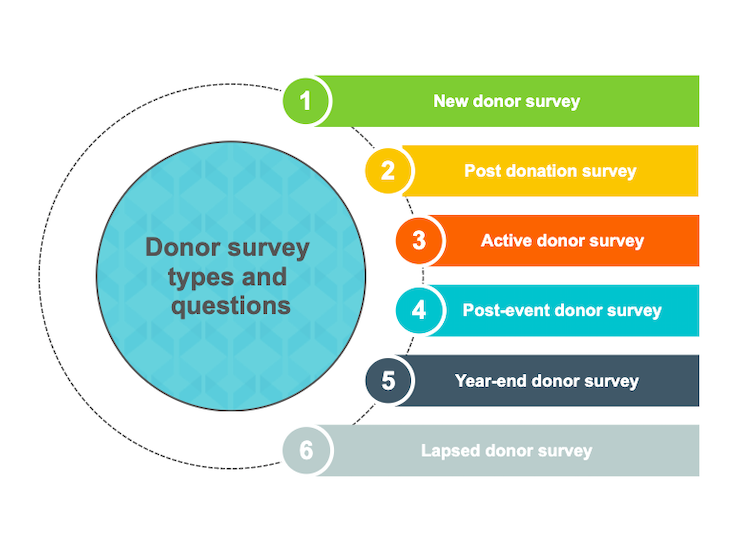 New donor survey
It can be part of a new donor's welcome kit. Where you can ask these questions to get a better understanding of them. This survey can have the following questions:
Why did you choose us?

What are the specific causes are you interested in?

What problems did you face while donating?

A few personal details, such as name, gender, DOB, email-id, address, etc.
This is a very crucial step as interacting with your donor personally will help in the first-time donor retention rate.
Active donor survey
Communicating with your active donors helps you find the areas you can work on when it comes to donor engagement. This survey helps you to know your donors better and focus on their pain points to improve their overall experience.
This survey can also act as a net promoter or customer satisfaction survey. It can include questions such as:
How would you rate the experience of receiving donation updates through email?

What is your favorite or least favorite part of our recent fundraising event?

How likely are you to tell your friends and acquaintances about our charity?
Active donor survey can be further classified into three types:
Post donation survey
It is one of the most important surveys, and every nonprofit should do this after a donation drive. You can ask your donors to do a small favor after they have donated and ask them to fill in the survey as this will help in improving their donor experience.
This will help you get their feedback, which you can use to improve your marketing, awareness, and donation plans.
Try asking donors:
How do you prefer to donate?

How much impact do you think your donation makes?

What other causes do you support?

What inspires you to donate?

How would you like to be updated about future donation drives?
Post-event donor survey
You can measure the success of your event by taking a look at the net amount raised (total amount – expenses) and see if it met the initial goal that you had set. You should also look at the intangible benefits. That's when the donor survey can come in handy.
This survey can be taken after 2-3 days of the event. In this survey, you can ask questions such as:
On a scale of 1 – 10, how much would you rate the event?

Would you have changed anything in the event?

What is the one thing that you liked?

Which mode of communication would you prefer to be informed about future events?
This kind of feedback comes in handy as you plan your next event.
Year-end donor survey
Year-end is the best time to evaluate your nonprofit's overall success.
These surveys are the best to send targeted questions according to the donor's participation throughout the year. You can ask questions such as:
Which campaign did you like the most?

Through which mode of communication did you get to know about most of our campaign details this year?

How would you rate the current relationship between you and the nonprofit?

What are the things that you would like us to implement next year?
Lapsed donor survey
This survey is a great way to re-engage with your donors who have stopped giving out of the blue. In these types of surveys, before asking your donors questions, you can start by making an appeal to come back to the organization. This survey can include questions such as:
What can we do to encourage you to renew your support?

What are the things that you disliked about our nonprofit?
The emotion of this survey letter and their honest feedback can have three possible outcomes.
The letter is enough, and the donor donates
The donor doesn't donate but completes the survey
They complete the survey and donate
With every survey method you use, make sure you segment your donors. Once you have a segmented list, it will be easier for you to send survey questions according to the segment you're targeting.
These survey results will prove to be helpful over time as, by this, you will be able to know your donor behavior patterns.
You can use this to make relevant changes that will, in turn, help in improving donor experience and retention.