Peer-to-peer fundraising is known for its effectiveness as a donor acquisition strategy. It expands your reach to your supporters' networks. These may be people who have never heard of your organization and, despite that, decide to donate just because the ask came from a friend.
But, before you dive into peer-to-peer fundraising, it's ideal to understand its basics to get the best out of your campaigns.
What is peer-to-peer fundraising?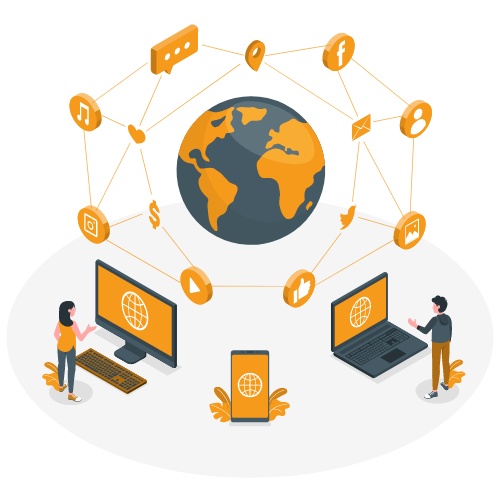 Peer-to-peer fundraising, also known as P2P fundraising, is a fundraising strategy that empowers individuals to fundraise on behalf of an organization. As a part of this, volunteers share campaign pages they made for your nonprofit with their network, mainly consisting of friends and family members.
The people who are donating do so because they trust the person who is asking them, and the donation goes straight to your nonprofit.
What are the benefits of peer-to-peer fundraising?
We said peer-to-peer fundraising is an effective fundraising strategy. Let's see why.
1. It builds on current relationships
When your existing supporters fundraise on your behalf, they feel responsible for working for your cause. They'll understand your work and bond with you on a much deeper level.
2. It increases awareness of your cause
All that information about you flowing through your fundraisers' personal networks helps in acquiring donors and increases awareness of your cause. This happens because your nonprofit gets exposure to each of your fundraisers' networks.
3. It boosts donor acquisition
With a peer-to-peer campaign, you get access to many potential donors who may not even have heard of your nonprofit before.
4. It helps you gain your audience's trust and improves engagement
People are much more likely to trust your organization if they hear about you through someone they know. (Source: YouGov America) Thanks to social proof, they now form a personal connection with you and your work.
5. It motivates giving in your fundraisers' network
Humans want to belong, and as you know, peer pressure is real. (Source: Verywell Mind) When your donors' friends and family see them making a positive impact, they would want to be a part of it too.
There's a lot more to peer-to-peer fundraising. However, you can enjoy all these benefits only when you start your campaign the right way.
How do you start a peer-to-peer fundraising campaign?
Compared to many other fundraising tactics, getting started with a peer-to-peer giving campaign is easier.
Here's a step-by-step process you can follow.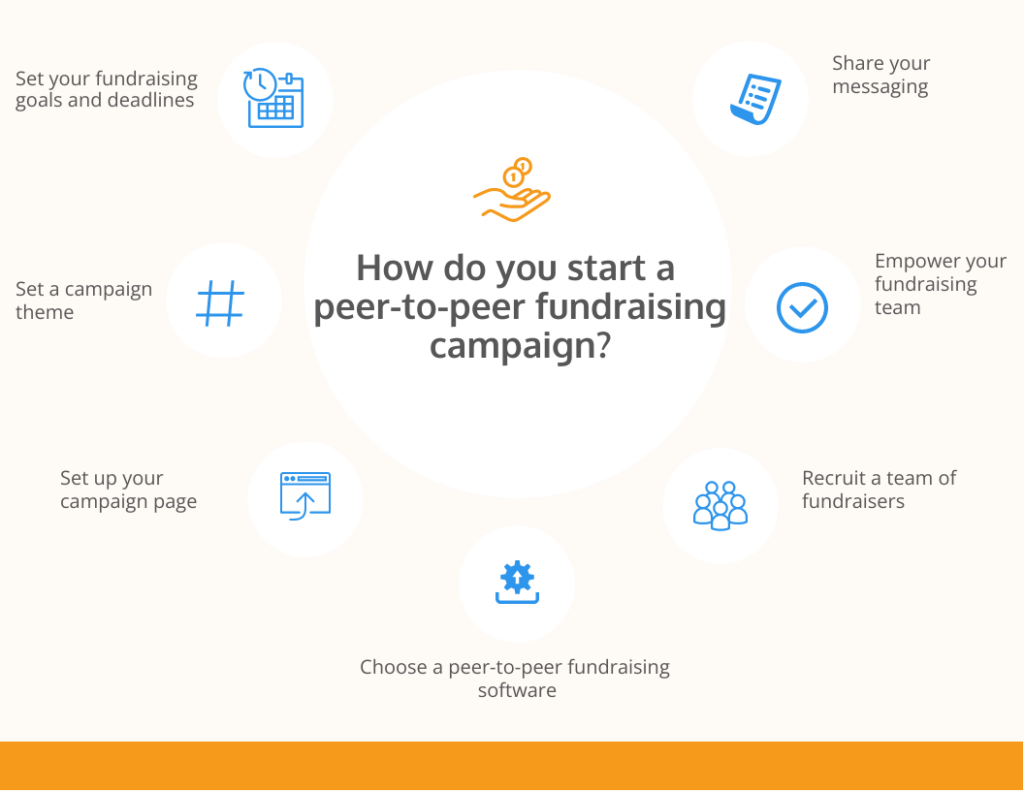 1. Set your fundraising goals and deadlines
Set a fundraising goal you'd like your team to work towards. Base it on your past successes and set a slightly higher goal this time, aligning with your cause's needs. This way, you escape the risk of setting an unrealistic goal and discouraging your team.
Also, set a deadline for your fundraisers. This sense of urgency motivates them to get started immediately.
2. Set a campaign theme
What is your campaign about? Is it directly related to your mission? Is it an annual event? Define a theme for your campaign and base your messaging around it.
3. Set up your campaign page
A campaign page is what helps prospective donors learn about your fundraising campaign. This campaign page serves as the frame of reference for your fundraisers' individual campaign pages. This will ensure that your brand identity stays the same throughout the campaign.
A campaign page should have all the important information about your campaign, nonprofit, and cause. More importantly, it should dedicate space to collecting donations.
4. Choose a peer-to-peer fundraising software
This depends on your needs and budget. Choose a platform with the right features required to meet your fundraising goals. With the right software, your team will be able to execute your strategy effectively.
We'll cover the key features to look out for later in this article.
5. Recruit a team of fundraisers
Fundraisers are the pillars of a peer-to-peer fundraising campaign. Here are some supporters who will make good peer-to-peer fundraisers:
Board members
Existing volunteers
Donors
Staff members
Partners
Event attendees
6. Empower your fundraising team
Although your fundraisers are enthusiastic and eager to raise money for your campaign, they need the right resources to get started and be successful.
Empower them with
Campaign details
Brand guidelines and your media kit
A set of fundraising scripts
Visuals to accompany your stories
Social media posts
Access to the necessary tools, and
Training to get started.

7. Share your messaging
Determine the messaging you want to convey. Share your nonprofit's stories with your fundraisers and encourage them to share them.
We have a complete guide on hosting a peer-to-peer fundraising campaign that follows the format of an ideal peer-to-peer fundraising strategy. Check it out here.
What to look out for in a peer-to-peer fundraising platform
In order to run the best peer-to-peer fundraising campaigns, you need the right peer-to-peer fundraising software. The right tools will help you execute multiple aspects of your campaign, and you need to know what is considered right.
This section will help you understand that.
1. Customization options
Powerful tools offer customization options so your fundraisers can brand their individual campaign pages with your brand identity and with a personal touch. This way, your potential donors get a consistent experience.
2. Social sharing
Make sure your tool allows sharing of the campaign pages. This enables your fundraisers to share their campaign pages with their network, especially on social media.
3. Mobile-friendliness
There may be potential donors who view your campaign page on their phones. For them to have a positive experience, your site needs to be mobile-friendly.
4. Integrations with other relevant virtual tools
Your fundraising platform should integrate with all other tools that may be a part of your campaign—for instance, a communication tool, your CRM, etc.
5. Gamification
Gamification is an important feature that helps you keep your fundraisers motivated. This could be as simple as showing a fundraising thermometer, a leaderboard, etc. Make sure your platform facilitates that.
Here's a list of some of the most highly rated peer-to-peer fundraising software.
How do you encourage participation in your peer-to-peer fundraising campaign?
Your fundraisers are the key to your peer-to-peer fundraising campaign. Without a motivated team of fundraisers, all those benefits you saw above will only seem like a dream.
Here are three actionable tips on getting the best out of your fundraising team.
Set individual goals for your fundraisers to motivate them. Alternatively, you can work with them to customize a goal for them based on their availability. Break this goal down into smaller goals, so your fundraiser gets the chance to celebrate small wins.
Gamify your campaign with a little friendly and healthy competition. This is a fantastic way to increase interactions among your fundraising team. One example is leaderboards that show some of your top fundraisers.
Recognize the achievements of your peer-to-peer fundraisers. Expressing gratitude and recognizing achievement always goes a long way. Congratulate them and encourage them to keep going when they've hit a milestone, say, 50% of their goal. A shoutout on your social media pages, sending a personal text, or making a personalized call are some ways you can go about it.
What are some peer-to-peer fundraising ideas?
Events are one of the best ways to engage potential donors, and when they get an invite to one of these from someone they know, it increases the chances of them attending.
Let's dive into some creative peer-to-peer fundraising campaign ideas.
1. 5K races
5K races are popular for the high amount of energy they spread among the participants.
Here's how it can be a peer-to-peer fundraising campaign:
You ask your fundraisers to create individual event fundraising pages and promote them among their network. The participants pay a sign-up fee which goes to your donation box.

2. Video challenges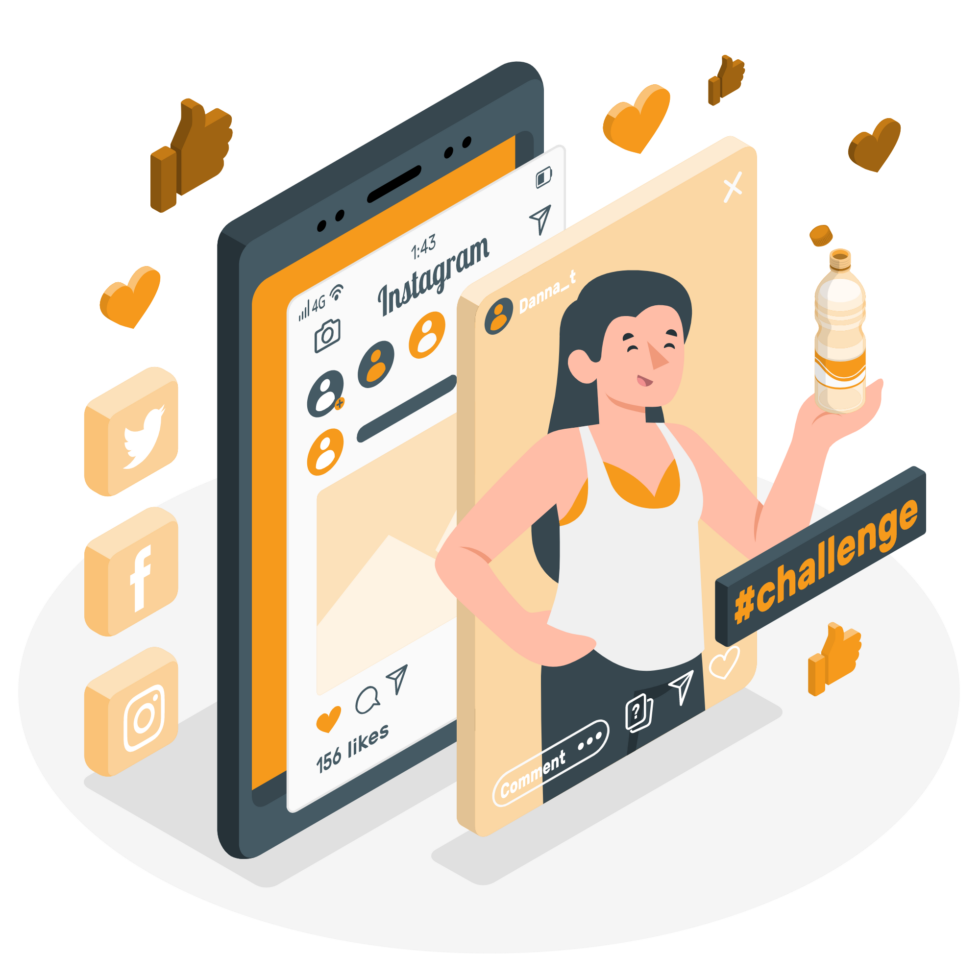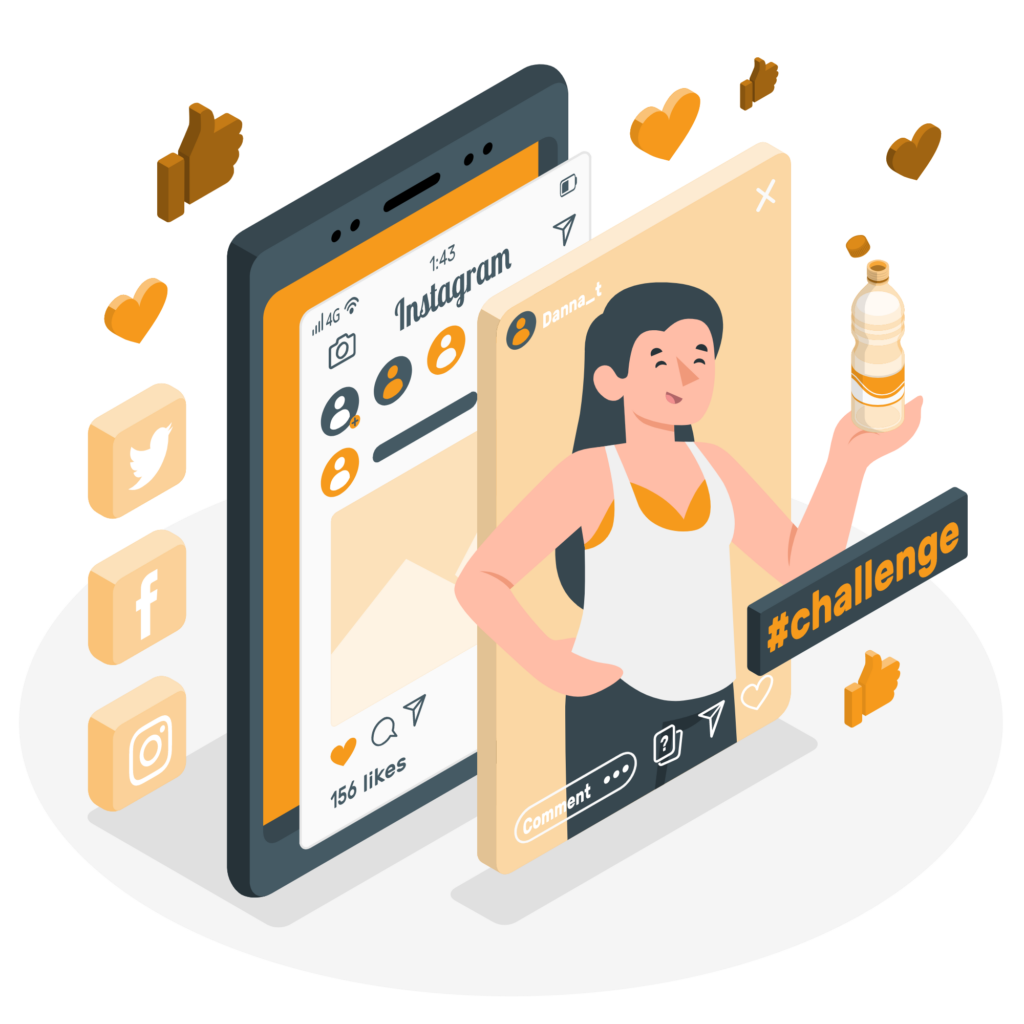 The idea behind a video challenge is to invoke an action in the nominated person. The ice bucket challenge is a popular peer-to-peer fundraising example where a person pours a bucket of ice on their head and nominates someone else to do the same.
You can come up with creative challenges that align with your campaign theme. They then post this on their social media account, taking the challenge by themselves first and then nominating one or more of their friends. At the end of performing each challenge, they donate to your nonprofit.
3. Giving days
Here, you introduce a sense of urgency in your peer-to-peer fundraising campaign. For example, Giving Tuesday is one event where fundraisers raise as much money as possible within 24 hours.
4. Sales
Your fundraisers set up a web store to sell different products like cookies, popcorn, etc. This form of exchange encourages giving and acts as an excellent peer-to-peer fundraising event, as your fundraisers' friends and family are more likely to make these purchases.
5. Holiday parties
Your fundraisers can turn their private parties into a fundraising event, say a birthday party. They can announce the excellent initiative they've taken and ask their friends and family to chip in.
Whatever peer-to-peer fundraising idea you decide to go with, make sure you have a great donation page and the right donation tool. Once you're ready with everything, kick off your fundraising event and start collecting donations.
There are many ways your fundraisers can invite their network to these events. One such effective method is P2P texting because it lets you connect with each contact on a personal level but at scale.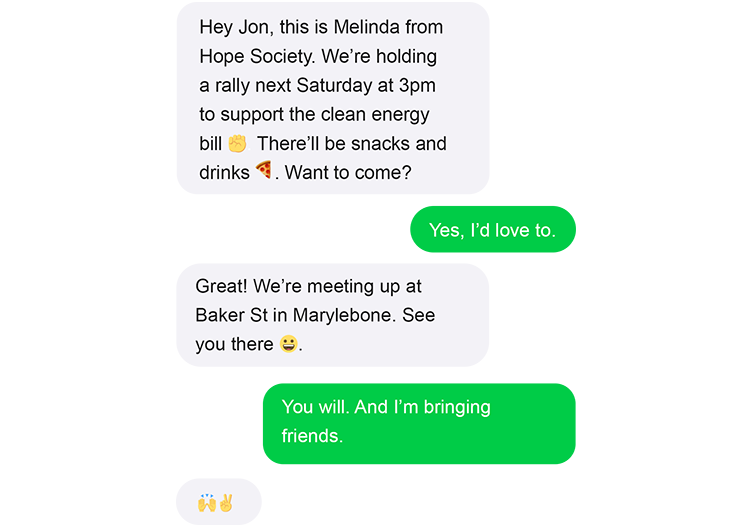 Here is a peer-to-peer texting starter kit your fundraisers can use to invite their network to these events.
Tips and best practices for peer-to-peer fundraising
There are several ways to get your peer-to-peer fundraising campaign to perform well. See some of them here and adapt what works best for you.
1. Tell stories with compelling visuals
Stories work, and they work well. Your fundraisers can tell stories they relate to that are associated with your nonprofit. Support these stories with compelling visuals to evoke an emotional response.
2. Have a proactive approach to communication
Your fundraisers can't set up campaign pages, donation pages, and events and go silent waiting for people to show up. You need a proactive communication plan that uses multiple channels and touchpoints.
Email, social media, direct mail, text, calls, and so on- use everything you've got. Arm your fundraisers with the tools they need and help them get started.
3. Brand your peer-to-peer fundraiser
Donations made on a branded donation page are 38% higher than those made on generic pages. Also, 70% of donors are more likely to make a second donation if their first was on a branded donation page.
This is because a branded page instills more trust in your audience than a non-branded one.
4. Host events during your campaign
Empower your fundraisers to host events as a part of your peer-to-peer fundraising campaign. These events can be virtual or in-person.
The types of events will depend on the interests of your fundraisers' network.
5. Leverage fundraising thermometers
A fundraising thermometer shows the status of funds raised at every stage of the campaign. This can be a great way to motivate your potential donors. Ask your fundraisers to share the thermometer with their network to motivate them to fill it fast.

How can CallHub help?
CallHub comes in at the most crucial stages of your peer-to-peer fundraising campaign:
Building a relationship with your existing supporters and getting them to fundraise for you.
Recruiting volunteers for your peer-to-peer fundraising campaign.
Our calling and texting tools let you have one-to-one conversations with your supporters and hire fundraisers. Check them out here.
Featured image: Photo by RODNAE Productions from Pexels