Peer-to-peer fundraising is an extremely powerful fundraising strategy.
A study by NonProfitPro showed that over 43% of nonprofits said that P2P fundraising drove over 50% of their revenue.
The efficacy of P2P fundraising stems from the fact that people are more likely to donate when a friend makes the ask. In fact, this is one of the top motivations for Americans to donate.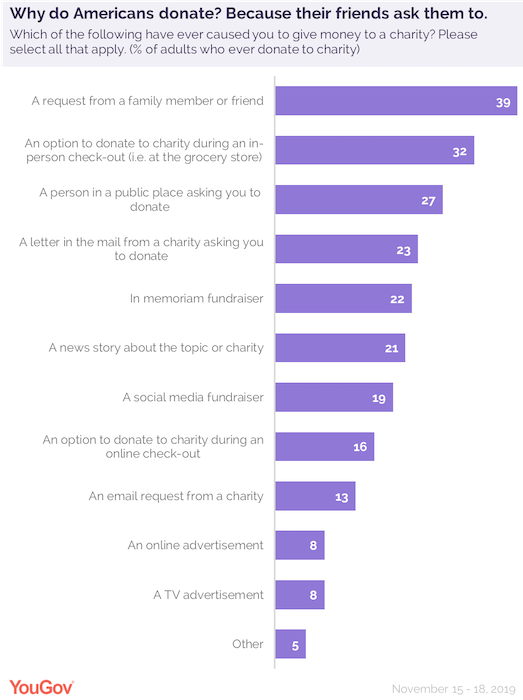 But running a P2P fundraising campaign is no easy feat. The distributed nature and numerous logistics increase the complexity of managing such campaigns.
However, thanks to technology, this issue can be overcome. With the right tools, engaging in P2P fundraisers can be a lot easier.
In this post, we'll go over our top recommendations of such tools that you can consider investing in. We'll start by understanding what P2P fundraising software is.
What is peer-to-peer fundraising software?
Peer-to-peer fundraisers are nonprofit fundraising campaigns in which your supporters (or anyone interested) raise money for you. Peer-to-peer fundraising software helps you facilitate these fundraisers.
More specifically, a P2P fundraising tool helps you with the following:
1. Create campaign pages.
The fundraising tool is equipped with features that help you build campaign pages with ease. You need a campaign page to:
List out all the details of the campaign (like goals, what the campaign is for, instructions, your nonprofit's branding guidelines, etc.).
Promote the campaign (you can share the link to the page over various channels).
Collect registrations from people interested in fundraising for the campaign.
Display the results and other data of the campaign (fundraising thermometer for the total amount raised, top fundraisers, beneficiary stories, etc.).
2. Help registrants set up their fundraising pages.
The P2P fundraiser tool also helps your supporters build customized fundraising pages and donation forms for their campaigns. They will need these pages to:
Promote the fundraiser in their network.
Collect donations from the people.
Add images and other details to make their appeals more compelling.
Showcase the total amount they raised during the campaign.
3. Facilitate communication.
Personalized communication is an essential aspect of fundraising, and that's true for P2P fundraising as well. Your peer-to-peer fundraising software may either:
Have in-built communication features like email and text automation or
Integrate with third-party communication software (like CallHub for texting and calling) to facilitate communication.
This makes it easy for fundraisers to get in touch with people in their network, make donation requests, get people to donate more, and even reclaim donors who drop out without completing the donation process.
4. Collect and store essential data.
Your peer-to-peer fundraising software typically integrates with your CRM to collect donor data like:
Basic details like the name and contact of fundraisers and donors acquired through these fundraisers.
Previous involvement of the donors and fundraisers with your organization.
Gift amounts that the donors make and the total amount each fundraiser raises.
This data helps you build comprehensive supporter profiles, which come in handy for nurturing and driving repeat donations.
5. Measure campaign success metrics.
Was your campaign a success? Is there anything that you could have done better? What worked well?
Your peer-to-peer fundraising tool provides you with answers to these questions and more by helping you track metrics like:
Number of new donors acquired.
Number of repeat donors or lapsed donors acquired.
Maximum, minimum, and median gift amounts.
Trends like days you raised the most, most common gift sizes, donor demographics, etc.
Fundraising communication opens, clicks, and response rates.
These are some of the most basic logistics that a peer-to-peer fundraising software helps you with.
Best peer-to-peer fundraising software
To help you create the best fundraising experience for your supporters, here's a list of some of the most highly-rated peer-to-peer fundraising software that you can use.
GoFundMe Charity
GoFundMeCharity (previously known as CrowdRise) is a fundraising solution specifically built for nonprofit event fundraisers, including P2P fundraising events.
The tool's easy setup and automation make it perfect for small nonprofits without full-time teams working on the campaign.
Some notable features of this peer-to-peer fundraising platform include:
All-in-one system allows you to create microsites (for your campaigns) and fundraising pages (for people who fundraise for you).
Intuitive social sharing and content creation tools.
In-platform messaging that allows fundraisers to thank donors in real-time.
Ability to organize team-based fundraisers with gamification to keep teams motivated and engaged.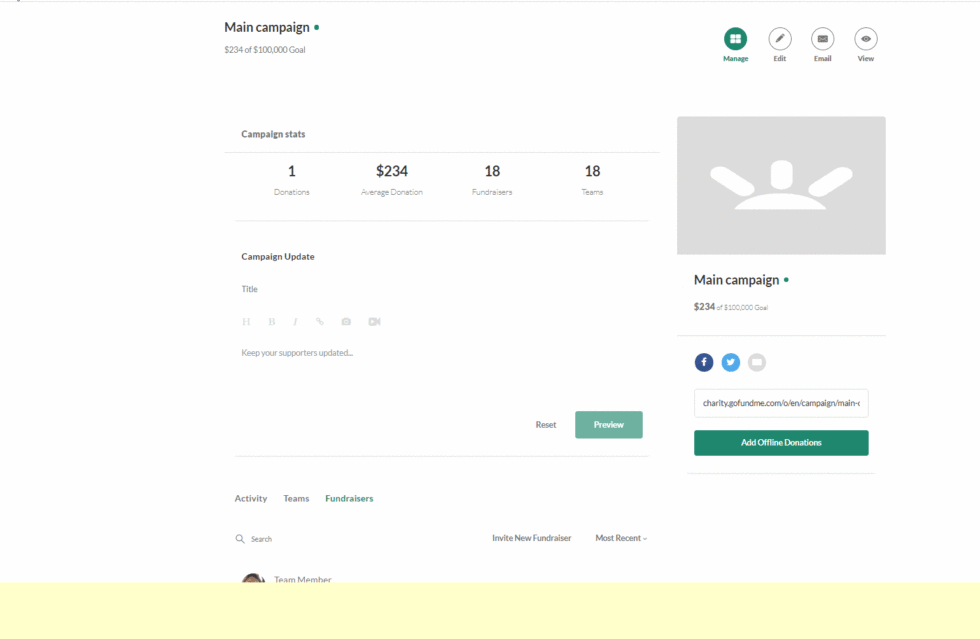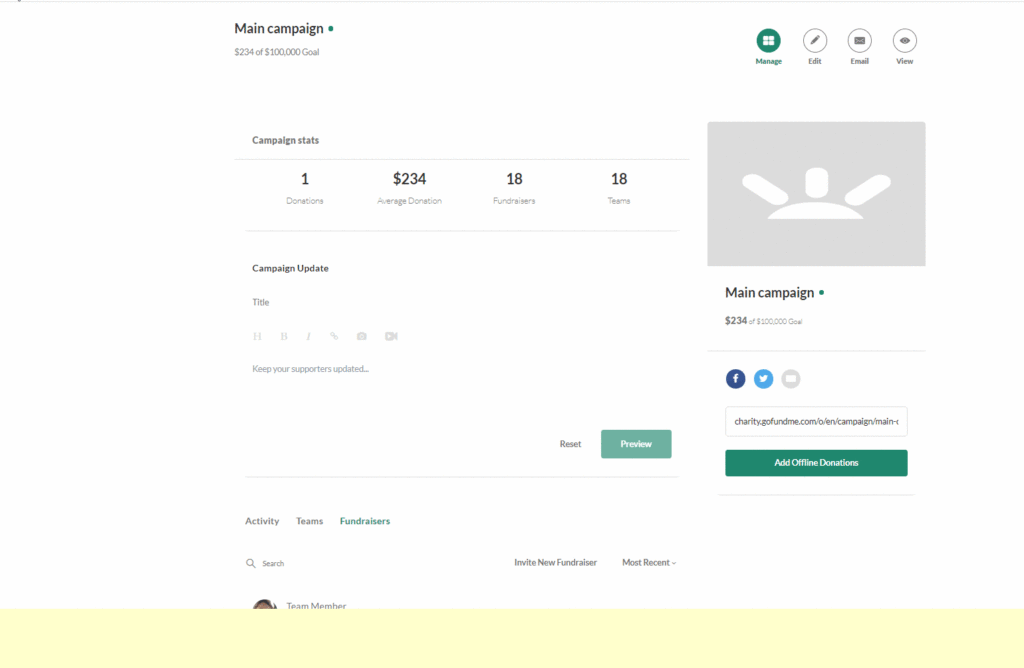 Popular Customers
American Red Cross, Americares, American Cancer Society, Be Like Brit
Pricing
The P2P platform does not charge any subscription fee. It only charges a processing fee of 1.9%+$0.30 under the free plan and 2.2%+$0.30 under the flex plan.
MightyCause
Mightycause is an all-in-one platform that offers nonprofit fundraising, donor management, marketing, and peer-to-peer fundraising solutions.
With its user-friendly interface, supporters can set up a fundraiser for your organization in as little as ten minutes. An added advantage with this platform is the suite of marketing tools you get access to, along with the P2P solution that can augment your campaign.
Notable features of this peer-to-peer fundraising software include:
Ability to set up unlimited peer-to-peer campaigns and link them back to a single event.
Team fundraising option with ​​leaderboards that bolster friendly competition.
Customizable pages with real estate to add the individual's or team's branding elements.
Fundraiser templates that let people build customizable pages in minutes.
Live updates of donors who support your campaign with interactive liking and commenting options to engage with them.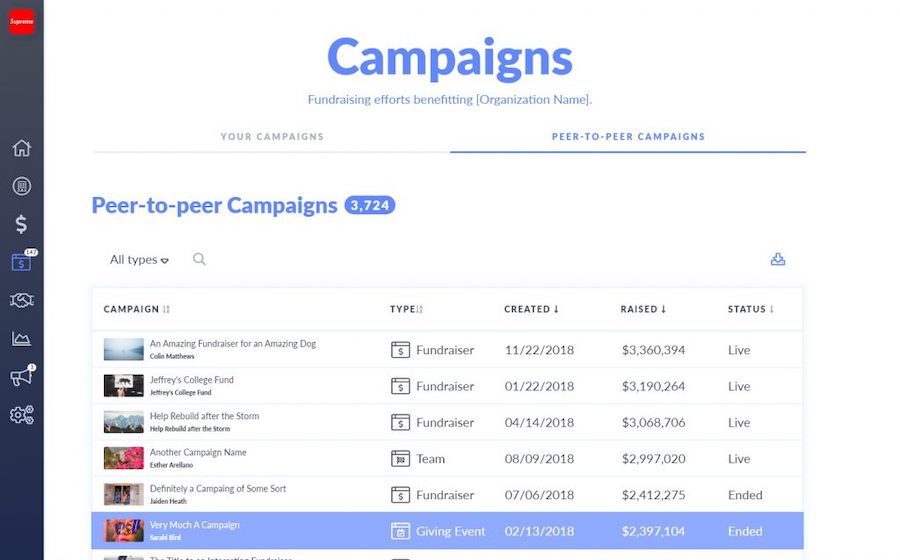 Popular Customers
Young Life, 4 Paws For Ability, GiveMN, Doctors Without Borders
Pricing
MightyCause is available to nonprofits at two different plans:
Essentials at $59/month
Advanced at $99/month
Apart from that, they charge you a processing fee of 1.2% + $0.29 per donation.
Salsa
Salsa offers a cloud-based fundraising solution that is designed to help grassroots nonprofits expand their digital presence.
Its intuitive P2P fundraising platform equips fundraisers with the mobile and social tools they need to raise awareness and secure donations.
Some of Salsa's most noteworthy features include:
Flexible and customizable registration pages.
Mobile app support for fundraisers to manage logistics on the go.
Automated coaching emails that provide fundraisers with tips to reach their goals.
Customizable analytics dashboard to show you the metrics you wish to see.
Ability to segment information based on various factors like average donation amount, donation type, etc.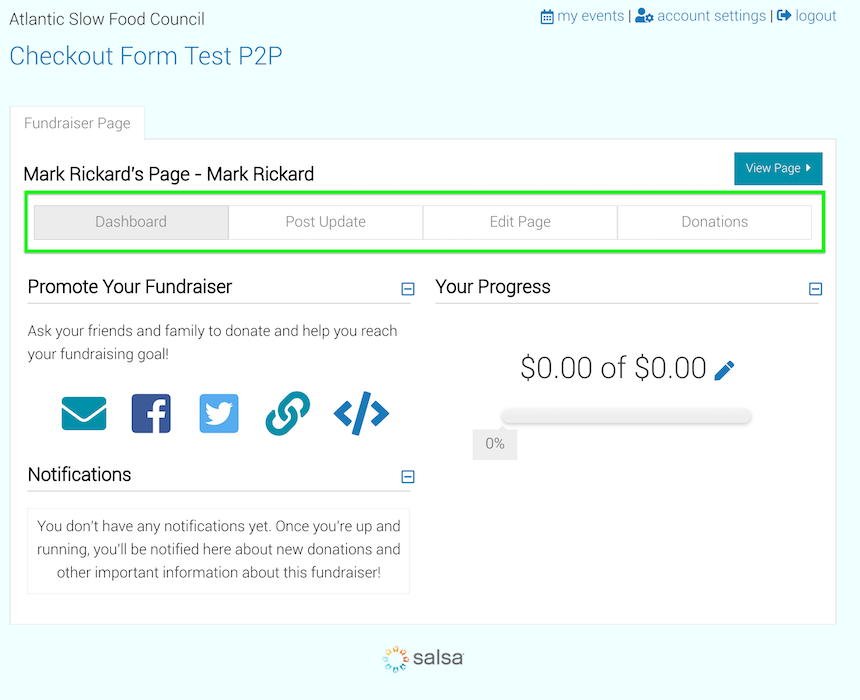 Popular Customers
Aid for Africa, Bikers for the World, Families First, Arthritis National Research Foundation
Pricing
Salsa's peer-to-peer fundraising software is available at a custom price, for which you'll have to get in touch with their sales team.
Neon Fundraise
Neon Fundraise (a part of Neon One's suite of solutions) is another software that offers a full suite of digital fundraising tools ranging from single campaigns to event and P2P fundraising.
A major benefit with Neon Fundraise is its seamless integration with Salesforce that opens up the possibility of leveraging various other applications for your fundraisers. For instance, CallHub integrates with Salesforce, which in turn lets you engage your donors or fundraisers with text messages.
Some notable features of the platform include:
User-friendly administrative tools that let you manage multiple campaigns and monitor fundraising activities.
Marketing automation that takes over repetitive tasks like donor receipting, fundraiser registration confirmation, etc.
Single-click donation process for repeat donors.
Popular Customers
PAWS Chicago, CHOC – Children's Health Orange County, Sesame Workshop, Bike4Chai
Pricing
The Neon One suite of tools are available at three pricing plans:
Essentials at $99/month
Impact at $149/month
Empower at $299/month
GiveGab
GiveGab's peer-to-peer fundraising suite provides nonprofits, educational institutions, and hospital foundations the tools to revamp their digital fundraising and engagement.
With customizable campaigns and event types, fundraisers can use this solution for various campaigns like marathons, pledge fundraising, birthday fundraisers, etc.
Some of GiveGab's notable features include:
Customizable fundraising pages that can be embedded onto any website with a snippet of code.
Custom onboarding training sessions for all fundraisers to help them understand the tool and achieve their goals.
Option to automatically create a readymade fundraising page for everyone who registers (without them having to make any changes like build the page, add images, etc.)
Enables fundraisers to sync all their email contacts (to send them the donation link) with the click of a button.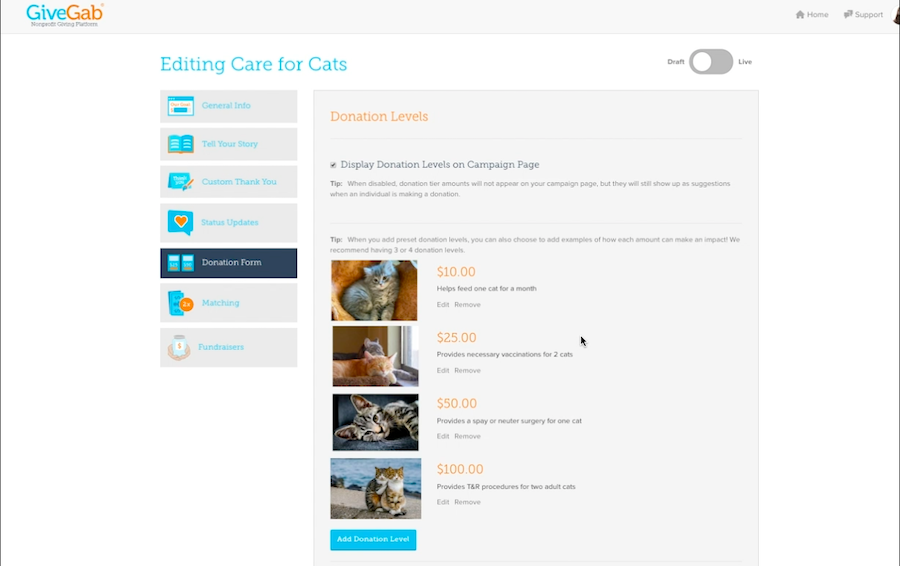 Popular customers
Give Local York, Idaho Gives, Cayuga Medical Center Foundation
Pricing
The pricing options for GiveGab's peer-to-peer fundraising solution vary based on the term of the plan you need.
| | | |
| --- | --- | --- |
| Annual Plan | Quarterly Plan | Monthly Plan |
| $1,788 for1 Year of GiveGab's Boost Plan + 2% Platform Fee + Credit Card fee | $537 for3 months of GiveGab's Boost Plan + 2% Platform Fee + Credit Card fee | $199 for1 month of GiveGab's Boost Plan + 2% Platform Fee + Credit Card fee |
| $948 for1 Year of GiveGab's Boost Plan + 4% Platform Fee + Credit Card fee | $267 for3 months of GiveGab's Boost Plan + 4% Platform Fee + Credit Card fee | $99 for1 month of GiveGab's Boost Plan + 4% Platform Fee + Credit Card fee |
CauseVox
CauseVox is an effective peer-to-peer fundraising software for virtual fundraising. Its clutter-free admin control and fundraising automation features make it perfect for smaller teams.
The best thing about this platform is that it integrates with over 1500 other applications ranging from CRMs to communication platforms. A few other features that make this platform great include:
Ability to send out automated messages, notifications with fundraising summaries, and auto-filled campaign pages to save you time,
Automatic donor-data tracking to help you add and build comprehensive supporter profiles.
Integrations with matching gift platforms to provide the option of doubling all donations received for the P2P campaign.
Option to add registration fee for fundraisers to add an extra source of funds to your campaign.
Custom fields to add any question in your registration or fundraisers' donation forms.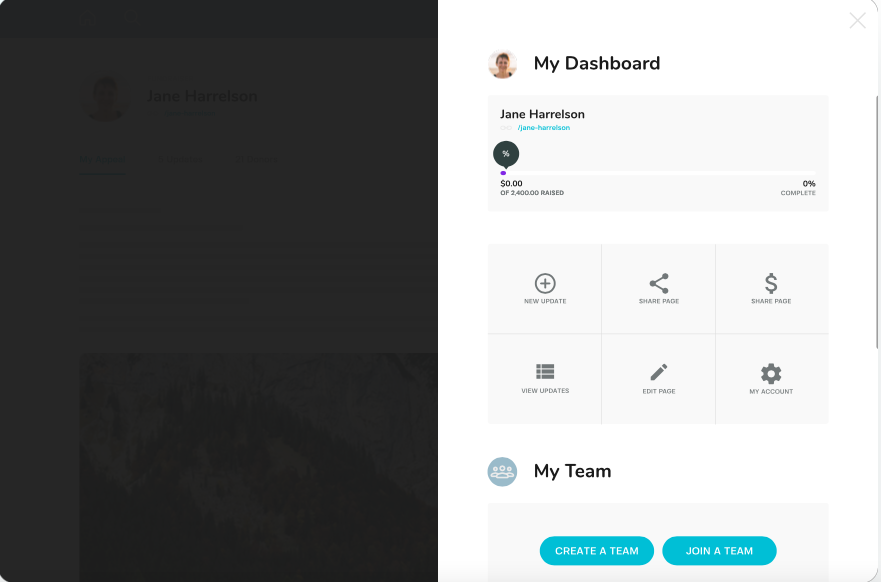 Popular customers
Fiver Children's Foundation, North Texas Food Bank, N Street Village, HOPE worldwide
Pricing
There are three pricing plans that you can choose from:
Basic: $0/month + Processing fee of 2.2% + $0.30
Standard: $139/month + Processing fee of 2.2% + $0.30
Plus: $245/month + Processing fee of 2.2% + $0.30
CauseVox charges no platform fee, which is an added advantage.
Lumaverse
Lumaverse's peer-to-peer fundraising platform is easy-to-use and optimized for mobile, thereby letting fundraisers manage their campaigns on the go.
This platform is designed to accommodate both big and small nonprofits. A standout feature of Lumaverse is the optional VIP campaign feature that includes goal-setting analysis, phone and email support, marketing and fundraising strategies, and training webinars for nonprofits.
Other notable features include:
Social media integrations to share and promote the fundraiser across multiple platforms.
Ecommerce option to reward top fundraisers with merchandise with your nonprofit's branding. The platform takes care of all the logistics.
Heat maps to see where donations are coming from and identify the best ways to reach donors.
Automated donor acknowledgment emails that are sent out to supporters to show your appreciation.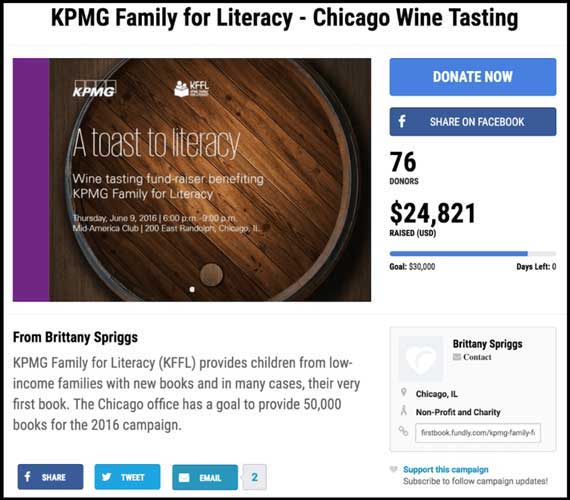 Popular customers
World Vision International, Children's Hospital of Pittsburgh Foundation, Brown University
Pricing
Lumaverse doesn't charge you any fee upfront. The only costs you incur are a 4.9% platform fee plus a credit card processing fee of 2.9% + $0.30 per transaction.
DonorDrive
DonorDrive is a cloud-based fundraising solution designed to facilitate peer-to-peer event fundraising. With a simple and flexible event registration feature, this tool helps your event participants start fundraising for you in minutes.
Some notable features of the peer-to-peer fundraising platform include:
Live Fundraising feature lets fundraisers live stream the event (like a marathon they're running) while asking for donations.
Fundraising coach that guides fundraisers on how to use the tool to drive donations.
Achievement badges for fundraisers achieving specific milestones to keep them motivated.
The Fundraising Motivation Engine feature makes it extremely easy to communicate with fundraisers through email, social media, and texts automatically.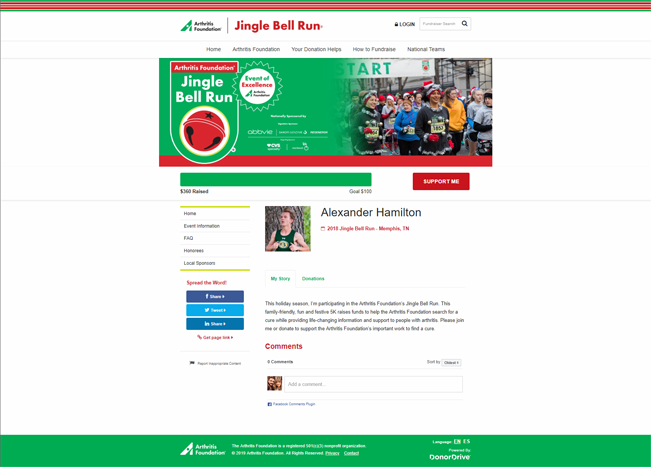 Popular customers
The American Foundation For Suicide Prevention, Children's Miracle Network Hospitals, The Four Diamonds Fund, Be The Match
Pricing
DonorDrive is offered to nonprofits at a custom price. You will have to get in touch with their sales team for a quote.
Classy
Classy is a comprehensive fundraising solution with a powerful P2P fundraising tool. With Classy's peer-to-peer fundraising software, your supporters can donate special events (like their birthdays or weddings) or even hold their own fundraising events to raise money for you.
This platform is known for its easy-to-use, drag and drop interface that requires absolutely no IT experience, making it perfect for smaller teams. Some noteworthy features of this tool are:
Mobile-responsive fundraising pages that make it easy to manage your campaign on any device.
Built-in tips and coaching to help fundraisers reach their goals.
Built-in social and text sharing feature that makes it easy to share updates and donation appeals.
eCard donation feature that allows donors to send a personalized message along with their gift.
Program Designations that let supporters choose the program they wish to fundraise for and support.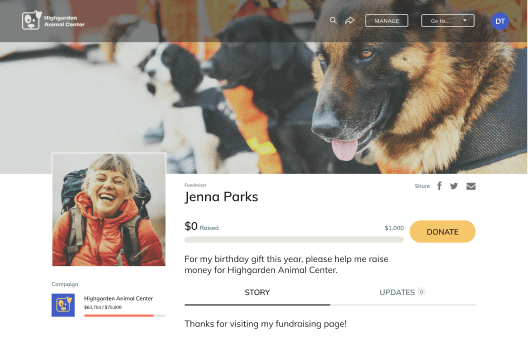 Popular customers
City of Hope, Kentucky YMCA, Team Rubicon, Heifer International
Pricing
Classy offers its solutions to nonprofits at a custom pricing. You can fill out their form and request a quote.
Panorama
Panorama (by Frontstream) is a comprehensive fundraising solution that helps you engage in peer-to-peer fundraisers for both in-person and virtual events.
This end-to-end P2P platform can seamlessly accommodate events distributed over multiple locations and timings, helping you manage it all from one dashboard. Some of Panorama's best features include:
Easy recruitment of teams and individuals to fundraise for you by creating custom fundraising pages and promoting them on multiple platforms.
Enable virtual, real-time activity tracking for events like marathons with connected wearables.
Customizable URL and page branding with Panorama's Whitelabel option.
In-app coaching and fundraising tips to simplify the fundraising process for everyone.
Post-event analysis that gives you actionable insights for future event planning.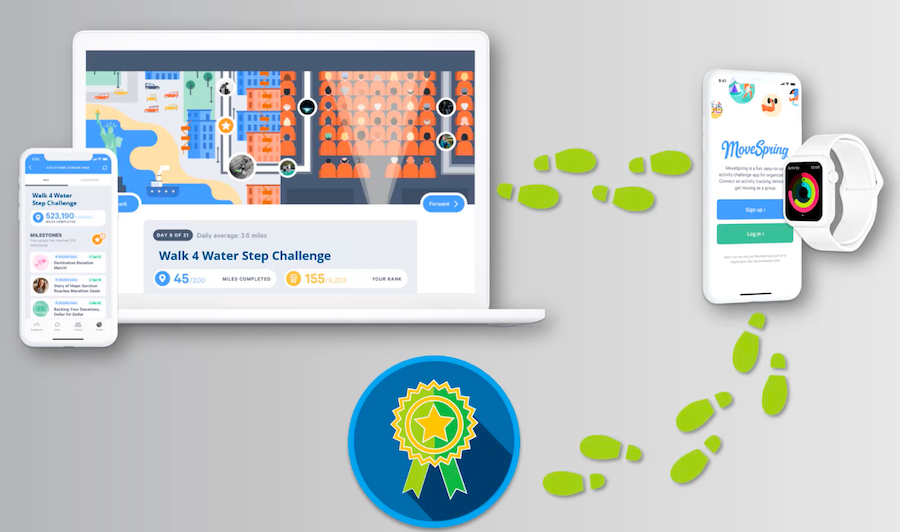 Popular customers
United Planet, Avon Foundation for Women, IBC Network Foundation, Baycrest Foundation
Pricing
To use Panaroma's P2P solution, you will have to opt for either of the two options:
Panorama Pro: $600/year + Transaction fee (typically 2.9% + $0.30 per transaction)
Panorama Enterprise: Request for a custom quote
Getting started
Even though P2P fundraisers have proven their worth, it's surprising to see that 60% of nonprofits still haven't invested in a peer-to-peer fundraising software.
Around 40% of these organizations state the lack of knowledge as the reason why they don't look into these tools. Hopefully, the recommendations above take care of that.
Next, you need to go through the suggestions and select the right tool based on your:
Specific fundraising requirements. See which tools facilitate the kind of strategies that you want.
Budget: Go through the pricing of each platform and shortlist the ones that fit your budget.
Next, jump right into implementing this extremely effective fundraising strategy with an intuitive P2P fundraising tool and watch your organization grow.
Featured image source: Pixabay