Planning a nonprofit event can be a challenge, as there are many moving parts to keep track of. However, your attendees' first impression of your event doesn't start when they set foot in the door. It starts with your registration process.
Your registration process is your attendee's first impression of your event. If it's not easy and streamlined as they navigate it, they might not register at all.
As you work to avoid any mistakes while planning your nonprofit event, you should take a look at your registration process and make sure you're not making any mistakes there, either. In this article, we'll take a look at 6 things you should know about the registration process for your organization's event:
Keep it simple.

Share the event.

Offer group options.

Use consistent branding.

Integrate your payment processing.

Make reporting easy.
By following these best practices, you'll be on your way to increasing attendance for your event. Are you ready to take a closer look at these strategies? Let's get started!

1. Keep it simple.
When it comes to event registration, less is more. This means that the less information you ask for, the more conversions and event registrants you'll get. This might seem counterintuitive in a way, but it's true that registrants want an easy process. You might end up with less information about each attendee, but you'll have a higher number of attendees. Having your registration process set up online will help, as well.
Consider these tips when constructing your online registration form:
Don't ask for too many things at once.

Don't ask registrants to register, donate, volunteer, and share event information all on the same page. Too many distractions will pull them away from the main objective, which is getting people to sign up.

Don't use unnecessary fields.

Don't ask for too much extra information that isn't necessary. If registrants have to go through a long process of filling out a form with several fields, they might abandon the form.

Make the registration process easy across multiple devices.

Mobile optimization is important so guests can register when they need to and from wherever they are.

Use registration software

that allows guests to access the form on multiple device types.
It's important to find the right registration software that will allow you to customize your form and keep it simple and easy to use. If you ask for just the right amount of information from your registrants, you'll find that your attendance number will rise. You can also make checking in attendees easy. Let administrators check in individuals who registered online on the day of the event, or even let registrants check themselves in!
If you're unsure of what registration software is right for you, take a look at Double the Donation's helpful list.

2. Share the event.
People like to follow trends, so why not use this to your advantage? Boost the marketing aspect of your nonprofit's event by allowing people to share that they registered for your event, in addition to your traditional marketing efforts.
This can be achieved in a few ways:
Social media.

If you allow people to share that they registered for your event on social media, you'll increase the chances that others will follow suit.

Event t-shirts.

Offer the option to order an event t-shirt as a custom field on your form. When people wear them prior to the event, you'll gain free publicity. But make sure you approach event t-shirts the right way.

Check out Bonfire's guide

to leveraging event t-shirts effectively.

Segmented lists.

Similar to when you're performing prospect

research for new donors

, segmentation is important when reaching out to potential nonprofit event attendees. Segment your email and mailing lists between new attendees, people who have attended your events in the past, and even major donors. This will ensure you personalize your communication with them and provide the information they specifically need.
When it comes to sharing your event, there are a few avenues you can explore, but the most important thing to remember is that you should appeal to the right people in the right way. If you widen your outreach via event t-shirts, allow sharing on social media, and segment your lists, you'll be more likely to pick up attendees.

3. Offer group options.
Part of nonprofit event registration means making the process as convenient as possible. If you invest in the right software, you can do this without any hiccups. For instance, look for event registration software that allows you to offer group options. This can include:
Group registration.

Allow one person to register a group to make the process more convenient and result in more event attendees. This is essential for nonprofits who want to register groups of people or families for their events.

Group discounts.

Even more than group registration, group discounts are appealing to registrants who want to sign up more than one person. Create and trigger discounts automatically to ensure that applicants get the correct deal, and encourage more registrations!
There are several ways to utilize technology in your fundraising and event planning. By using robust registration software that offers elements like group options, you'll be on your way to securing more registrations.

4. Use consistent branding.
One of the biggest elements you want to establish in your event registration process is trust. What's the most effective way to do this?
By using consistent branding, you'll ensure that registrants are comfortable using your form and providing their personal information. This means you should:
Match the registration form to your organization.

If donors and registrants recognize your logo or general design of your organization, they will feel more comfortable providing their personal information.

Embed the form directly on your site.

In order to build trust with your donors and registrants, don't send them to a third-party site to register, fill out the forms, and pay. It should all happen on your site, which has been shown to increase completed registrations by 27%.
By keeping your branding consistent with your organization and your registration forms, registrants will be more comfortable with the process. This will then lead to more trust and a higher rate of registration!

5. Integrate your payment processing.
Similar to why you should keep your branding consistent, you also want to instill trust in your registrants when they provide payment information to register for your event. Keep the process as easy and streamlined as possible.
This can be done in the following ways:
Don't use a third-party payment site.

Just like with your registration form, you want to allow registrants to pay their fees on your website during the registration process.

Incorporate payment plans.

Allow registrants to select a payment plan that works for them and let your registration software take care of the rest.

Allow for autobilling.

Using the right registration software, you can control when payments are made and make sure registrants comply with your payment policy. Even more, combining autobilling and payment plans together automates the payment collection so you don't have to manage charging people on a due date. You get paid without having to do anything!
Let's say your nonprofit wanted to offer registration for a special course or program. By offering online enrollment, you would be able to increase attendance and make paying on time as simple as ever.
Your payment processing should be seamless and straightforward. If you invest in the right all-in-one solution for this, you'll be on your way to securing happy registrants.

6. Make reporting easy.
Reporting is one of the most important components of event registration, and good record-keeping is essential to the success of your event. Without streamlined reporting, you could end up with inaccurate records of who has registered for your event, who has paid, and more.
In order to avoid this, it's best to find a solution that offers straightforward and seamless reporting options. For instance, you should be able to:
Use custom and saved reporting tools.

View any data you need when you need it, as well as filter for specific data points, groups of people, and more to make your reporting more specific and give you exactly the information you need.

Modify your information.

You should be able to view and change all of your information easily.

Communicate automatically.

Easily communicate with registrants, which can include sending personalized emails (like payment emails) in batches of hundreds at a time, as well as filtering for a specific group of people so your messaging is properly targeted.
With custom reporting, you'll be able to keep track of your organization's event easily and communicate automatically with whoever needs to be contacted. This is also important for your post-event engagement, as you can use registration software to reach out to those who attended for feedback and to thank them. By keeping your data in one place, all of this will become easier.
There are clearly many ways to go about approaching your nonprofit event registration. From keeping it simple and straightforward to being consistent with your branding, you can give off a great first impression of your event. After all, if the registration process is easy, people will have confidence that your event will follow the same path.
Try incorporating these strategies and look for the right event registration solution that works for your nonprofit. From there, you'll be ready to get people signed up for your big event!
---
Author: Asaf Darash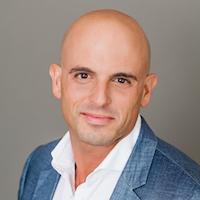 Asaf Darash, Founder and CEO of Regpack, has extensive experience as an entrepreneur and investor. Asaf has built 3 successful companies to date, all with an exit plan or that have stayed in profitability and are still functional. Asaf specializes in product development for the web, team building and in bringing a company from concept to an actualized unit that is profitable.