A large number of startups that leverage advanced technology have erupted into the political tech scene of late. The innovation that seemed to abound everywhere else except in politics is now steadily enveloping political campaigning. From contacting supporters over the internet to analyzing voter behavior for targeted canvassing, these modern political campaign tools are making campaigns smarter than ever.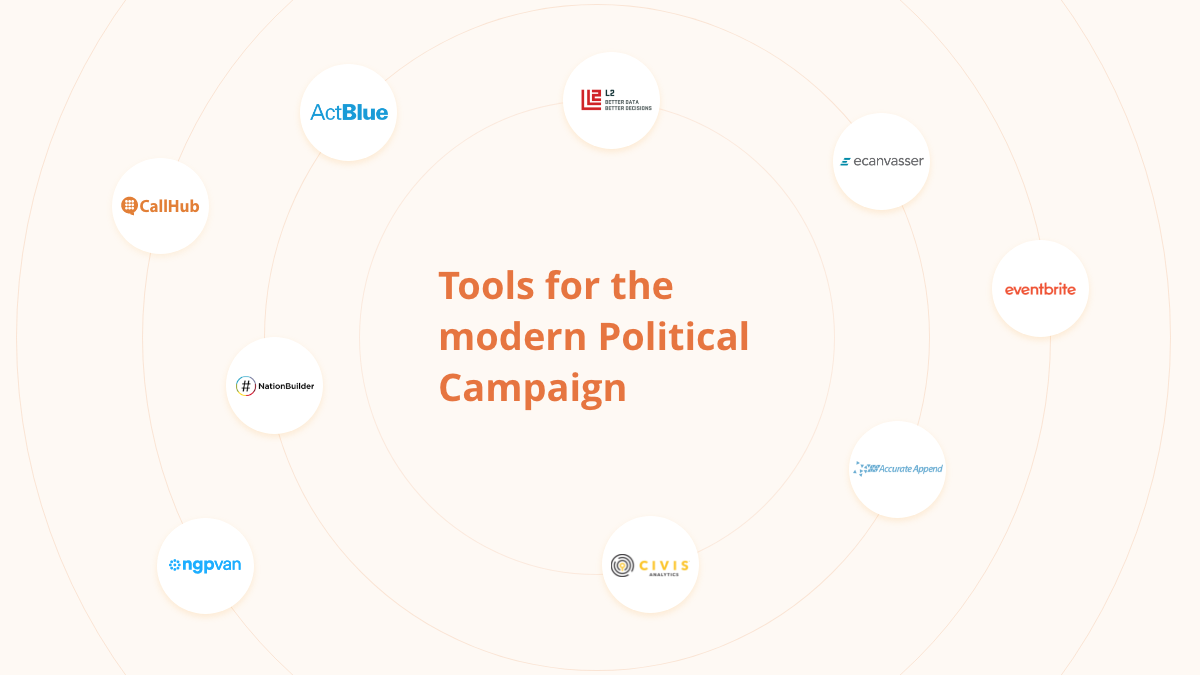 This list will focus on the startups that make up the modern face of election campaigning.
Canvassing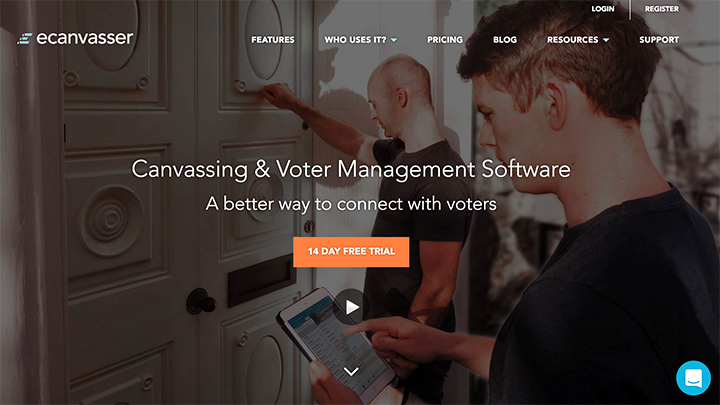 ECanvasser maximises returns from field operations by equipping agents with the means to collect and analyze relevant polling data. The Ecanvasser app makes it easier to manage field activities through intelligent maps to find voters and real-time tracking of canvassers. Its integration with NationBuilder allows campaigns that use the CRM for voter management to plug into Ecanvasser for outreach work and voter correspondence.
Best features
Create walk lists based on address or geographic coordinates.
Feed talking points to canvassers including campaign messaging and directions.
Collect survey responses.

Analytics to identify stronghold areas, main issues and track campaign activity in detail.
What we like
Two-way integration for lists, surveys and all voter data with NationBuilder

Real-time data on canvasser activity so organizers can take timely decisions on messaging, canvassing routes and offering backup.
Pricing
Ecanvasser pricing is based on the size of your database. They offer 6 plans

Essentials – $21/mo 

Starter (Up to 5k voter database) – $54/mo

Standard (Up to 25k voter database) – $164/mo

Pro (Up to 100k voter database) – $361/mo 

Premium (Up to 250k voter database) – $1096/mo

Enterprise – Contact the sales team
Organizer is a field outreach platform for Democratic and Progressive candidates making it easier for a campaign to manage face-to-face contacts with voters. Organizer allows campaigns to create dynamic scripts, divide neighborhoods into different zones, and to assign volunteers to canvass those zones through a drag-and-drop interface. Organizers can also see the data entered into the smartphone apps in real-time, visualize those results through different graphs, and export them to other systems.

CRM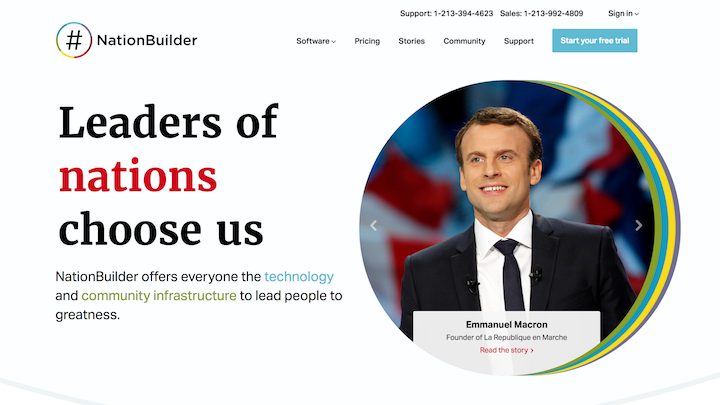 NationBuilder combines the powers of a content management system and customer relationship management software into a single package. It comes fitted with a range of digital organizing tools that help campaigns with website design, fundraising, organizing volunteers, and social media. Campaigns can easily add more functionality to the campaign through more than 50 app integrations available in the NationBuilder marketplace.
Best features
Build interactive, responsive websites (themes available).

Customizable volunteer pages so people can organize on your behalf.
Donation processing

Advanced Segmentation using filter and tags to identify the right people for outreach.

Send emails and track metrics like opens, clickthroughs, bounces, unsubscribes and spam reports.

Permission sets that let you customize your control panel for different types of volunteers based on their role.
What we loved
NationBuilder works great with other tools. It integrates with more than 50 campaigning apps so you can replace multiple platforms with one scalable system. Plus it also gives you access to free voter files.
Pricing
Whether you're just getting started, or are trying to scale your organization NationBuilder has plans that cover every campaign size with the most basic plan starting at $29  /mo.
On average, for a local campaign, NationBuilder will cost about $100 per month and goes up to around $1,000 per month for a mid-size campaign.
NGP VAN is the leading technology provider to Democratic and progressive campaigns offering products for fundraising, compliance, field, organizing, digital, and social networking. NGP VAN is used by thousands of campaigns and organizations, from labor unions, nonprofits, state and local campaigns, to political parties and presidential campaigns.
Blue State Digital is a full-service digital agency specializing in online fundraising, advocacy, social networking, constituency development, email marketing, and content management. BSD has helped clients like the Obama campaign, Labour Party, UNICEF, Sierra Club and Oxfam America grow communities, build platforms, and transform their campaigns for the digital age.
TrailBlazer is a campaign management software for political campaigns, nonprofits, and PAC's. Trail Blazers campaign manager can be used to create, implement and track all voter touchpoints for targeted voter outreach. Features include Campaign Fundraising, Text to Give, FEC Compliance Reporting, Mobile canvassing, Grassroots advocacy, and Constituent management.

Calling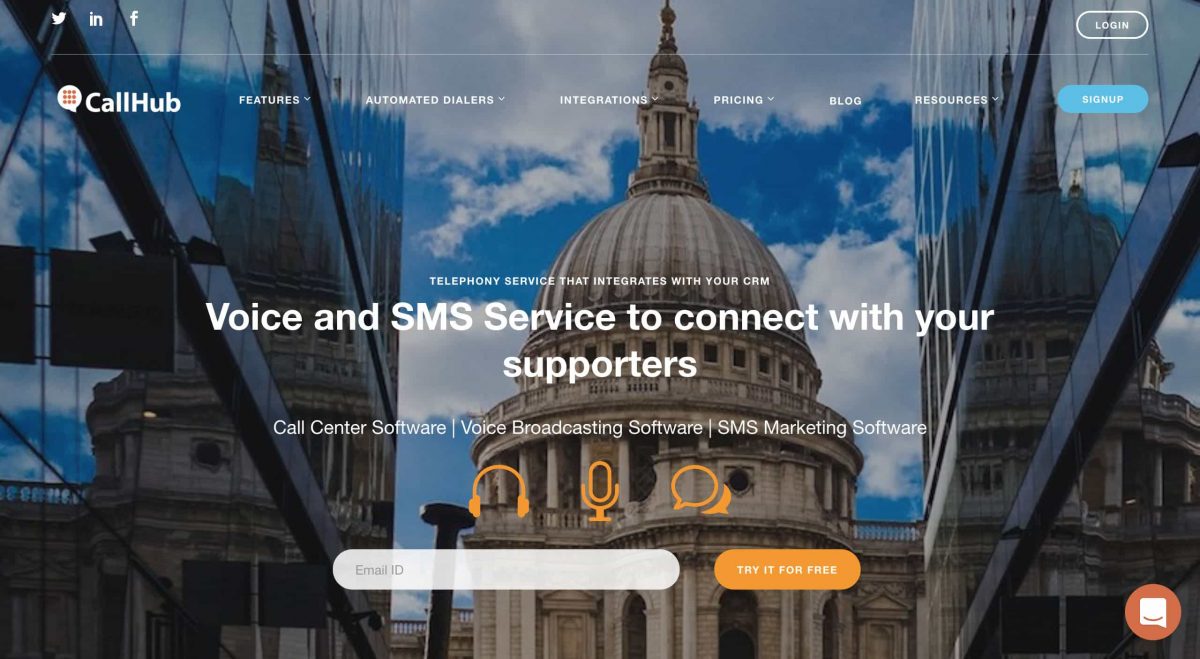 CallHub calling tools for political phone banking power everything from manual dialing campaigns to high volume dialing using automated dialers.
The tool integrates with popular campaign CRMs like NationBuilder, NGPVAN, Action Network, Blue State Digital and Salesforce so organizers can sync voter lists, surveys and events in real-time between tools. Campaigns can recruit volunteers from across the world who can call from the comfort of their home. Agents can access phone banking scripts, surveys, individual contact details and detailed interaction history with each contact to add additional context to each call.
Further reading: Automated vs Manual phone banking
Best features
What we loved
We're obviously a little biased..but we do our best to make sure that campaigns can have data-informed authentic conversations that scale up. 
We love that campaigns have the flexibility to choose a dialing mode that aligns with their goals, whether it is managing a manual dialing campaign to high-value donors or a high-paced GOTV campaign the day before the election.
Pricing
Pay as you go pricing model. You only pay for the calls you make at 2.1¢ per 30-second call. There is no limit on contact uploads.
Try it for free
[caldera_form id="CF59dacc696bc59″]
Texting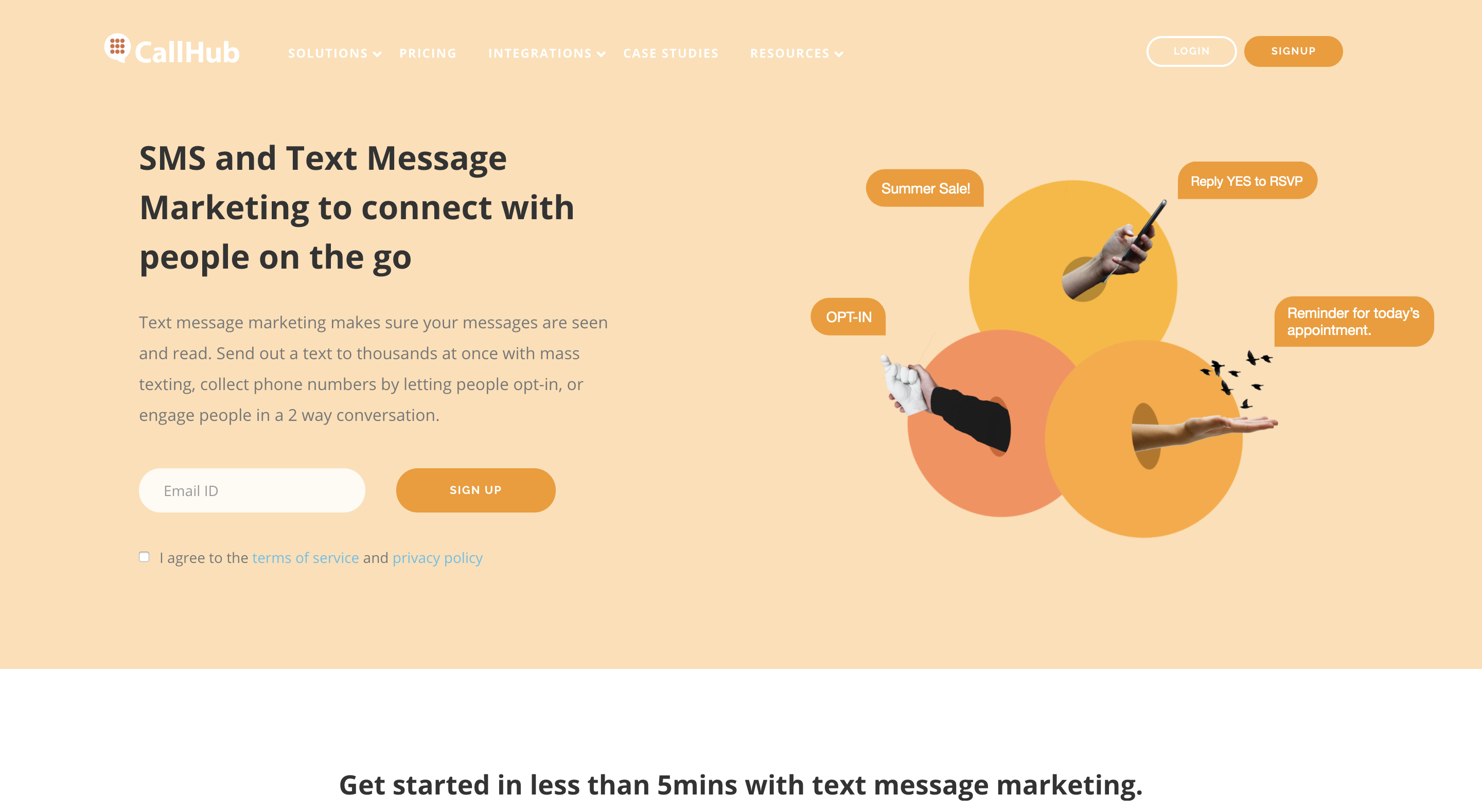 CallHub texting tools lets organizers reach large groups through mass texts, grow their list through text-based opt-ins (Eg. Text CALLHUB to 33339) and initiate action through 1-to-1 text conversations (peer to peer texting). CallHub combines multiple texting channels under one roof so organizers have an easier time managing contacts and activities across teams. It also comes with analytics that helps you keep track of how your texts are received, compare response rates for different messaging, and keep track of opt-outs..
Best features
SMS Broadcast

,

SMS Opt-in

and

Peer to Peer texting

under one roof.

Integration with popular CRMs like NationBuilder, NGPVAN, Action Network and more.

Automatic responses that can collect data and offer more information without human intervention.

Templates for faster responses.
Use dynamic data from your database to personalize texts.

Automated data collection via sms

(name, email, zip code and more) from new subscribers.
What we like
Campaigns can come in even without a fully built list and use the tools together to find supporters and build authentic relationships. And they can do it at scale since peer to peer texting lets a single organizer initiate up to 3000 conversations per hour.
When the context does not require a conversation (general updates and last-minute reminders), an automated text gets the job done.
Pricing
Pay as you go pricing model. You only pay for the texts you send. There is no limit on contact uploads.
3.4¢/text for texts sent from a normal 10-digit number.
5¢/text for texts sent from a 5-6 digit shortcode.
Peer to peer texting is the way to have 1-to-1 conversations with a large number of people. Learn how here.
Relational Organizing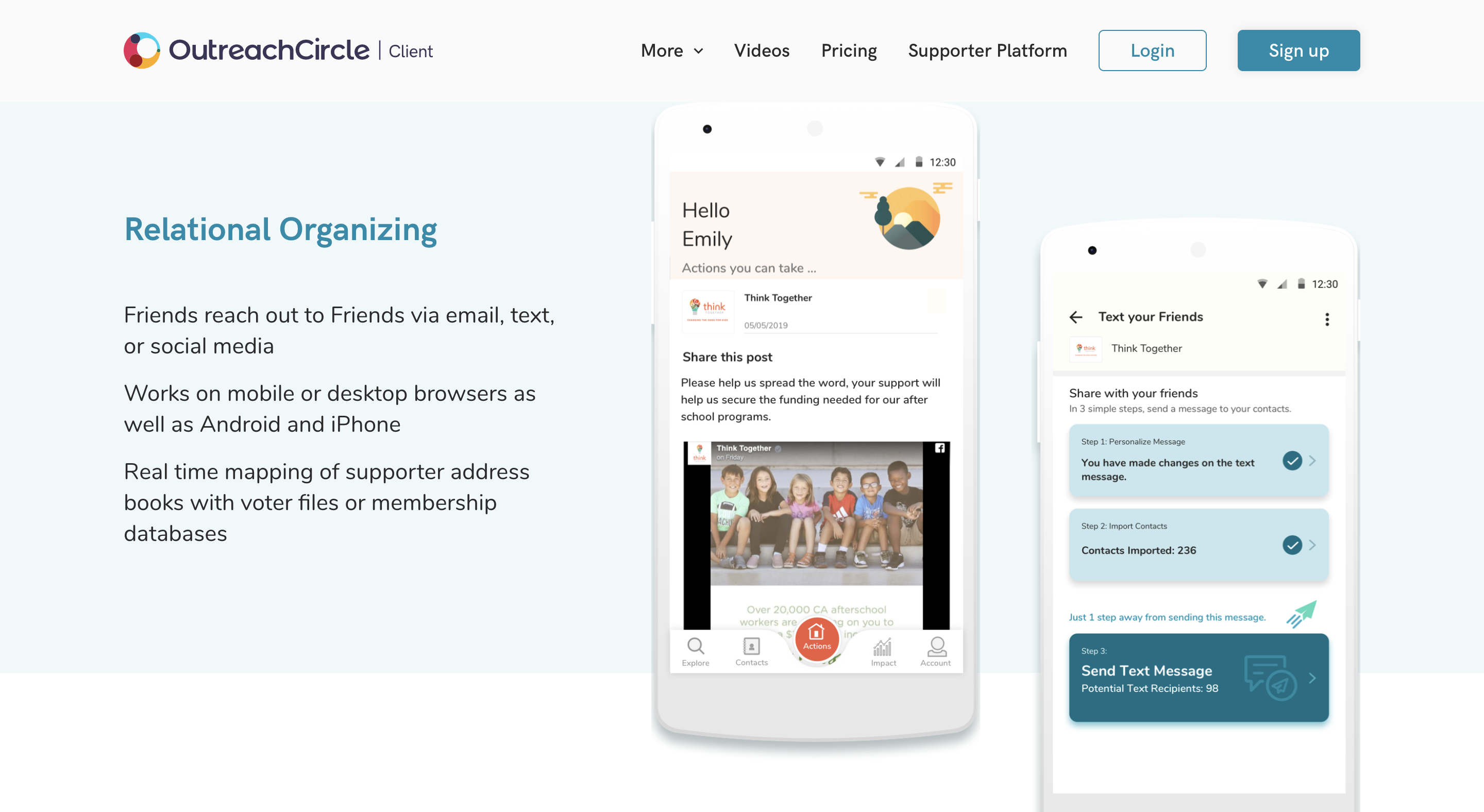 OutreachCircle is a friend-to-friend outreach (aka relational organizing) platform that enables supporters to utilize their personal address books to identify and connect with eligible voters. Supporters leverage established relationships to get people to register, vote, volunteer, or get out the vote on behalf of candidates, campaigns, and organizations.
Best features
Automated voter file matching to identify target voters

Super Influencer Finder to identify the most connected voters in an electorate

Online surveys

Segmentation

Prompt friends with email, text, or social media actions.
What we like
We've talked previously about how effective peer pressure is at getting people out to vote. But finding people within a supporters social circle who are also part of the same electoral precinct is hard work. We love that OutreachCircle makes that job easier by mapping supporter address books with voter files or membership databases.
Pricing
OutreachCircle offers five plans. Campaigns can start on a free plan and upgrade for additional features.
$0/mo – For campaigns and organizations with no budget
$30/mo – Up to 50K list size
$150/mo – Up to 150K list size
$300/mo – Up to 300K list size
$500/mo – Up to 500K list size
Prices mentioned are for 6-month subscription.
Outvote turns your supporters into lightweight organizers. The app makes grassroots campaigning easier and more personal by allowing people to text their friends about volunteer opportunities, shift sign-ups, fundraising and reminders to vote.
Team App
Team helps organizers build a community of supporters who can be prompted to share videos, photos, and infographics about the cause on Facebook.
Analytics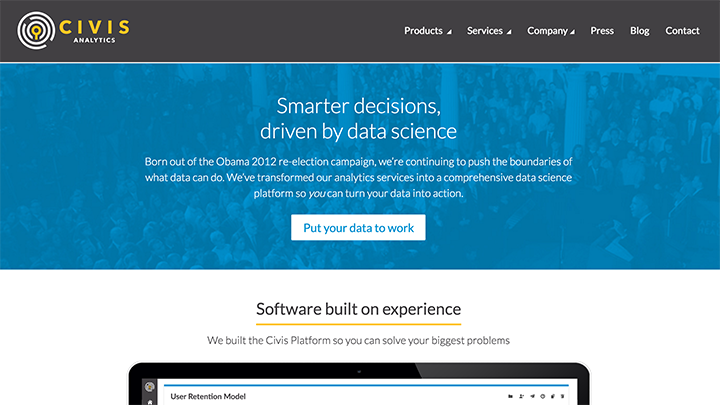 Civis Analytics has its origins in an analytics tool built for the Obama 2012 campaign known as "Optimizer" which paved the way for the campaigns big win. Founder, Dan Wagner took the idea and built it into an easy-to-use, end-to-end, extendable, data science platform in the cloud.
The Civis Platform interface integrates voter data from multiple sources, appends it using Civis's proprietary database of 230M+ Americans, and lets campaigns use that data to learn what matters most to voters at a zip- code level.
Best features
The Civis Political Subscription gives campaigns immediate access to high-quality forecasts and models for every race, from national down to a single congressional district.
Creative Focus is a testing tool for videos, images and messaging that helps campaigns identify the most persuasive messaging for a target audience.
What we loved
Campaigns can know how a message performed, measure any potential backlash, and understand which subgroups were most receptive to each creative. Think of it as A/B testing on steroids.
Pricing
Prices vary based on product. You can get in touch with them for a demo.

Voter Files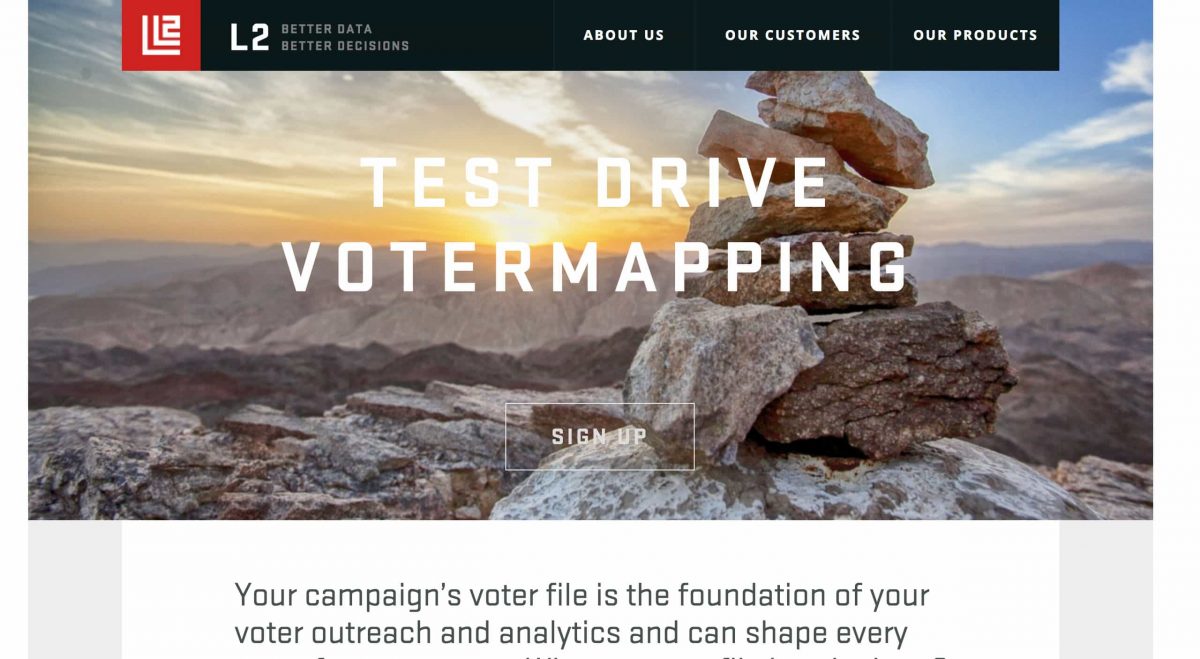 Overview
L2 provides high-quality voter data to election campaigns, political consultants, and PACs. L2 voter files hold datasets on State and county-level registered voters, U.S census data, election return data from every county in the U.S, telephone files, and lifestyles and issue data on individual voters.
L2's VoterMapping product gives campaigners the power to perform voter analysis, filter from thousands of voter demographics and donor categories and export targeted voter lists.
Best features
Comprehensive online database of voter, consumer, predictive non-voter, constituents and consumer records.

Access to a wide range of voter and consumer lists including mail, phone/text and email.

Self-service tool allowing you to make selections, pull counts/reports and download the records you need.
What we loved
L2 integrates with popular voter outreach tools like CallHub so you can bring in voter lists for targeted calling and texting campaigns.
Pricing
Prices vary based on product. You can get in touch with them for a demo.
Aristotle is a data management tool for political campaigns that specializes in data-mining voter data. The software is used by senatorial and congressional campaigns, Democratic and Republican state party initiatives, PAC's and grassroots organizations. The Aristotle product line also includes fundraising, donor management, and compliance reporting software.
Target Smart is a data, technology, and consulting firm that helps campaigns, candidates, and organizations achieve their goals. Target Smart maintains voter data containing the demographic, financial, and lifestyle information of more than 200 million consumers in the United States. It also maintains data sets on mobile phone numbers, precinct-level election results, and political contributors. Along with their data and products, Target Smart offers professional services that include polling, predictive modeling, strategic consulting, and communications.

Data Enhancement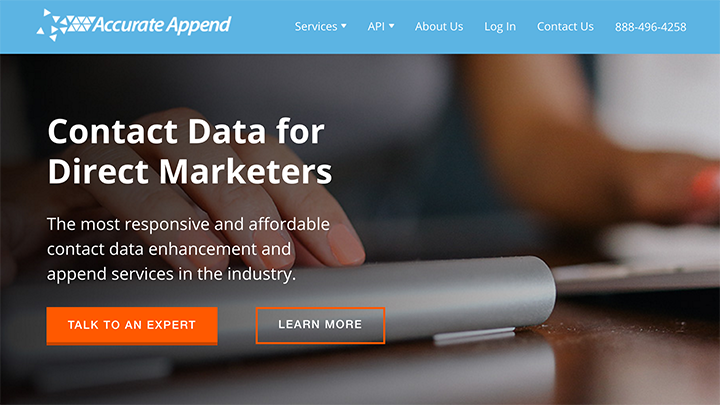 Accurate Append boasts of billions of data points on U.S voters and consumers. The tool makes sure that campaigns have the right contact information to rely upon through their email append, phone append, and lead validation features. It cleans up email and phone list by verifying which email addresses and phone numbers are valid and then fills the gap where the contacts are incomplete or out of date with relevant data.
Fundraising
ActBlue is an online political fundraising tool for Democrats, progressive candidates and nonprofits. The platform has led the movement toward small online political donations, raising more than $3 billion for Democratic candidates and progressive since 2004. It holds strong appeal for groups and campaigns that are starting up or are seeking down-ballot offices, connecting them to new and existing grassroots donors.
Best features
Single click donation to any candidate or cause using the platform (if the donor decides to save their payment information on ActBlue). (7,682,187 Democratic donors have saved their payment information with ActBlue as of Oct 7, 2019)
Unlimited branded contribution Forms

Mobile-optimized donation forms

A/B testing for contribution forms
What we like
ActBlue works so well because everyone uses it. Their Express Lane feature lets candidates tap into more than 7 million ActBlue Express users who can give to all of the campaigns, committees, and organizations that use ActBlue with a single click.
Pricing
ActBlue charges a flat rate of 3.95% on each donation to cover the processing cost.
Alternatives
PayPal, Revv, Anedot, Democracy Engine
An earlier version of this article listed Crowdpac as a fundraising platform. They closed their doors on June 19th, 2019.

Events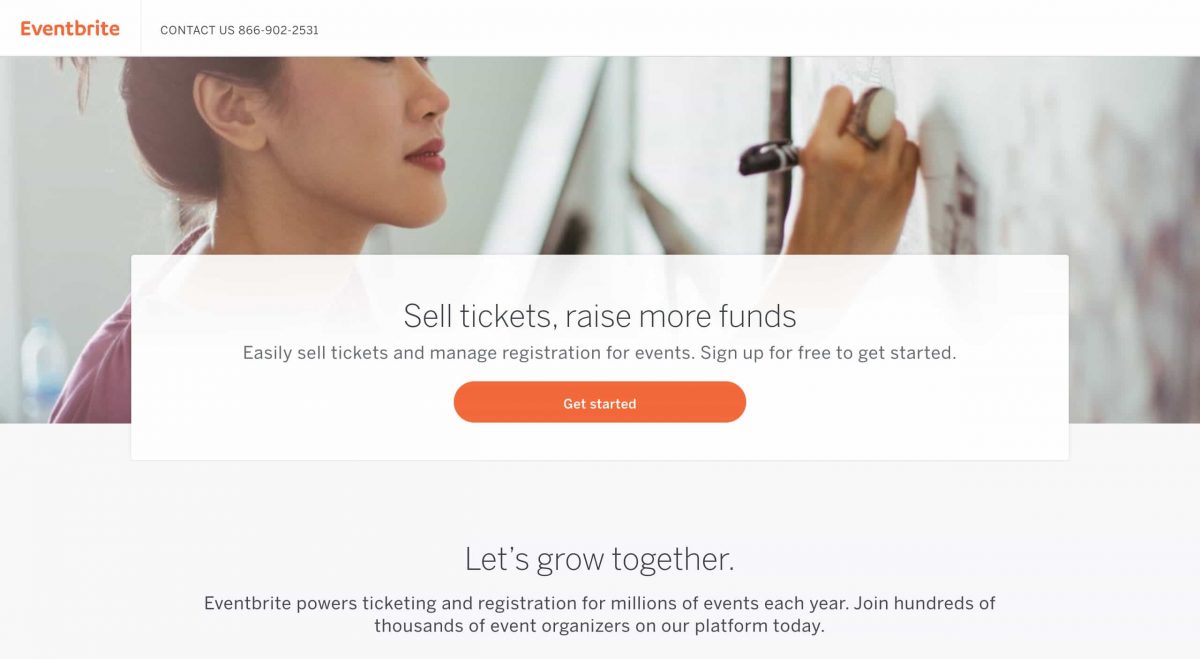 Eventbrite is the ticketing and event registration platform that makes managing events and organizing your fundraisers easy. From debates to fundraising dinners, to conventions and town halls, Eventbrite makes it quick and easy to set up and organize your political event (debates, fundraising dinners, conventions, town halls, rallies) and manage your attendees
Best features
Event organizers can collect an attendee's job title, phone number, or a custom piece of info by setting up your own questions. Any information can be gathered by the organizer and exported.

Scan tickets via Android/iOS devices.

Sell tickets at the door with an iPad and credit card swiper.

Social sharing tools for attendees to share the event with their friends or colleagues.

Select a target audience and promote the event on the web pages they visit the most to boost ticket sales.
What we like
While Facebook is a universal tool that is great for promotion, a large number of event organizers need the functionality that Facebook events don't offer, which Eventbrite provides.
Pricing
Eventbrite is free to use for free events. It offers three types of packages with varying functionality and cost.
Essentials –   2%+$0.79 (fee per paid ticket)

Professionals – 3.5%+$1.59 (fee per paid ticket)

Premium – Tailored partnership for organizers with large and complex events
All three packages charge an additional payment processing fee of 2.5%.
---
Gearing up for your political or advocacy campaign? Check out phone banking, text messaging, and robocalling software by CallHub.
Featured Image Source: fauxels