Designing engaging campaigns, tracking product success, and targeting and expanding audience bases is essential for any successful nonprofit, business, or political campaign.
To achieve these goals efficiently, one needs to understand the market, trends, and opinions of supporters. Resourceful, reliable online market research tools thus become an inherent part of the process.
What are the main types of market research?
Any market research involves two broad components- primary research and secondary research.
Primary research includes surveys and feedback given by your users, customers, or supporters. Such types of market research tools help you understand market trends, opinions, and nuances first-hand. Such research
This type of research involves:
Survey Creation
Survey Distribution
Secondary research is where you collect relevant information from databases, media channels, or think tanks who have undertaken surveys and interviews. These studies are carried out by experts and give you a broader view of your research.
Secondary market research tools help you with:
Social Listening & Keyword Analysis
Market Insights and Analysis
You May Also Like: Why Is Market Research Important For Your Organization? All Essential Reasons
In this article, we will look at 16 best market research tools that help you create and distribute surveys, undertake social listening, study keyword trends, and analyze data.
16 excellent market research tools:
Survey creation tools
You want to undertake endemic research, understanding the needs, expectations, and complaints of your customers and supporters. For this primary research, you need marketing research tools that help you create valuable surveys, help the questions flow smoothly, and reduce human effort while conducting research. Let's have a look at four tools that give value for money in creating surveys.
1. Typeform to create visual surveys
Typeform brings alive even mundane questions with eye-catching background images and videos. These beautiful graphics and smooth flowing questions keep respondents engaged, reducing drop-out rates.
This digital market research tool eliminates the need to hire developers to design creative surveys and makes your choices as easy as a click. It helps you build quizzes, polls, forms, and start a conversation with your respondents.
Features we love:
Add interactive content to surveys
Ample space for personalization
Hundreds of icons to choose from
Easy to design surveys
Pricing- Subscription starts at $35 per month (billed annually).
2. CallHub for personalized polls made at scale
CallHub is an excellent tool if you are looking for scalable personalized conversations with your customers or supporters. With 1200+ customers and available across 200 countries, it is a trusted market research tool for small businesses, political campaigns, nonprofits, and advocacy groups.
CallHub allows you to draft scripts for phone banking and text campaigns, record responses in real-time, and transcribe them.
Integrated with CRMs like NationBuilder, Salesforce, and Blackbaud, this tool gets you thousands of contact details at the click of a button. Moreover, our call center tool lets you set up multiple retries, so you don't lose out in case of unanswered calls.
Features we love:
Call Centre, SMS and Voice Broadcast software under one roof
Personalized text and phone conversations that are scalable
User friendly
Lets you record and track survey progress, responses and more
Pricing: Pay-as-you-go
3. Qualtrics to identify at-risk customers and get their feedback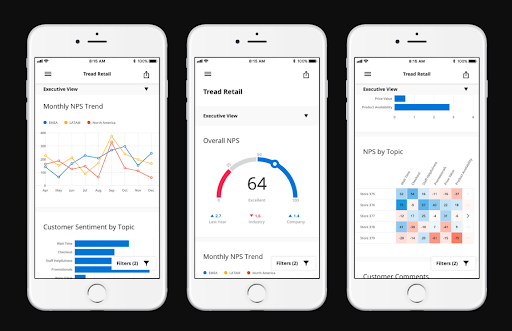 Customer satisfaction is crucial in maximizing retention. Understanding what about you is working for them and what isn't thus becomes of utmost importance. Qualtrics enables you to create and customize customer surveys as well as to identify at-risk patrons.
This market research tool guarantees high-value data and actionable points with every completed customer survey. It has a library of 100+ customizable question types and prebuilt survey templates designed by experts. That means creating surveys takes less effort.
Features we love:
Multi-mode survey distribution (including emails, SMS, Messaging apps)
Huge collection of FAQs to select from and modify
Customer churn predictor to help target your surveys
Creates personalized interactions at scale
Pricing: On Request.
Check out the audience research tool here.
4. Survey Monkey to create detailed surveys
Survey Monkey is a popular survey creation tool used by university students, large and small businesses, nonprofits, political campaigners, and more. Anything you want for your primary research— from academic surveys to healthcare surveys or customer feedback, this market research resource will help you create.
It has design templates ready, so you don't have to start from scratch while creating surveys. Survey Monkey also gives you benchmarks to compare your results with. This makes the analysis of your responses easier and standardized.
Features we love:
Easy to follow templates
A bank of 200+ survey templates suitable to your field
Lets you distribute questionnaires via email, social media and more
Integrates with Google Drive, MailChimp, Slack and 100+ apps
Pricing: Business accounts start at $28 per month
Create your survey on this market research tool here.
Comparison of basic accounts for the market research tools:
| | | | | |
| --- | --- | --- | --- | --- |
| | Typeform | CallHub | Qualtrics | Survey Monkey |
| Free Trial | Yes | Yes | Yes | Yes |
| Integration with CRMs | Yes | Yes | Yes | Yes |
| Subscription Model | Yes | No | No | Yes |
| Personalization Options | Yes | Yes | Yes | No |
| Tracking | No | Yes | Yes | No |
| Requires Installation | No | No | No | No |
You May Also Like: Market Research Calls: Choose A Great Communication Software
Top Market Research Tools for Survey Distribution
Your work only begins when you create a survey. Once you have all your questions in place and have polished the flow, the next step is to distribute it to the right audience. You want to avoid professional survey takers, those that don't fall in your target demographic, and those you have already taken the survey.
Correct survey distribution is necessary to prevent this unintentional skewing of research.
Additionally, you want to go for types of market research tools that your audience prefers. The following tools distribute your surveys through phone calls, in texts, and online so you cover multiple modes of research, increasing your chance of getting responses.
1. CallHub to distribute surveys via calls or SMS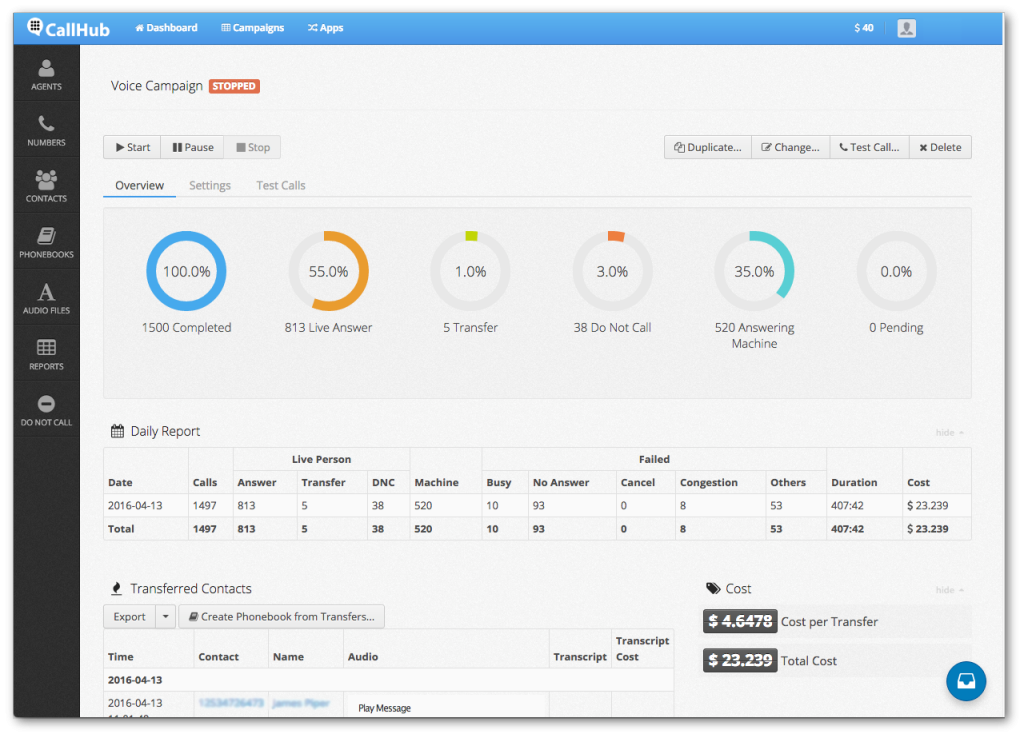 Our political and polling customers have found CallHub to be useful as a survey distributor tool. While the focus of survey distribution has largely shifted online, phone and text messaging allow for more targeted surveys. They are reliable channels for individuals who are not internet savvy.
For such customers and supporters, CallHub is a top market research tool that offers call center and texting software. For long or descriptive surveys, opt for a phone campaign. Calls may have a low answer rate, but they have a higher completion rate.
For surveys with four questions or less, SMS is your ideal distribution tool. Additionally, if you have created a survey on another website, you can distribute it by using text message campaigns. Like so: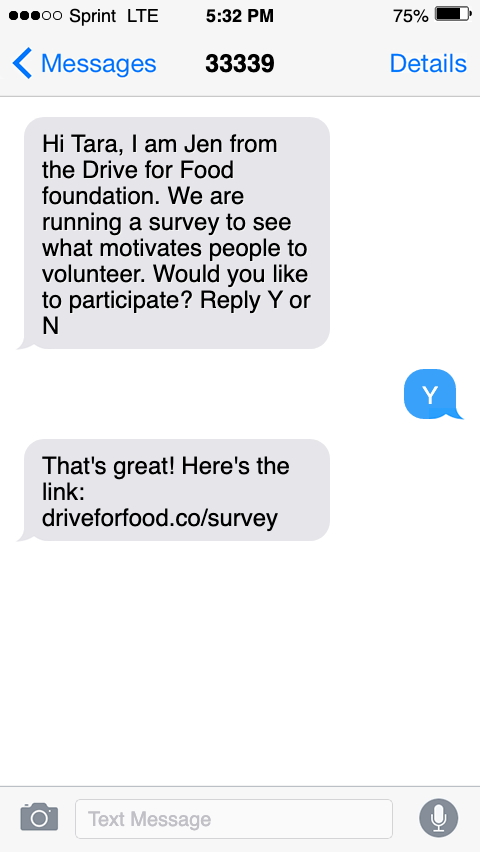 Features we love:
One account can create text, voice broadcast, and calling campaigns
Pay-as-you-go pricing
Lets you schedule redials for unanswered calls
Tools like preview dialer, power dialer, and predictive dialer let you choose the most suitable model
Pricing: Pay-as-you-go
Check out CallHub's software here.
Related Reading: How to Conduct a Political Survey Through Calls and Texts
2. Facebook as a market research tool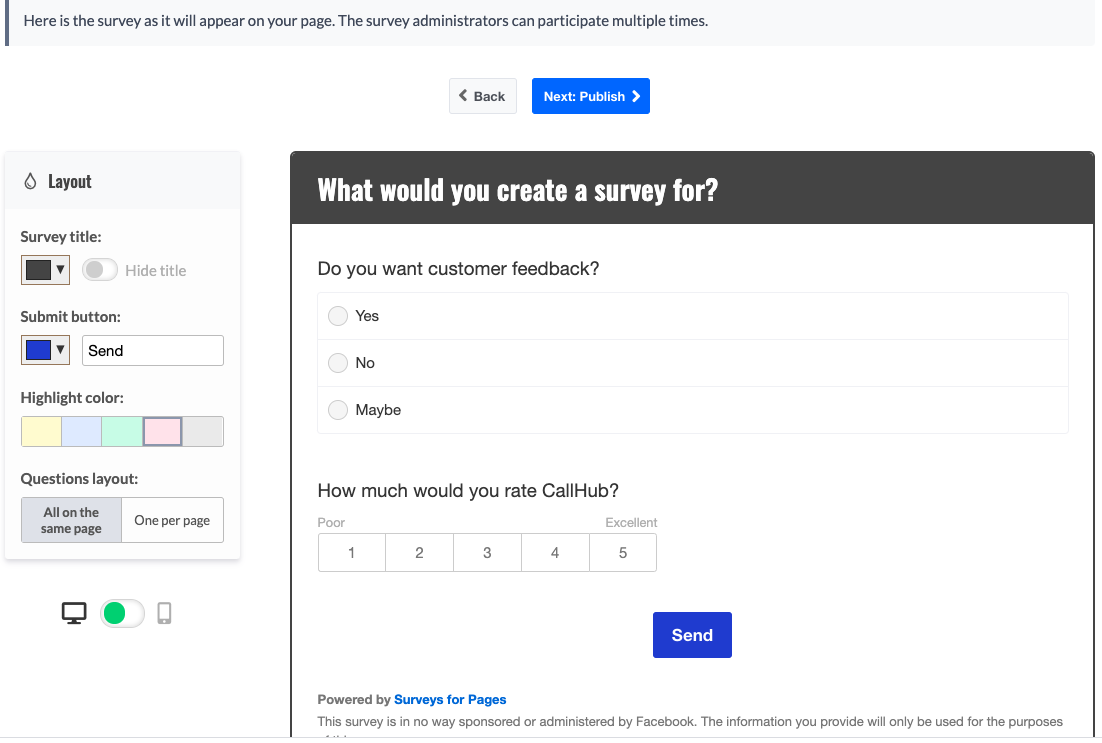 As of the first quarter of 2020, 2.6 billion people were active on Facebook. Their reach naturally is fantastic, and since people are used to the interface, the completion rates will be higher.
You can create and customize surveys on the platform, and Facebook will target it to the right audience. This audience is based on accounts who have engaged with you, your competitors, or similar posts in the past. Their "likes," "shares," and "comments" show the algorithm who is most likely to be an active participant.
You can further boost this reach by opting for a paid advertisement for your poll.
Features we love:
Wide reach
Targets the audience that suits your demographic
Promises result in a short time
Easy result analysis
Pricing: This is a free online market research tool.
Create and distribute your survey on Facebook here.
3. Hotjar to track survey results in real-time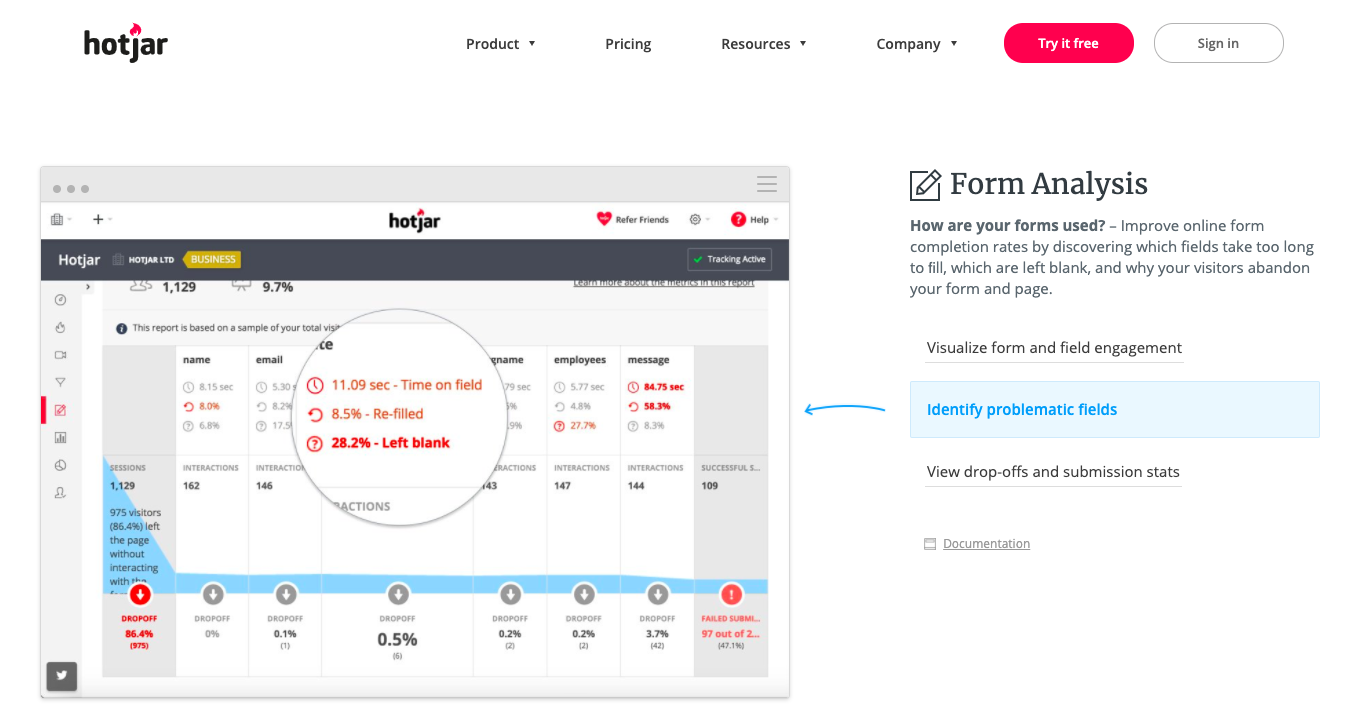 Embed Hotjar on your website admin page, and you can see performance results in real-time!
Hotjar takes the survey you created to the right audience with its powerful targeting algorithms. Moreover, this market research tool helps you track how your forms are performing, the areas where people are dropping off, and suggests ways to improve these drop points.
This online tool enables users to give instant visual feedback so you can identify common problem areas easily.
Features we love:
Targets audience using URLs, device or other triggers
Easy to export and share
Offers behavior logic such as exit intent and custom delays
Multiple team members can work together
Pricing- Basic subscription starts at $89 per month.
4. Pollfish for quick survey responses
Pollfish has partnered with 780+ million real consumers in over 160 countries. When you use this platform to distribute your surveys, it targets specific users who fall under your target demographics, giving you swift, reliable responses.
Pollfish charges you per completed response, so it is an affordable, reliable market research tool. It lets you create surveys on their platform as well as integrate third-party surveys.
Features we love:
Real-time updates on the dashboard as surveys are completed
You are charged only for completed surveys
Collect quick responses
Extensive database of consumers and apps
Pricing: Basic model is pay-as-you-go. Subscription starts at $8400.
Comparison of basic accounts for the market research tools
| | | | | |
| --- | --- | --- | --- | --- |
| | CallHub | Facebook | Hotjar | PollFish |
| Free Trial | Yes | Yes | Yes | Yes |
| Multi-media Distribution | Yes | No | No | Yes |
| Integration with CRMs | Yes | No | No | No |
| Requires Installation | No | No | No | No |
| Survey Tracking | Yes | Yes | Yes | Yes |
| Subscription Model | No | No | Yes | No |
Market Research Tools for Social Listening & Keyword Analysis
You need to have your ear to the ground to resonate with trends your customers or supporters are following. That means understanding what is working for your competitors, how their followers are reaching them, and how you can optimize to get ahead.
Online market research tools provide such analysis. Here is a list of different market research tools to help small businesses, nonprofits, and political campaigns in social listening-
1. KeyHole to track your social media performance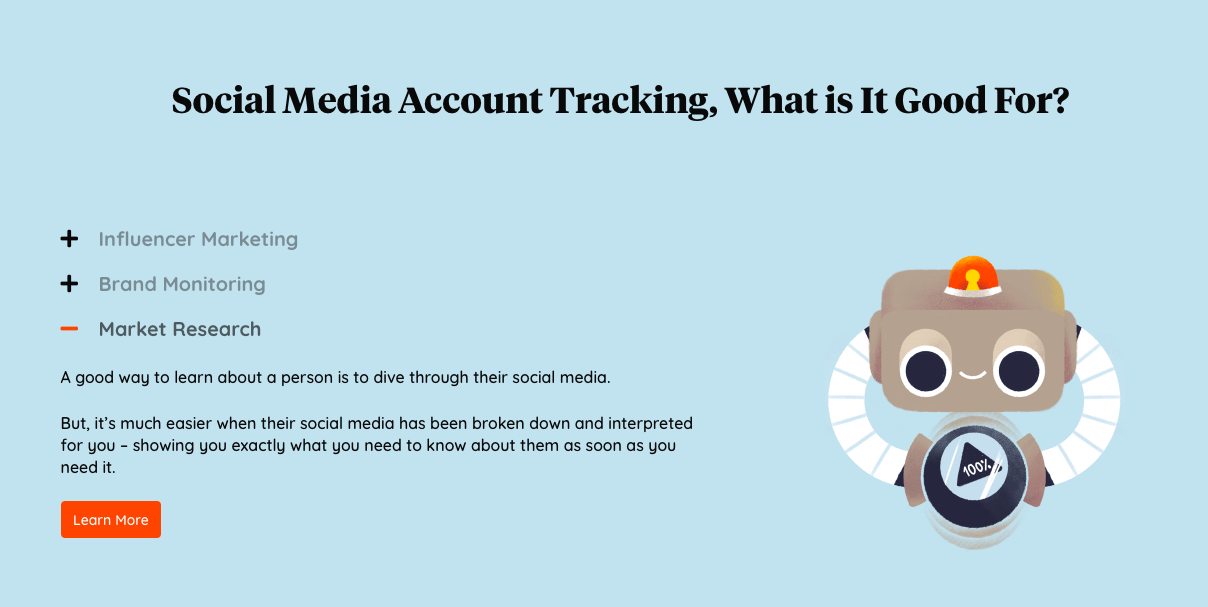 Social media posts are not worth the effort if they do not reach the right audience, impress them, or generate curiosity. KeyHole is a social media market research tool that lets you track the performance of your social campaigns and hashtag metrics in real-time.
As a social media strategy, KeyHole tracks your mentions on social media, tracks historical data of what your customers like and dislike and creates reports of your performance. It also helps in influencer tracking, noting topics related to your campaigns and websites that rank for the same.
Features we love:
Analytics on popular social media like Facebook, Twitter, YouTube and Instagram
Social Media tracking that includes mentions, hashtags and more
Suggestions on key influencers in your field
Caters to nonprofits, agencies, media, entertainment and more
Pricing: Starts at $49 per month
Ace your social media game by trying KeyHole here.
2. Crayon for Competition Observation
What is working for your competitors? What campaigns have done well for them? How can you learn from them and grow?
Such questions are essential when you are designing a social media or search engine optimization strategy. Crayon is an online market research tool that helps you in exploring the strengths and weaknesses of your competitors.
It tracks over 100 data types for your competitors, analyses them, filters out the noise, and presents actionable insights for you. With Crayon, you can keep a real-time track of your competitors and analyze their digital footprints.
Features we love:
Real-time updates on competitors' activities
Filters to analyze bulky data
An overarching view of your competitors
Enables you to strategize campaigns based on what has worked for others
Pricing: On request.
Check out the social listening tool here.
3. SE Ranking for market research on your competitors
In a digital world where algorithms rule your impressions, search engine optimization is absolutely necessary. Online tools like SE Ranking help you understand the search terms people are using, what their value is in the market, and what measures to take to utilize ranking keywords to your benefit.
It tracks and analyzes major search engines, including Google, Yahoo, Bing ad Youtube for trending keywords and gives you data to build your pages, articles, or campaigns on.
Features we love:
Location filters
Also includes competitor tracking
The tool provides additional information like SERP features and traffic forecast
Easy to download and share this data
Pricing: Starts at $39 per month
4. Sprout social as a social listening tool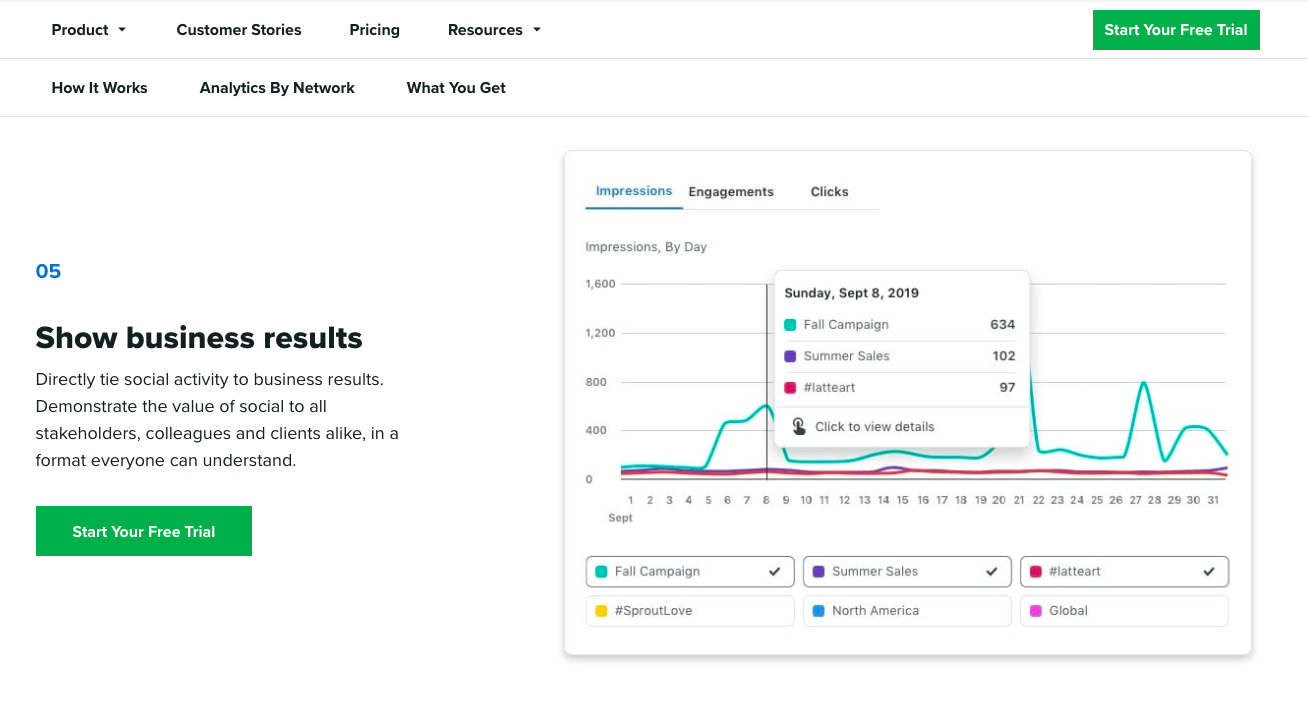 Campaigns are more likely to perform up to expectations when the topic is trending, or when it has just the content that people are looking for. To pass these benchmarks, you need a social media strategy that takes studies and analyzes all vital metrics.
Sprout social does that for you. It helps strategize content to achieve your goals and increase engagement. It is a data-driven tool designed to take you from just another business to top of your class.
Features we love:
A dynamic tool that evolves as customers and trends do
Studies and demonstrates the value of all your stakeholders to help you evolve your strategies
Integrates with Facebook, Instagram, LinkedIn, and other social media platforms
Provides valuable intelligence and actionable insights
Pricing: Starts at $99 per month.
Check out the all-encompassing online tool here.
Comparison of basic accounts for the market research tools
| | | | | |
| --- | --- | --- | --- | --- |
| | KeyHole | Crayon | SE Ranking | Sprout Social |
| Free Trial | Yes | Yes | Yes | Yes |
| Social Media Tracking | Yes | No | Yes | Yes |
| Keyword Analysis | No | No | Yes | Yes |
| Realtime Updates | Yes | Yes | No | Yes |
| Competitor Observation | No | Yes | Yes | Yes |
| Subscription Model | Yes | Yes | Yes | Yes |
Tools for Market Insights & Analysis
Understanding statistics and data about various niches become paramount when strategizing content or campaigns. These numbers may not be directly related to your competition but are crucial nonetheless.
For instance, while writing about the involvement of youth volunteers in your campaign, you want to understand the percentage of youngsters involved in such activities. Secondary research helps in getting such numbers. Professional researchers have already studied these subjects, and you can form your research on their findings.
Let's look at tools that have a vast library of such studies.
1. Pew Research Center for an abundant library of US-based studies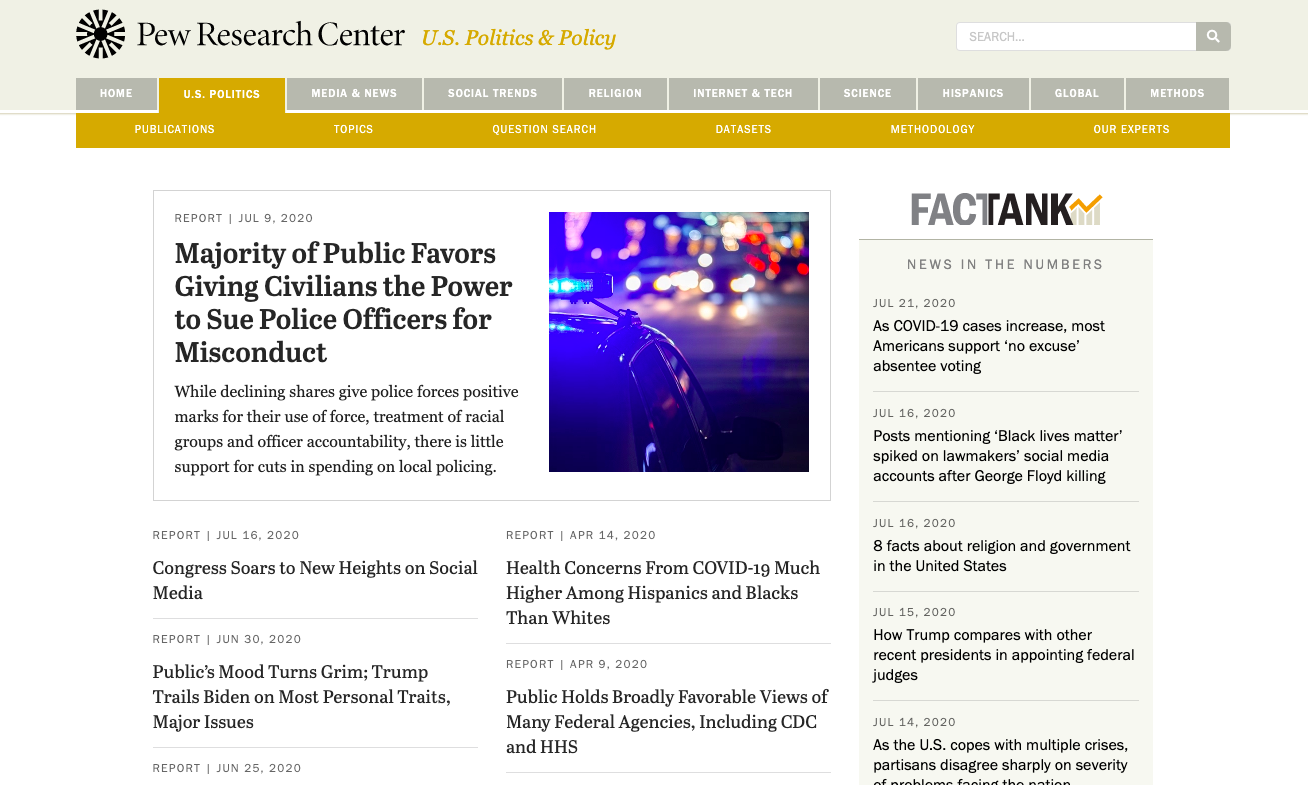 Pew Research Centre is a non-partisan think tank that undertakes valuable research on topics ranging from politics to psychology and sociology.
It has free publications, reports, and studies available for your perusal and is a reliable source of data. Most of its studies are based in the USA and are updated periodically.
Features we love:
Covers a wide range of study fields
Reports are free to use and quote
Their non-partisan stand makes the numbers unskewed
All research is conducted by experts
Pricing: This is a free market research tool.
To get your data from Pew Research Center, click here.
L2 Political- go in-depth in your voter research
L2 Political gives you an in-depth look at voter mapping, constituency mapping, consumer mapping, digital advertising, and more.
If you are a political campaign looking to map your supporters in the USA, L2 Political lets you get as close to them as a rooftop of a house (just like Google Maps!) to get information about geographical concentration, patterns of demographics, voter turnout trends, etc.
Such facts and figures become drivers of your campaign success.
Features we love:
Detailed mapping of voters, consumers, and constituencies
Contains a giant database of contact details
Offers the latest voter file information
Gives you clean, filtered data lists
Pricing: On Request.
Get your data now by clicking here.
3. Target Smart to sort and analyze market research data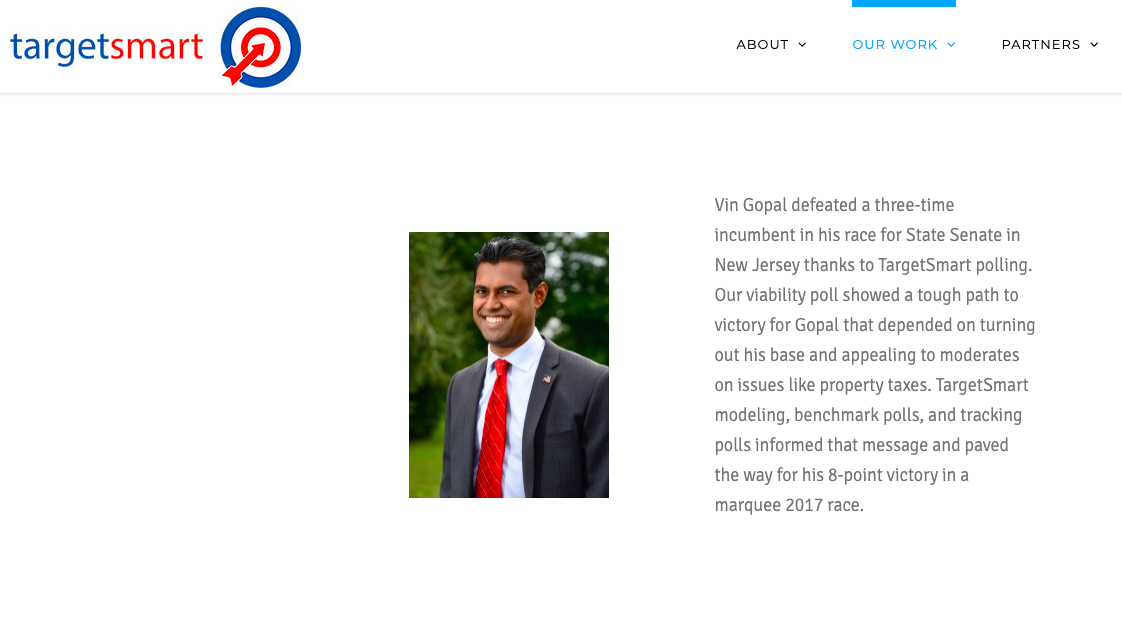 Target Smart is a reliable database for advocacy groups, nonprofits, and political campaigners. With millions of voter bases, cell bases, AI bases, and more, this market research tool offers data to help you target potential consumers and supporters.
This tool helps you organize, manage, and analyze data, so you make an informed campaign and race towards victory.
Features we love:
Extensive data relevant to nonprofits, advocacy, and political campaigns
Products are tailored to your goals
Choose services from consulting, data enhancement and poll-goals
Organize and manage data. Analyze the outcomes of your campaigns based on it
Pricing: On request.
4. Statistica as a Market Research Tool
What meat is Europe loving, and what are they hating? How has COVID-19 affected e-commerce in the USA? What is the state of the environment in Latin America?
Whatever the objective of your business, nonprofit, or campaign, Statistica has an answer. With endemic studies as well as research from third parties, this online market tool is resourceful, reliable, and easy to access.
Features we love:
Statistica contains research from over 170 industries
They offer data from 150+ countries
Reports are downloadable
They also provide an analysis of the market research
Pricing: Basic model is free. Subscription starts at $708 annually.
Check out their services here.
Comparison of basic accounts for the market research tools
| | | | | |
| --- | --- | --- | --- | --- |
| | Pew Research Centre | L2 Political | Target Smart | Statistica |
| Free Tool | Yes | No | No | Yes |
| Downloadable Reports | No | Yes | Yes | Yes |
| Multiple Industries | Yes | No | Yes | Yes |
| Requires Installation | No | No | No | No |
| Relevant Internationally | No | No | No | Yes |
| Subscription Model | No | No | No | Yes |
With these wide-ranging market research tools, we hope you optimize the data and steer ahead in your campaigns. Some other research tools you may find useful are
Are there any tools that you think we should add to this list? Let us know.
Feature Image Source: Adeolu Eletu/ Unsplash