Making market research calls using agents with excellent call center skills is one part of the strategy to create a successful market research campaign. The second part is choosing an effective communication software to make your market research calls a breeze. That's because a good calling software for market research calls:
Makes contact management easy
Improves productivity multifold
Is cost-effective
Manages your workflow
Allows multiple communication channels
Measures productivity
Sounds like a great deal overall! This article explores essential software features for successful market research calls.
Essential software features for market research calls
Conducting market research calls requires many steps – first preparatory steps where you determine your objectives and bring together your team. Next, steps to launch the actual market research calls campaign.
While going through this process, a good communications software can assist you with great features saving on your time and money. Here are some features to look out for:
Multiple communication channels
Dynamic caller ID
Call disposition
List segmentation
Compliance features
Live call monitoring
Agent management
Answering machine detection
Press-1 campaigns
We explain these features in a bit of detail below.
Multiple communication channels
A solid research campaign requires the combination of multiple communication channels to make it successful. Since different people have different communication preferences, you can try a combination of two or more channels to increase your outreach.
While calls are the best way to get survey responses, especially when looking for more in-depth answers, other communication channels have their role.
For instance, when making market research calls, you might encounter call recipients who might want to schedule the call for later or might need more details about the survey. This is when you could share a text message follow-up informing them about rescheduled call time or share a link with FAQ resources.
You can also thank participants for contributing to the research campaign by sending a thank-you text later.
Dynamic caller ID
Most market research campaigns rely on cold calling to receive responses from the general public. Research shows that receiving negative responses through cold-calling is very likely since the recipients don't know your organization or mission.
To make matters worse, sugging – calling on the pretext of market research but pitching products for sale – is a practice that has made people warier about market research calls.
One way to improve this situation is to use features such as Dynamic caller ID, which assigns a local caller ID to your campaign. To explain better, think of conducting a calling campaign in New York. When you use the Dynamic caller ID feature, your number is displayed as a local New York number. This increases the chances of a person picking up your calls by four times and establishes an early familiarity on call.
Call Disposition
Call disposition is a way to indicate the outcome of a call. For example, suppose your market research call ended with the recipient answering your survey.
In that case, you can set the call disposition as 'Completed.'
You can choose from the call dispositions available on the software or customize call dispositions – which CallHub allows.
Here's what call dispositions can do for you:
It makes it easier for you to sift through contacts and know the status of each respondent.
This, in turn, helps inform future actions by segmenting lists to remove bad numbers, retry unanswered calls, follow-up on dropped voicemails, etc.
It lets you know about the quality of the contact list and rethink its source.
List segmentation
Hands down, a great feature that will immensely save your time and effort is the list segmentation feature.
With this feature on your market research calls campaign, you can segment your contact list depending on who you want to target. For example, if your research campaign targets women aged 45-60, you can segment your contact list to only reach out to that audience segment.
So much better than manually sifting through lists on an excel sheet each time you want to conduct a campaign!
Compliance features
It is so essential to comply with TCPA regulations when running a market research calls campaign. If your campaign is flouting these laws, your number can be blocklisted, and your campaign can be stopped.
A good communication software will keep your campaign compliant with these rules.
CallHub allows you to schedule campaigns within particular periods, according to timezones. It also has a FastClick dialer (or TCPA Compliant Dialer) to keep you compliant when cold calling mobile phones.
Live call monitoring
A helpful feature in a communication software for market research calls is live call monitoring.
This feature allows managers to listen in to any call while it is in progress and use it to give feedback and train agents. Therefore, your market research calls and your agents get better in real-time.
Agent management
Managing agents on each campaign can be more accessible with agent management features on your communication software. With a limited number of agents or multiple call campaigns to run, you might want to be strategic about how you want to assign agents to contacts.
Secondly, you might also want to assign a certain amount of contacts to each agent.
CallHub allows you to:
Choose to assign all agents to a campaign, select a few agents for the campaigns or choose to assign agents to the campaign later.
Assign a certain number of contacts to specific agents managed by the campaign manager.
Answering machine detection
Nearly 30% of calls are met with an answering machine. That's a large percentage when you are running a calling campaign.
An excellent way your communication software can help your campaign is by detecting answering machines and giving you one of two options:
Hang up
Play a prerecorded message.
Your agents can then set the call disposition as 'answering machine,' 'call back,' etc. and return to these contacts later.
Press-1 campaigns
Press-1 campaigns allow the recipient of your call to press any number from 1 to 9, which you would have predetermined, to leave a message or response. 
This feature is perfect for quick surveys you want to conduct through voice broadcast or robodialer!
Alternatively, you can also use these campaigns to scope out people interested in taking a survey and trigger an email (with the survey) to them when they press the pre-determined digit.
With Press-1 campaigns, you can track and analyze reports daily, receive email notifications for each press-1 transfer, and view responses.
Now that you know the features essential for a good market research calls campaign, you can explore how to set up a call campaign on CallHub. We've covered almost all the features you need for a successful market research campaign!
Setting up a market research calls campaign on CallHub
Setting up a calling campaign on CallHub is easy. Follow the steps mentioned below, and you will be ready to launch your campaign in no time!
1. Set up a CallHub account
Setting up a CallHub account is easy. Visit our login page and quickly sign up to get started.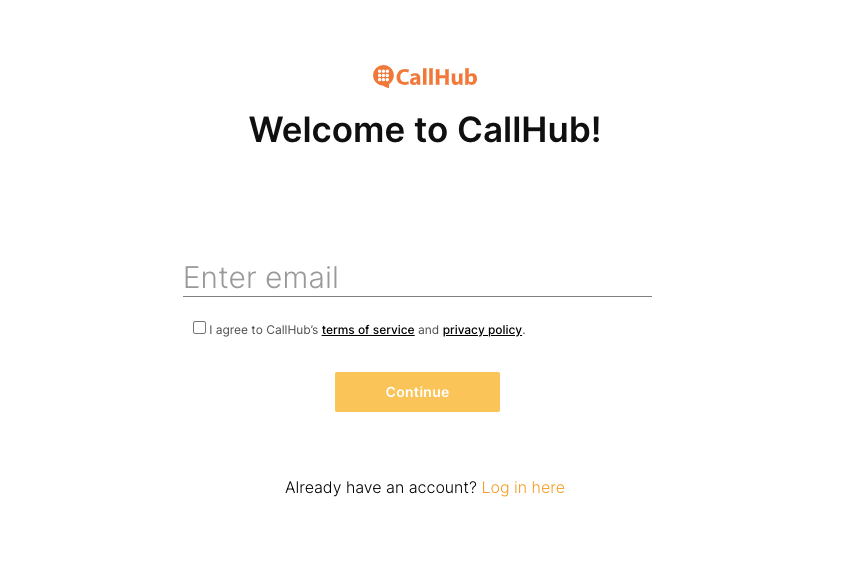 2. Choose an autodialer
CallHub offers three autodialers that you can choose from –
Depending on your requirements and how they match with each autodialer, you can choose the one that is best suited for your campaign. The table below demonstrates the similarities and differences between these three dialers.
| | | |
| --- | --- | --- |
| Predictive Dialer | Power Dialer | Robodialer |
| Make more calls in half the time | Use when the cost of not reaching every single contact is high | Reaches thousands of people at one go |
| Need a team of 6+ agents on the campaign | Need a team of 2-3 agents on the campaign | Does not need any agents. It is a pre-recorded message. |
| Dials while the agent is still on call, looking for available numbers | Dials next person in the queue when the agent is making notes about the previous call | No waiting for free phone lines |
| Agents can make notes about the call | Agents can make notes about the call | Press-1 functionality for recording responses |
You can also take our quiz 'Which autodialer works best for your campaign' to get more clarity on the best autodialer for your market research calls campaign.
3. Set up the campaign
Once you're logged in, you can click on the call center option and begin setting up your campaign.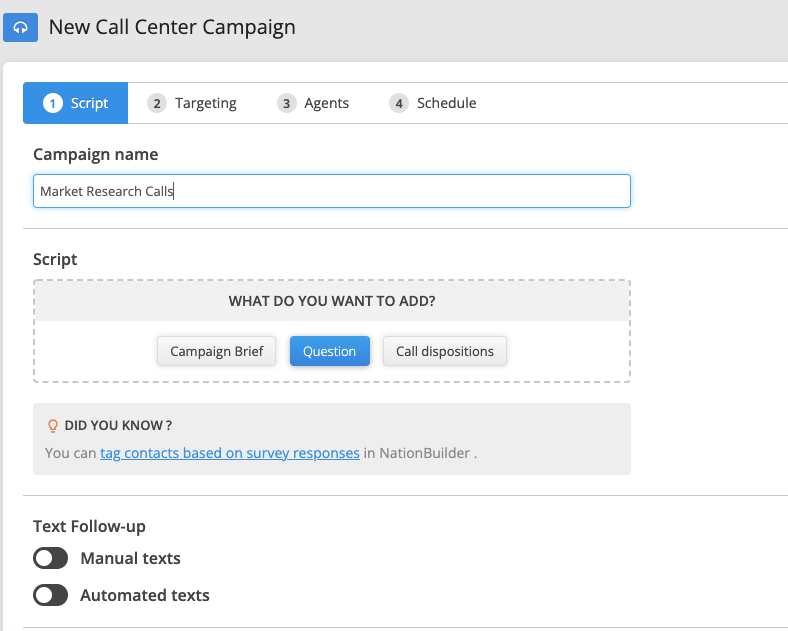 You can do the following on this page:
Add your campaign name
Click on 'Campaign Brief' and add your phone survey script
Click on 'Questions' and add questions relevant to your market research calls
Click on 'Call dispositions' and add the different call dispositions you want to indicate post each call.
Set up text follow-ups if you choose to add them.
4. Choose your targeting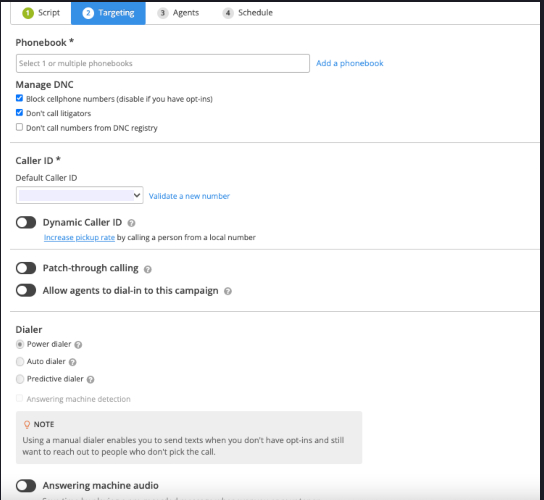 Next, move on to the targeting page. This page enables you to add the following to your market research calls campaign:
Your contact list which you need to target for this particular campaign under the 'Contact List' option. You can upload an excel or .slv file for the same.
Add your 'Caller ID' which is your registered phone number through which you will make those calls.
You can choose to rent a dynamic caller ID that displays a local number to recipients depending on their location. For example, if you want to call someone in Austin, Texas, your phone number will be displayed as a local Texas number and help you increase pickup rates.
Enable patch-through calling to allow agents to transfer the call to a superior in case the need arises.
5. Select agents for the market research calls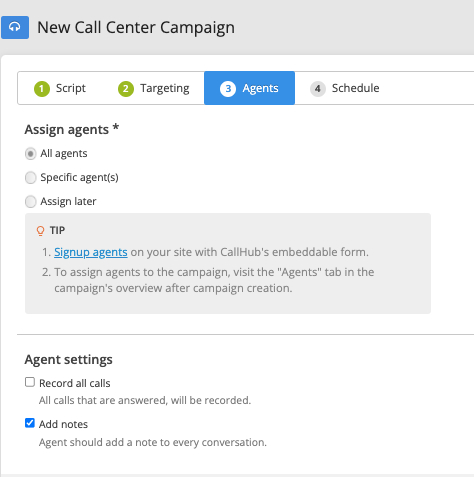 You can choose to assign this campaign to all your agents, select a particular set of agents or choose to assign agents later.
6. Schedule your campaign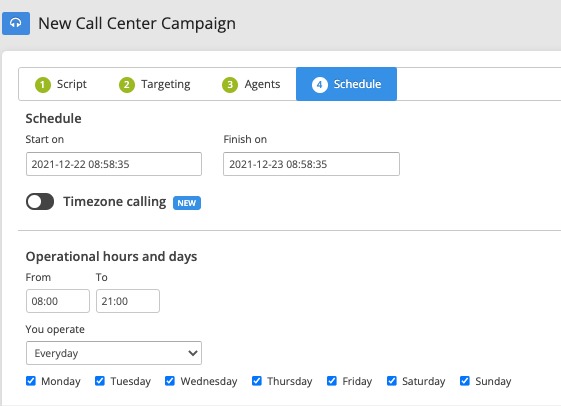 And just like that, before you know it, your market research calls campaign is ready to be scheduled and launched!
On CallHub, we've launched the Timezone calling feature which allows you to schedule campaigns while being mindful of the difference in timezones. Yup, we really think about everything we can do to make calling campaigns great for you! 🙂
You can choose call timings each day as well as the days on which you want to run the campaign.
7. Analyze reports
Once you've run your market research calls campaign successfully, CallHub lets you track and analyze reports so that you can continuously improve your campaign to get the best results.
Conclusion
Market research calls are important to elevate the results that you are seeking for your organization, political campaign, business, or agency. With CallHub's variety of features available to improve the success of your campaign, it is the communication platform to choose.
Start your free 14-day trial with CallHub today and boost your market research calls.
Feature Image Credits: fauxels