Volunteer appreciation becomes critical since the road to change is long, and you must recognize your volunteers to keep them motivated for the duration. What volunteers feel significantly affects how volunteers work, especially when campaigns must run all year round. Your appreciation can take the form of gifts, highlighting top volunteers, or even a heartfelt 'thank you.'
Through this article, you will learn:
How to recognize volunteer work
Yearly volunteer appreciation rewards
Weekly volunteer appreciation rewards
Daily volunteer appreciation rewards
How your workplace can support volunteers
Volunteers in America Today
Whether you run a nonprofit, a political campaign, or an advocacy group for an important cause, having a volunteer program can dramatically escalate your team's impact and make a large community a part of your mission.
However, volunteerism is declining in the United States. Volunteering fell to 23% in 2021 from about 28% in 2005. Though this still means 60.7 million said they formally volunteered through an organization. So 1 in 4 Americans are open to volunteering and will remain loyal supporters given the right volunteer experience. Also, those who volunteered gave more time and money than before. Some $410 billion was raised in donations in 2017.
You may find fewer volunteers, but they will do more for your organization and raise more funds. So it is essential for volunteers to feel engaged and appreciated.
How to recognize volunteer work
Volunteer appreciation ideas run the gamut from formal recognition awards to shoutouts on social media, gift cards, and events. Each choice must be made depending on the funds available, the reach of your campaign or nonprofit, and, most importantly – the average age of your volunteers.
Volunteers in their early 20s may less appreciate a trophy since they mostly live in rental homes that only some people physically visit. However, if you tweet about them or make an Instagram post about their efforts, they have thousands of fellow peers online who will see and appreciate their efforts.
Similarly, if your volunteers are from around the world, a gift that has meaning only in your neck of the woods may not be appreciated in a different cultural context. So gift cards may be better.
And lastly, remember to show appreciation in a form that has value. All volunteers will accept free T-shirts as a show of unity, but few will see that as appreciation for their efforts. Rewards for goals achieved must feel like a 'win-win'. 
Take a step forward and discover our dedicated communication platform designed to empower your organization's mission!
With that, let's look at 9 volunteer appreciation ideas you can implement for your organization.
Volunteer appreciation gifts and rewards
Appreciation must feel like a constant fly-wheel and never feel like a rare moment grudgingly handed out. You should have a recognition system that feeds rewards daily, weekly, and yearly.
Yearly volunteer appreciation rewards
Print a yearbook of memories: In today's digital age, having a physical book of photos, letters, and memorabilia is a unique and stand-out memento of a campaign. Ensure all volunteers get their photos printed and high moments of the campaign are captured, written down, and distributed at the end of the year.
Here's a great example of such a book released by the Special Olympics Ontario chapter.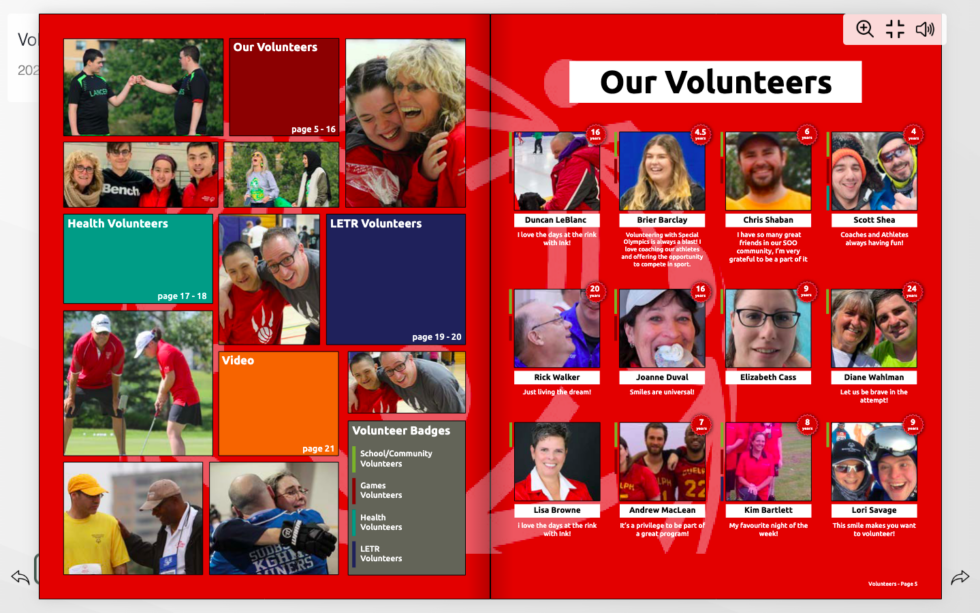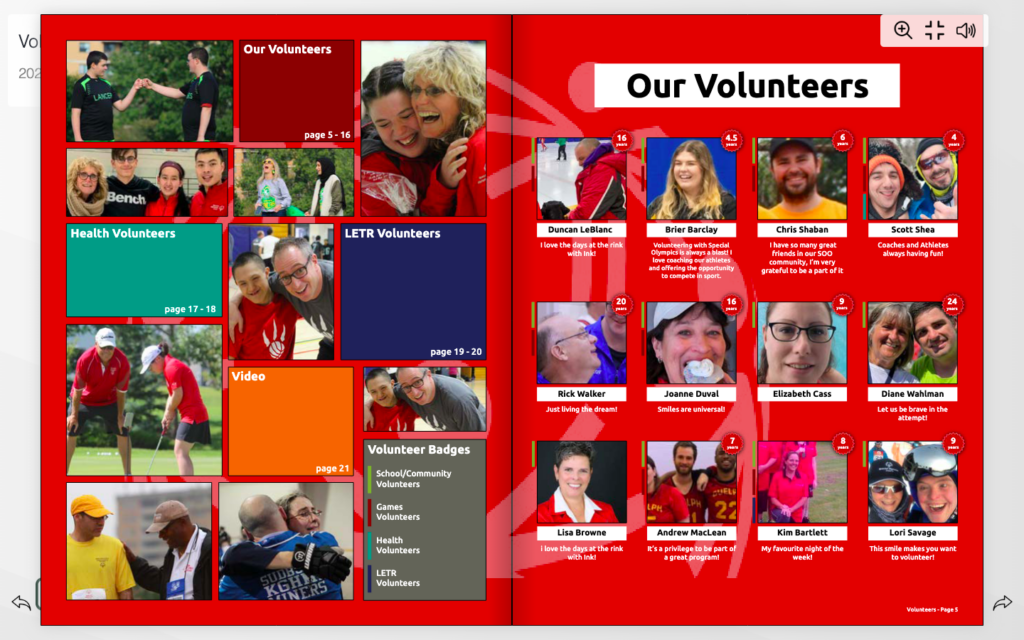 Hold an awards ceremony: Invite all volunteers to a yearly public event, through online conferences or in real life, and have them nominate prizes for each other as recognition awards. Ensure friends, family, board members, and community members are invited so the awards are considered an honor and a big event.
Embed: https://twitter.com/violetprojectuk/status/1650764825285279745
Embed: https://www.youtube.com/embed/ML6UKUUIT7g
Give a work certificate: Provide an authentic certificate acknowledging their work and a letter volunteers can use to indicate work experience. Just because it is unpaid doesn't mean the experience doesn't count. Volunteer experience should add value to future prospects and increase networking opportunities.
For example, if you volunteer at least 100 hours at UCLA Health, one of America's top hospitals, you can request and receive a certificate indicating the work you did in your specific medical section, like mental health, child care, emergency services, etc.
Celebrate national volunteer week: National Volunteer Week is celebrated every year across many countries in the third week of April. Established in 1974, this week-long celebration of the spirit of volunteerism has a yearly theme. For 2023, the theme was 'Volunteering Weaves Us Together'. Take this time to hold similar celebrations for your volunteers – with themed events, talks on the subject, and asking your volunteers to share what the theme means to them.
Weekly volunteer appreciation rewards
Make social media shoutouts: Once a week, pick a high-performing volunteer and give them a shoutout (with details about their work and life) on all your social media channels. Encourage your staffers and even other volunteers to share the post widely.
Hold a weekly raffle: Raffles are a great way to encourage participation and attendance. Pick good prizes (or even a gift card from local businesses) and allow all volunteers to add their names to the pot. Pick a random winner every week, and give them a chance to share their experience and collect the prize.
For example, the Vermont Mountain Bike Association holds a raffle for all the volunteers who help them maintain mountain biking trails across the wilderness. The prizes offered include a $75 gift box, helmets, limited edition merchandise, sports socks, etc. (Notice how the prizes are themed to the work the volunteers are expected to do? Something to keep in mind.)
Reward the top ten percent: Rewarding top volunteers who exceed their goals weekly will keep high-performers motivated and encourage others to aim higher. The reward can be a gift card, but make sure the same volunteers do not win more than twice in a row to spread the rewards.
Embed: https://twitter.com/eddies15/status/1649106394128187409
Daily volunteer appreciation rewards:
Ensure the small things are sorted: These include parking, small utilities, snacks or lunch, coffee, soda, etc. Volunteers feel valued when their creature comforts are looked after. Allocate a small 'snack' budget for volunteers working from home that can be delivered regularly to show volunteers you care.
Volunteer Pro, a training and resources organization for volunteer coordinators, recommends setting about 2.5% of your total budget for volunteer recognition on top of ~1.25% for reimbursements. Of course, your budget would differ based on the type of volunteer recognition ideas you pick. But to ensure the small daily things are sorted, this bracket can work well.
Have daily shoutouts about goals: End each day by giving all volunteers a sense that something was achieved by calling out the day's work, the best performer, or a crisis handled. Ensure volunteers feel your gratitude daily when memories of the day's events are fresh in everyone's minds – perhaps through a daily newsletter.
Make your volunteers feel part of the plan: Have daily briefing sessions where everyone is informed of the plan, the fundraising goals, and the hurdles faced. Be open and honest with them, and keep the tone casual. Few things give a sense of appreciation more than a sense of being in the know and following a common plan. 
Take a step forward and discover our dedicated communication platform designed to empower your organization's mission!
How your workplace can support volunteers
Before you give your volunteers any appreciation, you must first make your nonprofit, campaign, or advocacy group a safe, fun, and well-planned place to volunteer in the first place.
It could be that your volunteers are feeling demotivated because they are facing too much friction during work. While the occasional pizza party might smooth some things, you should avoid this friction entirely.
Five minutes to onboard a volunteer
Time spent in training, while important, also cuts directly into the limited time a volunteer can give to your campaign. While the ideals, ethics, and philosophy of a movement may take months to impact the average person, when they come to volunteer, they should be able to start making an impact in hours.
This is not rocket science. From the main tasks to the campaign's tools, all day-to-day activities must be taught as quickly as possible. Ease of 'onboarding' is paramount, and having a schedule and system is best. An online system works well, especially for younger volunteers to take guided sessions. The resources are available when the volunteer needs them, giving them the flexibility to refer to training and courses even after the shift ends.
Small jobs should be automated
Nothing drains motivation and wastes more time than mundane tasks that can be easily automated.
Imagine this – volunteers in your campaign spend hours daily trying to have a real conversation with the tens of thousands of contacts you wish to speak to. But in the old method, a good part of those hours would be spent simply tapping the 'send' button every time an introductory text message is sent, and then there is the arduous process of keeping track of who replied.
Over half the time dedicated to reaching out would be allocated to doing nothing at all. This can be cut instantly using software that allows Fast P2P (Peer to Peer) texting.
In that system, the initial text is sent automatically to all the contacts, and your volunteers can focus entirely on having meaningful conversations with whoever replies. From the volunteers' point of view, every minute is spent talking to someone real instead of doing technical busywork. Indeed, a single volunteer can now quickly speak to 100 contacts daily.
Similarly, there are a series of tasks that can be easily automated with the right software:
There are a host of software solutions that ensure every minute is being adequately utilized. Such software will omit all the work that takes volunteers away from the primary goal of making person-to-person connections.
This also helps any campaign pull punches far above their weight since even a few volunteers with the right software can do the work of hundreds.
Smart Tools For Smart Volunteers
You are limiting yourself if you try to recruit volunteers only from within a small physical distance. Not only do you reduce the size of your impact, but you also dramatically increase avoidable costs like rent for office space, utilities, and travel allowances.
You must enable volunteer work via mobile apps that allow anyone interested to connect and take up tasks through their smartphone. More critically, the app must also allow you to assign tasks, deliver training, keep everyone on the same page, and load day-to-day dynamic content like phone or text scripts, updated contact lists, or daily surveys.
On the social side, an app is also good for giving all volunteers a common platform to share their views, discuss things publicly or privately, and generally engage in 'water cooler' conversations in chat rooms.
You must be digitally agile to get the ship of change sailing truly.
The Right Task For The Right Volunteer
You must have a personal touch when it comes to work assignments. Volunteers, especially among the young who will form the backbone of your campaign, are not robots to be assigned any task at random. Remember – the time and commitment of unpaid volunteers are limited, so no one wants to feel like their time is being wasted.
You must run your campaign with tools that allow you to assign volunteers to specific tasks or to interact with contacts from particular states on a minute-to-minute basis. At the click of a button, someone who understands the local culture, or is great at making a donation pitch, must be connected with a contact who may only have moments to speak to you.
Call center software offers such a service and more. You must invest in these to keep things flowing smoothly.
Gamify your campaigns
Gamification is a technique in which people are motivated to meet goals by turning the work needed to achieve this into a game – with high scores, learning experiences, bonus rounds, points boards, leveling up, and challenges.
Humans love to play games and are generally more motivated and engaged when learning and working through play. The system requires a clear definition of your end goals, the learnings and behavior changes needed to 'win' those goals, and games designed around these two.
Some examples are:
Training can be done through a game simulation with high scores awarded to those who answered questions correctly.
A rewards table can be launched, with points for each goal reached and weekly prizes for the winner.
Badges can be displayed publicly for achievements.
'Streaks' can be maintained for volunteers who meet high goals day after day, etc.
In the end, volunteer appreciation should be creative and not break your budget. It is not the money spent that will ultimately count, but how strongly you made your volunteers feel a part of the movement.
But these gestures – big or small – will make your volunteers feel counted and recognized and keep them returning for each new cause, campaign, or movement.