Volunteers help nonprofits and communities in invaluable ways.
Did you know that the current estimated national value of each volunteer hour is $28.54!
Imagine if you had to pay someone to do the work that volunteers do for free. It would hit your budget quite hard. But thanks to your volunteers, you don't have to worry about that.
Volunteers don't just help you get things done, they also save you significant overhead.
This is why volunteer retention becomes a critical part of any volunteer management strategy. Yet, several nonprofits don't give as much importance to volunteer retention strategies only because they're unsure where to begin.
In this article, we'll see some top volunteer retention strategies along with tips to help you in your volunteer management efforts.
How do you retain volunteers?
According to the Corporation for National & Community Service, the average volunteer retention rate is 65%.
How do you achieve such a high retention rate?
Here, we discuss the top strategies, as promised, for volunteer retention efforts:
1. Keep track of your volunteers' performance
Your volunteers may see their involvement as merely a job, an opportunity for a great career, or a calling.
This means you must tailor their efforts to meet the specific goals that they have in mind, so they take away something from the experience.
Tracking your volunteers' performance helps you with it. It also helps you analyze the impact each of your volunteers has on your organization and provides you with insights into their strengths that you can help them build on.
Discussing these insights with your volunteers gives them a sense of motivation to do better and thus stay longer with your organization.
Here are a few tips to nudge your volunteers in the right direction with the data you have:
Understand their expectations and set realistic goals.
Help them analyze the data of their performance and create a strategy for their further efforts.
Bond with them and get to know them personally so you can align their interests and beliefs with the work they do.
Conduct periodic one-on-one sessions to clear any roadblocks they may have.
Give regular feedback, so they are fully aware of the good and the bad.
Volunteering has to be a mutually beneficial relationship. When they feel they are improving on a professional level and creating an impact, high chances are they'll like working with you!
2. Provide training and tutorials
Train your volunteers to handle any surprises that may come their way. Allow them to access all the necessary tools that help them improve and make their job easier. Conduct regular training sessions and share tutorials & industry-related materials.
This way, your volunteers have all that they need to fit into their nonprofit job role.
Studies indicate that both recognition and training activities positively influence volunteer retention in organizations.
Here are some strategies for launching an effective volunteer training program to help you get started.
Set aside a part of your budget to help you allot the assets.
Assign skilled personnel to conduct the training. These could be past volunteers (who have shown excellent results), your staffers, or a consultant.
Include multiple interactive sessions to demonstrate common challenges and how to overcome them.
Set measurable goals and the expected outcomes of the training.
Plan the content of the training and discuss it with the trainers in advance.
Create schedules and share them with the volunteers.
Personalize the training sessions to groups of volunteers.
Your volunteers are worth the investment for your organization's growth. Building a well-planned volunteer training program is an essential aspect of it.
3. Match their skill level to the tasks
An essential step to improving your volunteer retention rate is to assign tasks & responsibilities that match with the volunteer's skills. 44% of respondents of a survey said that if an organization cannot use their specific skills, they will volunteer elsewhere instead of doing menial work.
Most volunteers do not like a dull job. They are intrigued by your organization for a reason. They want to put their skills into use to help the community. If you allow that to happen, they will be more inclined to stay with you and continue to relish the opportunity.
Project HOPE is an international healthcare nonprofit organization empowering healthcare workers to build resilient communities and a healthier & more equitable world. Volunteers at this organization deliver various services, with an opportunity to bring all the skills to the table. Here's a review from one of the volunteers of the organization.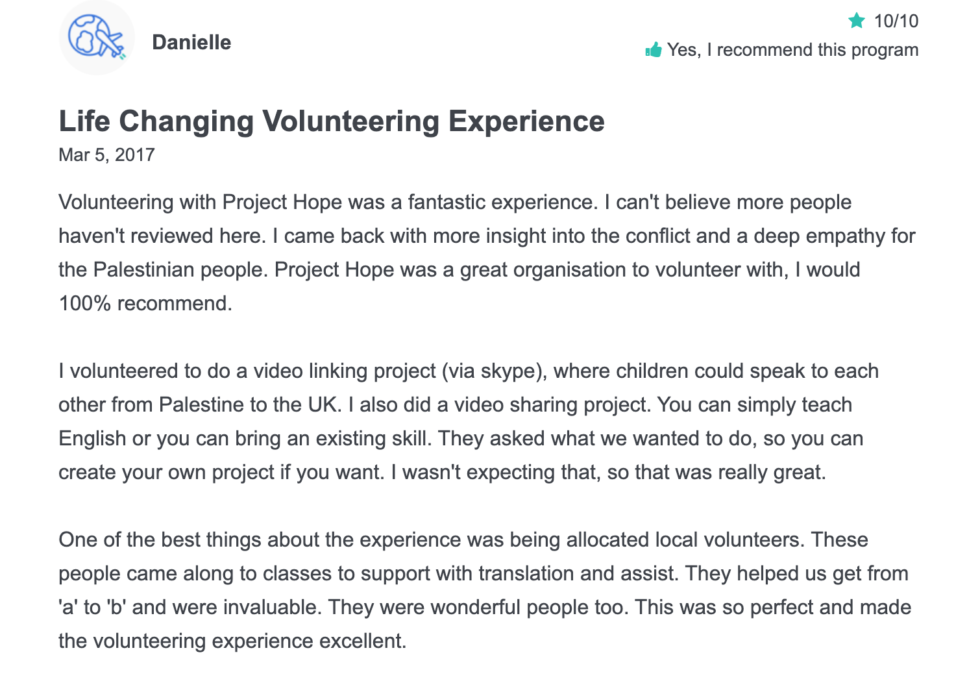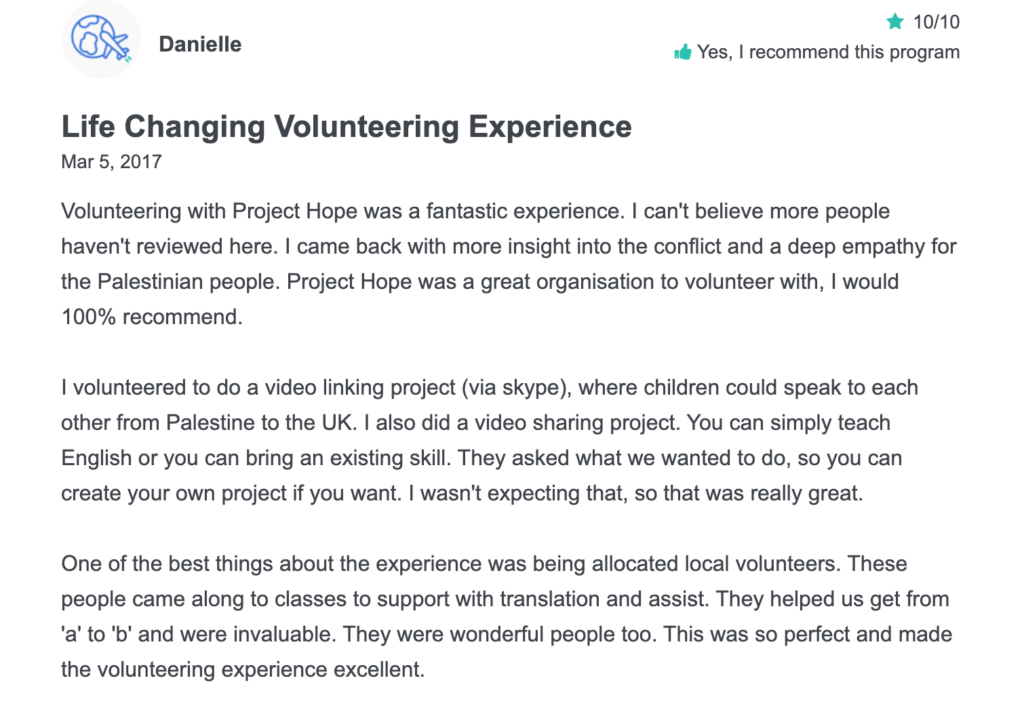 One way to know your volunteers' skills and interests is to collect required details when the volunteer joins your organization. You'll require a method for collecting and saving this data, along with a strategy to match your volunteers' skills with their tasks.
Staying in touch & discussing your volunteers' preferences, and conducting a survey also help you understand your team better.
Tip: Paint a clear picture of the work your volunteers would be doing in the job description. You can use photographs and videos to show your style of working. It may help to discuss this with your most experienced volunteers to understand what information they'd be keen on knowing.
4. Offer rewards and recognition
Offering rewards and recognition to your volunteers is one of the most effective volunteer retention strategies. There are different ways to do this, including:
Conducting a 'Volunteer of the year' award
Throwing a party
Honoring top volunteers at external events
Sending gifts and coupons
Hosting team-lunches
Sharing small victories on social media
Asking them for their opinion on events and campaigns.
Recognizing them with rewards helps them feel they are in a good place. In addition to that, you must put in efforts to strengthen your relationship with them by acting as a mentor. Here are 6 ways you can do that:
Get in touch with your volunteers after a campaign and discuss how it went.
Let them know of the other volunteering opportunities with your organization.
Discuss their interests, hobbies, etc.
Provide guidance and feedback.
Host internal networking events.
Invite them to external events.
Display your gratitude towards your volunteers, and they will stick along.
5. Stay in touch
Staying in touch with your volunteers will help develop a relationship, give you valuable insights and get new referrals of potential volunteers.
In general, the managers in your organization must pay attention to building positive relationships with volunteers to keep them coming back. You could use the following channels to stay in touch:
Email
Phone calls
Social media
One-on-one meetings
SMS
Once in a while, host a small gathering for volunteers to connect with your organization's decision-makers, board members, popular activists, etc. This would make them feel more valued and much closer to your organization that would ultimately breed loyalty.
Also, remember, communication is a two-way mechanism. Provide your volunteers an easy means to get in touch with you. They must feel free to ask questions, put forth recommendations, and receive a prompt response. Take their advice and implement the ones that may make a difference. Make sure you make this a regular practice.
Your communication efforts should show volunteers that you care. When they realize they have a say, they will participate more actively and show a lot more interest.
6. Be flexible
Volunteering involves sacrificing a substantial amount of time that they would have used to take up a new project, or attend a conference, etc. Because of this, many people may quit volunteering when they feel it's taking away some great opportunities.
Be as flexible as possible when creating the campaign schedules for your volunteers. Keep them in the loop, and discuss what timings suit them best. With small efforts like these, you're giving your volunteers reasons to keep coming back.
Make sure you have different kinds of schedules for volunteers to join in. For example, offer opportunities to volunteer only during the weekend, or 1 hour per day. You could also have short-term opportunities where volunteers work with you for 1 month a year. This could be useful for students who have a lot of time to offer during long vacations.
There are volunteer management software that help you register, schedule, and communicate with your network of volunteers by storing contact information, participation history, availability, and more.
You can also add flexibility to the volunteers' schedules by adding small breaks and offering multiple shifts. Another option is to have the volunteering slots in the sign-up form for the volunteers.
Flexibility will give a great degree of comfort to your volunteers. People wish to be a part of a relaxed environment where their suggestions are welcomed, and their needs are taken care of. Paying attention to that will motivate them to do better.
By implementing the strategies mentioned above, organizations can build long-lasting relationships with volunteers and increase retention.
How do you track volunteer retention?
Use this step-by-step process to calculate your volunteer retention rate:
Step 1: Record the total number of active volunteers at the beginning of the year. Let's call them 'Volunteers at the beginning of the year'.
Step 2: Record the total number of active volunteers at the end of the year. Let's call them 'Volunteers at the end of the year'.
Step 3: Record the total number of volunteers who joined during the year (After the start date). Let's call them 'New volunteers'.
Step 4: Subtract the 'New volunteers' by 'Volunteers at the end of the year'. This result gives you the total number of 'Retained volunteers'.
Step 5: Now use this formula to get your volunteer retention rate:
Volunteer retention rate = (Retained volunteers/Volunteers at the beginning of the year)*100
Let's take a simple example for a clearer understanding:
Volunteers at the beginning of the year – 24,000
Volunteers at the end of the year – 25,000
New volunteers – 1,100
Retained volunteers = 25,000 – 1,100 = 23,900
Volunteer retention rate = (23,900/24,000)*100 = 99.58%
Voila!
Get Started!
Taking your nonprofit organization to the next level depends on what length you are willing to go to in terms of your volunteer retention efforts. Now that you have all the required pointers in place to get started, please let us know how it worked out for you.

If you have any questions, feel free to drop me an email at [email protected].