MAKE LARGE NUMBER OF SIMULTANEOUS CALLS WITHOUT WAITING FOR FREE PHONE LINES
Traditional phone dialers tie up your phone lines and makes you wait for the calls to complete. CallHub robo dialer allows you to make as many simultaneous calls as you want, without any waiting.
Get instant response for your calling campaigns
Reach large number of people in the shortest time, without waiting for free phone lines. CallHub makes your messaging campaigns very structured and efficient. Change robo dialler frequency even when the campaign is in-progress.
Optimize your automated dialing campaign. Know when the best day and time is to call. Get daily breakdown of the calls made, transfers and costs for your voice broadcasting campaigns.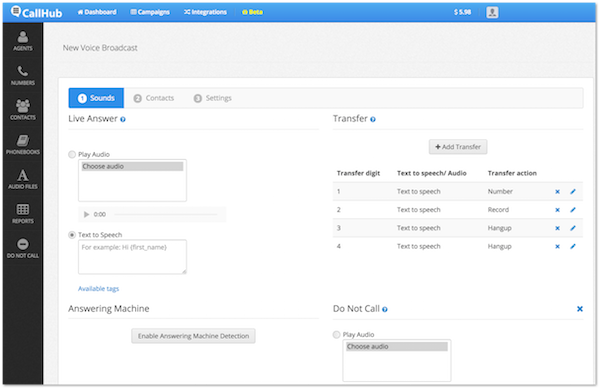 Give your customer the opportunity to choose as much as 10 configurable options after listening to your recording. Actions on these choices can range between transferring the call, playing a message, saving a message and disconnecting the call.
CallHub is the only voice and SMS broadcasting software that supports 200+ international countries, with tier-1 carriers, for robo dialing.
Create voice broadcast messages without having the need to record a voice. Enter your script and we'll convert it to speech.
Customize the number that is displayed as your outbound caller ID. Allows contacts will return the call, if they miss it. Increase your presence among your prospects.
Let your contacts leave you a voicemail. We'll transcript all the voicemails you receive and email them to you.
Try CallHub now for Robo Dialer
Try it free. No credit card required. Instant setup.