4 Advocacy Campaign Examples
May 11, 2018 - 8 minutes read
Where do you see your teen, your mum, your partner and even your boss spend most of their free time? I bet you, it's on social media. Whether that be Instagram  (popular amongst the 16 – 20 age group) or Facebook or Twitter, everyone you know is social.
Now how do you take advantage of this all-encompassing channel and bring some much-needed attention to your Advocacy Campaign?
Don't worry! I've done the work for you! Here are 4 outstanding examples of advocacy campaigns that became successful because of the power of social media.
Example #1: Post it Forward
The aim of launching "Post It Forward" was to break down silos of cyberbullying, body shaming, and issues related to sexuality.
Tumblr launched the "Post It Forward" campaign in 2015 to promote positivity and support within online communities. People were invited to share their personal stories and struggles without the fear of being judged. Individuals facing emotional or psychological distress could engage in a positive conversation and find the support they needed.
Use of the tag #PostItForward made it easy to connect users directly to support and counseling resources and to find other stories.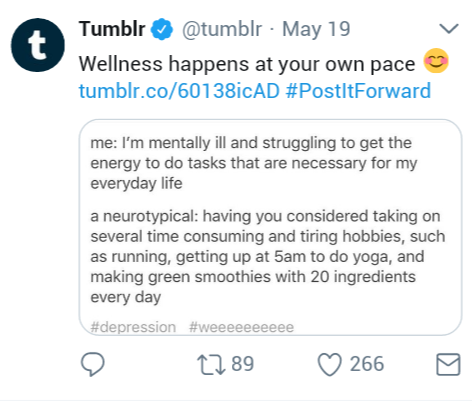 How did it succeed?
The campaign caught the attention and was supported by some very important people like ex VP Joe Biden, celebrities like Brittany Snow, Pete Wentz, Jordin Sparks, Elizabeth Banks, Wendy Williams and First Lady of New York City Chirlane McCray. These personalities helped jump-start the conversation by sharing their personal stories and advice.
The tag was not only going viral on Tumblr, but also across leading social platforms like Instagram, Youtube, and Twitter. Using GIF's made the campaign popular among younger audiences ( their target segment ) and selling merchandise helped increased donations.
Takeaways
Make your campaign discoverable through eye-catching #HashTags

Use vivid art and quick-witted content to gain attention

Make use of GIFs so that teens can relate to it better

Tag celebrities to help jump-start your campaign

Sell limited-edition merchandise to leverage the popularity you built
Example #2: He for She
UN women initiated the "He for She" campaign towards the advancement of gender equality. It seeks to actively involve men and boys in a movement against inequality originally conceived as a struggle for women by women.
The movement was launched in 2015. Emma Watson, UN Women Goodwill Ambassador, spoke about her own struggles and called upon men and boys to join the movement, the video was widely circulated via social media.
How did it succeed?
Within 24 hours of its launch, HeForShe saw an 82% increase in Twitter followers, a 305% increase in Facebook likes and 3500% increase in Instagram followers. In their video, the UN Women made a call to mobilize the first 100,000 men which were achieved within three days of its launch.
The campaign created more than 1.2 billion conversations over major social media platforms. It had a positive effect on a small village in Zimbabwe. The villagers were committed to turning themselves into better husbands, fathers, and brothers.
The campaign sort active support from Heads of states, corporations, and universities. Former President Barack Obama, actor Matt Damon, and former UN Secretary-General Ban Ki-moon were among the forefront.
Takeaways
Add a deadline for your campaign, it adds a sense of urgency

Don't limit yourself to a single channel, be where your audience is

Promote the positive impact your campaign has had to keep the momentum going
Example #3: Hashtag Killer
"Water is Life" launched the hashtag Killer campaign to bring clean drinking water to the world's poorest populations. The organization took a popular tag, used every day across social media, and gave it an entirely new meaning.
The #Firstworldproblems meme is associated with tweets about trivial life burdens of people such as forgetting the last name of the maid while writing a cheque or leaving clothes in the washer for so long that it smells.
The campaign video features Haitians reciting a list of these "first world problem" tweets, with a series of personalized responses to console those who used the tag on Twitter. The aim was to generate donations to help third world countries.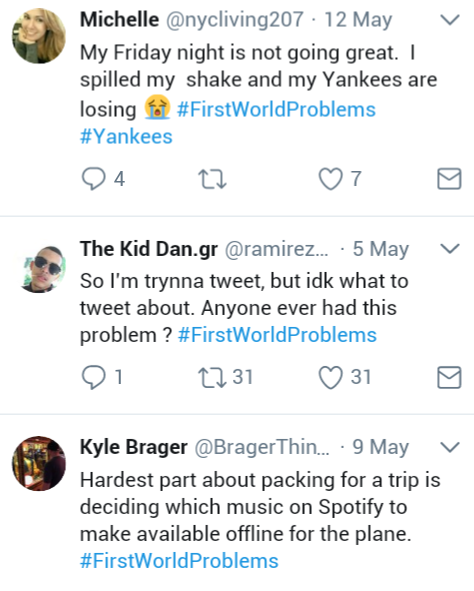 How did it succeed?
The campaign generated awareness and its message was spread all over social media.  It won several awards for the innovative use of the popular meme #Firstworldproblems. The YouTube video received over 6 million views and several thousand shares over various social channels.
Celebrities like LMFAO, Christina Milian, Michael Ian Black, and others responded to the trivial tweets, which kick-started the campaign and gave it wide attention.
The aim was met successfully. The organization was able to drill six new wells and install a water treatment plant in Northern Haiti.
Takeaways
Use popular memes and give it a totally different meaning to tailor your campaign

Use humor to create videos

Make sure that your posts are being shared and circulated
Example #4: Big Tobacco Be Like
Truth launched the "Big Tobacco Be Like" campaign to dismantle delusions surrounding social smoking. The video demonstrates how every time an individual tries to rationalize social smoking, Big Tobacco gets paid. The campaign made use of the popular #BeLike meme with humorous spin-offs.
The campaign was led by vine and Instagram stars. 15-second vine-like vignettes showed smoker's perception versus Big Tobacco's reality. Instagram influencers like Logan Paul, Allicattt, Jerry Purpdrank, and Christian DelGrosso co-produced these humorous videos.
How did it succeed?
The campaign ads were smartly launched on popular national television channels so as to target 12-24 year old demographic. Also, it was seen during the premiere of the popular series 'The Walking dead'.
Within the first 24 hours, the videos had 4 million views, 1 million per video. By the end of the campaign, the number exploded to 59 million.
Truth saw a 55% increase among young people agreeing with their message. They were able to reduce social smoking among teens successfully.
Takeaways
Appeal to their emotions

Make use of popular memes to your advantage

Get social media influencers to co-produce your videos, making it popular among the younger audience
So, which advocacy campaign stood out to you? Let me know in the comments below. If you think a campaign needs to be on the list, add it in the comments.
advocacy strategies