The Global Alliance for the Rights of Nature (the Alliance), an international group of organizations and professionals, engages in grassroots activism for environmental causes.
They initiate positive action via petitions, political intervention, legal advocacy, and educational events to inspire lawmakers to recognize the "rights of nature."
A feather in their hat is Ecuador's constitutional acknowledgment that "Nature in all its life forms has the right to exist, persist, maintain and regenerate its vital cycles."
The Alliance is a great example of how grassroots activism can cause change. Let us look at other inspiring stories and best practices you can adopt to make a difference at the grassroots level.
Definition: What is

grassroots

activism

?


Grassroots

activism

is done to mobilize a group (or groups) of people passionate about a cause to bring about a desired political, social, or other outcomes. The group leverages its conviction power to prompt a change in the system.


Grassroots

movements are usually initiated by:
1. Activists
2. Nonprofits
3.

Grassroots

organizations
4. Political groups (usually in the opposition or campaigning)
5. Trade or worker unions
6. Individuals with a personal stake in a cause
Revolutionize the way you connect, collaborate, and coordinate your actions with our communication platform.
Grassroots activism methods
Activism involving the masses can take various forms—depending on what the grassroots issues are and the stakeholders involved. For instance, if you have a strong team of attorneys, economists, and scientists—as The Alliance did—legal advocacy becomes your strong point.
Likewise, if your group is strong in numbers rather than professional expertise, staging a protest could bring attention to your cause.
Popular methods of grassroots activism include:
Nonviolent protests
Boycotts
Social Noncooperation
Strikes
Petitions
Political Noncooperation
Let's look at how each of these methods work and successful examples.
Nonviolent Protests
How it works: Protests typically use the power of numbers to bring attention to an event, a cause, or an issue. Signs, slogans, speeches, marches, and other displays are used to convey dissent or critique those in power.
How to organize:
Choose a theme (typically concerning recent events, legislation, or discoveries).
Establish support by contacting stakeholders, organizations, activists, and individuals who may be directly or indirectly affected.
Identify key speakers from the group who can deliver speeches and leaders to manage logistics.
Schedule a date, time, and location. Ensure all communication includes these vital details.
Make signs, banners, and pamphlets. Encourage protestors to make their own signs too. Banners grab attention. Pamphlets inform non-participants.
Promote your protest on social media and via phone calls, text messages, and emails to supporters.
Send invites to the media. News reports amplify your protests.
Assign leaders in your team to ensure the protests don't turn violent from your side.
In some cases, you may need prior permission from the venue. Ensure you get it to stay legally safe.
Example of grassroots activism in the form of protests: On June 6, 2020, 50-80,000 people got on the streets of the USA for the #BlackLivesMatter protests. They were protesting against police violence that killed George Floyd in May. The protesters demanded that the involved policemen be charged for their actions and "defund the police."
As for causation or correlation, all police officers involved in the incident were charged with second-degree murder or aiding and abetting murder.
You May Also Like: Grasstops Vs Grassroots and Why You Should Combine Both
Boycotts
How it works: A boycott is a way of telling a brand, product, or service, "I do not approve of something you represent, and so I'm taking my money and business elsewhere." When it comes to grassroots activism, a boycott is a large group of people discontinuing their association with a brand or product and issuing public statements about this.
How to organize:
Equip yourself with adequate knowledge about the issue, company, and its products or services.
Write to the brand, government, or company against whom you are protesting. If they are open to dialogue or accommodating your concerns, you need not go through with the boycott.
If that doesn't work, set attainable goals and objectives for the boycott. They should be feasible as well as impactful.
Establish support via social media or personal exchanges. Distribute your message (e.g., we boycott this face cream for its unethical animal testing). Suggest creative ways to amplify the boycott.
Support by a celebrity or influencer, videos with virality potential, banners, and advertising your switch to a different brand are excellent ways of grassroots activism leveraging boycott.
Example of grassroots activism in the form of a boycott: Nike depends on regular sales for its seasonal styles of sportswear and accessories. In the 1990s, activist groups discovered that the brand is guilty of using child labor and initiated a widespread boycott.
Soon enough, Nike suffered short-term but significant losses. But the brand was far-visioned. Taking cognizance of the boycott, they issued statements about correcting this behavior. They even claimed to take up the cause of sustainability after the boycotts.
You May Also Like: Grassroots Mobilization: Enabling ordinary people to effect extraordinary changes: Here's how It works
Social Noncooperation
How it works:
"Non-cooperation with social events, customs, and institutions manifests itself by suspension of social and sports activities, boycott of social affairs or withdrawal from social institutions, and social disobedience. Withdrawal from the social system is realized by staying at home, collective disappearance, protest emigration (hijrat), etc."
– Skaidrė Ž. Grassroots Activism and Sustainable Development (2019)
How to organize:
Organizing a social non-cooperation movement is similar to organizing boycotts. However, the main difference between the two is that a boycott shuns a product/service as a protest against its brand. Social non-cooperation includes boycotting/withdrawal/non-cooperation/social disobedience as a protest against a semi-related or unrelated cause (e.g., Social withdrawal from sports events to protest police violence).
Example of grassroots activism in the form of social suspension (a part of non-cooperation): In 2018, to protest against frequent school shootings in the United States, Florida students and staff walked out of their classrooms. They staged social suspension of schools demanding gun control and firearms training to school employees.
While some schools supported the protests, others threatened students with temporary suspension. But those who were able to undertake the social non-cooperation successfully sent the message to the US House of Representatives. In March that year, $50m in federal grants was authorized for training, anonymous reporting systems, threat assessments, and intervention teams.
This is an example of semi-related non-cooperation since students and staff were protesting to bring stricter regulations for a cause. They boycotted schools because shootings occurred there, not because they were disappointed with the functions of their school.
Related Reading: Grassroots Lobbying – Effect Change Through Popular Support
Strikes
How it works: Strikes are typically initiated and undertaken by contractors, employees, stakeholders, activists, or unions. Protestors simply refuse to work, threatening a financial or production loss to the company. This form of grassroots activism uses direct action to send a strong message.
How to organize:
Read your contract with the employer and check for a "no-strike" provision. If your agreement includes that provision, your strike is illegal, and the employer can terminate your services.
If the contract allows you to stage a strike, start gathering support. Talk to your peers about your concerns and amplify your expectations within the organization.
Unions use the CallHub calling software to get in touch with potential supporters. Such phone calls require them to collect relevant information like:
– The causes they support
– Whether members are willing to join the strike
– If they would like to receive news and updates
– Additional contact information
Features that come in handy include:
– A script that includes questions and the ability to take notes (to record if they are willing to join the strike or receive updates)Integrations with CRMs to sync collected details
– Call dispositions (if you get bad numbers, unanswered calls, machine answer, etc.)
– Follow-up text message during or after the call
Here's an example of a union's calling script: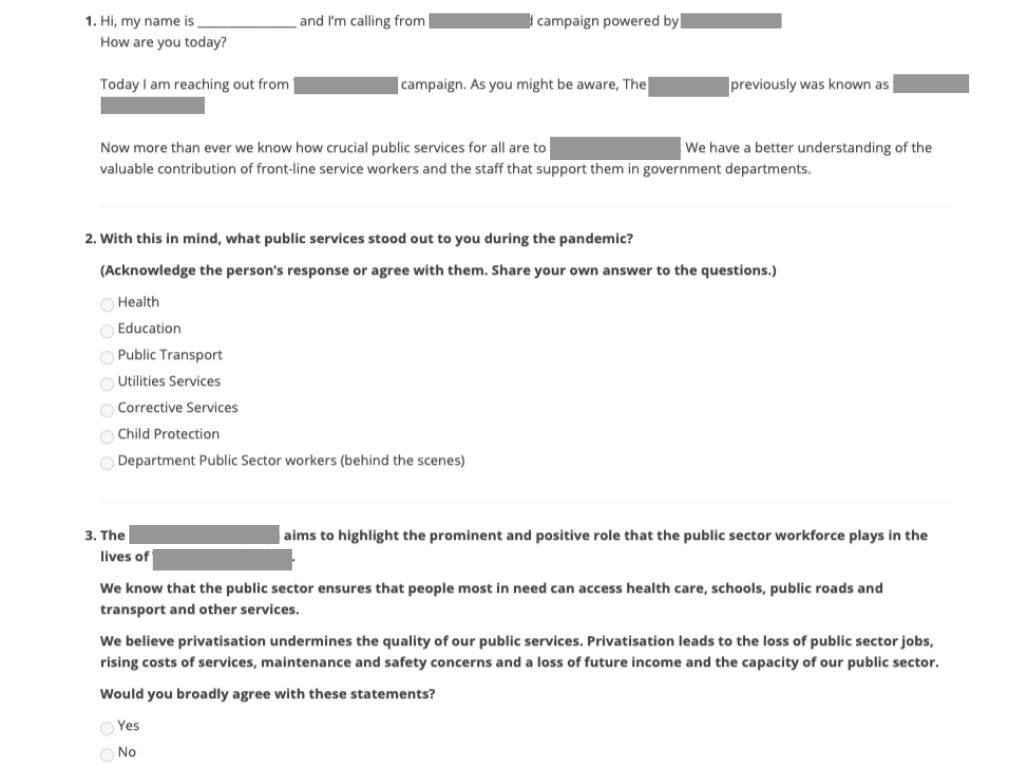 3. If you are part of a national or another overseeing union, contact them about your concerns and plan to strike. They can help you organize it.
4. The US federal law mandates you to send a notice to your employer about the strike. Consult with your union representative or attorney for this part is tricky and can risk your employment.
5. Form committees
Picketing committee: to spread public awareness
Negotiating committee: to work with the management and lead the bargain
Publicity committee: for media awareness and communication
Financial committee: to support protestors without a paycheck
General committee: to monitor the strikes and keep detailed records.
Example of grassroots activism in the form of strikes: In 2019, 46,000 workers (and allies) working for General Motors went on a month-long strike against unfair pay. This work stoppage was the longest against the automobile company in 49 years and cost them about $4 billion.
The strike was successful because GM renewed payment terms and increased pay for older workers by 6% every year. Workers getting paid by the hour were to receive an $11,000 signing bonus, in addition to increased healthcare expenses from GM.
Petitions
How it works: Petitions are sometimes brushed off as slacktivism (actions performed to support or oppose a cause with little to no effort and without putting anything at stake). While petitions are not as direct as strikes, this form of grassroots activism succeeds in:
Involving a large number of people under a common cause
Giving the media adequate numbers to run a story
Displaying public opinion to decision-makers
Raising funds
Invoking further action
Building a list of supporters for long-term activism
How to organize:
Start with a cause that resonates with others. Gather support by calling, texting, or emailing like-minded people. Harness social media too.
Choose a resourceful, effective petition channel. Check if it resonates with your cause (does it support fundraising? If it has a database, does it include your target audience?)
Write a powerful headline. Design your message, so it is easy to read and share.
Add a clear call to action that invites people to sign and share.
Share and ask supporters to share among their groups.
MN350.org, a climate

advocacy

group used text messages to mobilize supporters for a climate strike. Since

petitions

are a low barrier ask to initiating conversation and maintaining interest and momentum for a cause, MN350 utilized them for the movement.

Read all about their

grassroots

movement here: How 350 used text messages to organize the Climate Strike
Example of grassroots activism in the form of petitions: A small-scale petition was a massive win for Jonas Valentine. Jonas, a trans student, initiated a petition to create gender-neutral bathrooms in his high school.
"Creating gender-neutral bathrooms that all students can use would make people like me feel more comfortable and would be of no harm to anyone else. Though I will be graduating high school and won't be here next year, I want to know that the kids who follow behind me will get that comfort of equal rights," Jonas wrote.
Over 200 people signed the petition which resulted in the school creating two gender-neutral bathrooms!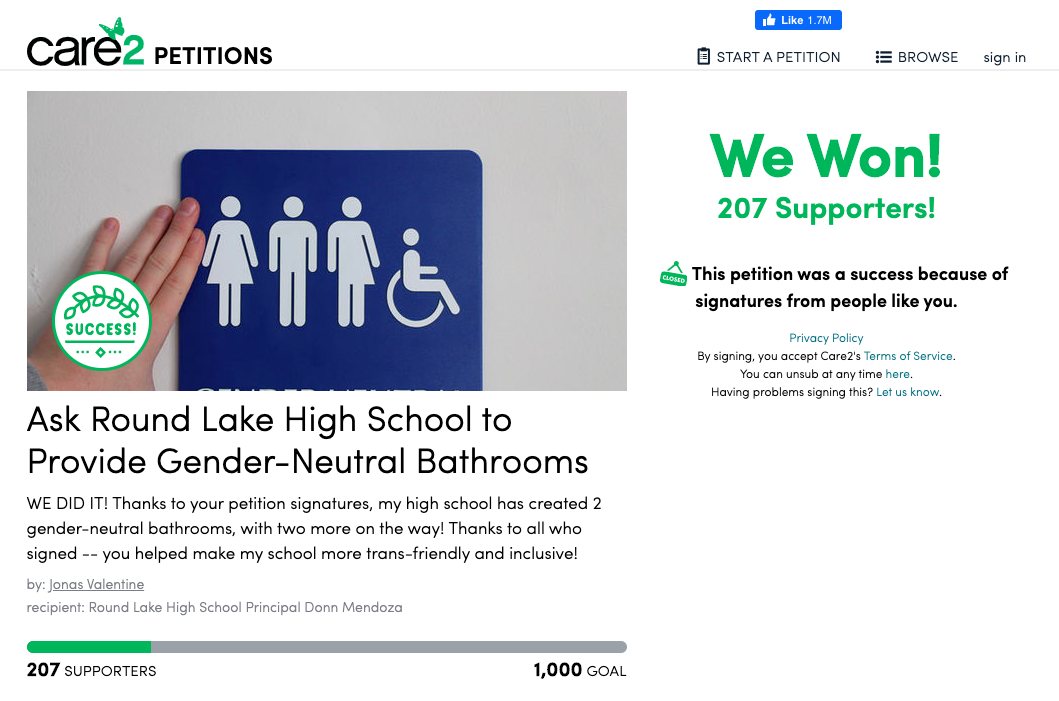 Related Reading: Most common reasons for slacktivism and how to motivate people to take action offline
Political Noncooperation
How it works: Grassroots activism against a political candidate, campaign, or party can take the form of non-cooperation. It can involve:
Refusal of public support or rejection of authority
Citizens boycotting elections, legislative bodies, etc
Social disobedience
How to organize:
Political non-cooperation follows the same procedure as social non-cooperation. The main differences between the two types of grassroots movements are:
Social Noncooperation
Political Noncooperation
A

grassroots

movement against social injustice.
This is

grassroots

work against a political ideology, candidate, campaign, or party.
Involves a relatively small group of people directly or indirectly affected.
Can involve a massive number of people.
Since such noncooperation is typically against private institutions, the legal, police or military force at their disposal is limited.
Can invite response by police, military or paramilitary forces.
Social non-cooperation is legally permitted in democracies. However, other laws pertaining to assembly, employer contracts, etc. can offer hurdles.
Democracies give you the right to protest, boycott, or show displeasure using political non-cooperation. Other forms of government (usually authoritative) can deem this illegal.
Example of grassroots activism in the form of political non-cooperation: Thousands of protestors rallied against the newly elected Donald Trump on February 20, 2017, holding signs and shouting slogans of "Not My President." The uproar that started in Los Angeles soon spread to New York, Florida, Michigan, and London.
The protests did not result in Trump's resignation or termination as the President of the United States. This is an example of the limits of political non-cooperation if your opponent is as powerful and high up as the POTUS.
Related Reading: Grassroots organizing 101: The Worst Pitfalls and The Best Tactics You Must Know About
Revolutionize the way you connect, collaborate, and coordinate your actions with our communication platform.
How to make your grassroots movement successful
Educate and spread awareness
Grassroots activism is all about the power of the masses. To ensure you have the numbers to show mass public opinion about a topic, you must educate people about:
The cause you are advocating for
The reason this issue is important to you and your listeners
What outcome you expect
Effects of this outcome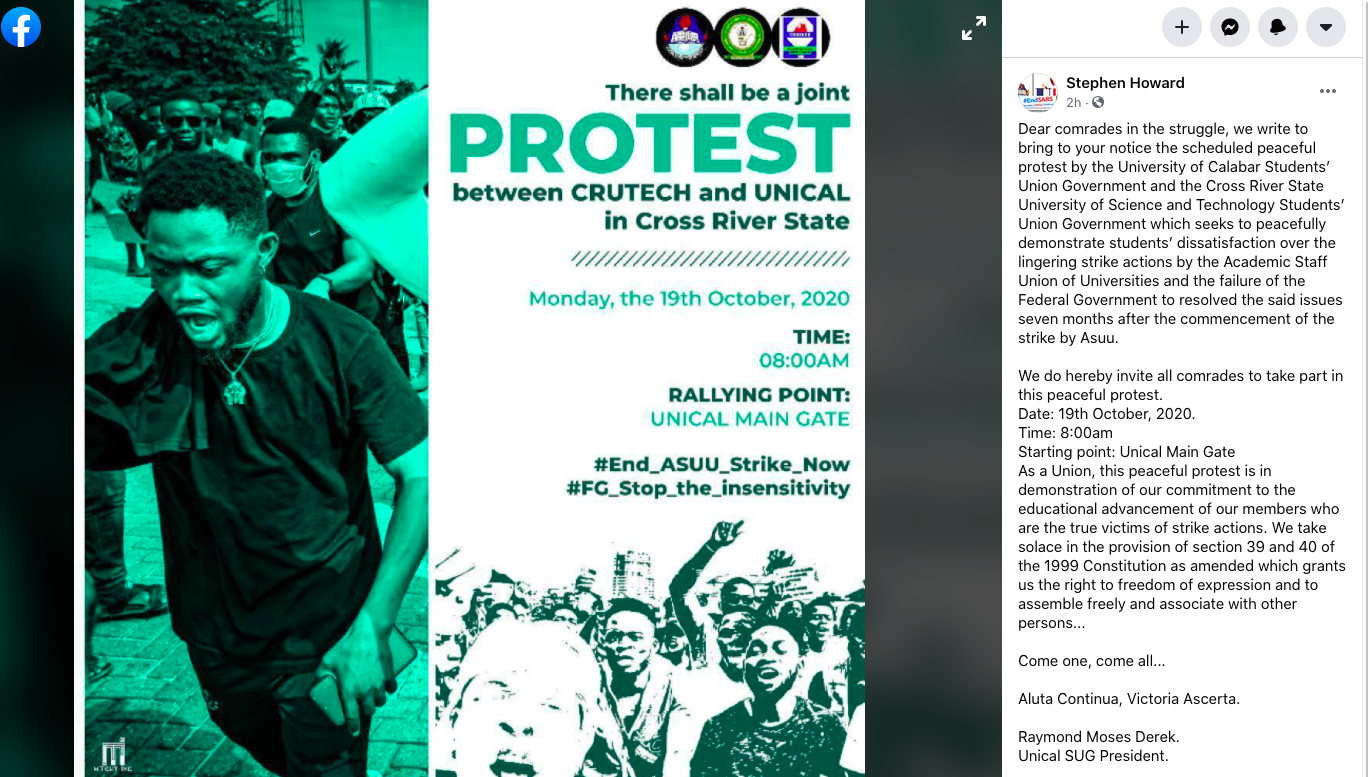 Create platforms to communicate messages and gather support
After you create the buzz to gain grassroots support, the next step is to organize platforms to nurture the conversation.
Send text alerts and messages: When you want to send a message to a large group of people and need a guarantee that it will be read, a text message is your best bet. This could be at the very beginning of your activism campaign when you are spreading the word. Texts are equally effective when you want to send alerts (change of venue, leadership, etc.) or information (logistics, location, etc.) to confirmed participants.
Phone calls: A calling software like CallHub that allows patch-through calls connects the grassroots to experts and decision-makers. By initiating conversations between these stakeholders, you strengthen your movement and bring attention to it.
Emails: Petitions, protest appeals, and strike appeals are often done through emails. They give you ample space to explain your stand, share logistical details and ask for confirmation of support (by signing, donating, filling forms, etc.)
Social media: A cost-effective and easy way to reach out to the masses; social media allows you to connect with supporters beyond your social circle. Facebook, Instagram, and Twitter are all excellent platforms to ignite your grassroots movement before taking it offline.
Offline conversation: It is essential to take your conversation beyond the screen and phone and on the ground. Door knocking, street plays, workshops, and relational organizing are some ways you can gather support offline. When it comes to protests, non-cooperation, and strikes, a large-scale offline presence is especially important.
Related Reading: Grasstops Vs Grassroots and Why You Should Combine Both
Include real examples
When you share real examples of previous campaigns that were successful, mildly successful, or unsuccessful, you show your supporters that
Your efforts are based on realistic expectations.
You have learned what to do and what not to do from previous protestors.
That there's a clear sense of what your grassroots activism involves.
Encourage dialogue between protesters and opposing forces
Before you stage a protest, strike, or non-cooperation movement, it is essential to include the brand or organization in the conversation too. The movement cannot come as a surprise because if your demands are reasonable, there may not be any need to protest at all! The brand may be happy to fulfill them.
Brendon Steele, a senior manager of stakeholder engagement at Future 500, speaks to The Guardian about why an organization may accommodate activists' requests.
He explains two possibilities. "In one, the brand loses value because it is connected with a problem… In the other, the brand gains value when it is perceived as a leader. Combined with a smart, do-able ask, a brand might be inclined to sign on without the need for a public boycott."
Revolutionize the way you connect, collaborate, and coordinate your actions with our communication platform.
List of 10 grassroots organizations driving change
Organizing a grassroots social movement can be made easy if you have the right resources at your disposal. Grassroots organizations can help you:
Define, explain and elaborate on your cause for your supporters' benefit
Sort out legalities
Mobilize support
Choose the appropriate methods of grassroots activism
Settle on strategies to leverage those methods and other assets
Here are 10 such organizations that specialize in various causes:
Name of Organization
Field
Cause(s)
Method(s)
Alliance for Retired Americans
Political/Social
Using political and social tools to improve the lives of retired/senior Americans.
– ProtestsSocial noncooperation
– Political noncooperation
American Civil Liberties Union
Legal
– Law Reforms
– Human Rights
– Justice for Marginalized communities
– Legal

Advocacy


– Fundraising

Code Pink
Political/Geopolitical
– Geopolitics
– Peace

advocacy

– Petitions
– Satire
– Civil resistance
Fight for $15
Legal/political
Workers/Labor rights
– Strikes
– Fundraising
Grassroots Leadership
Civil and Human rights
– Prison profiteering
– Immigrant rights
ProtestsFundraising
Indigenous Environmental Network
Environment, indigenous rights
– Empowerment of indigenous tribes
– Influence policies affecting indigenous people
– Protests
– Petitions
– Political interference
NAACP Legal Defense Fund
Human rights, racism, legal
Police violence
– Legal rights and education
– Racism
– Legal

advocacy


– Political interference
National Organization for Women
Women's rights
– Reproductive rights
– Domestic violence
– Racial & LGBTQIA+ rights
– ProtestsLegal

advocacy


– Legislations
Planned Parenthood
Healthcare
– Reproductive rights
– Healthcare
– Sex education
– Legal

advocacy


– Healthcare provisions
– Political intervention and

activism

Run for Something
Political/social
Support aspiring politicians and mentors
– Political intervention
– Education
"United we stand" is a perfect motto for grassroots activism—which depends on the motivation, education, and persistence of participants.
The common point between all methods of activism is the support of people. Read this article to understand how to successfully undertake community organizing: People power: A Quick Guide to Making Community Organizing a Success.
Feature image source: Markus Spiske/Unsplash