People are busy.
It is often the case that worries about day to day life can get in the way of burgeoning civic thoughts.
By simply making people more aware, most of the work in gathering active and loyal supporters is done.
How do you do that in a way that is compassionate, and unintrusive?
Advocacy advertising is the key to spreading the word to people who are willing to help or understand your cause, whose only barrier is lack of awareness.
But what is Advocacy Advertising?
Advocacy advertising is undertaken to promote the interests of a group or a cause, rather than to promote a service or a product.
Is it different from regular advertising?
In terms of the channels, you would use to advertise, no.
Some governments, however, do require organizations undertaking advocacy advertising to disclose how they are being funded.
Issue advocacy advertising
Issue advocacy advertising, also called interest advocacy advertising, involves reaching out to the public to raise awareness about an issue.
This is done without asking them to take any specific action, such as voting for a candidate at the polls.
Making sure ads fall under issue advertising is especially important for 501(c)3 nonprofits, that are restricted from engaging in political activity. They do this by making sure their advertising does not encourage partisan political action, like voting for a certain candidate in an election.
These nonprofits focus on spreading general awareness about issues and problems, as well as driving GOTV and voter registration efforts.
Express advocacy advertising
In contrast with issue advocacy, express advocacy refers to those political advertisements that expressly voice their support for a political side in an election.
For instance, by using words that clearly express support or opposition:
vote against
vote for
support
defeat
reject
Advertisements that clearly support a candidate or side (for example, ads that are commissioned by a candidate's campaign) are by definition, express advertisements.
Check our our all-in-one communication platform.
Who is involved in Advocacy Advertising?
Advocacy advertising isn't limited to nonprofits and political campaigns.
Any group that puts out an ad with the objective of raising awareness instead of promoting a product or service can be termed as engaging in advocacy advertising.
That includes:
Corporations
Advocacy groups
Lobbyists
And other Interest groups
Traditional channels of advocacy advertising
Traditional advocacy advertising is:
Newspapers
Magazines
Radio
And more recently, television.
Drawbacks to traditional advocacy advertising
Here's the most important drawback to adopting traditional advertising channels, like newspaper and magazine ads:
They do not reflect how modern society consumes news and media.
It is true that a sizable portion of the population may still read newspapers and print magazines, especially older members of society.
However, the majority obtains information through online and mobile channels.
Other drawbacks are that traditional channels are less personalized and not always immediate.
Let's look at more modern methods of advertising and how they avoid these problems.
Check our our all-in-one communication platform.
Modern advocacy advertising
These channels amplify your advocacy efforts, to more people and spaces, and faster than ever.
Modern or digital advocacy encompasses:
Social media
Because of its capacity to broadcast a message to a supporter base, social media is a powerful tool for advocacy advertising.
The most prominent advantages of social media advertising are:
It needs little to no cost to setup
It can reach a large audience immediately
There are plenty of opportunities to expand your audience base
Social media best practices
Note your timing. Depending on the target audience, posts can do better on different days of the week and at different times.
Add media. Visual elements like graphics and videos can go a long way in capturing an audience's attention.
Post content frequently and consistently. The more you post, the more your presence is noted.
The Make-A-Wish foundation fulfilled young Miles Scott's request to become a superhero when they launched the #batkid campaign on social media.
They received 1.89 million social impressions while receiving a record number of donations. They also managed to recruit over 12,000 volunteers to make Miles's dream of becoming a superhero a reality.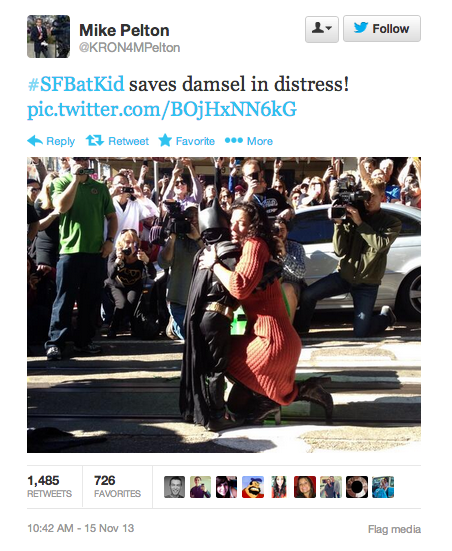 Read Next: Social Media Advocacy: Everything You Need To Know To Get Started
Email
Advocacy advertising through email lets you send personalized messages to targeted segments of supporters.
You can personalize emails depending on the information you have on your contacts to make a stronger appeal.
Send email campaigns to all your supporters at once, or segment your contact list for more targeted messaging.
Add visual elements to your email that can create an impact.
Email best practices
Test your timing. Much like social media posts, emails can do better at different times. Test the best time to send emails to your target audience.
Test your subject lines. You need your contacts to click on your email to read your message. This is why it is so important to have subject lines that get the job done.
Email advertising example
Gasp, an Alabama-based health advocacy organization used a simple email format to reach out to supporters to ask for a donation.
By having clean and concise copy and highlighting their most impactful points, they gathered support to fight pollution in their state.
Search and display ads
Search and display ads let you reach:
People who are interested in supporting your cause by doing an online search
Audiences that may be interested in your cause but not actively searching for it.
That means highly targeted advertising to potential supporters.
Ad best practices
Keep it brief. Most ad platforms will have character limits. That means you need to be able to convey a message and get people to click with a limited copy.
Test your CTA. Run the A/B test to find out what copy can get the maximum engagement from your audience.
High-quality images. For display ads, the image is as important as the copy. The most common image sizes are 300 x 250, 728 x 90, 160 x 600, 320 x 50, 300 x 600.
Search/display ad advertising example
Doctors Without Borders runs search ads to reach audiences that are already thinking about contributing. Making the copy to the point conveys exactly what one would achieve by clicking on the ad.

Read Next: The Beginner's Guide To Digital Advocacy And Strategies
Website
Your website can be considered the hub for your digital advocacy ad campaigns.
People who land on your site are your most important audience since they are the closest to taking action.
You can inspire them to—donate, sign up to volunteer, or get involved in other ways.
Once you get your supporters onto your site, you will need to convince them to take action.

Website best practices
Engaging CTA's. Once on your website, the main CTA should be the first thing they notice. Make sure it's prominent and clearly states the action visitors can take.
Minimalistic visuals. Use your instincts here. You want to convey your story to your audience, but you don't want to distract them from the task at hand.
Website advertising example
350.org offers visitors multiple ways to get involved in their cause on their homepage.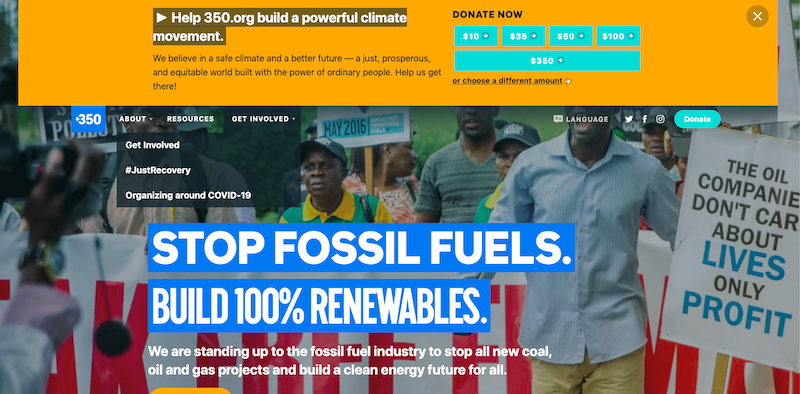 There is also a constant CTA to Donate across all their pages.
SMS
Texting is a highly personal way of communicating with your supporters.
They are highly personal, popping up right on your audiences' mobile phones.
They are also highly effective, especially when getting supporters to take action for your cause.
As simple as the format is, there's a lot you can do to optimize your text messages.
SMS best practices
Using a concise and relevant copy. The text message format forces you to think about conveying your message with a character limit.
Using multimedia in your texting campaigns. Using MMS can increase your click-through rates by as much as 15%.
Having text conversations. With peer-to-peer texts, you can have engaging conversations with your supporters about your cause.
SMS advertising example
Taking up the example of 350.org again, they used SMS to reach out to their contacts and get them to attend protests.
Using a combination of mass texting and peer-to-peer texting, organizers at MN350 saw positive response rates of over 22% while contacting targeted segments of their contact list.
Check our our all-in-one communication platform.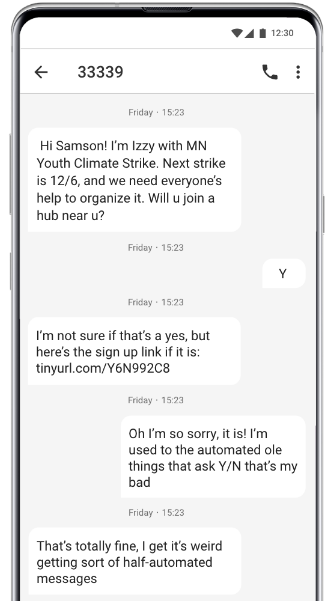 Takeaway
No matter how you choose to promote your cause or issue, the messaging is the most powerful thing you can work on to gather supporters.
Once you've decided on that, all that's left is to create variations of that message to distribute across the channels we've mentioned in this article.
Featured Image Credit: the blowup