I have a dream
I bet these words reminded you of the 200,00 supporters who marched on Washington DC calling for legislation to address prejudices against African Americans.
This was when Martin Luther King Jr. gave his famous "I have a dream" speech that led to the Civil Rights Act of 1964 and the Voting Rights Act of 1965.
Would this have been possible with 200,000 Facebook likes?
Times have changed and people are more active online than they are on the ground.
While this presents ample opportunities for raising awareness, it is a major challenge when it comes to taking action.
In this article, we'll be taking a look at Slacktivism and the major reasons for it (and solutions to overcome them).
What is slacktivism?
The United Nations defines slacktivism as when people "support a cause by performing simple measures" but are not necessarily "engaged or devoted to making a change."
The term, coined by Dwight Ozard and Fred Clark in 1995, shortens the phrase slacker activism.
Slacktivism refers to bottom-up activities by people to affect society on a small, personal scale (such as planting a tree, as opposed to participating in a protest).
In recent times, it is seen as voicing your opinion about a cause online rather than taking more effective actions like marching on the streets, protesting, or litigation.
Of course, when people act online, they do so with the best intentions. But is this a valid type of activism?
There are four major reasons for slacktivism, but not without solutions. Let's take a look at what they are:
Primary reasons for slacktivism
The four main underlying reasons for slacktivism are as follows:
Lack of credibility
One in three adults around the world lack confidence in charitable organizations delivering vital services in the countries they operate.
Oftentimes, just passion for the cause is not enough to drive someone to take major actions. Studies suggest that the reputation of an organization is the primary motivator of high propensity action.
Hence, while people may like or share your post to spread awareness, they are highly unlikely to participate in your rallies/protests or make a substantial donation to support your fight.
Building a reputation by showcasing past effectiveness is generally how organizations build credibility.
However, while some nonprofits put years of hard work into building a brand that people can trust, not all organizations have this privilege.
An alternative for an organization to build credibility is by leveraging prospects' personal connections.
There are primarily two types of personal connections you can leverage:
Personal Networks
The trust an individual has for an organization is highly likely to increase if someone from their personal network is involved with it. This could be a friend, a colleague, a companion, etc.
An individual's propensity to engage in a social protest is deeply affected by the prevalence of the same behavior among their peers, as is proved in this study on the role of peers in social protests.
When trying to leverage personal networks, there are two major ways organizations can achieve this online:
1. Spreading awareness through events on Facebook and LinkedIn
Facebook notifies your followers whenever you create a public event. Furthermore, if a supporter signs up for the event, his/her network receives a notification about the same too.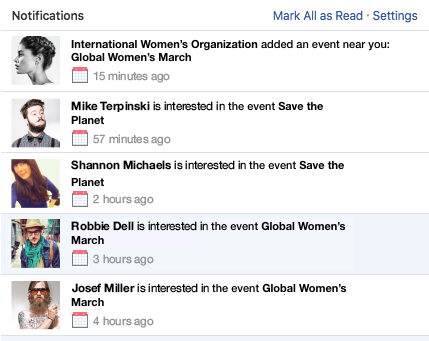 This subtle yet effective way to spread awareness about the event and gather support from the personal networks of supporters.
LinkedIn even allows supporters to directly message other attendees and start a conversation with them as they sign up.
Although this does not directly equate to leveraging a personal connection, it does provide another opportunity.
The opportunity to establish new connections and cultivate a sense of belonging to a community is in itself a great motivator for people to take action, as per studies.
Read Next: Social Media Advocacy: Everything You Need To Know To Get Started
2. Encourage Social Sharing
You can also make the message more appealing by encouraging supporters to share about them participating in a rally on their personal social channels.
Provide them with social sharing options after they sign up so they can share the message. While a message is already provided with the sharing option, users can still customize it as they'd like.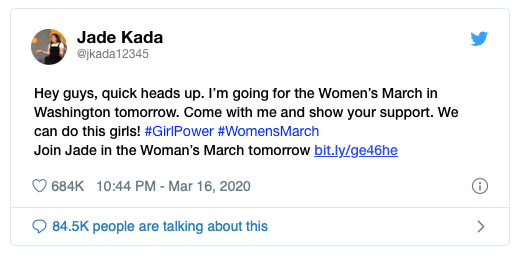 Apart from that, you can also encourage people to re-share social posts that you put up. People are more likely to take action if they are asked by a friend to do it rather than an organization.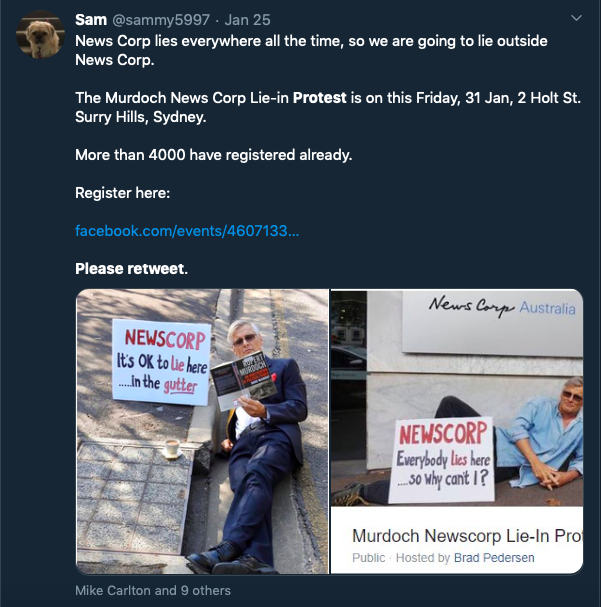 You can also opt for a third way to leverage personal networks and that is relational organizing. With it, you can tap into the networks of your supporters and ask their family and friends to join your cause. Advocacy campaign tools such as this make your outreach much more efficient.
Roles Models/Influencers
After personal connections, role models or influencers (like celebrities, social media stars, etc.) are the ones who can inspire action, that too at a much larger scale.
The fact that in 2019, 87% of consumers were inspired to make a purchase by an influencer showcases the kind of influence they wield.
Partnering with influencers to spread the word and encourage people to take action with something as simple as a tweet or a Facebook post, can yield overwhelming results.
A great example of influencers making an impact on movements is Michelle Obama tweeting about #BringBackOurGirls.
The movement was conceived by a former minister, Dr. Obi Ezekwesili who took to social media with the popular #BringBackOurGirls hashtag.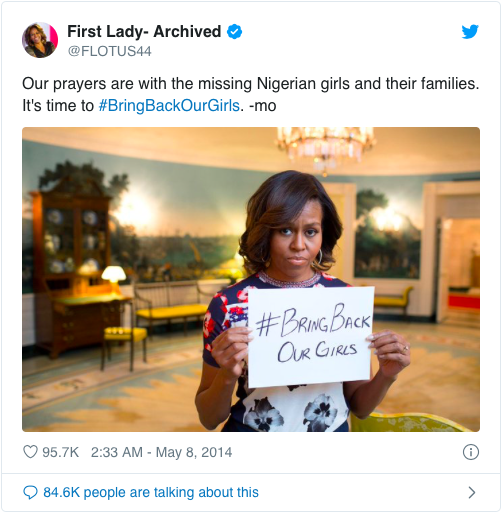 A number of prominent figures, like Malala Yousafzai, ex British Prime Minister David Cameron, followed to join the fight against the abduction of 276 girls by Boko Haram.
The series of tweets from a large number of influencers ultimately led to the following:
The hashtag was tweeted 2.3 million times (within a month after the incident)
Protests in multiple countries including Nigeria, Pakistan, India, Bangladesh, Togo, the United Kingdom, the United States, Canada, and Portugal.
The government (which was initially reluctant to act) brokered a deal to release 82 girls
However, 112 of them are still missing, 25 escaped and came back, and 57 still remain in captivity for whom the government is trying to broker a deal even today.
Lack of realization that their action can bring change
Interested Bystander is a term used to describe people who are aware of community or political issues but are not actively addressing them.
These interested bystanders are typically plagued by the question, "Even if I do something, will it actually bring change?" which ultimately reduces their drive to do something big.
As per statistics, 48.9% of American adults can be classified as Interested Bystanders.
Interested bystanders may act on their social responsibility and take action online because it takes less effort. However, the feeling that their actions might not bring change reduces their motivation to take part in offline activism.
Quite obviously, to overcome this challenge, organizations will have to:
Showcase how you will achieve the goal (and that's possible only with their help)
Studies show that feelings of efficacy have a direct correlation with participation in protests. People will only take part in movement activities if they believe it will help bring change.
Hence, it's crucial to depict that their collective civic action can have an impact and bring political and societal changes.
This is exactly what the #StopAdani movement does perfectly. The movement aims to stop the Adani Group from building Australia's largest coal mine and destroying the Great Barrier Reef.
There are two things in their online effort that helped them muster the support of locals:
1. Highlight the exact steps to be taken to achieve the goal
The movement showcases a definitive path to achieving the objective through a variety of resources.
These resources include pages on their personal and affiliate websites, videos, and social media posts.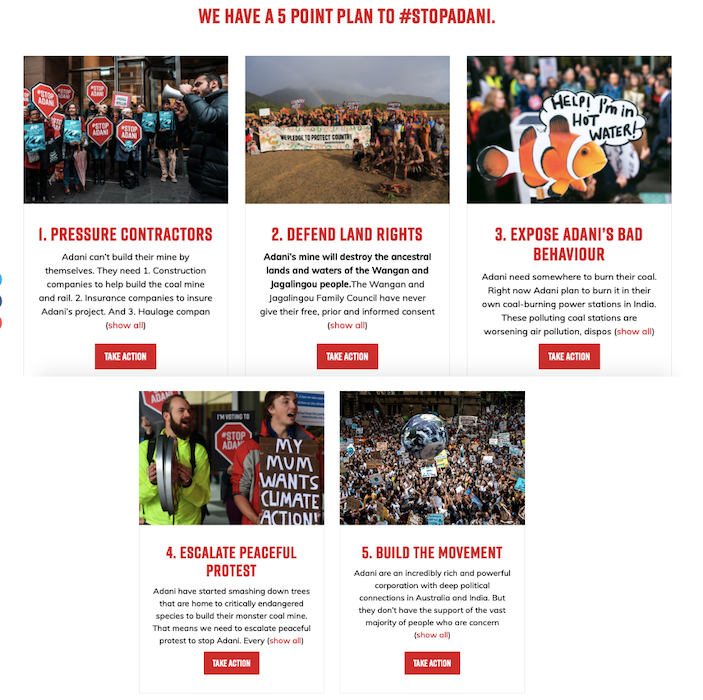 With the perfect roadmap, the movement showcases how malleable the system is against civic action. This, in turn, induces feelings of group efficacy and hence encourages people to think beyond slacktivism.
2. Showcase the impact of the movement so far
The #StopAdani movement also does a great job of leveraging videos to demonstrate their impact.
Here's a 30-minute documentary they released recently. It uses a great storytelling approach to show how far they've come.
Through this video (and others) the campaign gives protestors the assurance that they are on the winning side thereby successfully motivating more volunteers to join.
Give recognition to supporters
How do you convince someone who thinks that their voice doesn't matter?
Simple, by showcasing that it does.
Research shows that Interested Bystanders are often motivated by the satisfaction of having emotionally meaningful experiences.
There's no better way to show that you can provide that satisfaction than by recognizing participants of your movement.
Free Press, one of the organizations on the frontlines of the Net Neutrality battle, goes about volunteer appreciation through simple birthday posts.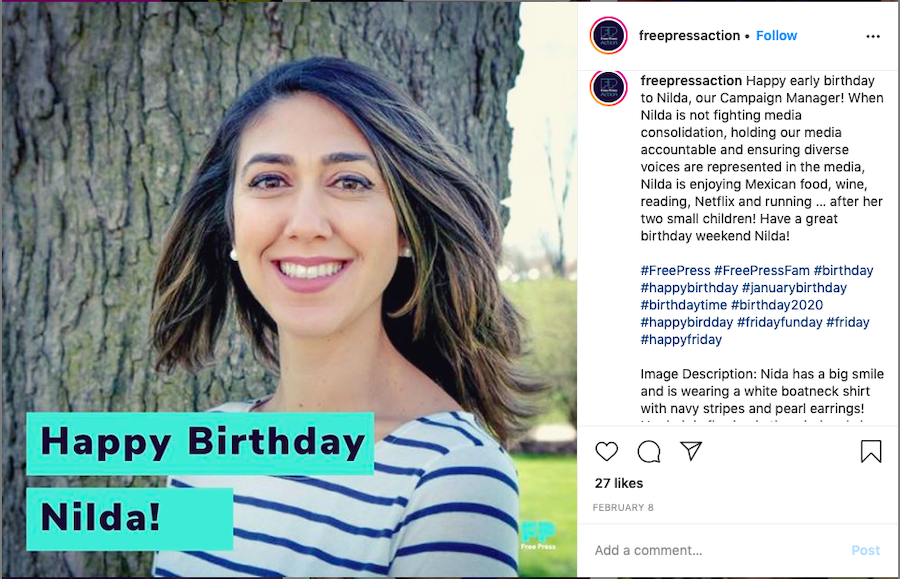 With witty descriptions, they showcase how these participants make a difference while also highlighting their normal life.
Through these posts, Free Press shows that it is the average everyday humans who are key to such movements, thereby encouraging others too.
>> Related reading: P2P Texting for Organizers
Lack of passion to take action for the cause
People believe that they have a social responsibility. According to research, 62% of people stated that liking a cause on Facebook was fueled by a genuine desire to raise awareness or help a cause.
However, social responsibility does not equate to an immense passion for the cause that could lead to action.
Slacktivism gives people a perfect no-cost easy opportunity to act on this social responsibility, whether they are passionate about the cause or not.
While online activism may not always be as effective as one would hope, it isn't a lost cause. It can even be considered as a gateway to bigger actions.
Nonprofits and advocacy organizations can nurture this feeling of social responsibility with continuous engagement to build passion and move people to offline action. Here's how:
Build a relationship before asking them to take action
According to a study at Michigan State University, slacktivism typically only extends to no-cost (or low-cost), low-risk solutions like signing an online petition but not major actions.
However, this does not mean that it can't!
Think about it this way, you can't ask someone to drive you around town the first time you meet them right?
You first have a conversation with them, then maybe invite them for a coffee and build your relationship further to make the bigger ask.
This is where the pyramid of engagement comes into the picture.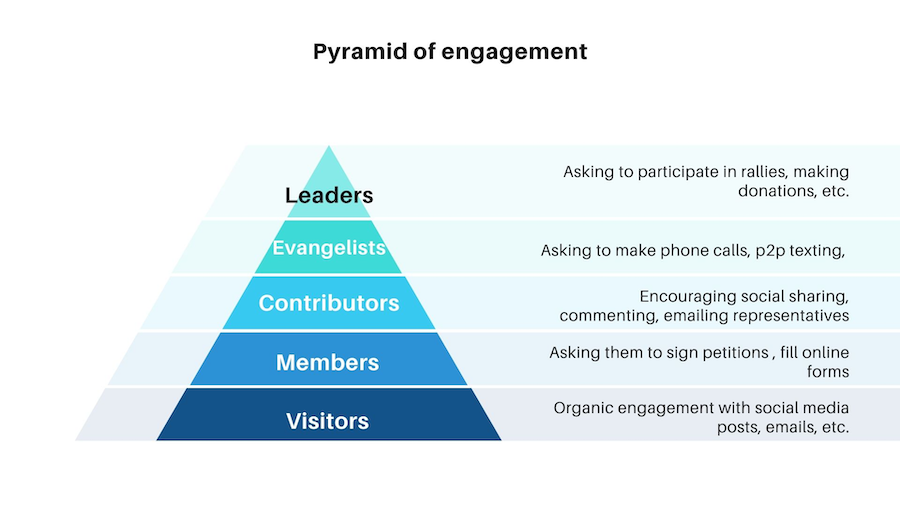 This engagement model gives you a brief overview of how you can take people through low-barrier asks and then move to major barriers once you build a strong relationship with them.
Showcase how the cause affects supporters (and those they care about)
Another way to make people more passionate about a cause and overcome slacktivism is by making them realize how it affects them (or their close ones) directly.
The truth is that a majority of people won't care to take action for a cause if it doesn't personally affect them.
As per a donor loyalty study, 33% of people made donations to a cause because someone close to them was affected by it.
Leveraging this characteristic of people helps you enhance their passion for the cause and also motivates them to do something.
Everytown Gun Safety, an organization founded by Michael Bloomberg, leverages this very well.
With a mix of videos, reports, and social media posts, Everytown shows how people can be hit by the worst mishaps due to lenient gun control laws.
An example of this is as below:
A notable campaign by Everytown was the #NotOneMore campaign. It stemmed from the words of a grieving father of a victim of the Santa Barbara school shootings in 2014.
An affiliate of Everytown, Moms Demand Action launched an online postcard campaign. It encouraged people to put up a picture holding a postcard with the words "Not One More" to spread awareness about the harms of no gun control laws.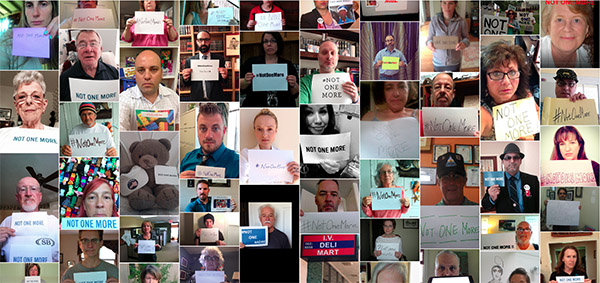 In September 2018, this campaign was revamped as a voter motivation campaign to support their GOTV strategies.
The campaign reached nearly 12.7 million people motivating them to vote and ultimately leading to Gun Safety candidates winning in 15 of the 16 districts.
Real-life limitations to taking action
Research says that while 90% of Americans want to volunteer, only 1 in 4 actually does.
Around half of Americans cite that the most common reasons for not volunteering are lack of time and inflexible volunteer schedules.
This shows that while a lot of people are genuinely interested in volunteering, there are serious roadblocks that limit them from doing so. Hence, slacktivism is their only hope.
Overcoming this challenge would require you to increase accessibility and volunteering opportunities in two ways:
Leveraging the Distributed Action strategy
The distributed action activist strategy is an approach to organizing movements by encouraging self-starting local groups in different regions.
This strategy is fueled by social media, which has made it possible to organize such movements at an even larger scale in the past few years.
The distributed campaigning model poses a number of benefits, a few of which include:
Flexibility in organizing movements at regional levels
Ease of expansion
Global participation and impact
More opportunities in testing different protest methods
350.org has been using the distributed action model since its inception. It's most notable campaign was the Stop the Keystone XL Pipeline which used this model for bird-dogging.
The organization used email blasts to target its supporters in the US encouraging them to create local chapters of the movement.
The campaign was augmented by training and guidance resources available on their website for local supporters.
These resources walked them through how to set up local Facebook pages, Twitter accounts, Google groups, etc. to encourage action.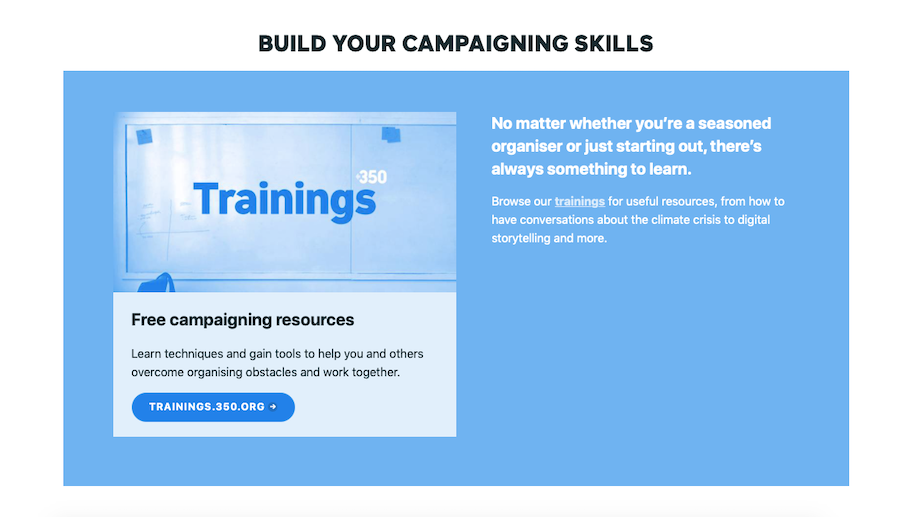 The objective of the campaign was to intercept President Obama as he came through their communities and confront him on the issue.
As a result, 350.org was able to organize 750 Anti-Keystone XL protest groups. The impact of these protests was President Obama delaying the project.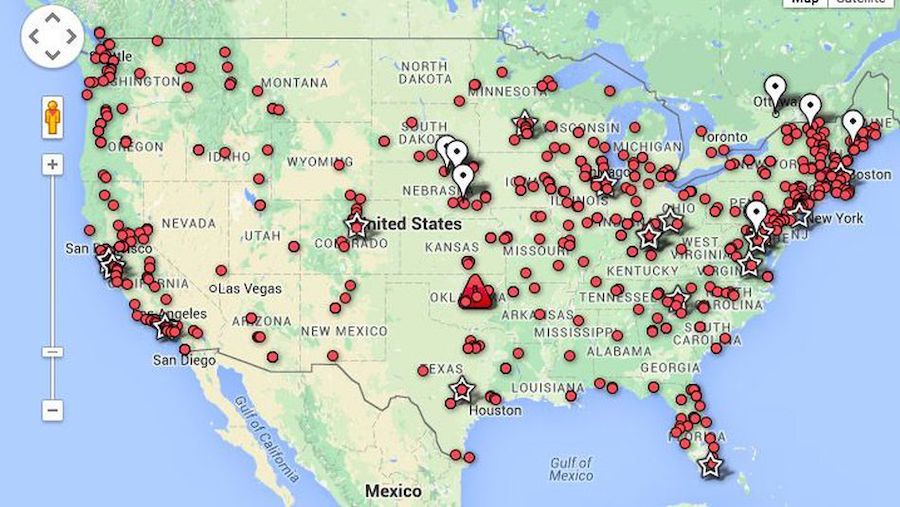 Offering people multiple volunteering options
Another limitation that stops people from volunteering is how they can do it.
A major misconception among people is that taking part in rallies/marches is the only effective action that can be taken, but is something that they don't have the time to do.
However, we know that's not the case.
A successful movement is one that uses a mix of strategies including rallies, phone calls, letters to editors, litigation, etc., and people need to know this.
Make sure this is communicated to all your supporters.
The Net Neutrality Movement is a prominent example of this.
While there were a lot of protests and marches to Save Net Neutrality, other contributions also added to the campaign's impact.
Through social media posts, videos, websites, and emails, organizations on the front lines of this battle provided people with a variety of options to do their part.
These include reaching representatives in Congress through phone calls, emails, and letters.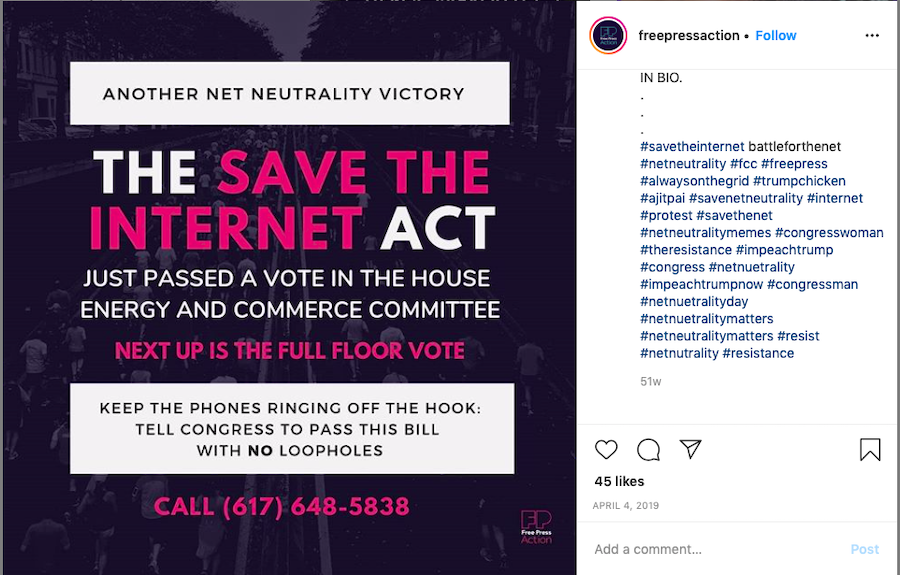 The results of these promotions were:
2,000,000+ comments to the FCC
5,000,000+ emails to Congress
1,300,000 + phone calls to Congress
Collectively, these actions were able to nudge quite a few Republicans in the right direction to support Net Neutrality.
A point to note: Help volunteers get started with phone banking by training them and giving tips. This will ensure a good quality campaign and maximum results.
What does slacktivism mean for your organization?
"Nobody made a greater mistake than he who did nothing because he could do only a little."

Edmund Burke
Slacktivism may be seen in a negative light today but that's far from the truth.
Don't see online action as something easy that people do to feel good about themselves. Consider it the first step towards taking more impactful action.
To motivate action, you need far more engagement from individuals.
Simple steps like sharing posts or signing petitions are steps in the right direction. You just need to be clear on how to create a path for these steps to move forward.