It's a no-brainer that engaging with your audience and building good relationships is only possible with a set of highly motivated representatives. So, it's imperative that you take good care of those representatives and provide clear instructions for them to do their job well.
One of the primary aspects of that angle is to do with ensuring they don't overwork. Additionally, scheduling tasks with no overlaps or confusions leads to a better work experience. This leads us to the concept of 'call center scheduling'.
What is call center scheduling?
Call center scheduling is an exercise focused on employee management. Here, an agent's tasks are scheduled based on different elements. Three such primary factors are:
Call volume
Agent availability
A good call center scheduling software helps you fulfill all the calling requirements with efficient use of the workforce.
CallHub's automated call center software helps you with these aspects:
Call volume: With CallHub's different dialers, assigning agents to various calling campaigns based on the use cases and call volumes becomes easy. For instance, a power dialer is ideal for persuasive calls, whereas a predictive dialer is relevant when you need to reach a large number of contacts.
Agent availability: The predictive dialer adjusts the dial rate based on the agents' availability, call durations, call volume, etc. This helps your agents not overwork and have a healthy balance. 
Agent skill set: Based on the insights from CallHub's analytics tool, you can get an idea of what your agents are best suited for. Depending on their performance in each calling campaign, you can assign them for different use cases like high-volume calls, persuasive calls, cold calls, and more.
Additionally, designing a healthy schedule for your representatives becomes a crucial part of a manager's job. Without a schedule that utilizes skills, permits rest time, and caters to the client's needs, productivity can come crashing down.
However, developing such an efficient call center work schedule is pretty challenging. Your agents may have specific priorities and constraints. A call center scheduling software holds you in command by allowing you to update schedules and introduce ad-hoc tasks on the go.
A call center scheduler also gives an overview of all the schedules so you can locate potential gaps and address them accordingly.
If you're a business, political party, nonprofit, etc., and you only need to run calling campaigns, jump to this section.
Benefits of a call center scheduling software
A call center scheduling software benefits an organization by optimizing the critical aspects of call center management. Here are some:
Build the right schedules and copy them as required.
See your team's schedules and performance in real-time and build on them.
Track labor hours and costs and efficiently manage campaigns.
Improve communication with your agents through notifications and alerts.
Manage agent requests with ease from a single place.
Stay compliant with labor laws and industry regulations.
With a call center scheduling software, you can easily modify shift schedules to accommodate your call center's changing needs. Now, let's see some call center scheduling tools that are leading in the industry.
Read Next: The Complete Call Center Software Buyer's Guide: What to Look Out For
What is the best call center scheduling software?
With a call center scheduling software, both managers and agents get easy access to all the scheduled tasks. The visual overview of all the schedules helps reduce costs by assigning the right agents for the right tasks and staying compliant with industry regulations.  
Here are five call center scheduling tools we recommend:
1. Connecteam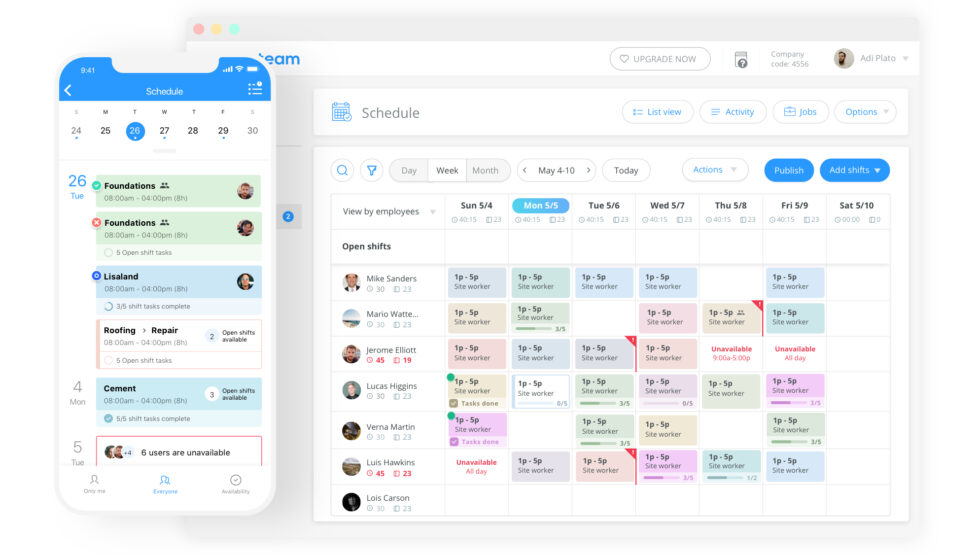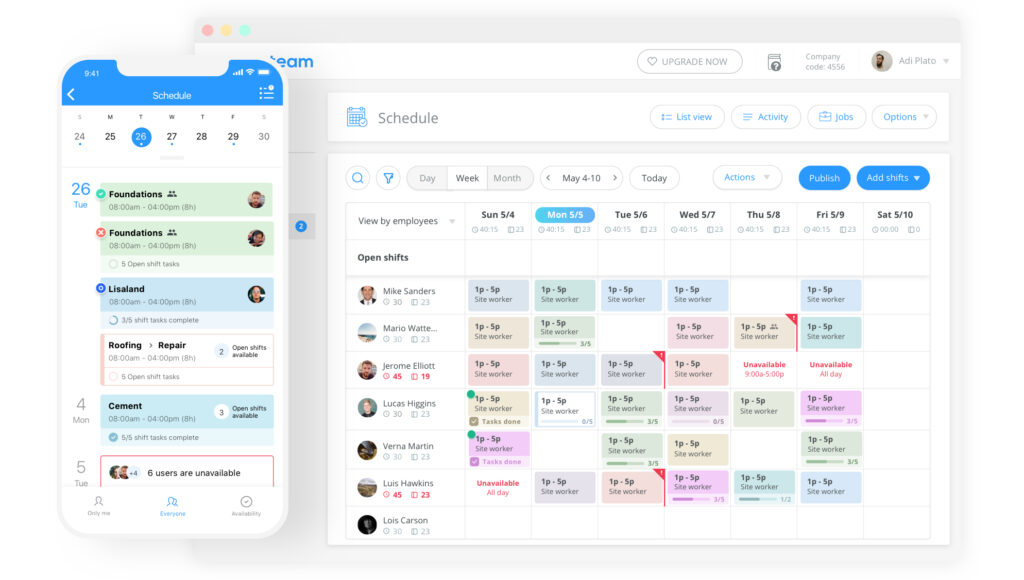 With Connecteam, you can create individual and team shifts and simplify scheduling from planning to distribution. You can create schedules easily with a calendar view, templates, and drag-and-drop options and share them with your team.
This helps you avoid conflicts, and you can also manage the scheduling from anywhere.
Key features of this scheduling software call center:
Send push notifications to agents with detailed shift information.
Track progress and get notified upon execution, status changes, shift rejections, etc., in real time.
Manage agent scheduling from anywhere by adding or editing shifts, swapping users, assigning tasks, and more.
Leverage customizable drag-and-drop templates to minimize set-up time.
Communicate internally using shift-specific messaging boards, in-app chats, employee directories, and more.
Pricing: Starts at $39/mo for up to 50 users.
2. TixTime scheduling software for call center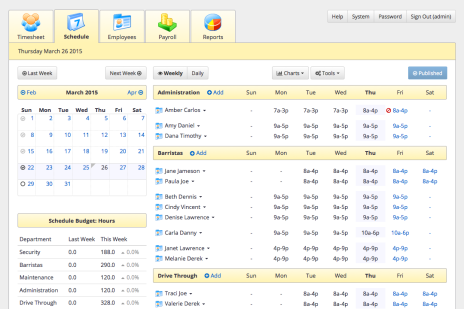 Tixtime helps you with timesheets, schedules, payroll, etc., all in one place.
Key features:
Schedule tasks based on agents' availability.
Eliminate schedule overlaps, thus ending task planning confusion.
Set up automated reminders to agents.
Stay on budget by assigning the right number of people for a task.
Visualize schedules based on locations and departments.
Manage payroll based on the number of hours.
Pricing: Starts at $379/month for up to 5 teams of 100 agents.
3. Snap Schedule
Snap Schedule call center scheduling software is designed to help organizations with multi-site workforce and flexible demands. The software works on all types of devices (mobile, laptops, and desktops), letting agents request changes in their schedules on the fly.
Key features:
Manage labor processes and modify schedules in real time.
Create transparent schedules so employees have a say in their work shifts.
Schedule the right people at the right time with access to accurate performance data.
Control labor costs with automated calculation of work hours, overtime, day-offs, etc.
Schedule tasks in line with labor laws, agent contracts, and collective agreements.
Pricing: $450 per user/year.
4. Humanity call center scheduling software
With Humanity's call center scheduling software, you can create schedules seamlessly depending on agent availability and skills. You can also manage last-minute changes on the fly and notify your agents through the app.
Key features:
Leverage custom templates to schedule tasks and use forecasting to create conflict-free schedules.
Communicate last-minute changes around schedules and let employees update their availability.
Eliminate overtime and overstaffing using Humanity's intuitive budgeting tool and custom reporting.
Pricing: Starts at $3 per user/month.
5. ZoomShift
ZoomShift is a cloud-based call center scheduling software that comes with both web and mobile versions. With push notifications, the software focuses on agents' priorities and lets the campaign managers know of their availability.
Key features:
Shift-swapping capabilities so an agent can find a replacement.
Alerts for when employees are nearing overtime and for early clock-ins.
Ability to change schedules on the fly and team collaboration facilities.
Pricing: Starts at $2 per member/month.
CallHub as a call center scheduling software
CallHub's call center software makes scheduling shifts and assigning calls easy. You can assign individual agents or teams of agents to your calling campaigns. You will also be able to automatically distribute the calls evenly when a new agent joins the call.
However, if you're a business, political party, nonprofit, etc., and you only need to run calling campaigns, a call center software would suit your needs.
In addition to the capabilities of call center software, here are some highlights that align with the benefits of a call center scheduler:
Your agents can choose a connection preference based on their convenience: Phone, browser, or dial-in.
Create unlimited teams and assign calls to those teams. These teams, in turn, can have an unlimited number of agents.
Assign agents to multiple teams and schedule campaigns. Your agents also have the option to choose a campaign from the multiple options you provide.
Recruiting agents is relatively easy, too, with the help of our in-built sign-up forms. 
Get started
Among the call center scheduling software we have listed, you can find the right fit for your organization by mapping out your requirements with the features. Using such a software creates a balanced work environment for your agents while ensuring maximum efficiency.
Optimize your agents' work schedules, communicate in real-time, and cut down on unnecessary costs with a call center scheduler now.
Featured image: Photo by Arlington Research on Unsplash