Managing a call center software can be challenging for growing organizations if you don't choose the right one.
For example, say your agent, James, calls one of your contacts, Mary. During the conversation, Mary has a few questions for James. Presumably, these questions are some of the most commonly asked ones.
Ideally, James should have the answers right before him and not struggle to find them. Your call center software should handle this by accommodating the most commonly asked questions and answers.
This is one of the many instances.
A call center software should allow you and your team to perform at your best.
This post is a call center software buyer's guide to understanding the
Types of call center software
Essential features of a call center software, and
Considerations to make while purchasing a call center software this year.
Let's get started.
Types of call center software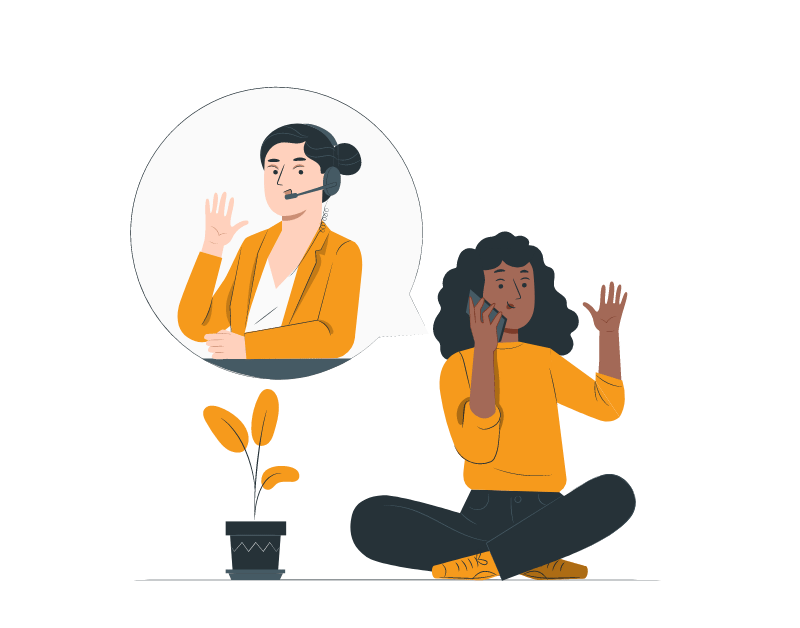 A call center software can vary based on what it is designed for. Some are designed for outgoing calls, some for incoming, and some have both.
Let's see what each of them is.
These, again, can be categorized into three types based on their deployment. Let's see what they are.
Important call center software features
Every call center software you come across will definitely have at least one of the features we discuss below. However, the best ones offer most or all and let you choose the ones you need through their pricing or tailored plans.
1. CRM integration
According to research conducted by Hubspot, one-third of consumers find it frustrating to repeat their interactions with multiple representatives.
So, your agents must have context and information on a contact—no matter which stage of the engagement or which agent is on the call. With a call center software that integrates with your CRM, your agents can have a quick look at their past interactions with a contact.
This will also help your agents notice any trends and patterns in a contact's behavior and know the right things to say.
2. VOIP calling
In this work-from-home era, you need your call center software to accommodate a remote workforce. A VOIP dialer runs through the internet instead of a phone line.
A system with VOIP calling will let you have agents across the globe make calls on your behalf.
This ability of the system to run without on-premise hardware removes the need for infrastructure and maintenance costs traditional phone lines have. It also helps you scale effectively by letting you have as many agents as you need to make calls on different lines.
3. Click-to-call
One of the major reasons you're looking for a call center software instead of dialing your contact list one by one using your phone is to save time and increase productivity. So, it's imperative that you consider a software that focuses on keeping your agents on the calls talking to your contacts and not listening to ringtones.
Click-to-call is exactly what it sounds like- Rather than typing out every phone number, you only click a button on your call center software, and it will dial the number for you.
4. Automated dialing
When you need to reach many phone numbers in a short amount of time, automated dialing is the way to go.
It is an extension of click-to-call. The dialing here is automated, and once the call gets answered, the dialer will either connect the call to your agent or plays a pre-recorded message.
Automated dialing can be of four types:
5. Timezone-based calling
Your calls need to go out at a time when the contact is available.
A good call center software will let you take into account your contacts' timezone and call at the right time. This helps you stay compliant with TCPA guidelines and reach your contacts when they're available.
6. IVR (Interactive Voice Response)
An IVR will let your contacts interact with a machine, which will help them get answers to their questions or the help they need in a short timeframe.
IVR also helps you manage your call volume and collect information from your contacts without anyone being on the call. The ability to customize a voice menu is essential for such a feature.
This menu will let your contacts complete specific actions through keypad inputs with numeric digits.
7. Personalized scripts
The ability to add scripts on your call center software for your agents to use for the calls is one of the most basic and important features.
Your software should allow you to add instructions for your agents and answers to some commonly asked questions while being able to personalize them.
Branching scripts is another feature that lets you add conditional logic and lets your agents route to the right section based on your contacts' responses.
8. Call recording
How do you analyze certain conversations to understand your contacts' expectations?
In order to ensure you provide the best experience for your contacts, you'll need a call recording feature on your call center software. This will let you do regular quality checks on your calls.
Records of some great conversations can also act as training samples for your future recruits.
9. Call monitoring and whispering
Another way to get the best out of your agents is to supervise them using call monitoring while they're on calls. This helps you, the campaign managers, to listen to the calls in real-time.
Whispering helps you train your agents with personalized instructions while on the call, without your contact hearing you. This feature is handy for training your new agents, resulting in faster and more efficient training.
10. Call logging
You need call logging to collect call volume information, caller information and analyze call outcomes.
Your call center software needs to record every call you make and receive on the system. Every log should have details like the date and time, call duration, caller ID, etc.
11. Virtual queuing on callback
A lot of your calls may go unanswered. In such cases, when your contact calls you back, your call center software needs to be able to receive those calls. Your system should create a queue and keep your contacts on hold till they are connected with a live agent.
The hold-up too, should not be over a couple of minutes; otherwise, your contact may drop off.
You should also be able to customize a greeting message to your contacts calling you back. A good call center software will also let you route these incoming calls to an external number.
12. Reporting and analytics
Running a calling campaign requires keeping a tab on the important call center metrics. It's impossible to optimize your campaign and plan your future campaigns well without insights into your existing campaigns' and your agents' performance.
Reporting and analytics can help you understand the issues and identify the gaps.
13.Gamification
Gamification can help your agents improve their performance and get rewarded for their efforts. For example, a leaderboard for your agents where the top 3 agents with the highest number of conversions get an incentive.
Considerations to make while purchasing a call center software
Undoubtedly, you should choose a call center software that aligns with your specific needs. However, by considering the following factors, you will be well on your way to buying the right software.
Type of deployment
Among the three types of deployment we saw earlier, cloud-based call center software is the most affordable, easy-to-set-up, and flexible option as long as you have a reliable internet connection.
A hosted call center software is slightly more expensive than a cloud-based one as your provider dedicates their server to you.
On-premise, on the other hand, is the most expensive because it requires buying and maintaining your own servers, including updating the software on your own.
Multichannel support
If something goes wrong, your call center software provider should be there for you. Make sure they are responsive on at least two channels and are available during your business hours.
Scalability
Make sure your call center software can scale as you do. Some questions to ask in terms of scalability are:
Can I keep adding more agents?
Am I charged per agent seat?
Am I charged for the minutes I did not use?
Can I upgrade to accommodate features I didn't initially need?
Ask the sales representatives these questions before you purchase a subscription.
Flexibility
Make sure your call center software has browser-based or app-based calling, giving your agents the flexibility to work from anywhere. This will improve your agents' productivity and lets you hire agents from across the country.
Free trial
You can only know the true usability and value of a feature when you start using it actively. SaaS companies know this and typically offer a free trial or money-back guarantee to let you explore the tool before committing.
Make sure your call center software is free for at least seven days. Use the different aspects of the software, try out your use cases, and explore all the features. Get trusted and dedicated agents on board for the trial and let them explore too.
That way, you cover all aspects of the user-friendliness—from the manager's and the agent's dashboard.
Cross-channel communication
HubSpot research also shows that omnichannel communication can increase your agent productivity by 10%.
In all likelihood, you interact with your contacts through other communication channels like email and text. It's important to consider how well your call center software can support you there.
You need one system that can unify the records of all the one-to-one conversations happening between you and your contacts. This will help you and your agents see all the interactions with a contact, regardless of what channel they took place on.
Deployment time
Some call center software may need days to implement. When choosing a software, check for the deployment time and make sure it doesn't span across weeks.
Training
Your call center software provider should also offer training materials or onboarding sessions. Ask the sales representative about the available training before you purchase a plan.
Uptime
This is the most important of all. This will decide the reliability of a call center software, and no feature is helpful if your system faces frequent downtimes.
Ready to try a call center software?
If you're looking for a call center software that checks all the features and abilities discussed above, look no further.
Here's how you can get started with CallHub.
Step 1: Sign up for our free trial.
Step 2: Use your existing business phone number or rent a new one.
Step 3: Start campaigning and explore each feature.
Try CallHub's Call Center Software for free now.
Featured image: Photo by Petr Macháček on Unsplash