Reduced calling costs. enhanced productivity. increased engagement
CallHub's VoIP dialer helps you make calls conveniently without requiring a phone line. Connect with your leads, prospects, and customers to drive revenue and watch your organization grow.
Call Center | Voice Broadcasting | SMS Marketing Software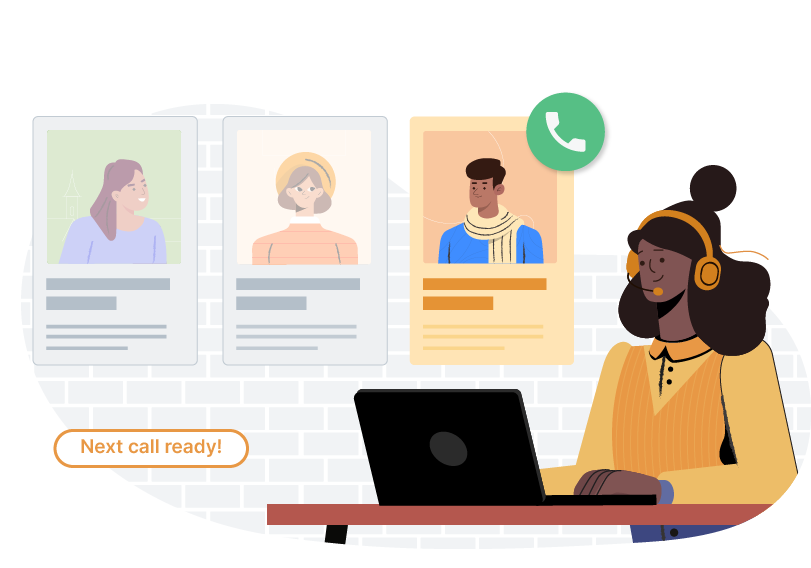 VoIP Dialers for Every Need
Whether you're telemarketing, fundraising, generating leads, or making outbound sales calls, our VoIP dialers cater to all your needs.
Spend 200% more time talking
Predictive Dialer
Predictive dialers are perfect for making a large number of calls in a short period of time.
Dials several contacts and connects free agents to answered calls.
Ensures agens are on call at all times.
Skips bad numbers, busy, or unanswered calls.
Make 5X more calls per hour
Power Dialer
Ensure you contact everyone on your list and have time to collate data in between calls.
Dials only one contact per agent when they initiate it.
Contacts don't have to wait to connect with agents.
Choose to speed up dialing and skip busy and unanswered calls.
Robo Dialer
Our robodialer calls all your contacts and leaves a voice message when they answer.
Make up to 120 call/minute to drop your message.
Upload pre-recorded audio or type it in the text to speech box.
Press-1 feature to transfer calls to live agents.
Call landline & cell numbers
FastClick Dialer
TCPA compliant dialer for super fast calling to cell phones and landlines.
Uses human intervention to make calls.
Speeds that match automated dialers.
Eliminates cost of analyzing phonebooks for cell numbers.
Advantages of CallHub's VoIP Dialer Software
Make calls from anywhere in the world. All you require is an internet connection, a computer and a headset and your team is good to go!
Pay only for what you use with no additional or hidden cots. CallHub offers calling and texting solutions at highly competitve rates. 
Call center agents are essential for a successful campaign. This is why CallHub lets you add any number of agents to your campaign at zero cost. 
All your campaign data is available in real time. Keep a close eye on your campaign performance in real time.
Follow up with prospects and customers with texts right from the call center dashboard. 
Our support team is available around the clock. Reach support over email, chat and phone.
Sign up now and set up your campaign in minutes
Get free credits to try the tool first. No credit card required. 
Trusted and loved by customers worldwide

"We can make calls at about 5x the rate that we would with a manual dialer, getting through a list of 100 calls in just over an hour. This has been a huge capacity saver in our organization."
Amanda Destefano, Leadership Organizer, United Workers
"I really love your team. You are just super responsive and super friendly and nothing's too difficult! It's been a really good experience."
Shaun Murray, Senior Organizer, GetUp
"A lot of our folks are volunteers, a lot of them are retired, they are often anxious with technology and they were able to use CallHub easily. It's empowering for volunteers who don't see themselves as very tech savvy to be able to pick up a new piece of software and a new program and just use it, so that was great."
Celine Trojand, Digital Organizer, Organizing for Change
"I love this product. It's so easy to use with a very clean user interface. The price is the most economical I've seen in the industry and last but not least is the wonderful customer support. They answer all questions very quick."
Ronald Hart, Marketing, The Cloud Marketers
"Solid dialer, responsive support, and awesome CRM integrations!"
Django Merope Synge, Campaigns Director, GetUp
"CallHub made my marketing program easy and also affordable. I love the dialer, the SMS marketing program and the voice broadcasts. The CallHub team is doing a wonderful job!"
Wendy Mathis, Global Quest Services
CallHub has become my go-to platform for affordable phone canvassing campaigns, voice broadcasts and text message blasts. In particular, text message blasts are the single most useful tool for volunteer mobilization that I have used in recent years.
Jordan Bober, Director of Development and Election Readiness, Green Party of Prince Edward Island
Dynamic Caller ID
Use a local caller ID based on your prospect's location to increase pickup rate.
Phone Number Verification
Analyze your phonebook, remove bad and outdated numbers and clean up your contact lists.
SHAKEN/STIR
Combat spoofed robocalls with SHAKEN/STIR. Verify your number for your contacts.
Tagging Leads
Our VoIP dialers let you tag, manage, and segment your leads based on predefined parameters so you can plan your outreach accordingly.
Answering Machine Detection
Automatically detect answering machines and play a different recorded audio message OR hang up the call.
Manage Do Not Call
Enable DNC for calling campaigns. Contacts who opt-out will be added to the DNC list. Create custom DNC lists or import your lists into CallHub.
Callbacks
Don't miss out on busy contacts. Calling agents can schedule a call back for contacts that are busy, but would like to be contacted at a future time.
3000+ of the world's biggest organizations trust CallHub for engagement




Try CallHub now for VoIP Dialer
Try it free. No credit card required. Instant setup.