Honor the Lord with your wealth and with the firstfruits of all your produce; then your barns will be filled with plenty, and your vats will be bursting with wine. (PROV. 3:9–10)
Giving and gratitude are two unshakeable pillars of faith. Writing church donation letters, soliciting funds for running the church, starting new initiatives, and promoting missionary campaigns should not be an uncomfortable ask, although often it feels like it.
Donating to the church is an ideal way in which the spirit of giving can be fostered. By committing to Christ not only through their hearts but also their wallets, church members can welcome Christ's abundant blessings into their lives. However, sometimes, a nudge from the church is needed to direct members down the path of giving. A church donation letter can act as the perfect nudge that gently reminds church members about giving and donating.
Church donation letters are excellent means of asking members to consider giving and encourage it in their everyday lives. They are also used to communicate several things about church gifting. Here are different examples of church donation letters: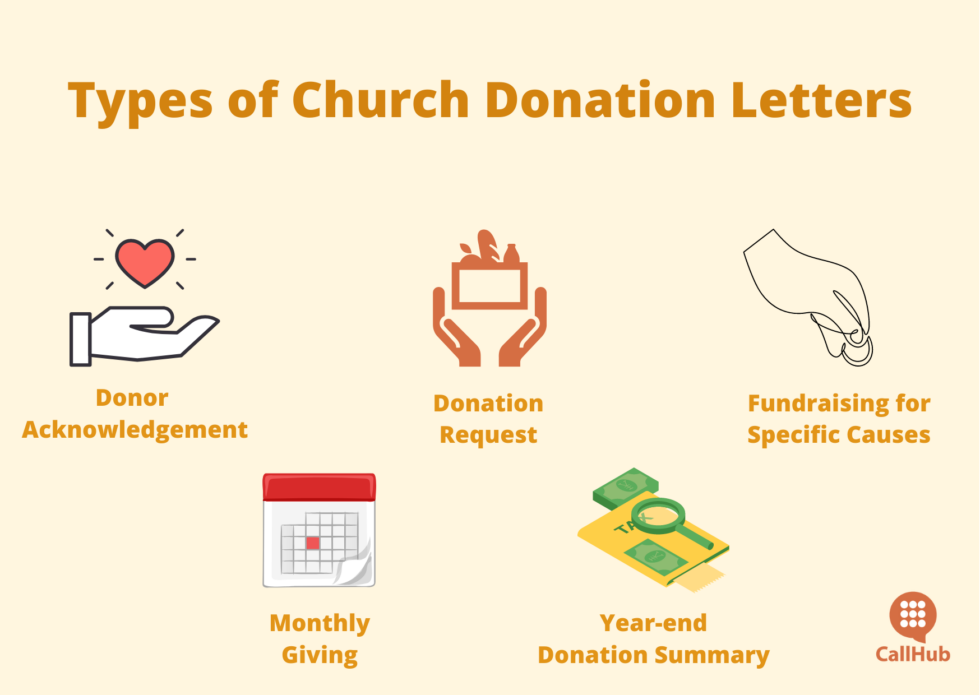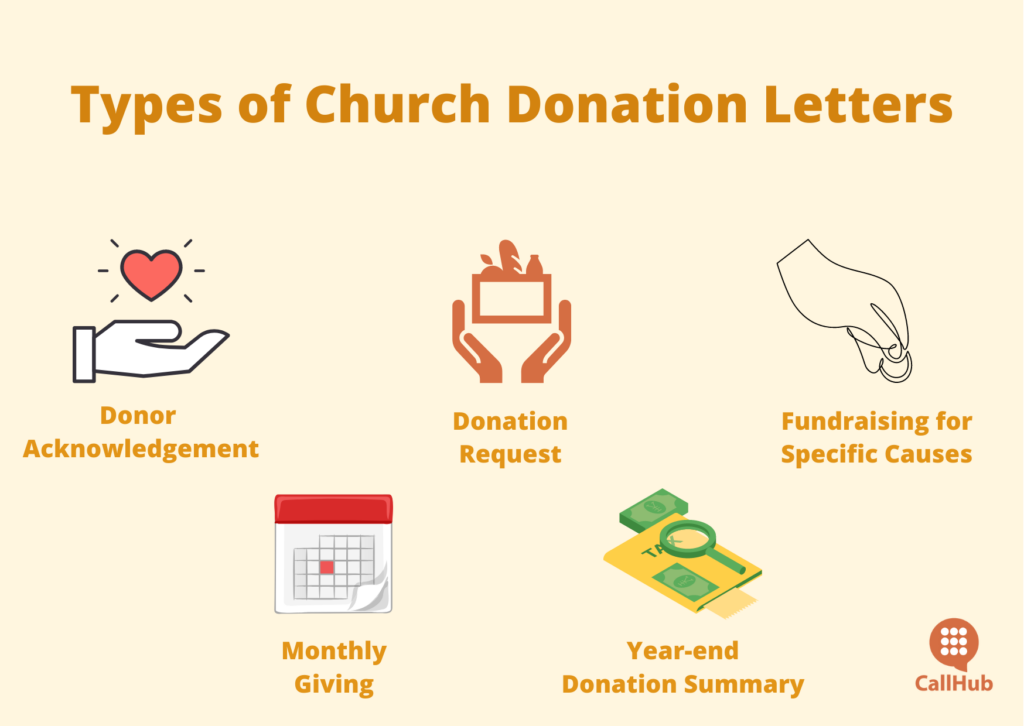 Send donation acknowledgment letters/thank you letters
Donation request letters
Fundraising request letters for specific causes/goals
Monthly giving letters.
Year-end letters
The best part about letters requesting donations for church? They can be sent through traditional means by post or adapted to newer, digital technology like e-mails and newsletters. While younger generations prefer emails, older generations still prefer direct mail. Therefore, donation letters will work for any church – whether conventional or modernized.
We've designed a few sample letters asking for donations for the church. Take a look.
When should you write a church donation letter?
Writing a letter requesting donations must be an infrequent but important event. If church members constantly receive donation requests, they might get frustrated or distance themselves from the church. In moderation and with an excellent cause to share a fundraising request, you can encourage church members to give to an important cause or even sign-up for recurring donations.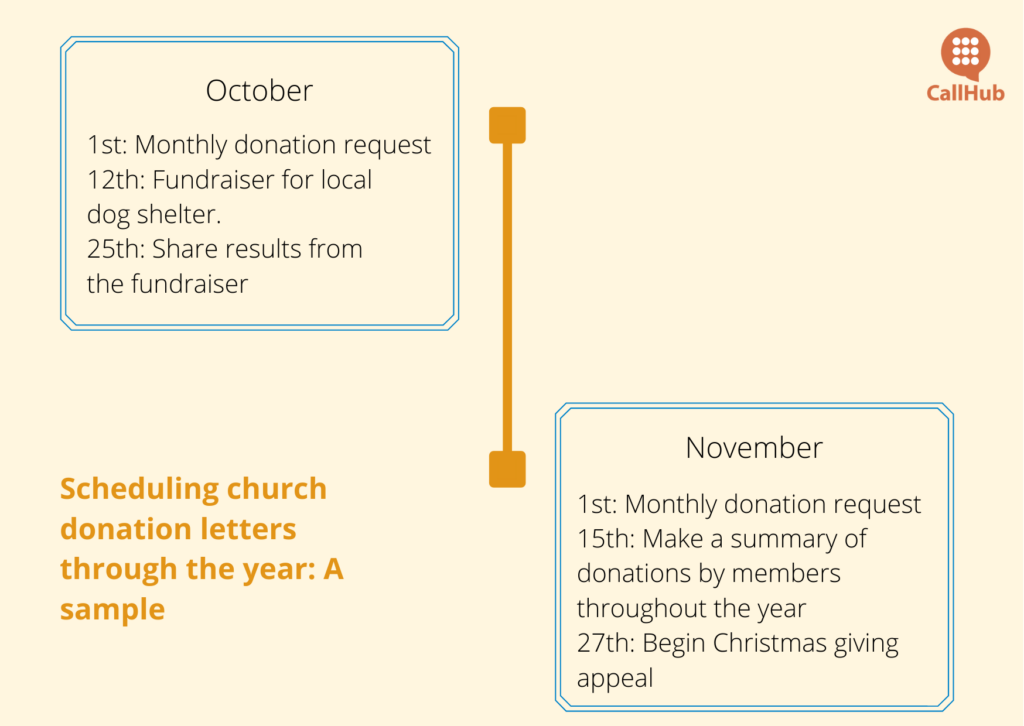 Read also: Crafting a church communication plan that cuts through ad noise
Here are some good reasons to pick up your pen or turn on your laptop and write an excellent church donation letter:
You want to appreciate donors: While we covered the giving aspect of faith, gratitude comes a close second. Appreciating your donors for supporting your cause ensures they feel valued and are more inclined to give again. Studies show that 85% of donors who were acknowledged through thank-you letters were likely to donate again.
You want to acknowledge a donation: If you've been running a successful fundraising campaign, you can set up automated emails that acknowledge donations. As soon as a donation is made, the automated email is sent to the donor so that they know their money is in the right hands.
You want to inform donors about tax-deductible donations: Informing donors that their contributions are tax-deductible is a great excuse to reach out to them. Besides, who does not like knowing they can waive off tax through their donation while also helping the church?
You want to encourage recurring donations: Encourage church giving or tithe as a regular monthly or quarterly practice by educating your church members about the spirit of giving. Remind members about the needs of the church and how they can help regularly.
Request for future donations: You might be building or renovating a part of the church or would like to finance a community initiative. Reach out to your church members with a donation request when you have a specific cause with a monetary goal attached to it .
We've come up with sample church contribution letters for all these occasions that you can edit and use for your fundraising outreach.
How to write a donation letter for a church?
Writing a church donation letter can be a breeze once you are clear about the purpose of the email/direct mail, the people it is intended for, and most importantly, how to frame the letter. We've thought of a few instances and drawn up sample letters requesting donations for the church.
Donation request letter
Dear <First Name>

Everyone who was willing and whose heart moved him came and brought an offering to the LORD for the work. Exodus 35:21
The <church name> is an immense supporter of the spirit of giving. Over the years, we have undertaken initiatives such as <list some crucial and helpful initiatives> for the welfare of the local community. These initiatives have led to <insert real impact and statistics generated through the initiatives>.

<First name>, we want to continue to do so.

With your help and generosity, <church name> can continue to work towards the causes it believes in the most. To donate, follow this link and make your first donation <add link>

If not through money, you could also help the church in this manner:
<add a few ways in which people can help you. E.g., through volunteering>

Invite blessings into your life by contributing to the Lord's mission.

Sincerely,

<Your name>

<Designation>
Note: If you are sending this letter by direct mail, you can edit the letter and write specific ways to reach out to you and donate. Let them know if they need to contact the person sending them the letter, donate through the church website, etc.
Read Also: Text giving for churches: What it is and how to implement it?
Fundraising for a specific goal
Hello <First Name>

Today we are writing to you for a very specific reason. We're writing to you because together, we can make great things happen. In keeping with that thought, we're excited to share our latest church project with you – <project name>.

This project is special because <add relevant details under the bullet points below>

– details of the project its
– aims
– who it will benefit
– total sum required to complete it.

However, the <church name> cannot do this alone. We need you to help us. Whether through generous giving or small contributions, we need our entire church community's help realizing this project. We ask you, <first name>, to consider giving to the church.

– A sum of $ <enter amount> will allow us to <list your lowest ask, say $25 + what it can achieve>.
– A sum of $<enter amount> can <list your second lowest ask, for example, $50 + what it can achieve. People are most likely to choose the middle option(s)>.
– A sum of $<enter amount> can <list your highest ask, for example, $250 + what it can achieve>.

To donate, visit our website <website url>. We are excited to make this work.

Sincerely,

<Your name>

<Designation>
Donor acknowledgment letter
<Date>

To<Recipient Address>

Dear <First Name>,

We did it! Thank you for your contribution to <church name>'s project.

We acknowledge the receipt of your donation of <amount>, received through cash on <date>. Your support truly made the difference in ensuring this project was a success.

Since no goods or services were exchanged in lieu of your donation, in whole or part, the total value of your contribution is deductible for income tax purposes.

For tax purposes, please keep this letter safe with you. If you want to know more about us, visit us at <church website url>.
Grateful,

<Your name><Designation>
Monthly giving appeal
Hello <First name>,

Thank you for being an active and valued member of the church. Being an active member shows your commitment to the Lord and your local community.

An important tenet of our faith is giving and generosity. When you give, you invite abundance and blessings back into your life. Therefore, we appeal to you to consider making small monthly contributions to the church.

– A sum of $ <enter amount> will allow us to <list your lowest ask, say $25 + what it can achieve>.
– A sum of $<enter amount> can <list your second lowest ask, for example, $50 + what it can achieve. People are most likely to choose the middle option(s)>.
– A sum of $<enter amount> can <list your highest ask, for example, $250 + what it can achieve>.

Your regular donations ensure that the church can manage its staff, preach the gospel, guide disciples, and help community members in need.
Before we end this letter, know that we genuinely appreciate your involvement with the church, and if you need anything, do not hesitate to reach out. You are valued.

Thank you,

<Your Name><Designation>
Year-end letter
Dear <First Name>,

We're sending this letter to you because at some point during this year, you generously donated to <church name>. Whether a one-time gift or a recurring donation, your support has meant that the church has done well this year.

Your support to the church meant that we could invest more into spreading the word of the Lord, we could guide our disciples in a better manner, and we were able to contribute to members whenever they were in need.

Your support also meant that we were able to undertake a few initiatives such as <list initiatives> that made a lasting impact on the people who benefited from it.

This letter is sent to you for another reason – yes, for tax purposes. You can write off these donations when you file your taxes this year. We've included a summary of your contributions so you do not have to worry about collating them.

Thank you for being a valued, active and generous member of our community.

Sincerely,

<Your Name> <Designation>
Read Also: Fundraising Strategies to Exceed Your Year-End Giving Goals
Using these church donation letter templates to send out your fundraising appeals and engage donors is now easier than ever. However, there are still some best practices to keep in mind when writing the perfect church fundraising letter. Let's look at them next.
Things to add to your church donation letter
Follow these church donation letter best practices to make an effective fundraising appeal that gives your church donation letter a good structure. While they may not directly impact results (which is why some of these points are not implemented in the sample letters above), they certainly add to the visual appeal of the letter. Adding these sections in your donation letter/email will elevate it.
Best practices while drafting the letter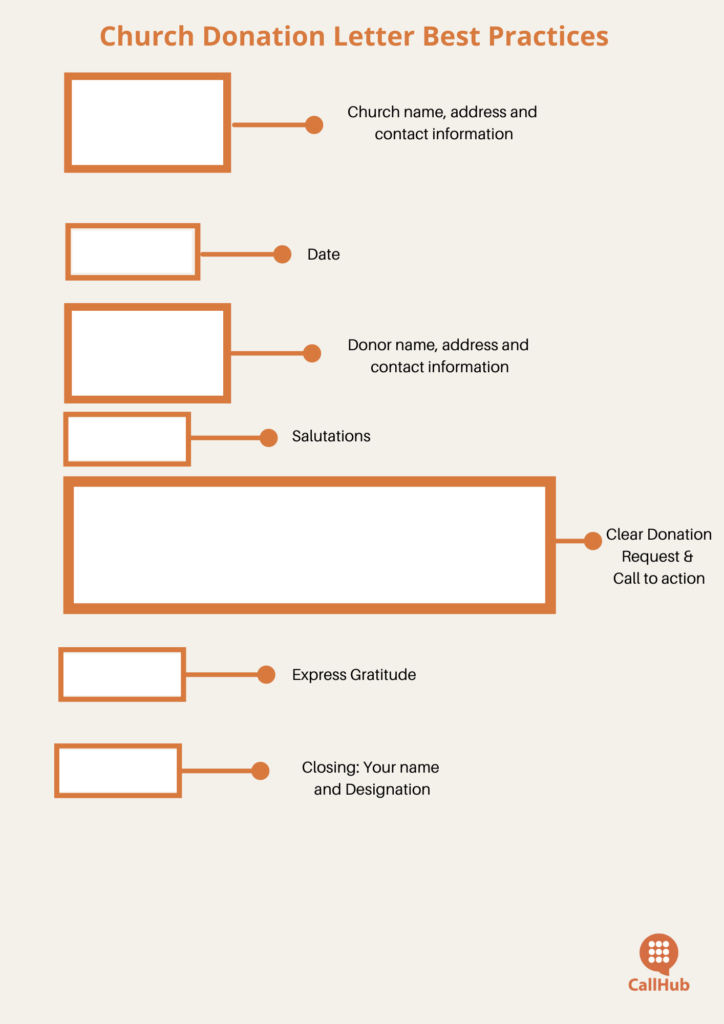 Church name and contact information: Adding the name of your church and your contact information lets members contact you with ease while also creating recall value for the church. The members must know exactly who they are receiving a letter from.
Date: Especially crucial when it comes to fundraising events and associated deadlines, a date serves as a time reference for when an action needs to be taken.
Donor address: If you opt to share your church fundraising letter through the post, a donor address is a helpful addition.
Salutations: In the letter's opening, using terms such as 'Dear,' 'Respected,' or simply 'Hello' welcomes the readers into the content. Use these terms depending on how close you are to your readers. Personalize it by adding your recipient's name to engage them with the message you are sharing.
Clear donation request: The point of a church donation letter is to clearly state the kind of donation and help you are looking for from your church members. You could either appeal for small monetary contributions, share your fundraising goal or offer alternative ways in which members can help the church.
Call to action: For email donation letters, you can add a button or a link that directs them to a payment gateway where members can complete the donation process immediately. In a physical letter, it is trickier, but ensure you clearly state the next steps a member must take to help you out. You can highlight the CTA in a bigger/bolder font or with a different color or use other such tactics to draw their attention.
Gratitude: It is only polite to add a thank you at the end of a letter. You can also go a step beyond and explain what you are thanking them for. E.g., saying 'Thank you for your continued support and generosity' adds a touch more emotion than a generic thank you.
Closing: This is where you let the audience know who you are, your designation, and a signature. Even though a letter is sent out through the church, adding the name of one individual as the sender can help the readers connect better. Readers can contact this individual for any questions they may have.
Read Next: How to Write a Christmas Donation Letter That Gets People to Open Their Hearts and Wallets
Best practices for effective writing
Highlight your church's impact: In your church donation letter, let church members know about how you utilized funds in the past, the impact it created, and how their next donation is going to make a difference. As a donor, it is great to know your contribution resulted in something good.
Speak about the cause for which you are requesting donations: Let them know more about the cause towards which you are working. For example, if you are raising funds to construct something around the church, let members know how that space will benefit the church and the community. Can kids use that space as a recreational space? Talk about it.
Personalize your outreach efforts: Use features such as merge tags (in emails) and list segmentation (for both emails and direct mail) to personalize your outreach. Merge tags allow you to add recipients' names and addresses (among other options) to your letter. List segmentation will help you divide lists based on different criteria such as age, gender, income status, etc. This can be used to tailor your content to make it personalized and relevant to a particular audience.
Read also: Building A Perfect Church Visitor Follow up Strategy for Your Church
Encourage giving no matter how small: While certain fundraising goals seem hard to achieve, or you might like it if members contributed to the church monthly, it may not be possible for everyone. Encouraging small giving allows more members to take part in and be active with the church. There are also higher chances of getting a large number of small donations rather than significant amounts.
Use the power of storytelling to encourage donations: Share stories about initiatives you undertook, the people it benefitted, and the process behind making the initiative successful. You could also share stories from the Bible when you want to communicate certain ideas like giving, gratitude, or the importance of helping one another with church members. Stories connect and engage people like no other communication tool can.
Schedule your email in advance: You can draft and schedule your email in advance. If you're sharing fundraising letters for the church through the post, you must ensure they're ready to go at the earliest. Waiting until the last minute might not generate enough interest, give enough time to donors to act, or bring the kind of results you might seek.
Stress on tithing benefits: A tithe is an integral part of committing to the Lord. Saving and donating a part of one's monthly income has been mandated by the Bible. Whenever you can, share the benefits of tithing with church members to encourage them to welcome the spirit of giving.
Highlight the role of donors in making an impact: Lastly, but most importantly, design the entire church donation letter to emphasize the role of donors. It is donors who make a lot of change and progress possible for the church. Ensure the spotlight is rightly put on them.
These are some tips to follow to script a great church donation letter. Feel free to modify and use our church donation letter templates. All the best for your fundraising efforts!
If you want to learn more, we recommend reading our article 20 Best Church youth group fundraising ideas for your church
Feature Image Credit: MART PRODUCTION