Why are year end appeal letters such a high priority for charities?
We can see their impact in the numbers:
31% of all annual giving happens in December and 11% of it occurs on the last three days of the year
Granted, not all giving in December is prompted by letters. Some organizations send emails or texts. Some make phone calls to their more valuable donors.
It remains that all evidence points to the fact that the end of the year is the most impactful time to communicate with supporters.
Why send annual appeal letters?
As mentioned earlier, emails, texts and phone calls are all options for your year end fundraising campaign.
Why send letters instead of (or in addition to) these other channels?
According to the DMA, direct mail has an 80%+ open rate, while email lags behind at 21%.
That means more of your supporters are likely to sit up and take notice when you send them an annual appeal letter.
Combining that with similarly high visibility channels like text messages (98% open rate) for follow up appeals can ensure that supporters get and read your message in some shape or form by the end of the year.
The objectives of your year end appeal letter
Evaluate why you want to send an annual appeal letter before starting your campaign.
Here are some good reasons to send one:
You want to thank supporters, fill them in on upcoming endeavors for the next year and ask for support.
You want to talk to different groups of donors (say monthly donors vs prospects) with messages tailored to their behavior.
Having an objective will allow you to later measure the success of your annual appeal letter.
Creating an annual appeal timeline
Unlike more immediate channels (ex. email), direct mail takes time to reach your supporters.
That means you need to set the process in motion weeks ahead of time.
That includes planning for your appeal letter and for follow up communication.
Gary Henricksen at Five Maples Development Communication recommends that organizations get ahead of the competition by:
Sending an early appeal reach supporters in October
Sending another appeal in late November/early December
Following up with a multichannel approach (Phone calls/Postcards)
Here's an example of an annual appeal letter timeline you could follow:
August – Set your objectives and outline the theme for your appeal letters and overall campaign.
September – Segment your donors lists for more personalized messaging. Write your appeal letter copy. Finalize it.
October – Send out an initial set of appeals to reach supporters in late October. Make sure your online giving channels are ready.
November – Send your next round of appeal letters. Keep your donors updated on your progress through more immediate channels (social media, texts)
December – Send reminders to supporters who haven't contributed yet (phone-a-thons, emails, texts). Follow up reminders in the last three days of the year. Send a thank you message to everyone who contributed.
6 Tips for your annual appeal letter
Personalize your annual appeal letter
Personalization can make your appeal exponentially more convincing. That is why segmenting your donor list is so important.
Here are some things to keep in mind when personalizing your letter:
What is their relationship with your organization? Someone who has been a consistent supporter of your organization is more likely to be impacted by the sentence, "As a valuable, long-time supporter of our cause…" than a generic appeal.
What amount are you asking for? Some supporters may have been contributing $5 a month to your cause. Upping that to a $500 ask doesn't make sense. Segment your donors based on their past giving amounts to send them appropriate asks.
When did they last give? Asking supporters who gave very recently (maybe in the same month) to give again is not a good idea. Best case, they ignore you. Worst case is that they get annoyed. Avoid that by filtering out these contacts from your mailing list.
Use thank you's liberally
Appealing to supporters means making your appreciation as much a theme of the letter as your solicitations.
This starts by having a strong thank you in the beginning. An enthusiastic and genuine show of appreciation will encourage your reader to stay tuned for what you have to say next.
And not just the beginning. You can incorporate gratitude throughout your letter and make them feel like a key member of your mission.
Be specific in your ask
If your main CTA is going to be something along the lines of "We would love to have your support" or "Your generous gift will help us achieve our goals", the results of your campaign may disappoint you.
Make it clear what you ask of your donors. (and as mentioned above, the more personalized, the better).
That means using specific, action-oriented CTA's like "Can you contribute $100 to help us reach our goal?"
This letter From Habitat for Humanity is a great example of how you can use gratitude and specific asks in your copy.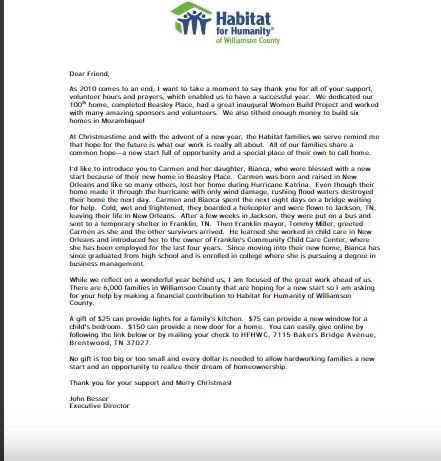 Make donating easy
The advantage of online channels is that you can just link out to a donation form and you're good to go.
When it comes to your appeal letters, the objective is to make donating as easy as possible and to give them options to do so.
Here are a few examples:
Include a return envelope with paid postage for donations or pledges.
Make sure the URL to make an online donation is clearly visible in your letter.
Add a QR code that supporters can scan to reach your donation page.
Give them a keyword and a phone number they can text in to, to receive a donation link.
This letter from Larchmont Public Library offers multiple options for supporters to donate.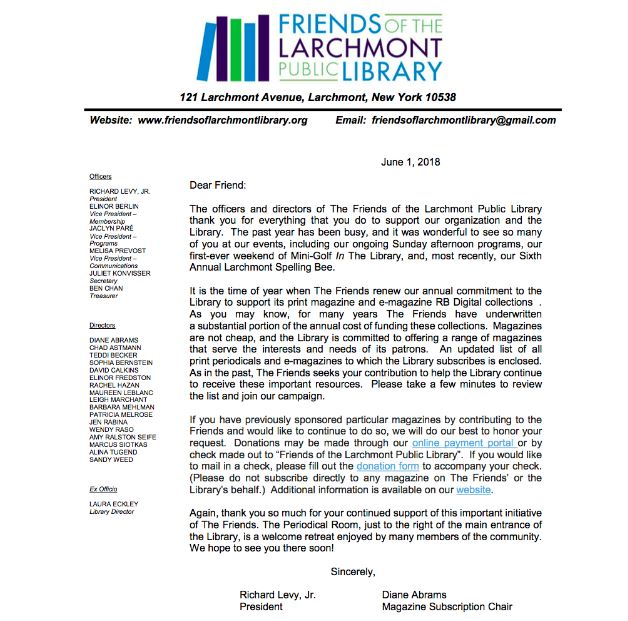 Follow up with a supporters
You will want to send reminders to reach supporters in late December.
Following the lines of a letter, postcards are an inexpensive and relatively quick way to reach supporters.
And since people are more likely to have their online mailboxes overburdened than their physical ones, you can stand out.
But you don't have to settle for sending appeals and follow ups through a single channel. That brings us to the next point:
Why send follow ups?
Many people can read your letter and decide to make the contribution later. It's crucial to send them reminders to contribute soon after your appeal letter reaches them.
Use a multichannel approach
According to Nonprofit Source, marketing campaigns using a combination of direct mail and digital mail have a 28% higher conversion rate.
Send emails to your contact list a couple of times a week.
Schedule a mass text message to go out a few days after they receive your direct mail appeal.
Organize calling campaigns with the help of volunteers. Reach out to contacts who have yet to contribute.
Using a multi-channel approach and sending reminders are the best ways to increase the chance of your supporters making a contribution.
That's where a texting and calling tool like CallHub can help. All you need to do is sign up for free and upload your contact list to start creating campaigns.