Corporate philanthropy is a growing phenomenon that represents a major opportunity for mission-based nonprofits. From small local organizations to corporate-sized nonprofits, nearly any organization can benefit.
If you're not already promoting matching gifts throughout your communications, there's no better time to start than now!
In this time of uncertainty, nonprofits can use all the financial support they get, and matching gifts are a great way to secure some extra fundraising dollars. Before diving into the best ways to market these opportunities, let's do a quick recap of the basics.
What are matching gifts?
Matching gifts are a type of corporate giving program where companies commit to matching their employees' donations to eligible causes.
While each company has its own stipulations, most mission-based causes are eligible. Depending on the rate at which they promise to do this, organizations stand to potentially double (or even triple!) some of the donations they're already receiving.
Here's a basic rundown of how matching gifts work:
An individual makes a gift to your nonprofit.
The donor researches their eligibility for their employers' program.
If eligible, they submit a matching gift request to their employer.
The company confirms the donation with your nonprofit.
The employer sends a check to your organization.
It's as simple as that! With all the benefits that come with matching gifts, you'd be remiss not to promote them to your supporters. With a strategic marketing plan in place, you can raise awareness and secure more fundraising dollars in no time. So that you can fulfill your matching gift potential, we'll cover the top avenues for marketing these opportunities, including:
Your Website
Text Messaging
Direct Mail
If you'd like to nail down the basics before exploring these marketing opportunities, visit 360MatchPro's complete matching gifts guide for more insight. Otherwise, let's get started!
1. Your Website
Your organization's website serves as the epicenter of information on your mission. It's where both prospects and current supporters go to learn more about your work and to ultimately decide whether to give to your cause. Because of the amount of traffic you likely see, your nonprofit's website is the optimal place to add matching gift promotion.
There are multiple key places you should incorporate this language. So that you make the most of your opportunities, let's walk through a handful of the ways you can easily market matching gifts on your website.

Dedicated Matching Gift Page
A web page that's devoted entirely to matching gifts can be a valuable resource for organizations and their donors. Plus, it may even help to convert casual visitors into donors themselves. After all, 83% of donors say they're more likely to donate if their employer will match their gift, according to this statistics page!
To take complete advantage of this, be sure to incorporate the following crucial elements when designing your matching gift page:
A detailed explanation of matching gifts and how they work
Why matching gifts are beneficial for donors, their companies, and your team's work
Key statistics that convey the importance of these philanthropic programs
An embedded employer search tool so donors have consistent direct access to forms and guidelines
Your matching gift coordinator's contact information so that readers can reach out with questions
While these best practices seem great in theory, they're even better when put into action. March of Dimes developed a matching gifts page that prominently features strong imagery and language that invites donors to submit their matches.
Then, they invite donors to research their eligibility using a matching gift search tool. Take a look and jot down some notes for your own website design: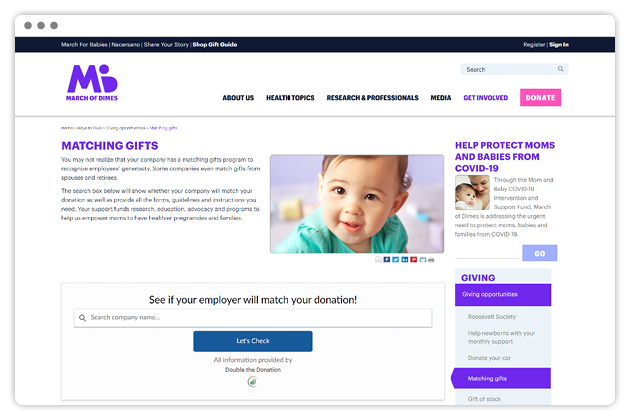 Once you've created a comprehensive resource like the one above, feature it prominently across your website, starting with your navigation bar.
Whenever you get a chance, link back to it and encourage donors to research their own eligibility. This will maximize your dedicated matching gift page's visibility and fully educate your donors on their opportunities.

Donation Form
Your donation form may effectively funnel visitors through the donation process and capture all necessary donor data, but what does it accomplish in the way of matching gifts?
Chances are, you might not have any information about matching gifts on your donation page as of right now.
However, 1 in 3 donors indicated that they would actually increase their donations if they knew it would be matched by their employer, making your donation page an optimal place for marketing matching gifts. As you incorporate matching gifts on your own donation form, here are a few tips to keep in mind:
Add a short blurb that explains what matching gifts are.
Link back to your matching gift page for more information.
If you've invested in an embeddable matching gift search database, this is a great place to add it!
So that you get a taste of these tips in action, take a look at the example below from the Leukemia & Lymphoma Society. You'll see that they've prominently featured some simple matching gift text paired with a search tool that allows donors to easily research their employers during the giving process: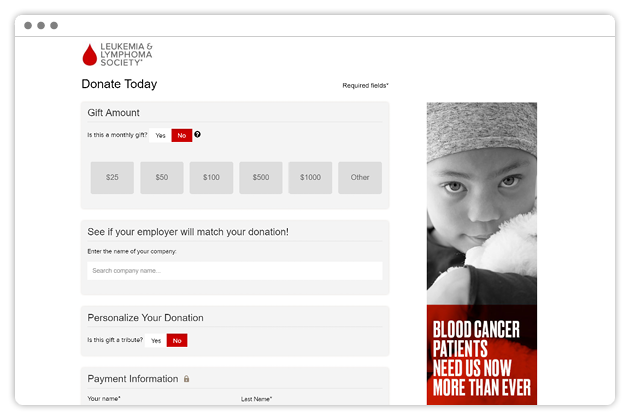 Short, eye-catching appeals like the one above will work to pique donors' interest and spark interest in the opportunity. Adding each of these elements may be just what you need to secure those extra matching gift dollars.
Bonus Tip: When a donor submits their donation, greet them with a proper thank you, and encourage them to research their eligibility once more. This extra push can get the ball rolling and entice them to enter their employer data. After all, they've already given to your cause. Why wouldn't they want to double their contribution without reaching back into their own wallet?

2. Text Messaging
As of 2019, an astounding 96% of the U.S. population owns a cell phone. In other words, if you haven't invested in texting technology, you're likely missing out on some major opportunities for donor engagement and additional revenue.
If your team already dabbles in text messaging outreach, incorporating matching gifts into your strategy will be a breeze. Extending to this platform enables you to reach donors where they are, which can boost their engagement and increase the likelihood that they'll look further into their eligibility.
As you start to experiment with marketing matching gifts in your text outreach, try out these tactics, and determine what works best for your organization:
Incorporate compelling imagery. Studies find that engaging content (like a multimedia message) generates conversions 70% of the time, whereas passive content only generates conversions 36% of the time. To take advantage of this, consider adding an image or video that connects with recipients on a deeper level.

Keep it concise. Because of the nature of texting, you'll want to get straight to the point. Invite donors to look into their eligibility with language such as "Many employers offer matching gift programs that could multiply your donations. We invite you to research your eligibility, so that [name of your organization] can continue to [describe your mission]."

Save time by sending out a text blast. Sending out a mass text maximizes matching gift visibility instantly. For the best results, segment your supporters first, so that you can create highly personalized texts to each group. Check out Doubleknot's donor segmentation guide to learn about this powerful engagement strategy.
Connect with donors one-on-one. If you'd like to take a personalized approach, consider hosting a peer-to-peer texting campaign. Backed by a powerful team, your organization can reach out to donors and effectively answer their questions about matching gifts directly.
There are many routes you can take with marketing matching gifts through text messaging. Experiment with different approaches. Then, refine your strategy by determining which one yields results and best suits your organization's donors.

3. Direct Mail
While digital marketing is always a quick and effective route, some people don't respond to internet-based giving and prefer the personal touch of tangible mail instead. Many organizations still raise a substantial portion of their funds through direct mail, so this outreach method isn't one to be overlooked—even in the digital age!
Since they're still thriving options for thanking donors and soliciting donations, each type of direct mail has its place in the matching gift cycle.
Let's take a look at a few important types to consider when marketing matching gifts:
Solicitation letters. Use letters to remind active donors to research their eligibility and complete the matching gift process. Rather than using language that comes across as a sale (e.g. "Act now to match your gift!"), focus on connecting with them on a deeper level by sharing personal stories that get them invested. Then, encourage them to research their eligibility by sharing a link to your matching gift page.

Postcards. Whenever a donor submits a generous donation, properly thank them, then follow up with a postcard that invites them to research their eligibility. You should feature a short description of matching gifts, contact information, and a link to where recipients can learn more. Overall, aim to keep your postcards short and sweet.

Paper inserts. If you're running low on time to develop specific matching gift materials, create a small slip of paper that you can include with all donor mailings, from monthly newsletters to membership welcome packages. Include eye-catching graphics and concise text. Then, direct the reader to where they can learn more. For inspiration, take a look at a strong example of a paper insert from the National Kidney Foundation below: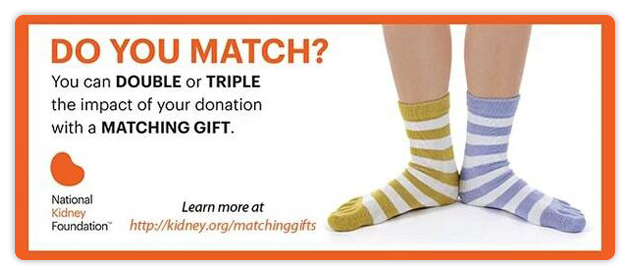 Take-away
Each of the above direct mail options will help you reach a vital segment of donors who either respond to direct mail at a much higher rate or don't frequently use online communications.
By diversifying your outreach to include these avenues, you'll effectively spread the word and get supporters amped up about matching gifts. Just remember that postage prices can quickly add up, so do your research before creating direct mail appeals.
From a matching gift web page to direct mail, there are innumerable ways to market matching gifts to your supporters. For the best results, you'll want to use tangible mail in conjunction with your online outreach. The key is to incorporate as many avenues as possible so that you can widen your reach and maximize visibility across all facets of your organization.
Take every chance you get to market matching gifts, no matter how small. Soon, you'll be well on your way to securing your unclaimed matching gift dollars.
---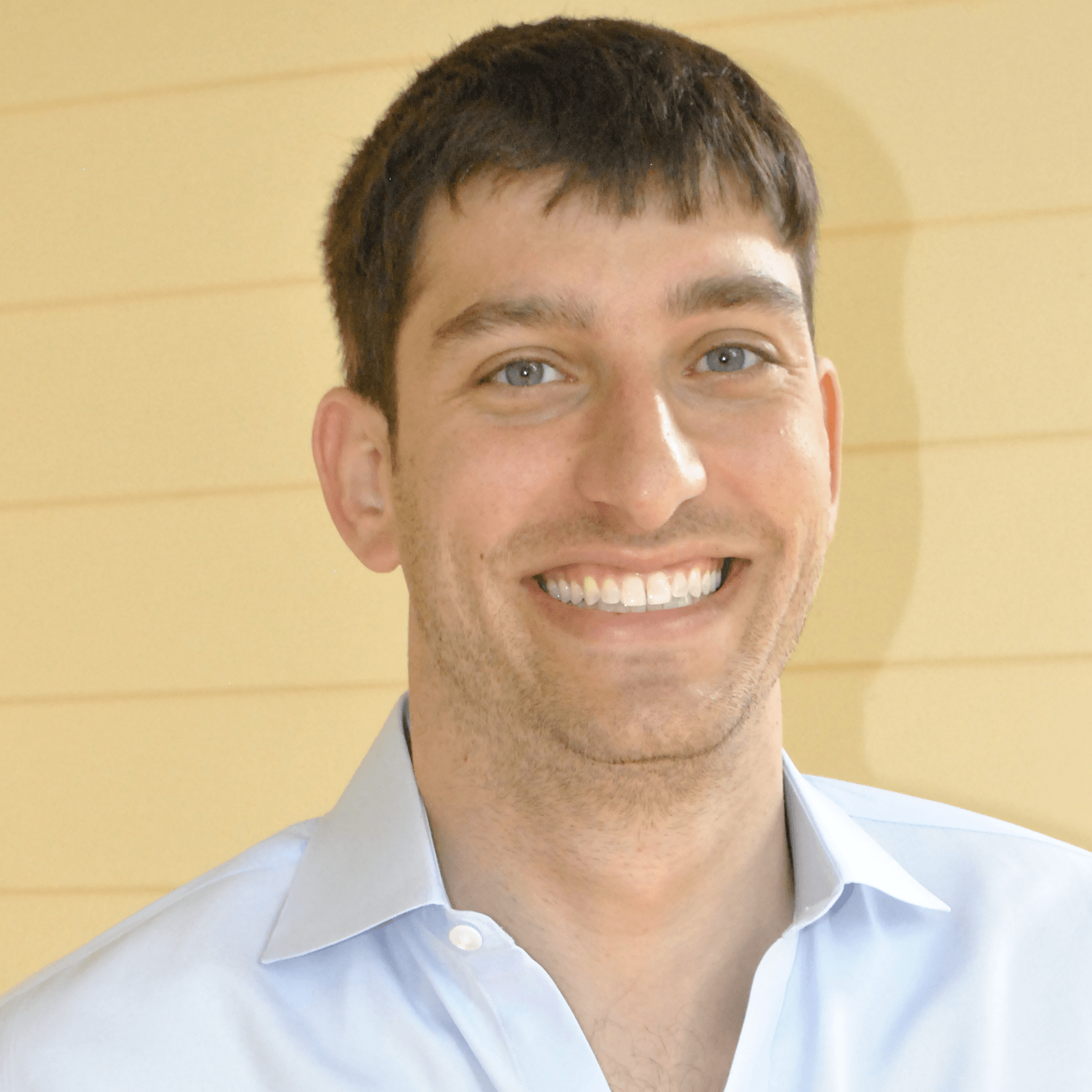 Adam Weinger is the President of Double the Donation, the leading provider of matching gift tools to nonprofits and educational institutions. Adam created Double the Donation to help nonprofits increase their annual revenue through corporate matching gifts and volunteer grant programs. You can connect with him on LinkedIn